We're just going to come right out and say it. Amazon Prime Video is a mammoth vault of epic TV series you won't be able to stop watching. From murder mysteries to killer comedies and new sci-fi plots to cult favourites, there are so many brilliant shows worth bingeing your way through.
Here are the best shows to watch on Amazon Prime Video right now.
Homecoming
There are two glorious seasons of Homecoming to binge your way through so sit yourself down, kick your feet up and get comfy. This guy is basically set around a "homecoming transition facility" to help soldiers who have returned from war get back to everyday life. It falls into the "psychological thriller" side of TV and each season so far has been a gripping on-screen journey filled with much tension so don't expect this one to be a cruisey watch. Season one starred Julia Roberts and season two stars Janelle Monae and if that's not enough of an incentive to binge this bad boy, we don't know what is.
Upload
We love this new Amazon Prime Video series for its epic storyline and we'd be lying if we said we didn't wish we could actually live it out. Upload is set in the future and when you're about to die, you get the option of "uploading" yourself into a very Sims-like virtual world to live forever. It's sci-fi meets comedy and we know you're going to love it.
Making The Cut
Netflix's Next in Fashion is no competition when it comes to the tried and true Heidi Klum and Tim Gunn method. Making The Cut sees your favourite mentors jump the Project Runway ship in this revamped fashion-competition/reality-show, stepping up the competition and pushing its 12 designers to the limit. If you've felt Project Runway has been a bit drab since Tim and Heidi left the work room, you'll find Making The Cut has all the bones of the show you know and love, but trades amateur designers for creatives with street-cred and egos from all around the world. With $1 million in prize money up for grabs, it's time to get to work with all episodes available now.
Fleabag
Name a show when you've both laughed hysterically and ugly-cried in the same episode? A workout for your heart and soul, everyone can't stop harking on about Phoebe Waller-Bridge and the things that are birthed from her wonderful brain. Tackling being a 20-something year old and screwing it up is all too familiar, but Fleabag brings a sense of relief in the knowledge that everything will turn out OK. A pervy, angry, dry-witted, grief-riddled and unfiltered woman is trying to heal whilst taking everything that life and London can throw at her. Experience it in all its glory here.
The Marvellous Mrs. Maisel
The perfect 1950s housewife, native New Yorker Midge Maisel is living the American dream. Brash, bold, witty and cheeky, Midge could be using these qualities for something bigger, yet she's completely loyal to her husband who moonlights as a stand up comic—with questionable material. Her perfect life is suddenly derailed in a night, and a drunk, unhinged Midge gets on stage and delivers a hilarious set about her predicament. With the show in real life taking home Emmys and Golden Globes, Midge's own comedy career is about to hit the big time. Make sure you're one of the people who can say you knew her before she was famous, with seasons one to three here.
Undone
Amazon's first foray into an animated original, it uses an exciting animation technique called 'rotoscoping'. Scenes are filmed IRL, and then a digital artist draws over film creating a hyper-realistic-hybrid-animation. Starring Rosa Salazar as Alma, who, after a horror car crash, begins to be able to manipulate time and space. Acting alongside Bob Odenkirk (of Breaking Bad fame) who plays her dead father, she needs to learn to control her newfound abilities if she's going to get to the truth behind his death. Binge it all here.
The Purge
Could something as ridiculous as The Purge work in real life? Probably not. If you haven't seen the horror film starring Lena Headey, the TV show follows the same format—in bloody, gory fashion. In the not too distant future, crime numbers have dropped drastically when the USA allows everyone to let off a bit of steam with The Purge—for 12 hours once a year, no laws apply, meaning you can get everything out of your system and run amuck with zero consequences. In this series reboot, a group of people question the morality of The Purge, because on purge night, anything goes. Watch it here.
Modern Love
The format of this show is music to the ears of people who write blogs. The New York Times' 'Modern Love' column is a space for writers to share stories of love, loss, happiness and heartbreak, so we can empathise, judge or just feel something, damn it. Eight essays from writers have been used as the basis to explore Modern Love in a Love Actually style anthology series, minus the Christmas (thank god). With an all-star cast including Anne Hathaway, Tina Fey, Dev Patel, Julia Garner, Andrew Scott and more, believe in love again when you binge it all in one go here.
Forever
Same shit, different day. Famed for their hilarious, spot-on impressions of Prince and Beyoncé during their beloved tenure at Saturday Night Live, Fred Armisen and Maya Rudolph return to the screen in their own right to deliver belly-roaring laughs amidst dreary, everyday normalcy. With a twist. Oscar and June have seen 12 years of marriage turn into a mundane coexistence. Their life is ground-hog day as they follow the same routine, have the same conversations and eat the same food, day in/day out, for the rest of their lives. June tries her best to liven things up in a bid to save her marriage, until things take a turn for the worst. Til death do them part. Take the step towards the first day of the rest of your life here.
Tokyo Girl
Big fish, small pond. Not a show you can sit back and mindlessly absorb, the show is all in Japanese with support from English subtitles, requiring your full attention for an engaging viewing experience. Following Aya from age 23 to 40, she comes from a small village called Akita. Having visited Harajuku as a teenager, she dreams of a bigger, bolder life for herself in Tokyo, but when she gets there, is it everything she dreamed of? Feeling her small-town values clashing with the people of one of the biggest cities on earth, Aya learns to navigate life, love and all the challenges that arise in the big smoke. Watch it here.
Parks And Recreation
Calling all beautiful, tropical fish (Parks and Rec fans will get this reference): who knew local body politics could be such a riveting affair? Surrounded by her crew of wholesome co-workers, Leslie Knope is the deputy director of Pawnee's Parks and Recreation department. Working to make the public spaces in her town wonderful for all the weirdos who live there, she has a goal in mind to turn an abandoned lot into a beautiful park for everyone to enjoy. Met with bureaucracy and hilarious predicaments at every turn, the way these things play out could only ever happen in the fictitious Indiana town of Pawnee. Even though we've seen this show from start to finish, we're unsure if they ever actually manage to build a park. Find out and let us know? Drop by Pawnee with all seven seasons here.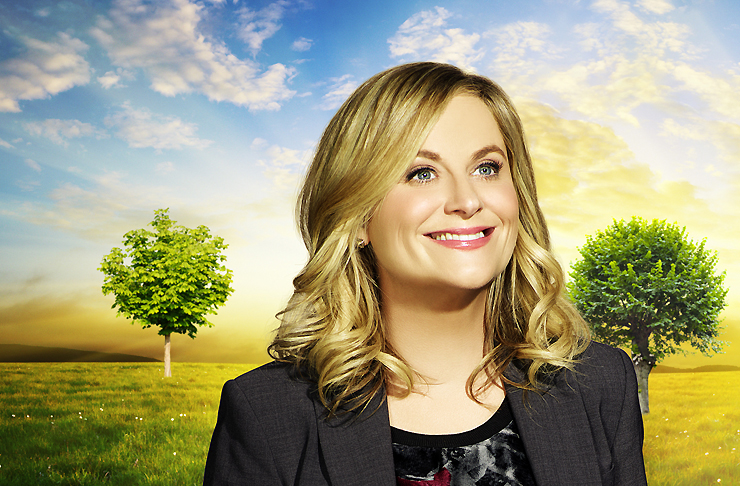 30 Rock
If you know anything about Saturday Night Live, you'll know the weekly sketch comedy show is stressfully pulled together in five sleepless days. Based on her experiences as head writer at SNL, Tina Fey offers us mere mortals a satirical glimpse into the hectic world of late night variety shows as Liz Lemon, show-runner of fictitious The Girlie Show. Named after NBC's New York studios, 30 Rockerfella Plaza, where SNL (and The Girlie Show) is filmed, Liz supervises the cast and crew to bring the show to air. Competing with high-brow shows such as 'MILF Island' and 'America's Kids Got Singing' ratings are steadily going down the toilet and she's forced to hire controversial actor Tracy Jordan in a bid to bring the show back on the strait and narrow. Make like SNL and consume all seven seasons in five days here.
Heroes
Has anyone ever noticed that Zachary Quinto really knows how to play a psychopath? He's almost… too good at it. Lots of shows try to get down to the skin and bones of what makes a hero and what makes a villain, but it's a lot more exciting when they have super powers. When ordinary people from around the world discover incredible abilities, their stories become intertwined in a plot ripped straight from the pages of a comic book. Save the world. Or end it.
Save the cheerleader, save the world with all four seasons here.
And here's every show to binge on Stan.
Image credit: Amazon Prime Video