So your bathroom cabinet is overflowing with serums, creams and oil—retinol, vitamin C, hyaluronic acid, niacinamide, squalane, you've got them all. But what if we told you that you've been going about your beauty routine all wrong, and that you should be starting things from the inside?
Now don't worry, we're not saying you should clear out that cabinet—just that the first step in your routine shouldn't just be finding the right cleanser, it should be sipping on a glow-inducing, skin-clearing, collagen-boosting beauty elixir.
Collagen is like the building block of our body's tissues—the most abundant protein in our bodies, it's partly responsible for the health of our bones, joints and connective tissues, muscles, gut, nails, hair and yes, our skin. But, in a cruel, ironic twist, collagen production starts decreasing from our mid-twenties—even though it's pretty much essential for plump, hydrated, glowing skin. So what to do about this tragic turn of events? Take a collagen supplement of course.
As well as supporting your bodies natural collagen-production, adding a collagen supplement to your routine will kickstart your beauty routine from within, smoothing out fine lines and improving skin elasticity—a much more efficient plan than loading up on serums AFTER the fine lines have set in. If you're not sure where to start with all the edible beauty supplements out there, we've rounded up a few of our favourites.
Vida Glow Collagen Elixir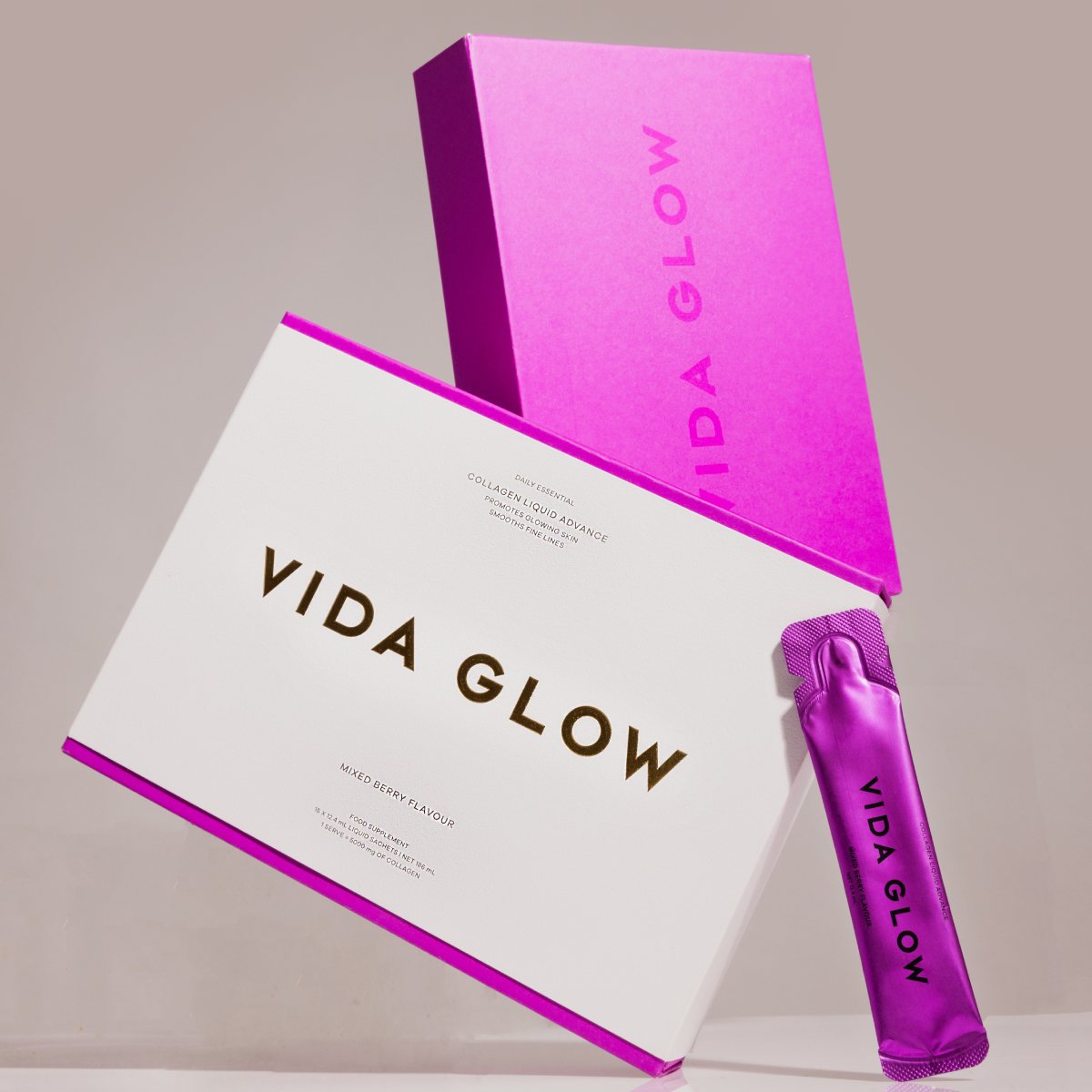 If you're looking for an intense, concentrated collagen supplement that will literally smoothe out that wrinkle that's recently appeared above your brows before your very eyes, this potent lemon myrtle and manuka honey flavoured elixir from Vida Glow packs 5000mg of marine collagen into every shot. Knock back one a day or combine it with their marine collagen powders and wait for the compliments on your glowing skin to start rolling in.
The Base Body Co Afterglow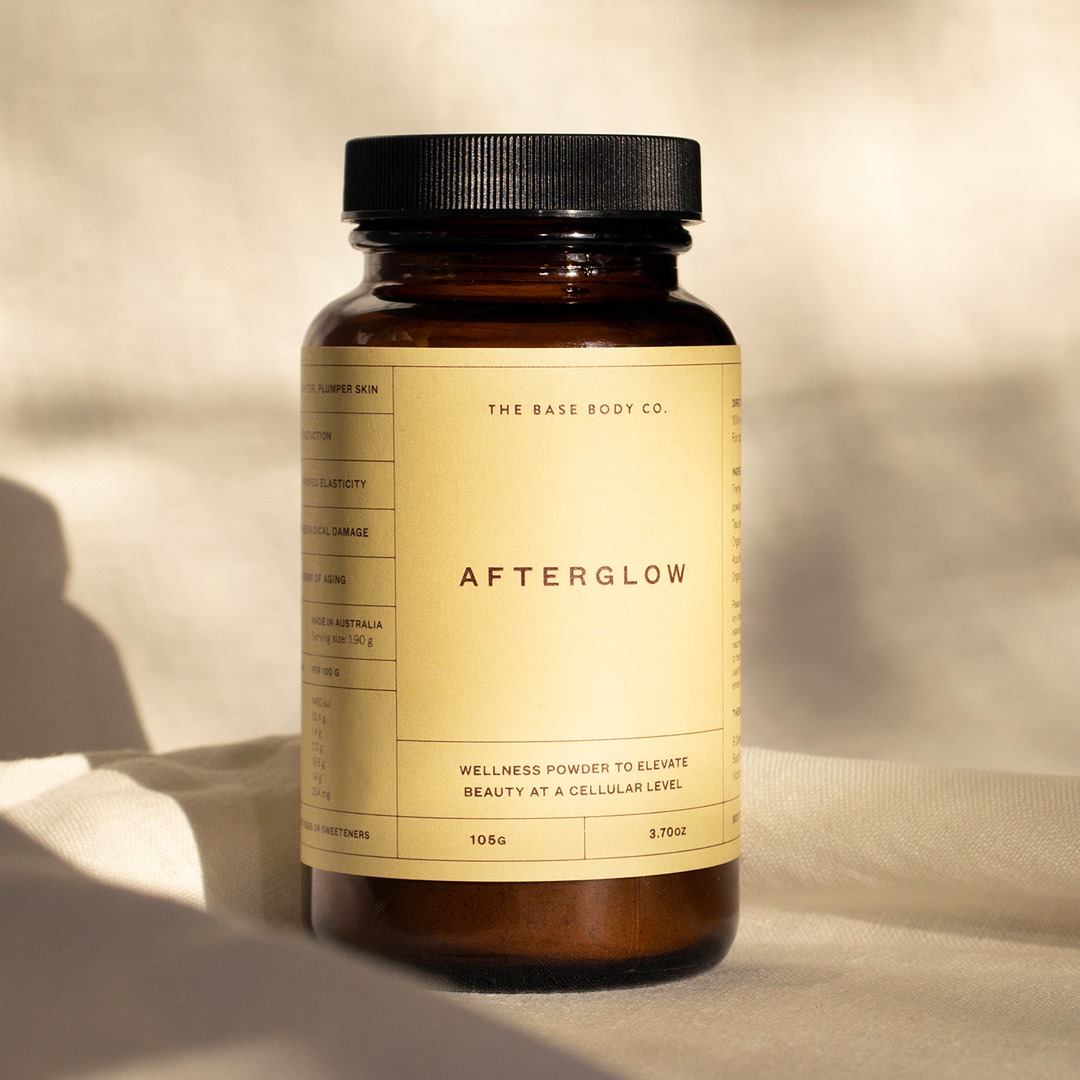 Take marine collagen and add Tremella Mushroom for a hydration boost and six potent antioxidant-rich berries and what do you get? A formula for supernatural radiance, that's what. A spoonful of this powder every day will give you an all-natural glow-up, and keep you looking so youthful you'll be carded until well after your twenties.
Kissed Earth Brilliance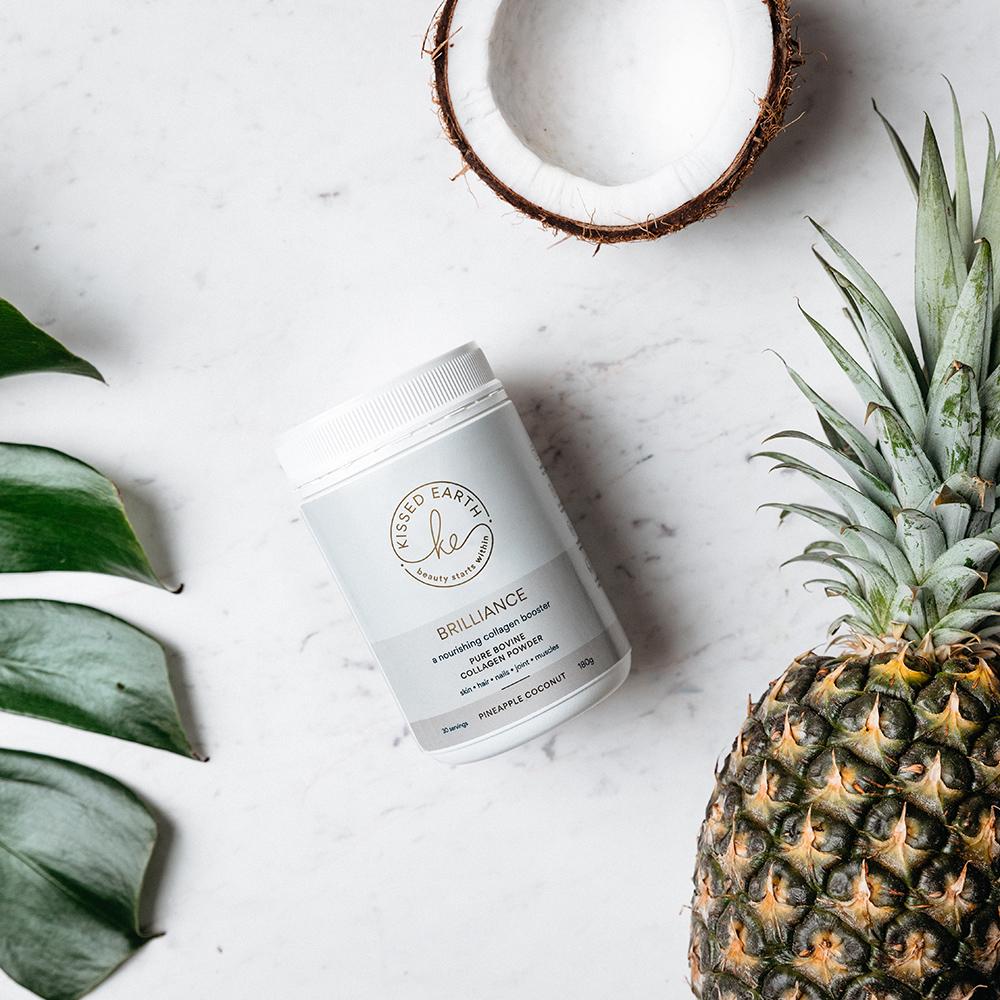 There's nothing but pure 100% collagen powder in this superpowder, which you can get either unflavoured, to add to water, juices or smoothies, or in pineapple and coconut. As well as fighting visible signs of ageing like fine lines, it helps improve bone and joint health, keep your hormones in balance and heal your gut.
Beauty Boosters The Starter Set
This three-step set of beauty boosters has everything your skin needs, and even a little something extra for your hair and nails. Step one is all about vitamin C, which supports the production of collagen and connective tissues, while step two delivers a blend of oils to boost your Omegas and relieve dry itchy skin. Step three finishes things off with Riboflavin and zinc to encourage skin regeneration and hair and nail growth. Everything your glowing self needs.
Nutra Organics Collagen Beauty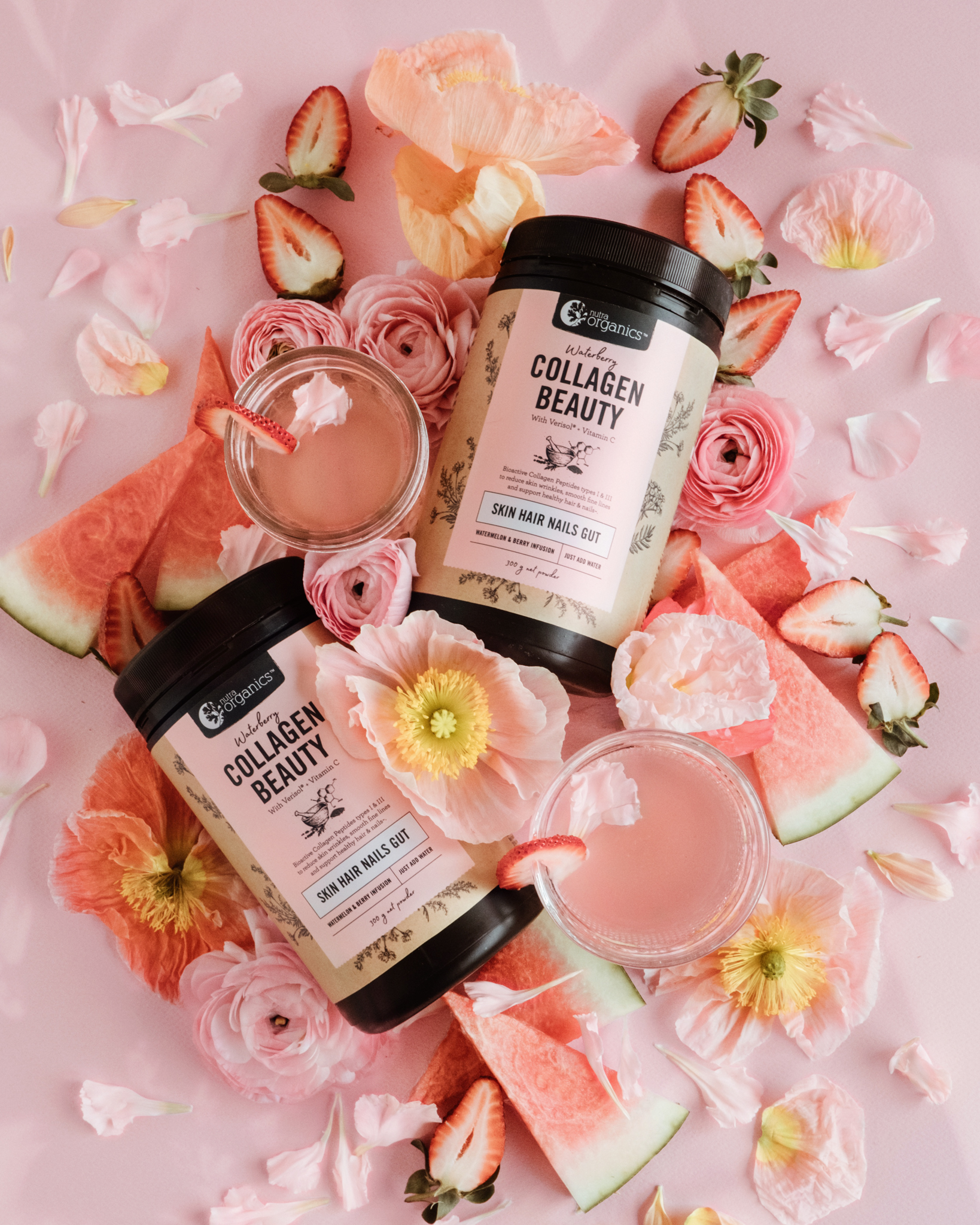 As well as collagen, this beauty powder lists collagen peptides amongst its ingredients—a more bioactive form of collagen which is better absorbed by the body. Which means you'll glow even more after a few weeks of popping a spoonful or two into your mooring smoothies. Bonus, the addition of camu camu, guava and horsetail herb will have your hair and nails looking just as good as your skin.
The Beauty Chef Collagen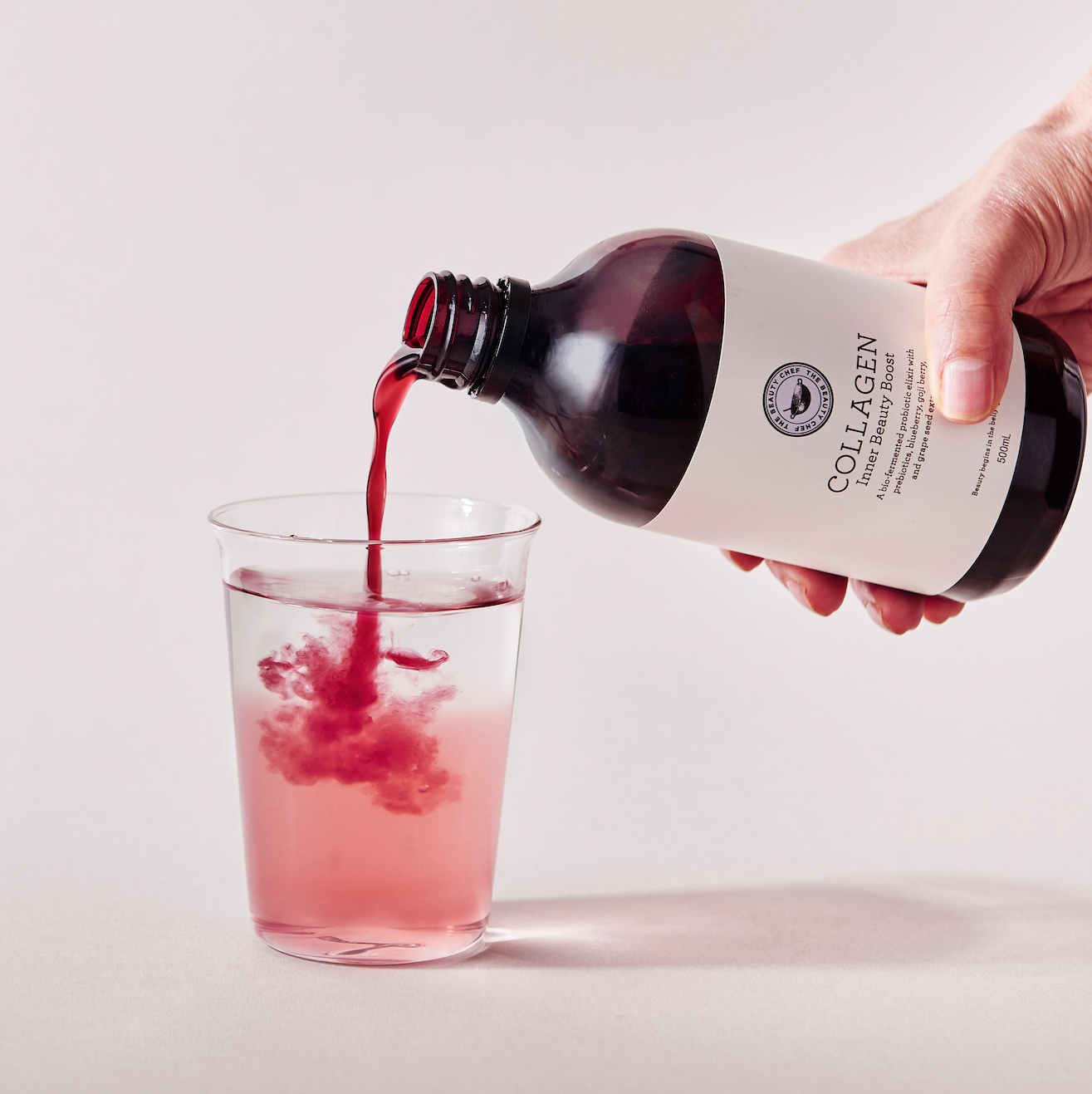 If you're after a vegan collagen booster, The Beauty Chef's Collagen is packed full of ingredients that will give your collagen production a leg up with nothing but plant-based ingredients. Bio-fermented papaya, grapeseed and pomegranate peel extracts, gotu kola, organic goji, acai and maqui berries, plus more vitamin C and zinc all support and protect your natural collagen and elastin for a smooth, radiant complexion. Pair it with their Glow powder to really take things to the next level.
Imbibe Miracle Collagen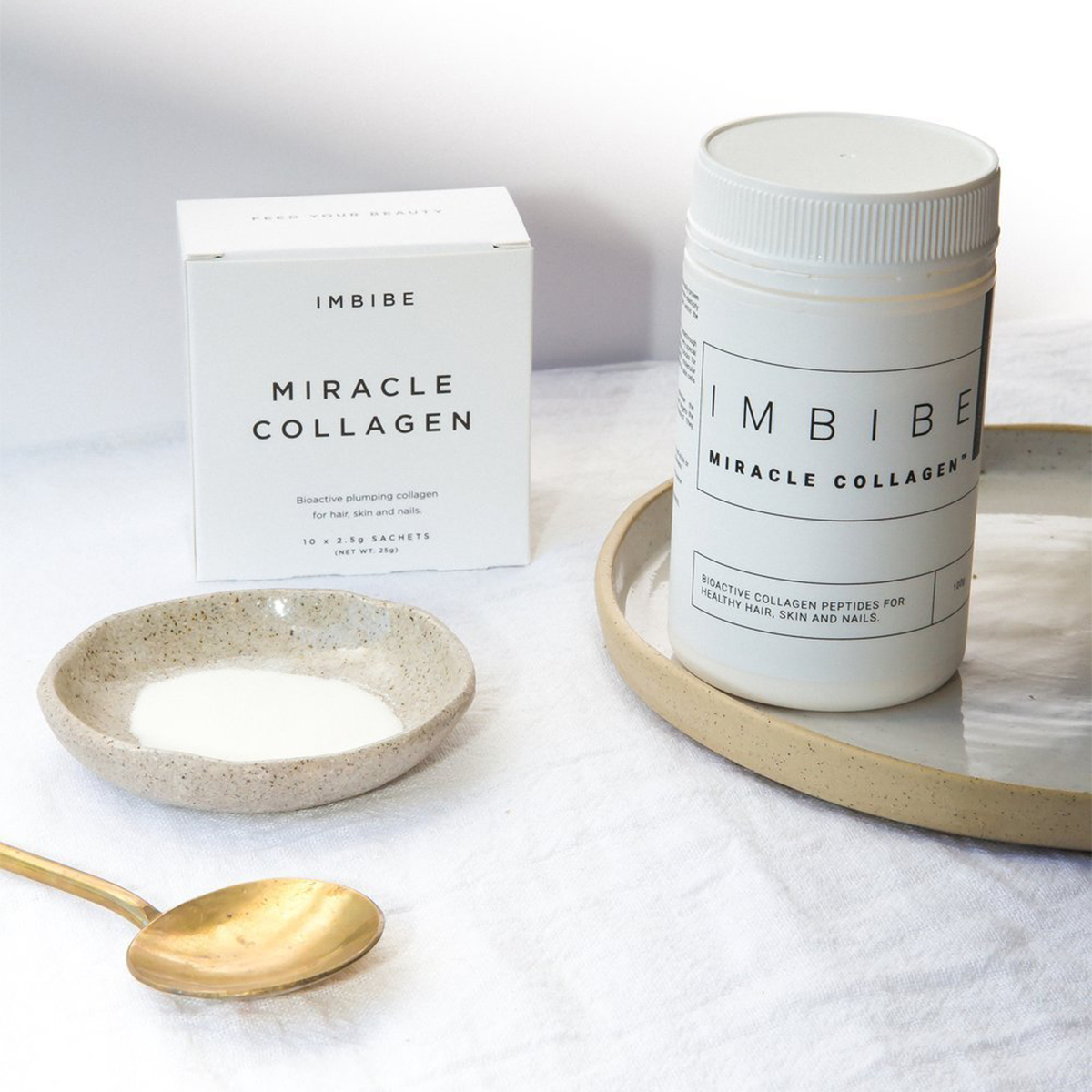 If you found a beauty product that reduced your wrinkles, improved your skin elasticity and kept your hair healthy you'd call it a miracle, right? Well that's just what Imbibes Miracle Collagen purports to do. You can buy the formula of bioactivated collagen peptides alone, or combine it with their Protect and Beauty Renewal supplements to target your skin from all sides—gut health, immune support and collagen production. Consider them your personal team of beauty
If the best collagen supplements aren't for you, this new superberry serum might just be your answer to staying youthful forever.
Image credit: Ian Dooley