Truth be told, honeymoons are the best part of a wedding celebration. The aisle has been walked, the rings safely delivered, the people have boogied a dent in the dancefloor and as newlyweds, you're god damn grateful grateful one of your siblings weren't left to MC the night away.
On the other end, babymoons are just as important. They're a time to relax and recoup before you welcome a little bundle of joy into the world and hey, they're also just a handy excuse to pack your bags and jett off again.
On that note, while we're all quick enough to close our eyes and point a finger to a map of the world—Australia is an absolute gold mine of romantic honeymoon and babymoon destinations with secluded islands, desert dinners, moonlit walks, breakfast in bed, private plunge pools, outback adventures, scenic flights, bottomless champagne and dreamy rustic hideaways nestled into peninsulas.
Check out the best honeymoon and babymoon destinations in Australia.
Flinders Ranges
South Australia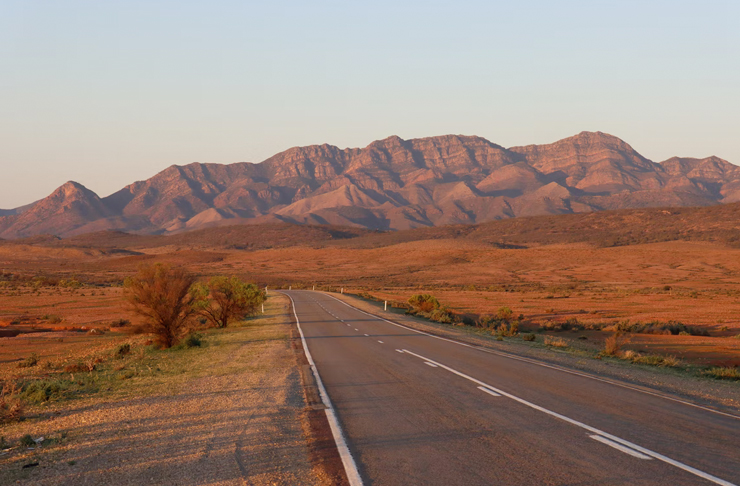 Here's the thing, for the adventurous couples, Flinders Ranges is a no-brainer. Filled with deep craters, flamin' red roads, ancient cliffs, gorges and sheltered creeks—this Mars-like expanse is a pretty magical place to soak up all things love and romance. Take bushwalk up Devil's Peak or take to Mount Remarkable National Park (which is very deserving of its name) and explore Alligator Gorge. A scenic flight across Wilpena Pound doesn't disappoint either.
If you're looking for accommodation, there's everything from a homey farm stay to a stunning eco villa made from hay.
Lord Howe Island
NSW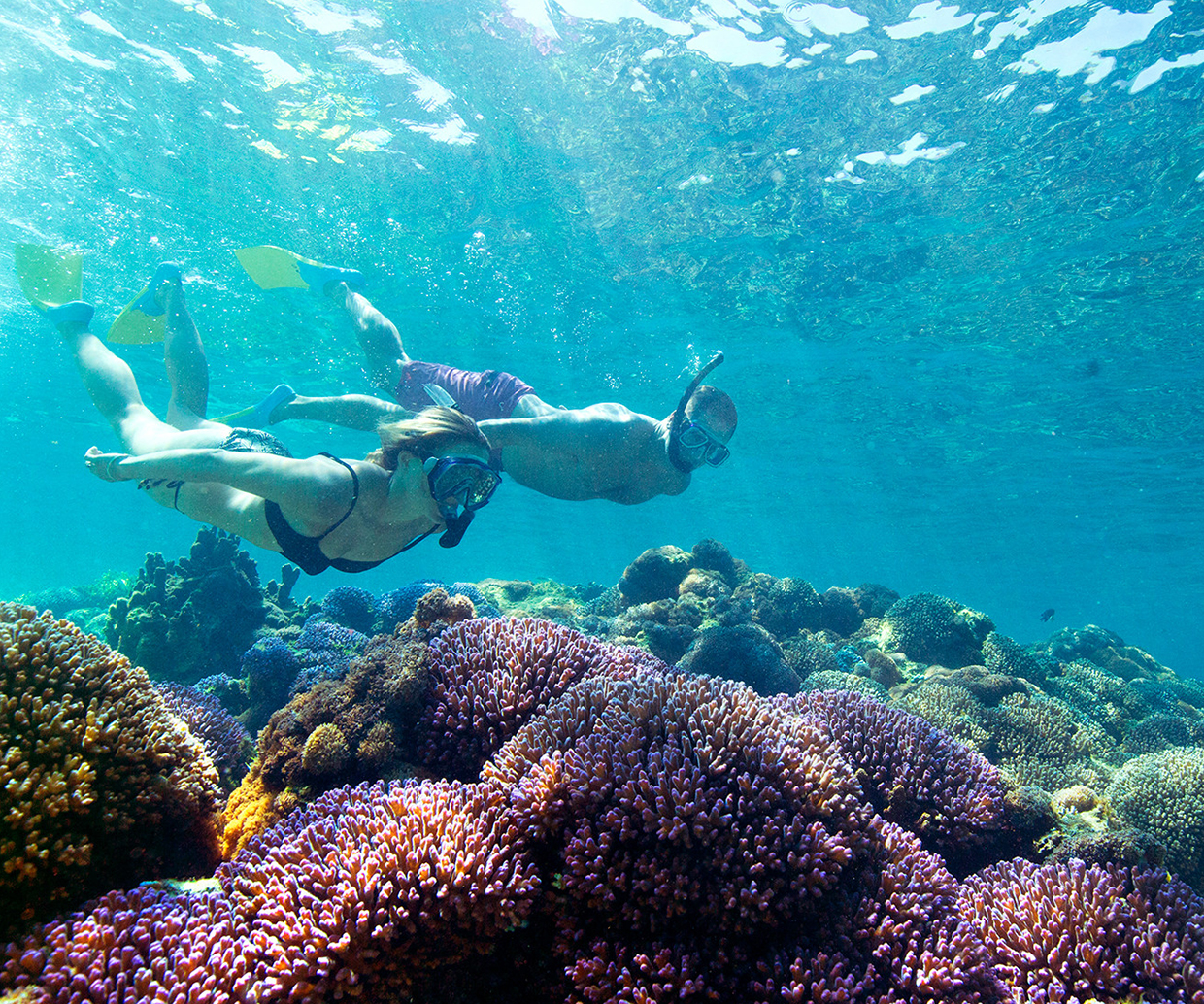 Picture this—it's a clear day and you're paddling out in a kayak on the bluest lagoon you've ever seen with your significant human. A warm breeze rolls over, you've got sand on your toes and a mega vista of jurassic mountains. You can quite literally spot turtles swimming below you. Welcome to the romantic-adventure vibes at Lord Howe Island, a must for all keen honeymooners (or babymooners who just want to kick back and go full maxo-relaco) who wish they were in Hawaii but, for obvious reasons, can't quite make it there yet.
Arajilla is a hotel on the island which offers up an all-inclusive package you're going to want to get around. You'll be in for moonlit walks, candle-lit dinners on the beach, private picnics, day spa treatments, breakfast in bed and your very own snorkelling tour of the gorgeous lagoon.
Uluru
Northern Territory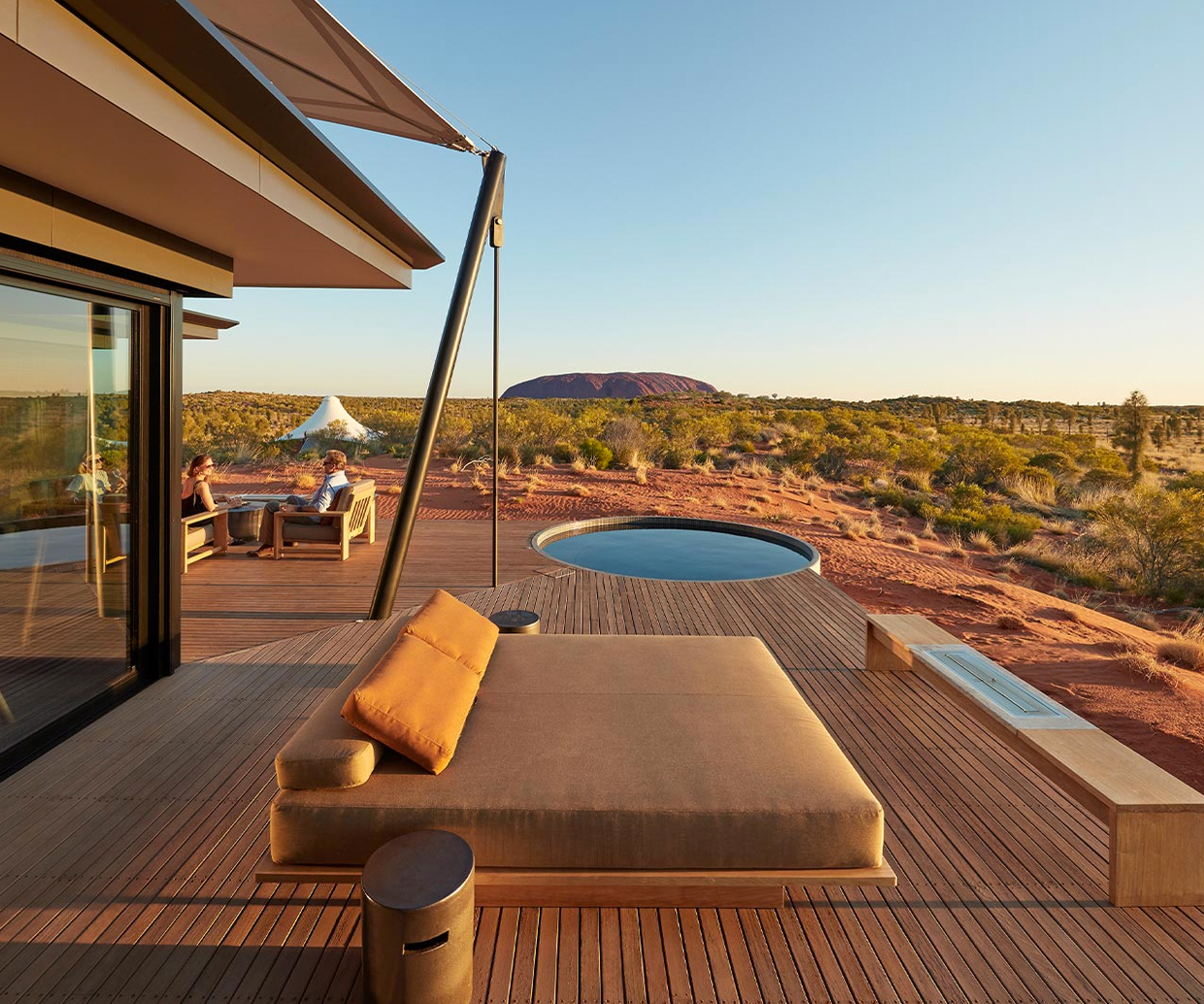 It goes without saying that Uluru has to be one of the most magical places in Australia. Along with its deep First Nations cultural significance, this place not only clocks in as an absolute must-hit for those around the world but the offers and packages up this top-end really turn it up for the honeymooners and babymooners. Jump on a segway tours around Uluru, hike into Kata Tjuta or lap up desert dinners underneath the stars.
For newlyweds, you're going to want to look no further than the luxury glamping situation at Longitude 131°, practically made to make you feel on cloud nine at all times of the day. Dotted among red dust dunes and with only 16 pavilions, this intimate glamping set up is unbeatable and it's an excellent base regardless of how you spend your trip up here. While all the accommodation options here are a win, the Dune Pavilion plates up a burning view like no other (and we can't forget the outdoor daybed, fireplace and ever romantic plunge pool overlooking the outback frontier).
Whitsundays
Queensland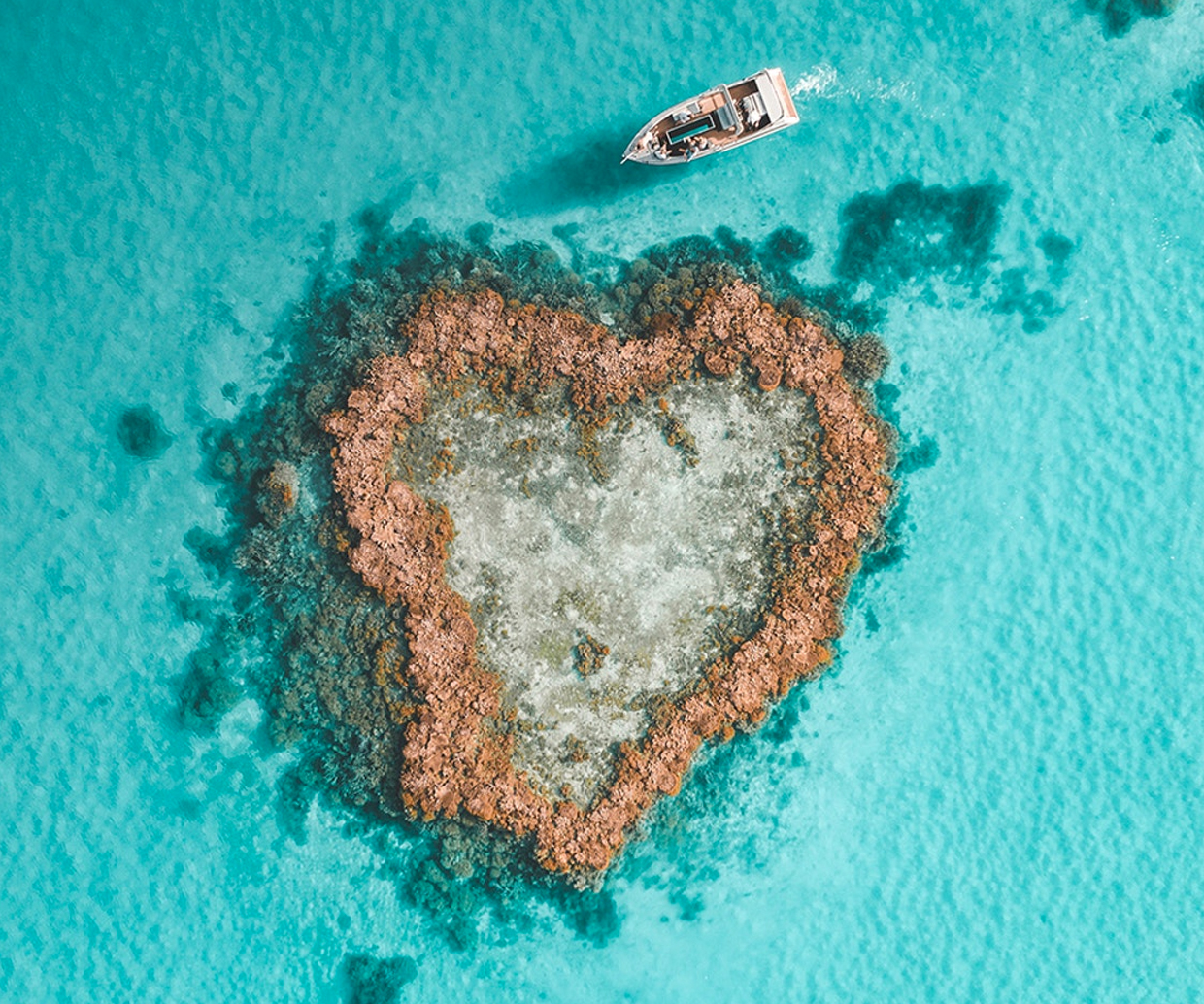 It's long been hailed as the "Heart of Romance" and with just one look at those crystal clear waters, you won't have to ask why. From taking scenic flights to the Heart Reef (which, unsurprisingly—is in the shape of a love heart) to walking, hiking and swimming your way through 74 island wonders filled with national parks and secluded paradises, the Whitsundays is easily one of the best destinations to honeymoon or babymoon in Australia.
As for where you need to stay, if Cupid could stay in a real-life hotel he'd shack right up at the oasis known as Qualia. Located on the northernmost part of Hamilton Island and surrounded by the Great Barrier Reef, Coral Sea and Whitsundays, there's a bunch of all-inclusive packages you can choose from to make your holiday-ing here that much more seamless with ones for the foodies out there, the ones ready to deep dive to the bottom of the ocean and the ones ready to kick it back a notch and soak in some rejuvenating facials.
Coles Bay
Tasmania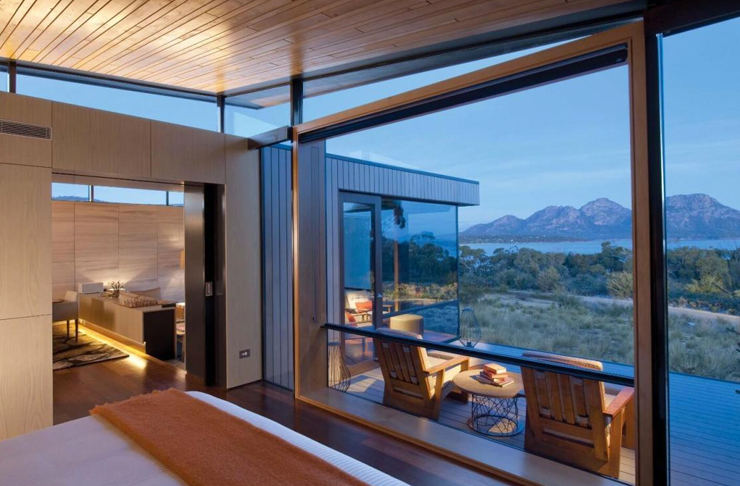 Sheer, pink granite mountains, uncrowded beaches and all of the Freycinet National Park at your fingertips to explore. If you're out here scoping out a rugged, romantic honeymoon destination in Australia for the pipeline—Coles Bay is practically screaming your name. The activities at Coles Bay mix in everything from eco cruises and quad biking to more refined ways to pack out your day with food and wine tours. Picnic Island is a top place to stay here and will see you staying in a stunning copper lodge (designed by Tasmanian architect John Latham) on your own private island. And yes, you'll probably spot a seal or two chilling on the rocks.
If you're truly, and we mean truly, aiming to max out the love budget, Saffire Freycinet is a babymoon no-brainer. Your stay at this luxury hotel in Tasmania will be all-inclusive so you don't have to lift a finger.
Venus Bay
South Australia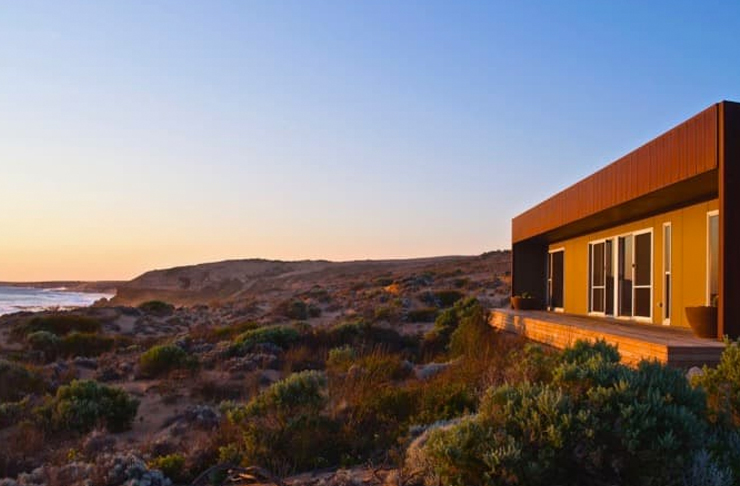 For those big seclusion vibes, jet your way down to South Australia's Venus Bay (on the Eyre Peninsula)—more specifically Camel House Beach House. This one is for the lovebirds who went all out for the bucks, all out with the bridal party and all out with the wedding canapes and just want some solid RnR, preferably without reception so the relatives can be side-stepped. This dreamy and rustic hideaway is nestled on the beach in the middle of private coastal conservation which oozes a place to recharge and connect with nature again.
You'll be surrounded by golden sand, red rocks, blue ocean and the constant, therapeutic sound of rolling and crashing waves. Will you both snap back to reality as a new couple? Most likely. The best part is, while international travel takes a hold at the moment, Camel Beach House has actually been inspired by the landscapes of California and Mexico so while you'll still very much be on home soil, you'll feel pretty damn far away.
Ningaloo Reef
Western Australia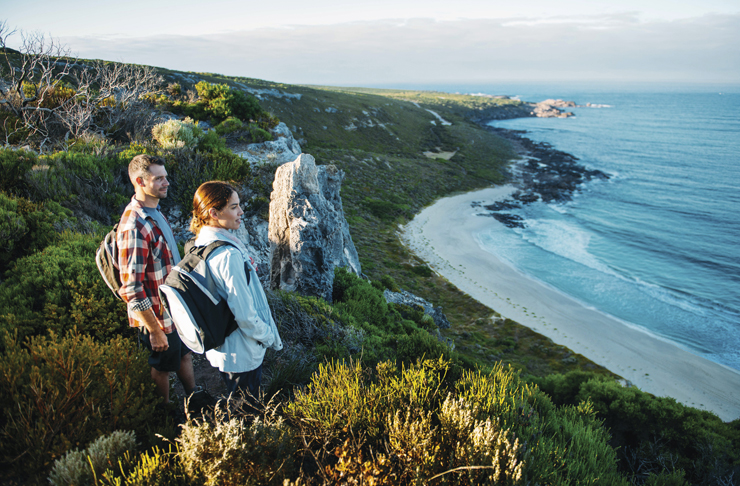 With a dedicated honeymoon tent you know Sal Salis is exactly where it's at for the romantic couples out there. This gem has long been hailed as where "the outback meets the reef" so brace yourself for the best of both worlds. Sal Salis is basically an exclusive beach safari camp nestled in the dunes of the Cape Range National Park near Exmouth on Australia's west coast. Here you'll find 15 eco-luxe wilderness tents on offer which overlook the Indian Ocean and basically bask under the big, blazin' sun every day of the year.
The honeymoon tent is pitched a little further away from camp so you're guaranteed seduction in total solitude. It boasts a wide front deck with a double hammock, a four-poster bed and one hell of a view with uninterrupted scenes of white sand. Activities are endless so you can mark this new chapter of your life by swimming with whale sharks or humpback whales, snorkelling, kayaking and gorge hikes too.
Daintree
Queensland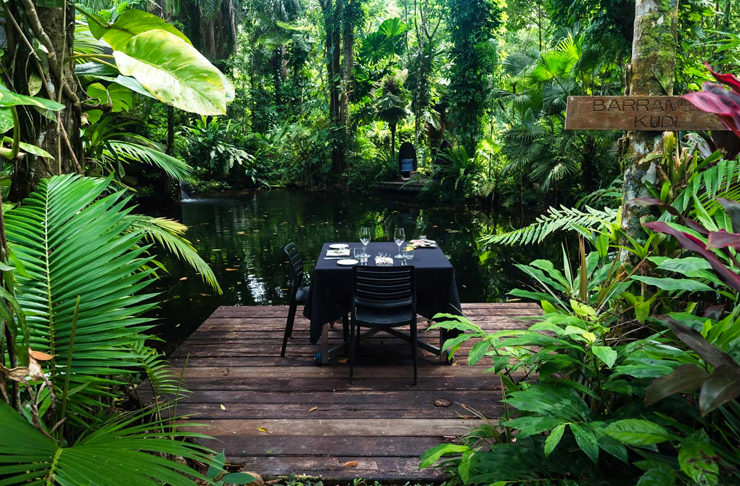 Nothing really screams endless love quite like spending some time in one of the oldest rainforests in the world. Celebrate your nuptials (or have them in the rainforest) at the Daintree Ecolodge, a boutique hotel right in the heart of the forest and packed with private waterfalls and dedicated rainforest walks. The Ecolodge is the perfect base to explore the wilderness here with a main lodge bar, rainforest restaurant and dining area overlooking the onsite lagoon, a Daintree Wellness Spa, swimming pool, private and pristine waterfall and (yep, the list goes on), a swimming hole too.
If you are looking for a package, the XOXO is for loved up couples with an a la carte breakfast, a gourmet indulgence hamper, a six-course private degustation dinner and a 60-minute spa treatment per person.
Daylesford
Victoria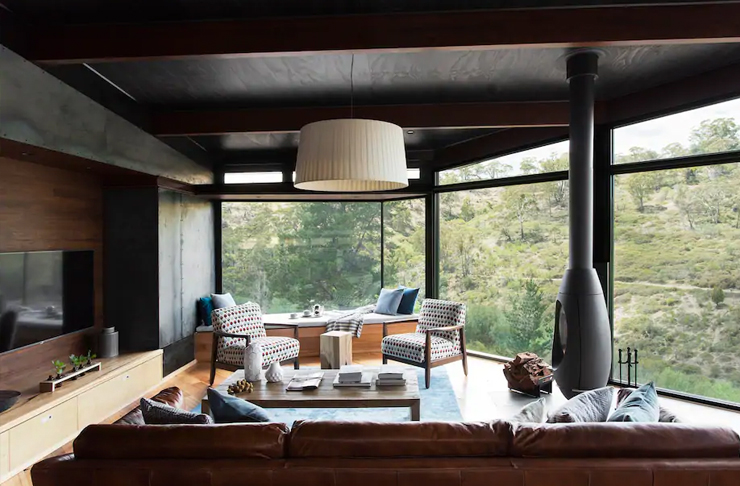 For a honeymoon that oozes all the sophistication with luxury spa hotels, lake houses, lavender farms, galleries, chocolate mills and hot springs—Victoria's Daylesford is your one (or second) true love. Known for being a place of healing and a place to recharge, Daylesford sports famous mineral waters that people travel far and wide for. The Clifftop at Hepburn is practically made for honeymooners will give you a trip to remember until the end of time and look, it may or may not be Australia's most Instagrammed hotel of 2021. There are all kinds of accommodation options here ranging from villas to glamping and don't worry, we won't tell anyone if you end up staying inside the whole time (the views here are insane).
Kimo Estate
NSW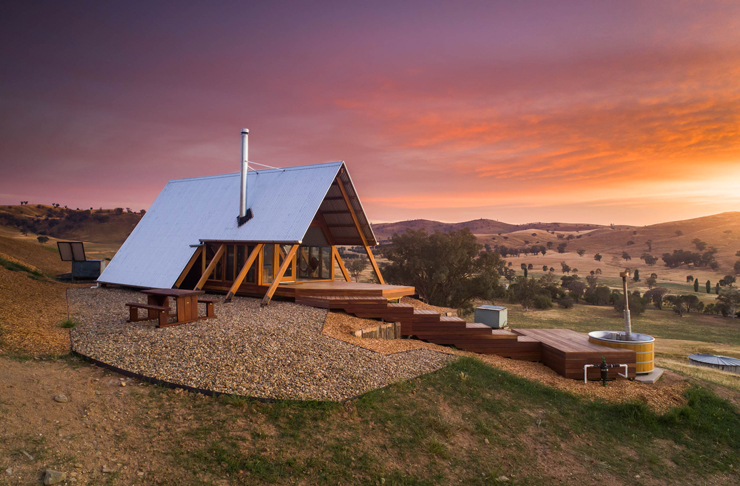 To put it bluntly — Kimo Estate is a bucket list farm stay everyone needs to do at least once in their lives. This luxurious country homestead sees everything from weddings and proposals to sheep and cattle. Accommodation here falls into three categories with Kimo's ever-popular Eco Huts, cottages and its shearers quarters but we think for the lovebirds—the Eco Huts are the only way to go.
The huts basically let you switch off from reality and are designed to fly completely off-grid while sitting high on the hilltops. You'll be overlooking the stunning Murrumbidgee River flats here and you bet there are outdoor hot tubs for all the romantic nighttime dipping. If you're not stuck on the idea of kicking your feet up, Kimo offers helicopter tours of wineries around the Snowy Mountains and there are always a number of workshops happening including wool felting, basket weaving and landscape photography.
Satellite Island
Tasmania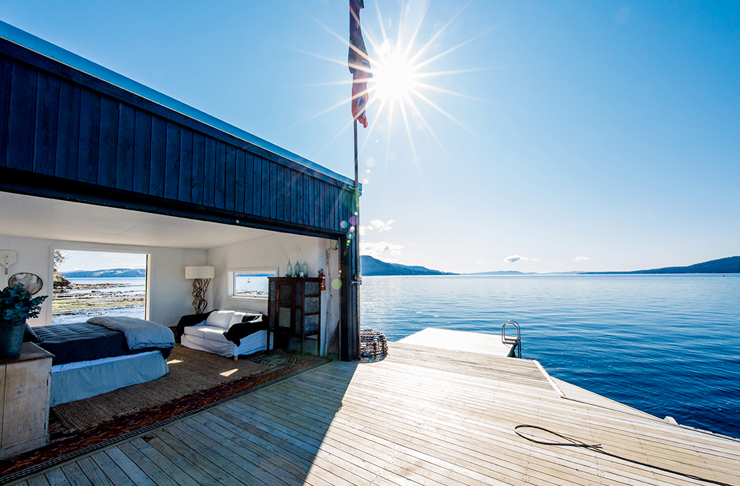 It's secluded, quiet and immersed in nature. A honeymoon at Tasmania's Satellite Island is the type all your mates will be jealous of which comes as no surprise as it's one of the best luxury Airbnbs in Tasmania. Satellite Island is just casually a private island which means when you stay here, it's you and your significant other only. The Boathouse gives you unlimited views and surrounds of sea cliffs, native bush, ancient blue gums and a whole lot of pebble beaches to explore. On top of this, you'll most likely get champagne and smoked fish on arrival because when you've just tied the knot, why the hell wouldn't you?
And here's where to find Australia's best pet-friendly accommodation.
Image credit: Urban List, Destination NSW, Longitude 131, Qualia, Saffire Freycinet, Camel Beach House, Sal Salis, Daintree Ecolodge, Clifftop At Hepburn, Kimo Estate, Satellite Island
Editor's note: Urban List editors independently select and write about stuff we love and think you'll like too. Urban List has affiliate partnerships, so we get revenue from your purchases.