Modern dating has always been a minefield but since the pandemic, those age-old dating habits we felt we'd only just mastered have been replaced with new and wild phenomenons. From 'wokefishing' (when someone pretends to hold progressive views to win you over) to 'apocalypsing' (where you treat every relationship like it's your last), dating in 2021can be a real trip.
But it's not all bad news. Our favourite trend to rise from the ashes of 2020 is 'slow dating' which is all about slowing down with the swipes and truly taking the time to get to know someone on a deeper level. Think of it as throwing your new relationship in a slow cooker and letting things get steamy over the low burner.
And, since food is the best way to someone's heart, we teamed up with Extra White gum and asked cook and food stylist Sian Redgrave for her words of wisdom when it comes to navigating the dating game with confidence.
So go on, keep things fresh with Extra White gum, helping to keep your smile shining white and bright on your next date.
Here's your foodie's guide to dating in 2021.
The Old Faithfuls
Since the dawn of time, date night has been synonymous with drinks at the bar or dinner and a movie. We're big fans of these reliable date ideas, no matter if it's a first date or if you've been with them for two years, but Redgrave says doing your research and finding a restaurant with an edge is the secret sauce to an unforgettable night.
"My favourite date was at a restaurant in Sydney called Hubert. It's incredibly designed in the most luxurious and traditional French way, with red velvet curtains, candles and dim lighting. They have live jazz, incredible French food and delicious cocktails," says Redgrave.
"My special other and I went to their private cinema evening to see a Quentin Tarantino film, and the restaurant served dinner in the middle of the movie and wine throughout. We stayed late after the film and listened to jazz and drank Pastis. It was a wonderful night."
Often, different stages of relationships will call for a certain type of date. For those who are connecting IRL for the first time after meeting online, grabbing a drink as opposed to a sit-down dinner is always a good option. Redgrave recommends a bar that has great energy, good music and a warm atmosphere because we all know a good vibe is infectious and can make or break the first encounter. "Even though I love beautiful wine and cocktails old fashioned pubs have my heart, so getting a pint could be the way to go!"
And because first dates are awkward enough as it is, Redgrave recommends avoiding anywhere your mates frequent, "It would be overwhelming to be getting to know someone and then bumping awkwardly into friends." Yep, best to avoid awkward introductions so you can focus solely on getting to know your date.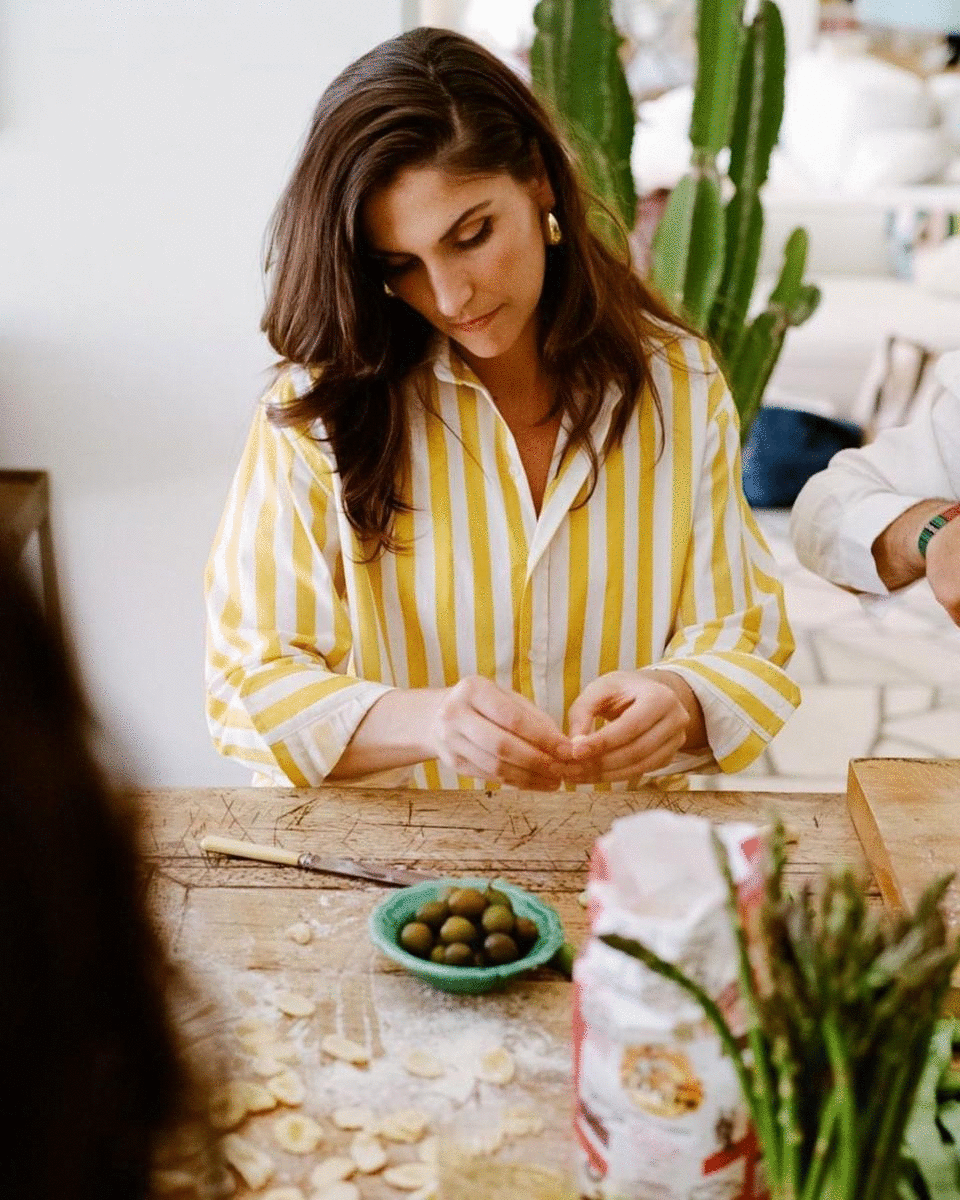 If You're Looking To Take Things Slow
Thinking a late-night situation is too intense for a first date? Ask them out for brunch or coffee instead.
"Nerves can get the better of us all and I've also had some friends go on dates that were so horrific in the first 10 minutes they needed an exit strategy for their sit down dinner! I think grabbing a takeaway coffee and going for a walk at the beach or park is a nice and casual way to get to know someone without the pressure of formal dining," Redgrave explains.
"Meeting someone in the daylight seems to normalise the whole situation and not make it feel so forced."
You Think They Might Be The One
So you've swiped right, enjoyed a handful of dates and entered the undefined grey area. Now you're looking to show them how much you care and make the relationship official. Spice up your regular drinks date by taking them to trivia, surprise them with a gourmet picnic under the stars, take them strawberry picking, or whisk them away to a fancy winery.
If your bae's love language is 'acts of service' and 'affection' (so, everyone!) then your best bet is to cook them a romantic meal at home. Plus, it won't cost your entire paycheque.
Redgrave's top tip for impressing someone you fancy is to be authentic. "Don't cook something you have never made before, because you won't feel confident. Choose familiar and loved cuisines so that you enjoy the process and have fun creating the meal. Food is such a receptor for emotion and I swear you can taste the stress in a dish that was made by someone anxious!"
"Cooking is such a sensual and habitual thing, it shows a lot about the inner workings of a person. Whether they are free-spirited and spontaneous or calculated and reserved, one's approach to cooking says a lot about who they are. I'm sure if two people did a cooking class together and there was harmony in the kitchen it could be very sexy," Redgrave hints. You heard it first, lock in that cooking class date, stat!
As for channelling your most confident self before your date? Redgrave says dry shampoo is your friend and believes less is more, "Ironed clothes are always worth the effort. Less make-up and being natural is beautiful. Brush your teeth and pop some gum—instantaneous confidence."
So go on, chew Extra White gum to help keep your teeth clean and bright so you can feel your most confident self on your next date.
Image credit: Sian Redgrave Instagram, Shingi Rice
Editor's note: This article is sponsored by Extra White and proudly endorsed by Urban List. Thank you for supporting the sponsors who make Urban List possible. Click here for more information on our editorial policy.