We've grown accustomed to a snap lockdown every now and then here in Aus, so when your plans are cancelled, it's always good to have a backup plan—enter the home cocktail bar. It takes some setting up if you're starting from scratch, but once you're kitted out you'll wonder why you never had a shot at it earlier.
We're here to help you write your shopping list and realise the boozy potential of your humble abode. Everything from the glasses and the cocktail equipment to the booze are on this list, so from now on, the only thing you'll be throwing back on a Thursday is a drink. So let's be-gin, here are the best home bar essentials—equipment and alcohol covered.
Home Bar Essentials | Equipment

Bitossi Home | Romantic Glass Tumblers in Clear (Set of 6) |
Price: $120
There's no point making cocktails if you don't have some beautiful tumblers to serve them in. The Romantic Glass Tumblers from Bitossi Home are every bit as beautiful as they sound, with a sleek, classic design and a ridge feature, they're the best home bar essential when it comes to glassware.
Avanti | Art Deco Cocktail Shaker
Price: $29.95
Speaking of art deco, this cocktail shaker is straight out of the roaring twenties. No bartender can survive without one of these, so when curating your home bar essentials equipment, this is an absolute must.
Bar Craft | Cocktail Jigger 15 - 75ml |
Price: $12.95
With its rigid exterior, this cocktail jigger makes it easy to measure your spirits, and it looks great on your bar cart. Easily switch from single shots to double shots with the one jigger, and follow all your favourite cocktail recipes with absolute precision.
Uber Bar Tools | Pro teardrop Platinum Black |
Price: $38.45
Often overlooked, the humble cocktail stirrer should be included in your home bar essentials equipment list. A teaspoon is no good for your highball drinks, and a regular spoon is no good for stirring, so do yourself a favour and get this super stylish stirrer in platinum black.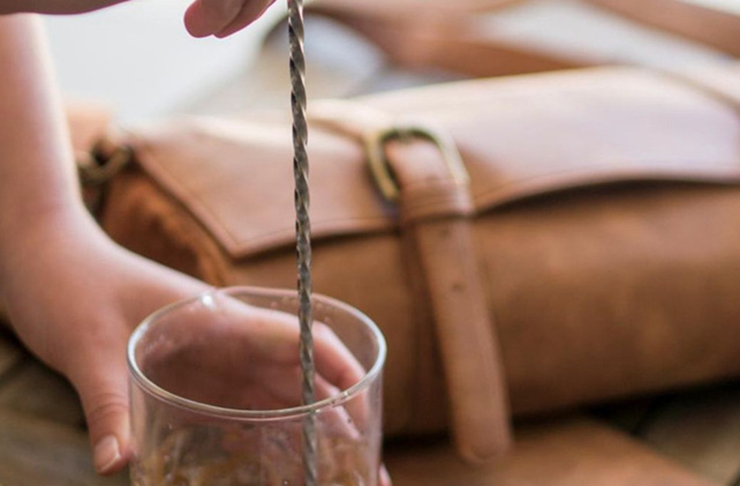 Bar Craft | Cocktail Strainer Stainless Steel |
Price: $14.95
When you've gone to the effort of shaking up your cocktail to perfection with aromatics and ice, you don't want to ruin the experience by having everything topple into your glass—hello cocktail strainer. You'll need one of these in your kit for smooth drinks that are shaken, not stirred. Bonus—it's dishwasher safe.
Worthbuy | Stainless Steel Manual Lemon Squeezer Silver |
Price: $30.89
Why squeeze a lemon with your hands when you can have a fancy gadget to help you? It's far less messy and it catches all the pips. And trust us, you won't just use this in your home bar, use it to squeeze a lemon (or lime) over salads, seafood, desserts and more.
Peak | Ice Cube Tray Everyday Marble |
Price: $24.95
Ice cube trays aren't necessarily the most glamorous item in your kitchen, they're tucked away in the freezer most of the time afterall. But don't overlook these for your home bar essentials equipment if you want to recreate the cocktail bar experience at home. Plus let's face it, the black marble finish just looks cool.
Lujo Home | Stainless Steel Straws |
Price: $29.95
Making cocktails doesn't have to be bad for the planet, get yourself some reusable metal straws that look good and keep your lipstick off your glass. There are four in a pack and they come with a handy brush cleaner, and they also look super classy.
Amalfi | Wembley Bar Trolley |
Price: $271.20
If you're going to kit yourself out for a bar at home, you're going to need somewhere to keep it all right? Short of installing a proper bar fitout, a bar cart is probably the next best thing for the ultimate home bar. This bar trolley from Amalfi is all about the art deco vibes, and it'll make any home feel just that little bit fancier.
Home Bar Essentials | Alcohol

Starward | Old Fashioned Whisky |
Price: $49.99
Whiskey neat isn't everyone's first choice, but whisky in a cocktail? Now we're talking. Dark and stormy, old fashioned, Manhattan, whiskey sour, highball, sazerac, the list goes on. Starward's Old Fashioned whiskey is definitely one of your home bar essentials alcohol-wise.
Jose Cuervo | Especial Silver Tequila 1L |
Price: $62.60
Next time you have a Mexican night in, complete the experience with some homemade margaritas. The Jose Cuervo Especial Silver Tequila is a super-smooth spirit with notes of caramel, agave and fresh herbs, and is perfect for all your margs and tequila sunrises.
FOUR PILLARS | RARE DRY GIN |
PRICE: $74.99
When it comes to home bar essentials alcohol is crucial. Gin is the base to so many cocktails, from the classic gin and tonic through to the gimlet, Tom Collins, negroni, gin martini, southside and more. So basically, it's one of your home bar essentials and Four Pillars Rare Dry Gin is our top pick.
STRANGELOVE | TONIC WATER NO.8 BOTTLE 180ML |
PRICE: $10
Every bar worth its salt will have a range of mixers on hand, and your home bar should be no different. Strangelove tonic waters are made in Australia and they use 97% local ingredients, so they're a great option if you're looking to support local businesses while enjoying a delicious drop.
Looking for more botanicals? Check out Australia's best gin here.
Editor's note: Urban List editors independently select and write about stuff we love and think you'll like too. Urban List has affiliate partnerships, so we get revenue from your purchase.
Image credit: Honey Fang (Unsplash)