Australia's hot, wide-open spaces are dotted with some brilliant outback towns, all filled with a rich history, iconic pubs, steaming artesian baths and hey, even the odd opal mine here and there.
While we really love our cities, outback towns are an entirely different ball game and knowing the best of the best can really make or break your Australia-wide road trip.
Read on for the best outback towns in Australia.
The Best Outback Towns In The Northern Territory
Alice Springs
We'd be lying if we said Alice Springs wasn't the gold standard of outback towns in Australia worth visiting. While plenty of people fly into Alice Springs to start their Northern Territory adventures, a lot don't actually bother sticking around for much more than a night, which is a crying shame if you ask us. While here, make sure you check out the kangaroo sanctuary, stop for a bite at Page 27 which packs a delicious punch with pancakes and the best damn beef burgers in Australia. You'll also want to make sure you shop Indigenous art at Papunya.
The company is 100% owned and directed by Indigenous people from the Western Desert of Australia so you can be sure your money is making its way to the right people. They represent 160 artists, including the one and only Yukultji Napangti whose artwork has been snapped up by the likes of Steve Martin, Beyonce and Jay-Z.
Book A Stay
Daly Waters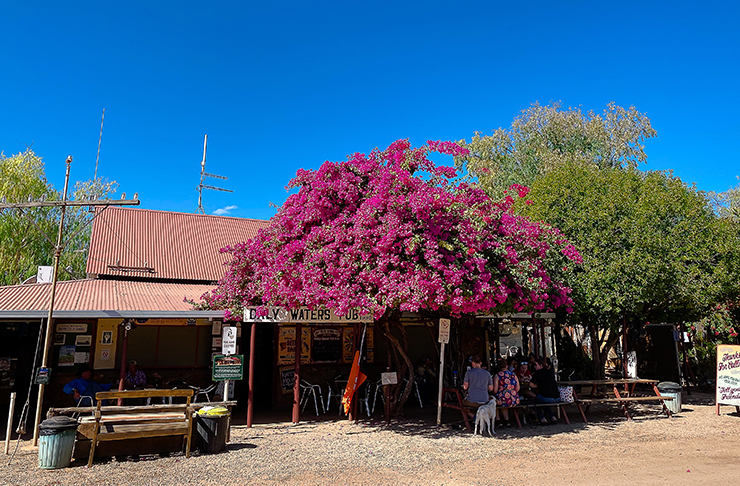 We mean, if there was an outback town famous for its pub…. You'd want to know about it, right? Located about a seven-hour drive south from Darwin, Daly Waters basically sports a 1930s pub that has stood the test of time and still whips up one of the best schnitty feeds in Australia. Way back in the day, this pub witnessed a sling of hectic murders (this one's for you true crime fiends), shootouts and cattle stampeding. Now, it's just home to an iconic Happy Hour, novelty bra hangings and the occasional odd ghost (her name is Sarah and don't worry, she's not dangerous), you know, the usual bar antics. Around this, you can also visit the Daly Waters Airstrip and Hanger.
Book A Stay
Mataranka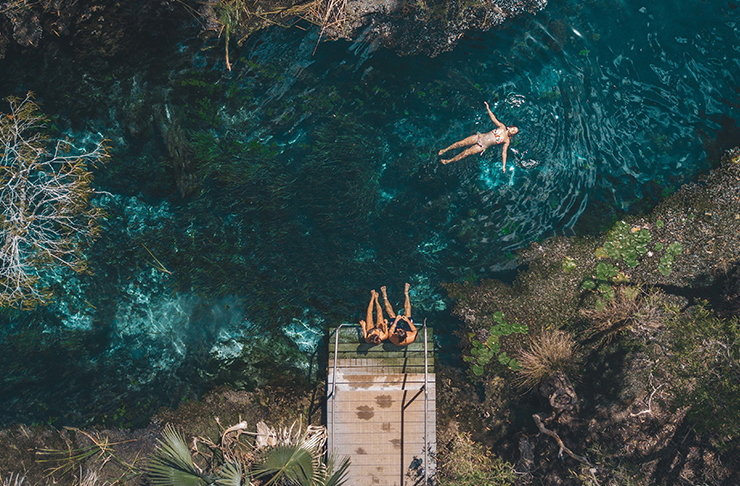 The most beautiful outback town in Australia? We'd back that. If you've never read We Of The Never Never, you'll want to add it to your reading list because it was inspired by Mataranka. This outback town lies just south of Katherine and renowned for its super sandy-bottom thermal pool which is basically the most magical oasis you could ever dream of. Here, you can explore the Never Never Museum, head to The Stockyard Gallery and of course, bathe in the bluest waters you've ever seen in the Bitter Springs.
Book A Stay
The Best Outback Towns In NSW
Silverton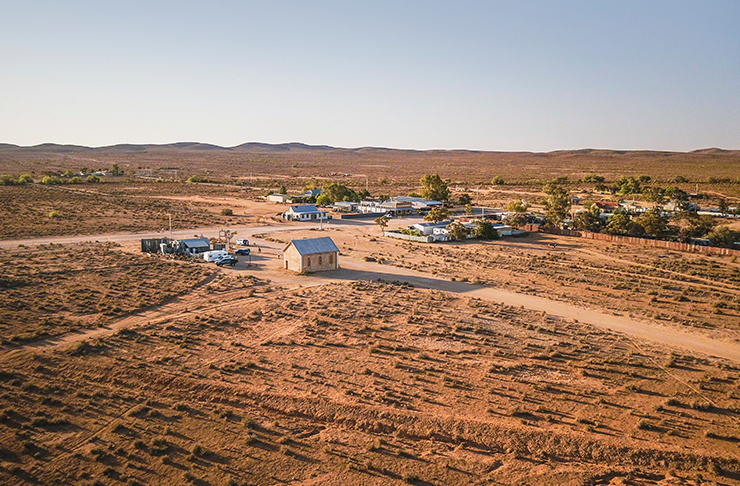 For the slick movie buffs out there, Silverton is a groovy town located at the very far west of NSW—around 25km from Broken Hill. The unusual Aussie town isn't shy of a former movie set or two and has been dubbed the "Outback Hollywood" of Australia, Silverton sports a quintessential Aussie landscape (think roaring, red dirt and splitting blue skies), one that's been used in many a commercial, TV show and movie.
A myriad of movies have been filmed at Silverton Hotel and parked out the front you'll find a pimped-out, black Volkswagen Beetle—a little nod to Mad Max's V8 Interceptor. Just down the road, you'll also find the worldly Mundi Mundi Plains, the lookout here is notorious for witnessing amazing sunsets, dust storms and thunderstorms plus, Mad Max II stans will also recognise the road leading out from the lookout all too well.
Book A Stay
White Cliffs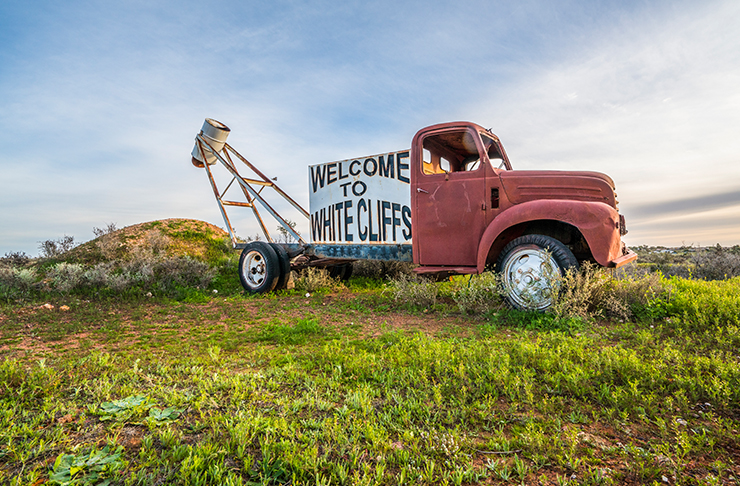 Home to Australia's oldest commercial opal field, White Cliffs is more or less a goldmine, if you will, of unusual antics and places to explore. Hitting hard in the realm of desert-scapes, the town is known for its underground living (all thanks to the outback temperatures) and colonial heritage.
Still kicking it as an active opal mine, White Cliffs is one of the few places in the entire world where you can actually score bits of white opal and rare pineapple opal so we suggest booking a tour with Red Earth Tours to see if you can actually score big time (it's happened before). White Cliffs is also home to Australia's very first solar power station which was erected back in the 80s.
Book A Stay
The Outback Towns In South Australia
Oodnadatta
Picture this, you're driving in the middle of the outback, on your way to The Simpson Dessert. It's been several hours since the last petrol station, and you're on your third cycle of listening to Lou Bega's A Little Bit Of Mambo because yep, you guessed it, there is no reception. But then, far on the horizon, a mirage emerges. Welcome to The Pink Roadhouse and yes, it's exactly how it sounds—a pub, in the middle of the outback, painted entirely pink. Welcome to Oodnadatta.
While this remote outback town in the middle of South Australia is definitely known for its flaming pink roadhouse (which is a general store slash car workshop slash post office slash caravan slash pub), there are a few other odd sights to see here. Other attractions include the overland telegraph line and the Mutonia Sculpture Park at Alberrie Creek which sports a collection of desert sculpture, the most popular being the "Big Dog: made from an old water tank and old Chrysler.
Book A Stay
The Best Outback Towns In Western Australia
Gwalia Ghost Town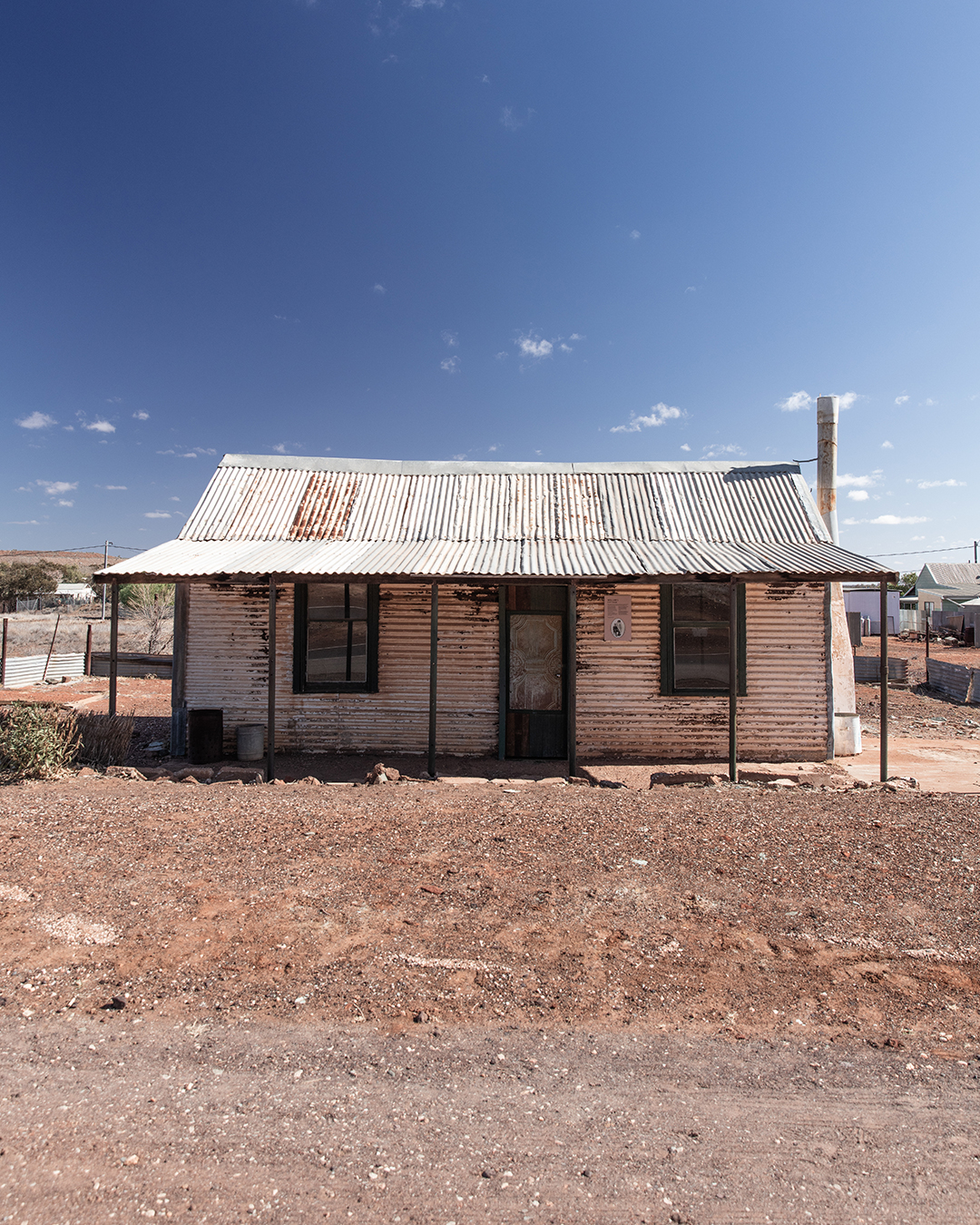 Deep in the shire of Leonora, you'll find the haunted town, rich with mining history, known as Gwalia. An absolute must-visit when you're driving around the Goldfields region, Gwalia now bears abandoned homes and businesses from when the Gwalia mine closed in the late 1890s and put 250 men out of work. The closing of the mine saw Gwalia's 1200-strong populations plummet to 40 in less than three weeks. The outback town is pretty much frozen in time and it once wore a badge of honour as one of the largest gold mines in Australia.
Book A Stay
Mount Magnet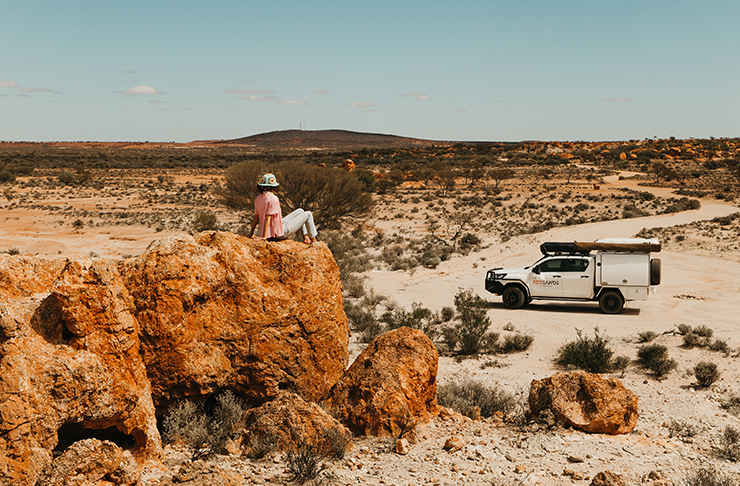 The landscape at Mount Magnet is truly breathtaking so if you're keen to be not only transported to one of the most stunning outback towns in Australia but another planet entirely, keep driving to Mount Magnet. The ancient landscapes of this town are called 'Mount Magnet' for a reason too, down to the fact that the magnetic rocks around this area interfered with an explorers compass back in the mid-1850s.
Book A Stay
The Best Outback Towns In Queensland
Bedourie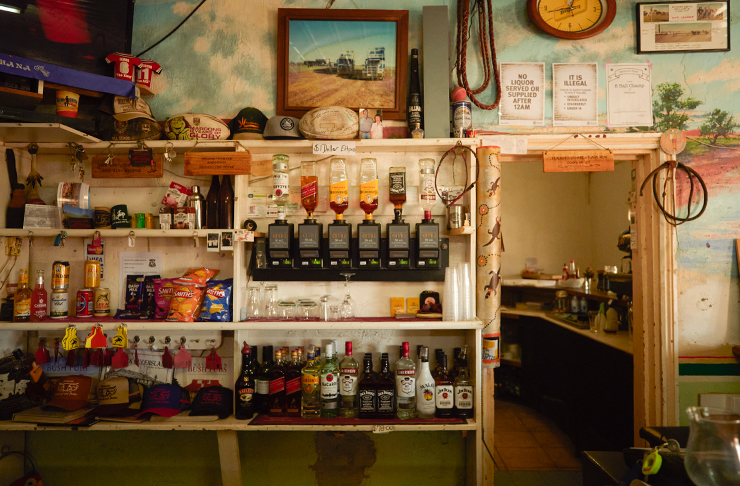 The first thing you need to know about Bedourie is that the closest petrol station is actually located at the Simpson Desert Oasis Roadhouse. With a population of about 140, Bedourie is situated at the very base of a sand dune which is essentially surrounded by Eyre Creek. Here, it's all about getting around the bakeries, checking out the famous 'Bedourie camp oven', hitting the Mud Hut, exploring Diamantina National Park and taking a dip in the warm water of the 22-person artesian spa.
Book A Stay
Julia Creek
Julia Creek is an underrated outback town in the depths of Queensland's outback. Throughout the year, the town hosts a bunch of mammoth events like horse races, rodeos, camp drafts and local football showdowns which, unsurprisingly, congregates the entire 400-strong population. If you're visiting anytime from April through to September, every Monday night the Julia Creek Caravan Park hosts an actual bush dinner where locals take to the fire and prepare a mega outback feed under the stars. Make sure you also check out the artesian baths here, the water temp usually sits between a steamy 38 to 41 degrees.
Book A Stay
Now check the best outdoor baths in Australia.
Image credit: Destination NSW, Destination NT, Destination NT, Destination NSW, Destination NSW, Tourism WA, Tourism WA, Tourism & Events Queensland
Editor's note: Urban List editors independently select and write about stuff we love and think you'll like too. Urban List has affiliate partnerships, so we get revenue from your purchases.