She said yes! Now, after weeks or months of planning her big day, it's finally near, and there's just one thing left to do...party your heels off. It's time for the bride-to-be and her entire bridal party to shake off those pre-wedding nerves with an unforgettable hens party, Brisbane style.
We know you've done enough planning already, so we've whipped up this list of ideas to relish in the bride's final days as a bachelorette.
Hit The Road On A Tamborine Mountain Wine Tour
Spoil the bride—and yourself—with a delicious Kiff & Culture wine and dine adventure through Queensland's stunning Tamborine Mountains—aka the gateway to the Scenic Rim and one of Australia's most underrated wine regions. Perfect for any hens party, Kiff & Culture's unique and colourful tours will take you to four of the finest wineries topped with an incredible two-course lunch at Mason Wines. Offering a jam-packed but delightful itinerary, the day tour also includes door to door collections and a drool-worthy cheese board at Witches Falls Winery. Want to explore other regions? Kiff & Culture also run artisan food and drink tours in Brisbane, Gold Coast, Tweed Hinterlands and Byron Bay. Click here to find out more.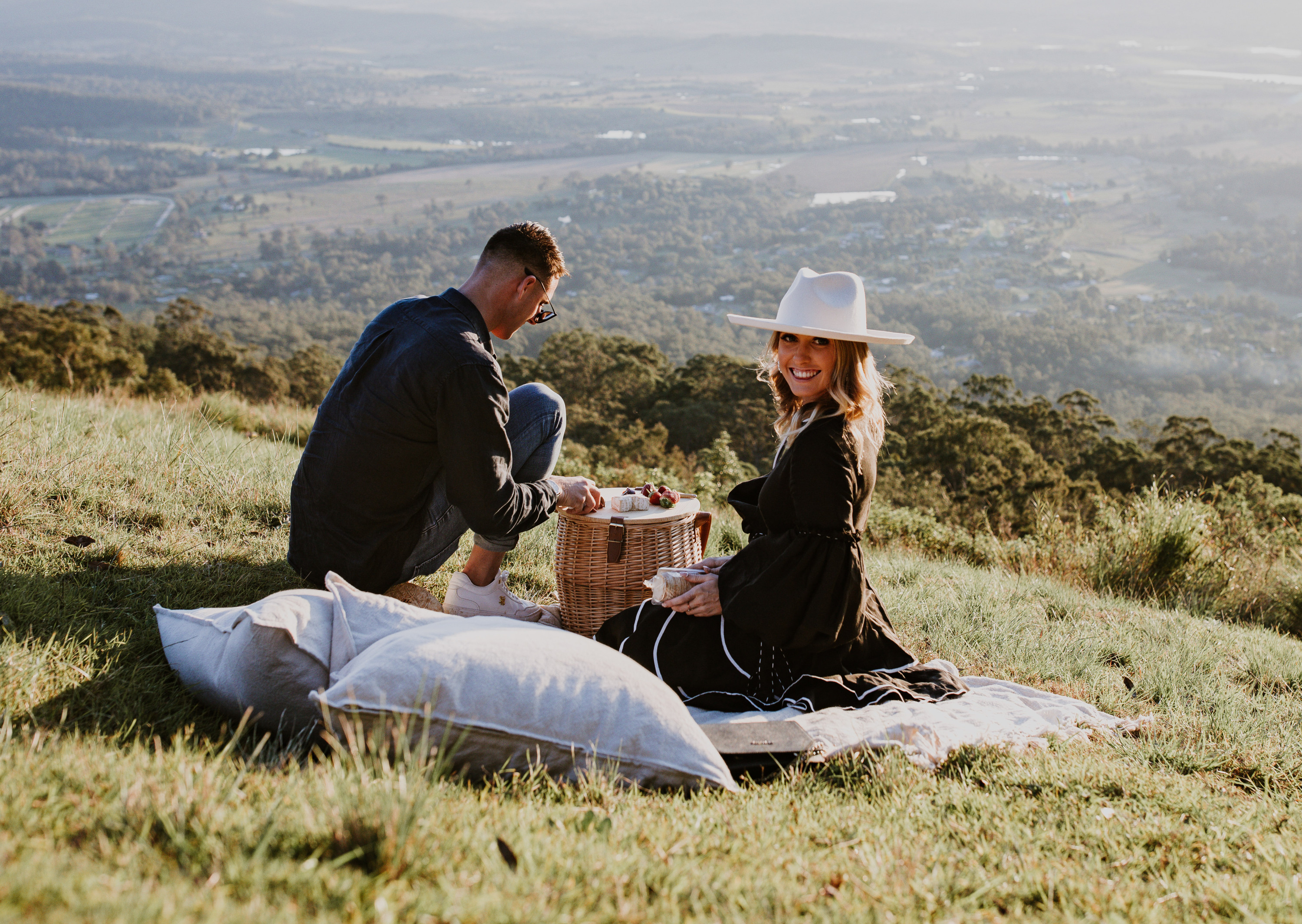 Book In For A BYO Flower Crown Workshop
Dried flowers are all the rage right now with their eternal beauty and long lives. So how about adding that beauty to your wardrobe by booking a regular or private workshop at Woolloongabba's Florals By Blush and creating your own dried flower crown? Just to add to the fun, you can BYO your favourite drinks to sip while you create a unique everlasting pot or beautiful dried flower crown. Find out more here.
Spend A Weekend In A Glam Beach House
Picture waking up to the fresh smell of sea salt air then spending the day lazing by a pool or laying on a pristine beach with golden sand, surrounded by the girls you adore. Make the most of the many gorgeous coastlines near Brisbane by booking out a gorgeous beach house for the whole crew. Take along all the booze, snacks and games you'll need for an epic weekend and you won't even need to leave. We've even done all the hard work and rounded up a heap of Instagrammable beach houses right here.
Paint And Sip At Pinot & Picasso
Tap into your creative side with a palette full of bright colours, an empty canvas and a glass full of wine at one of Pinot & Picasso's Brisbane venues. Maths isn't really our thing, but we'd say those three elements combined with a group of your closest friends equals an unpredictable, possibly messy, bonding experience. Your unique creations will not only be memorable but you'll have some new décor to take home and admire in memory of this wholesome party.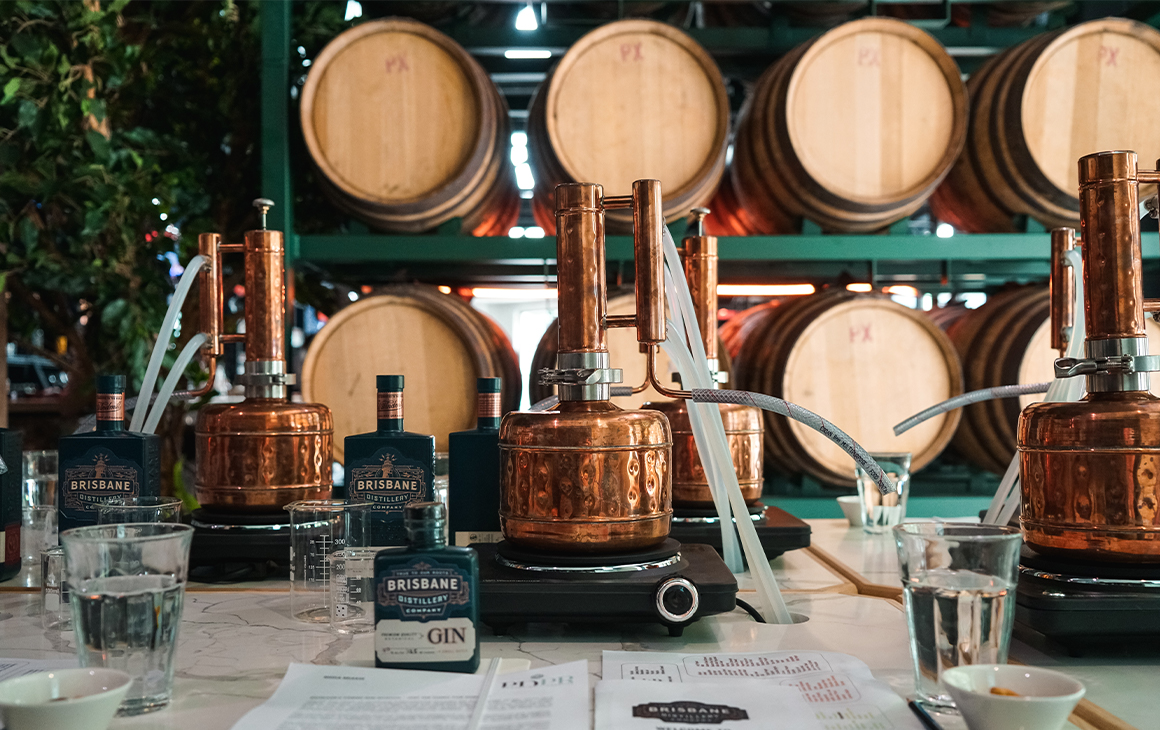 Sip Your Way Through A Gin Masterclass
We can't promise you'll learn anything other than how much you love gin in one of Brisbane Distillery's gin masterclasses, but you will walk away with a bottle of gin you made all on your own. You'll all be provided with your very own miniature copper still and carefully guided to distill your own concoction of botanical flavours, transforming them into gin. While you wait, sip on an expertly made cocktail or three before bottling up your 500ml of gin, labelling it and taking it home—or on to the next stop for your party, which might even be in the good-looking bar just next door.
Make Your Own Perfume At Aromatics
Scents have a way of leaving a mark and throwing us back to a specific memory when we smell them. Concoct a future nostalgic scent to your Brisbane hen's party by creating your own unique perfumes together. An Aromatics Perfume Making class will guide you through how to mix and match scents and create your own result. You and your girls will leave with a new skill and a bottle of perfume to wear on the big day.
Have A Tee Party At Only T
At one of Only T's crafting parties, you'll make your own miniature concrete pots, screen print a t-shirt AND take it all home in your very own green bag. Bonus, the creative sessions at the Albion spot are BYO, so bring along some bubbles and prepare to get a little messy (don't worry, aprons are provided, so you can still dress up). You know what they say, those who craft together, last forever.
Blend Your Own Wine At City Winery
You could go on a winery tour to sample wine—or you could blend up your very own bottle at City Winery. Guided by a pro winemaker, you and your gang will get to blend, perfect, sample, bottle and cork your own one-of-a-kind wine blend. Your newly established fine wine will be signed by the winemaker and ready to drink back at home—or you can stick around for sips and nibbles at City Winery.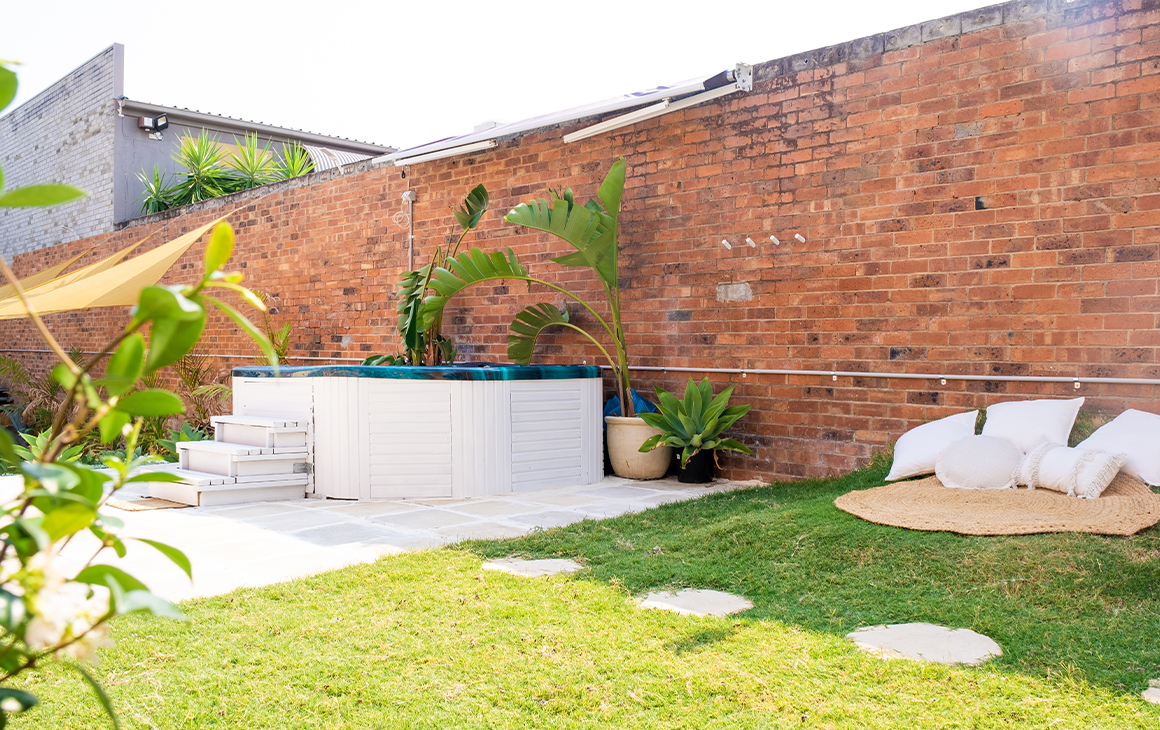 Have A Spa Day At Casa Cenote Bathhouse
Casa Cenote's luxe experience really puts the 'treat' in 'retreat' with more than enough ways for you and the girls to chill out in their Woolloongabba bathhouse. You can book out their entire blissful space out for multiple sessions, bring in your own snacks or cheese board and sip on the sparkling provided, to keep the relaxation going all day. Lean into the warm bubbles of the hydrotherapy spa or dive into the magnesium plunge pool to cool off. Once you're splashed out, lounge around snacking on your BYO food, or glide over to one of saunas—there are two. Work up a sweat in the cedar wood dry sauna or indulge in group aromatherapy in the essential oil infused sauna. Find out more here.
Settle In For A Long Lunch
Maybe you'd like to K.I.S.S. at your hen's party, and of course by that we mean keep it simple silly. Sit back, have a drink or 10 and let one of Brisbane's best restaurants feed your appetite, until you all slip into food comas together. We're here to give you the goods with a list that will guarantee phenomenal food and even better views—check out our favourite spots for a long lunch here.
Drink Up At A Boozy Brunch
We all love a fancy brunch where you get glammed up at 11am, mixing brekky and lunch and making day drinking is classy (at least for the first hour or so). Sounds like the ideal way to celebrate upcoming nuptials to us, so why not celebrate in style with a boozy brunch? Take your pick from the best bottomless brunches in Brisbane and you'll be sure to have a stellar time at whichever you choose.
Still planning the big day? Check out Brisbane's most beautiful wedding venues here.
Image credit: Ranyhyn Laine