Every pet-parent knows the worst part about going on vacay is leaving your furry friend behind. Separation anxiety is a thing guys, and chances are if you're away for a while, your fur baby will be feeling a little lonely. So why not avoid the stress altogether, and bring your bestie with you to your holiday home? We've rounded up the best pet-friendly Airbnbs in South East Queensland to give your furry friends the vacay they deserve. They don't like being stuck at home either, you know?
Hillview Dairy
Currumbin Valley | Sleeps 8
Four words: wine barrell plunge pool. Need we say more? Yeah, didn't think so. Hillview Dairy offers everything you need to escape from everyday life. You'll be off the grid, but don't stress—there's plenty to immerse yourself in, including an outdoor European bathtub and stunning views of the Gold Coast countryside. Did we mention the plunge pool?
Rabbit Hill Country Cabins
Coulson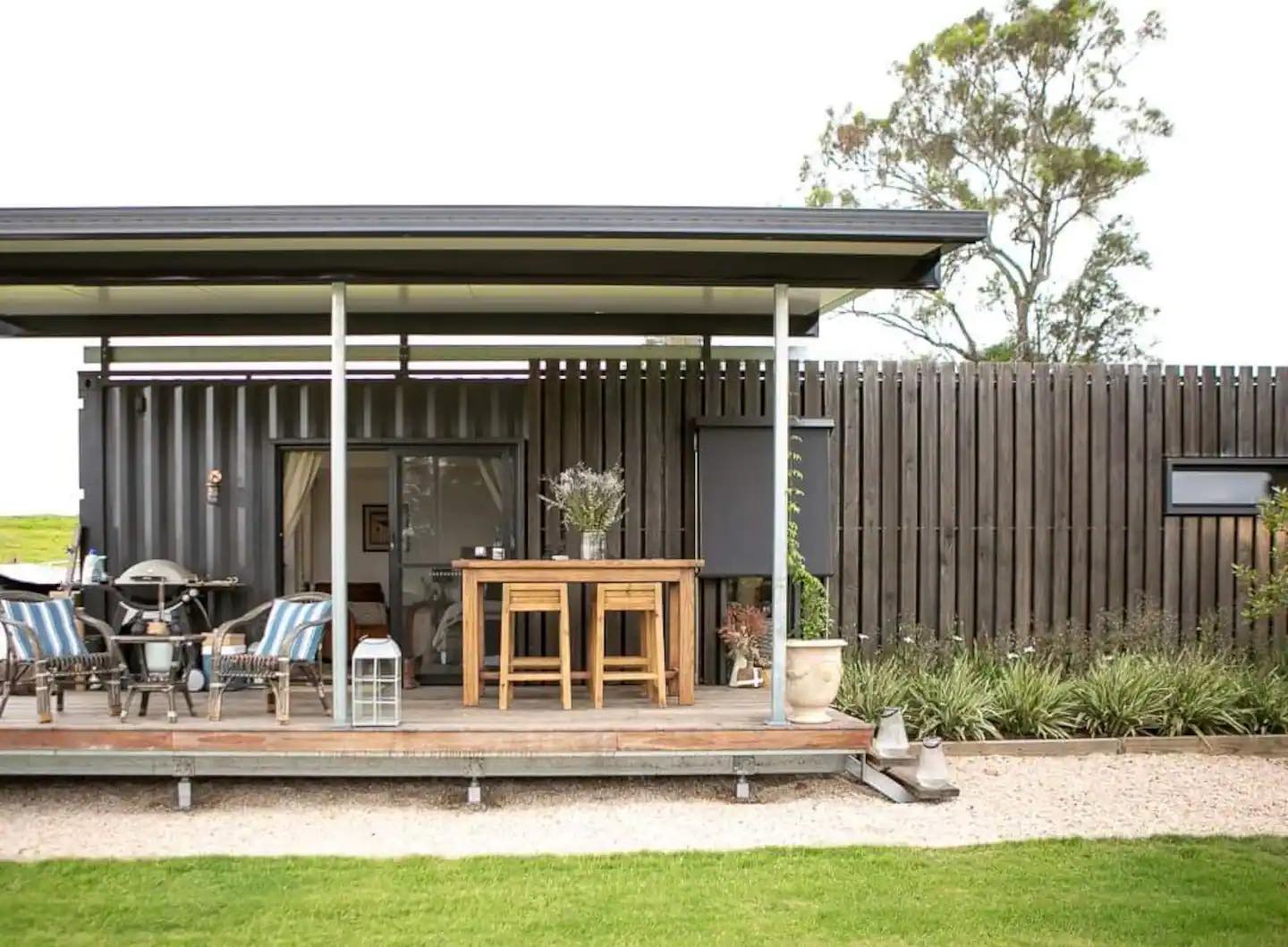 Pack up the furry friends, pack up the fam, and head on over to Rabbit Hill for a farm stay everyone will enjoy. The fully fenced, dog-friendly property includes two stylish cabins overlooking ponies, kangaroos and—no surprise here—rabbits, all grazing peacefully in the countryside. It's a quick five-minute drive into Boonah, which has a range of wineries and cafes, but if eating out isn't your top priority, the outdoor firepit and BBQ at the property will suit you just fine. Book your stay here.
Retro Beach House
Marcoola | Sleeps 6
Step back into the seventies with a vacay at this bright beachside home. The newly-renovated retreat has a retro feel complimented by all the mod cons you need for an easy, breezy vacay. Doggos will enjoy the fully-fenced backyard while their parents enjoy a short walk down to Mudjimba beach. The native gardens surrounding the house are made all the merrier by the sounds of birdsong, best enjoyed over a laid-back brekky on the beautiful pergola deck.
The Woods
Sunshine Beach | Sleeps 4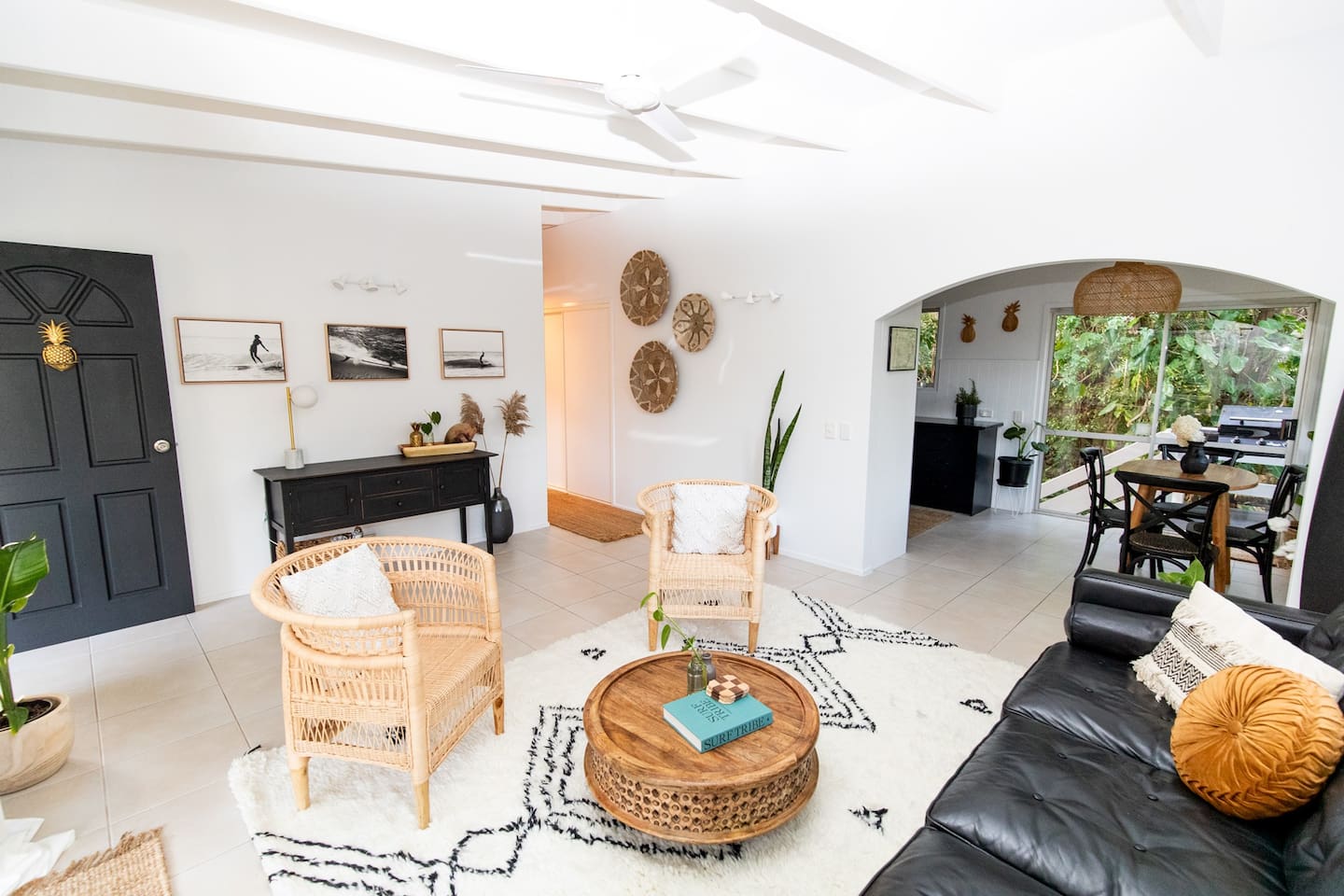 Curl up in a reading nook with views out over Noosa National Park by booking a stay at The Woods. The eclectic tribal-surf atmosphere is just what you need to feel those vacay vibes and get lost in the wonders of the woods outside. Pets are allowed on an approval basis, but be warned: the koalas outside don't take too kindly to roaming doggos.
The Coffee Roasting Shed
Carool | Sleeps 2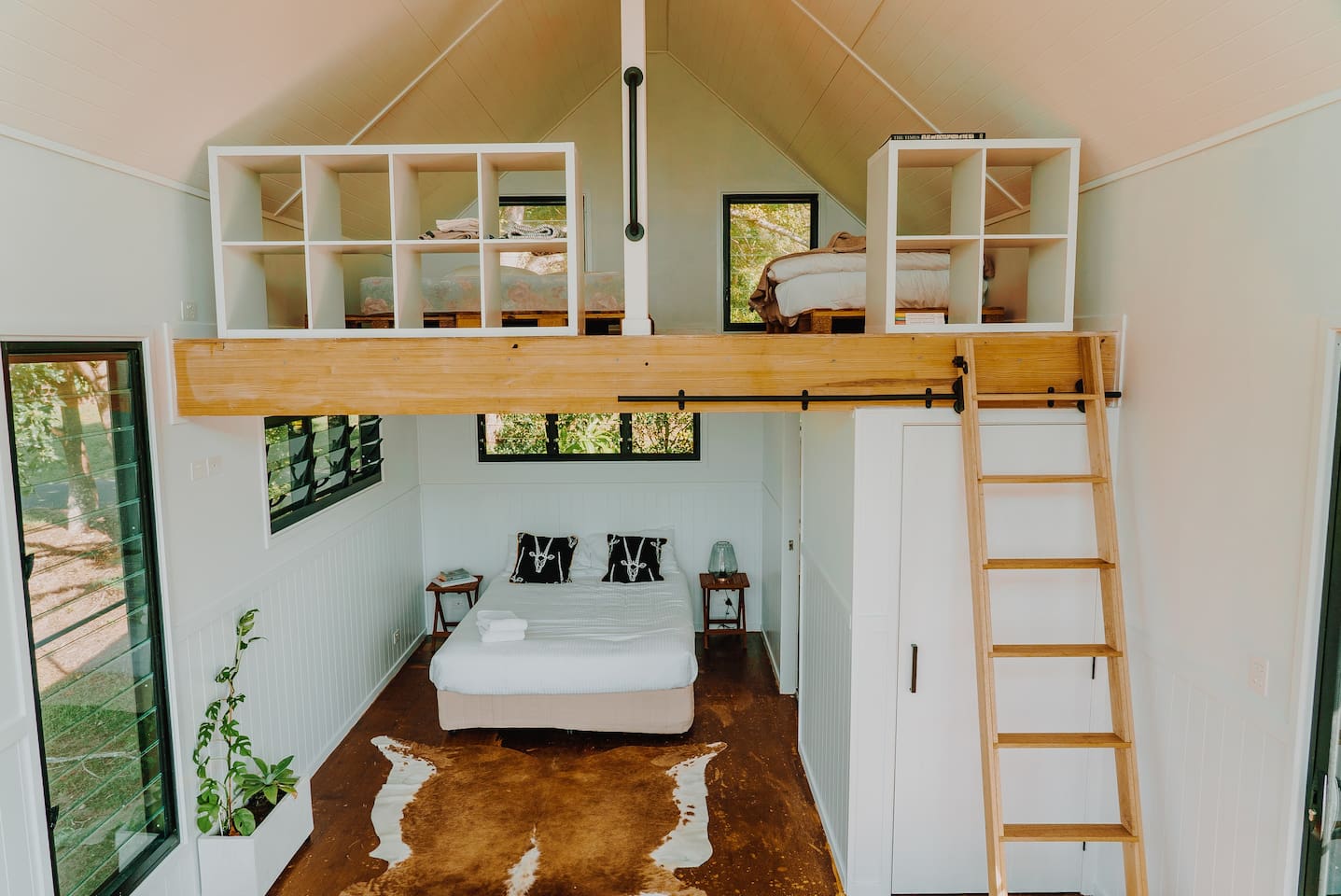 You'll have to venture down into Blues territory to experience this breathtaking mountain getaway, but trust us—it's totally worth crossing the border. The Coffee Roasting Shed has picture-perfect views made all the more impressive by the enormous glass windows lining the walls. Wake up to the sounds of wild birds and wallabies, before treating yourself to a morning coffee on the large outdoor deck. Puppers will enjoy this beautiful bungalow just as much as their owners—just be sure to leave them behind when you head out to the local distilleries.
Little River Cottage
Tumbulgum | Sleeps 6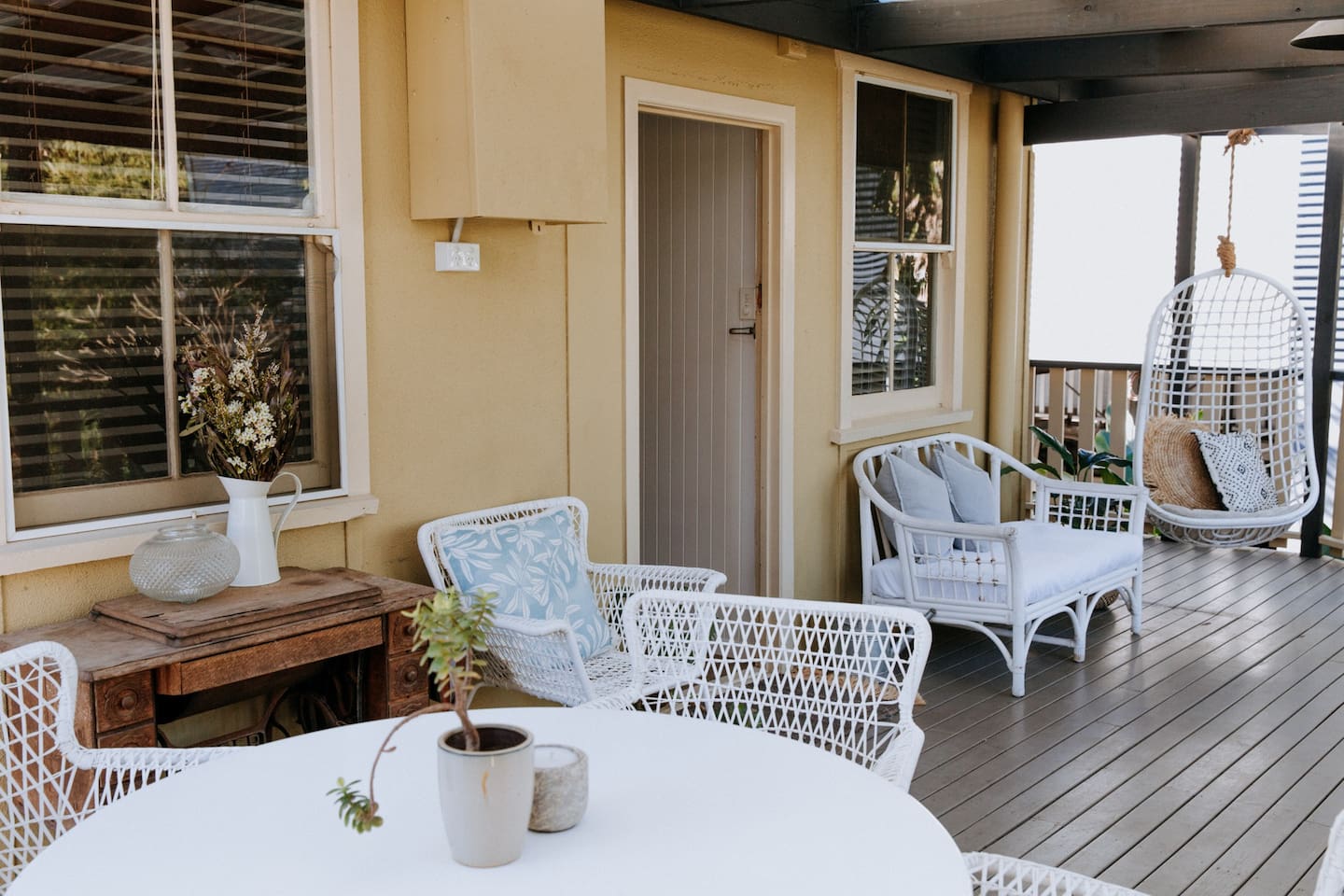 Located just past the NSW border, this quaint little cottage is the perfect riverside retreat. Just minutes away from the beach, world-class restaurants, and boutique shops, Little River Cottage is your home away from home. Go for a morning kayak along the river bank before treating yourself to a refreshing outdoor shower, complete with quality eco bath products that will make your skin sing. The charming village of Tumbulgum will melt your heart, so be sure to get out and explore. Pets are allowed with prior approval, just try to keep them off the couches.
Miami Beach Abode
Miami | Sleeps 4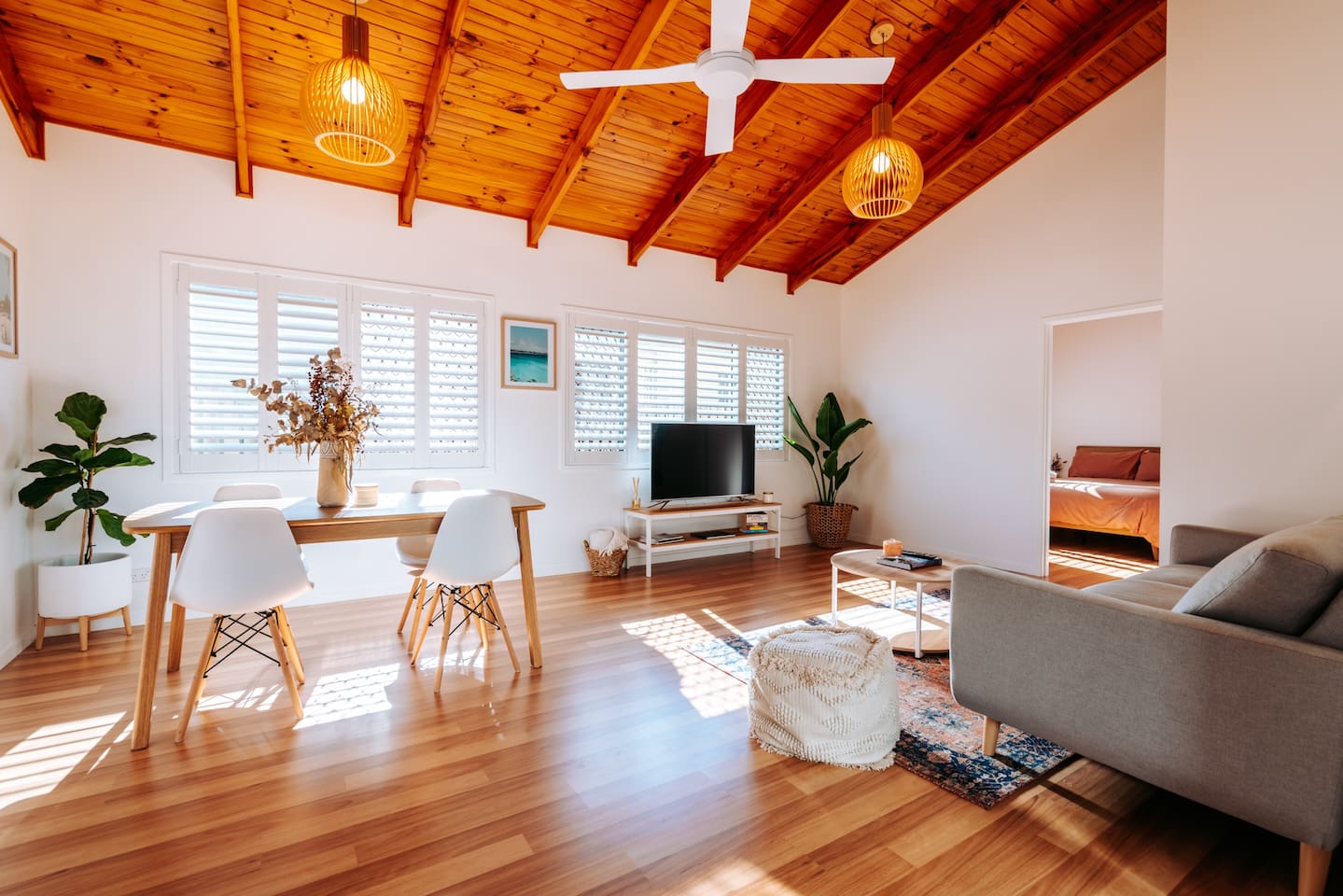 Located just north of Burleigh, this Miami Beach abode is an ideal spot for pet parents to treat their fur babies to a weekend away. This airy two-bedroom apartment is just blocks from Miami beach, and just a short walk away from local cafes and restaurants. The hosts have compiled a guidebook of local dog-friendly areas, so have a flick through as you bask in the natural light filtering through the wide open windows. Sounds just like living in paradise.
Luxury Gold Coast Hinterland Villa
Mount Nathan | Sleeps 10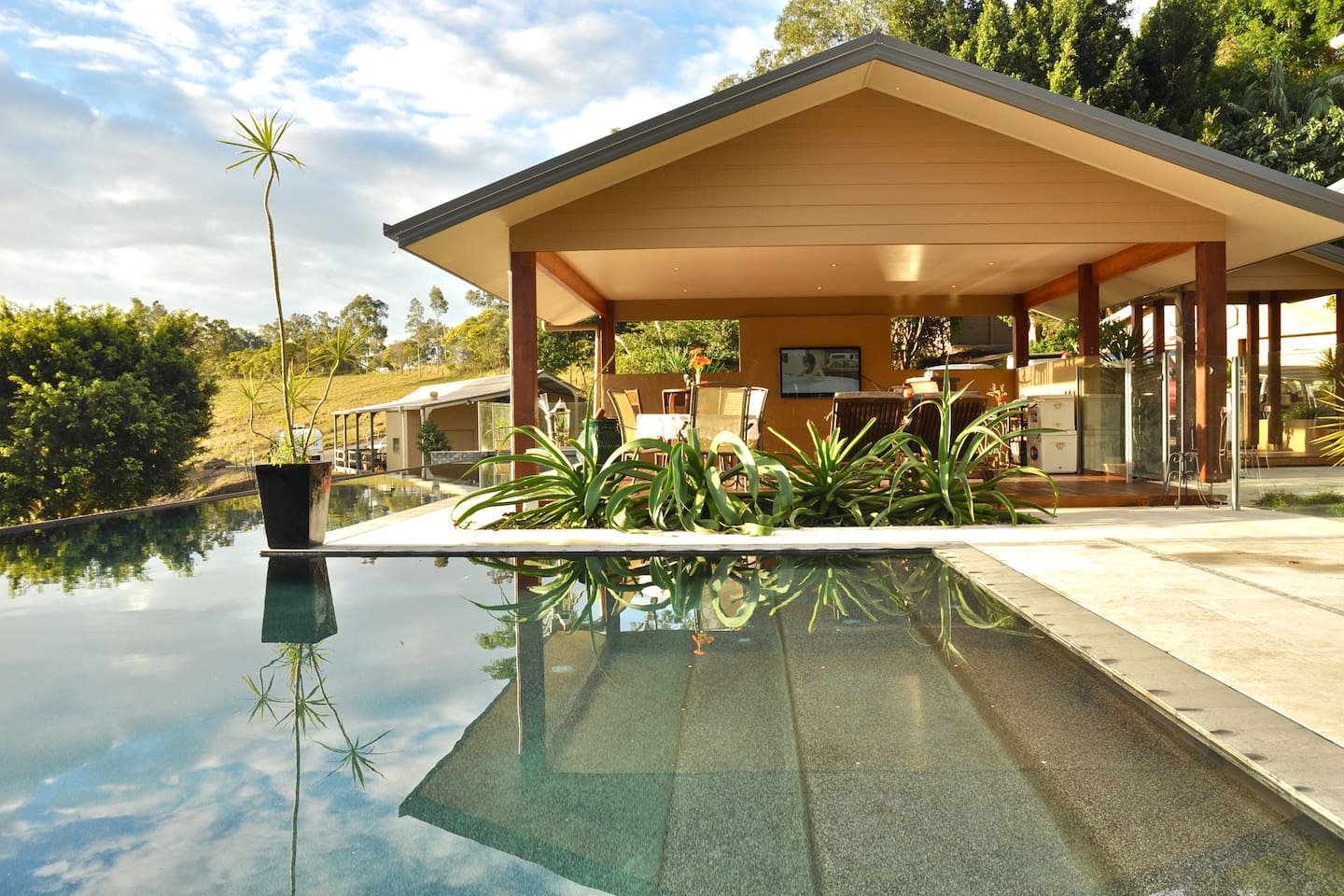 Looking for a holiday home that will put all your other vacays to shame? Ding ding ding! We have a winner. This luxurious hinterland villa is guaranteed to take your breath away. Sure, it's on the exxy side when it comes to price, but the incredible view from the infinity pool is worth every last cent. And the best part is, it's fur baby-friendly.
The Pink Door
Maleny | Sleeps 8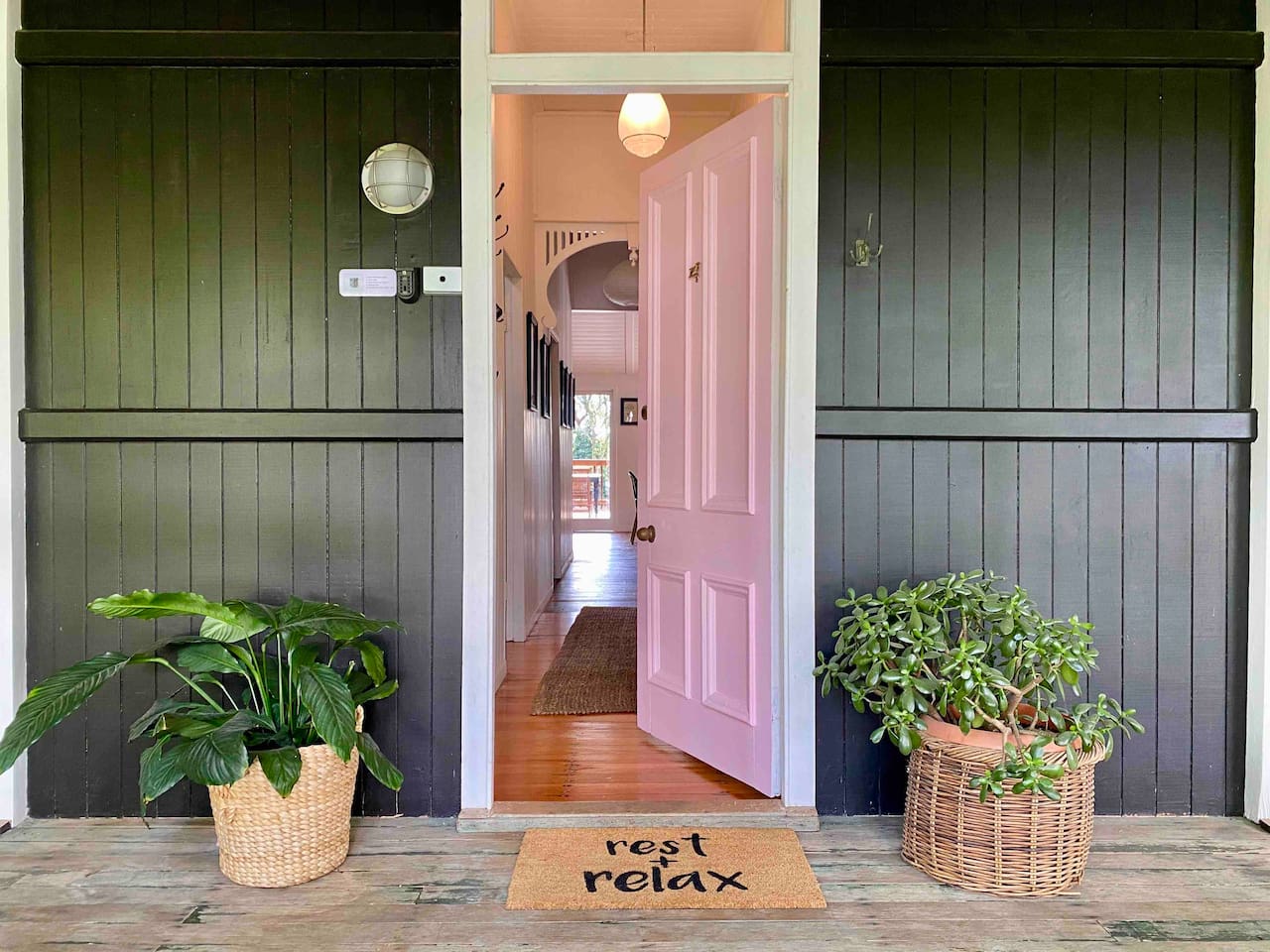 Just minutes away from Maleny's main strip, The Pink Door is a charming colonial cottage hidden in the heart of the Sunshine Coast Hinterland. The sprawling backyard deck offers uninterrupted views of the surrounding gardens, making it the perfect place to escape the hustle and bustle of city life. We recommend curling up with your fur baby in front of the fireplace, and drifting off to sleep.
Vintage Cottage with Valley Views
Canungra | Sleeps 6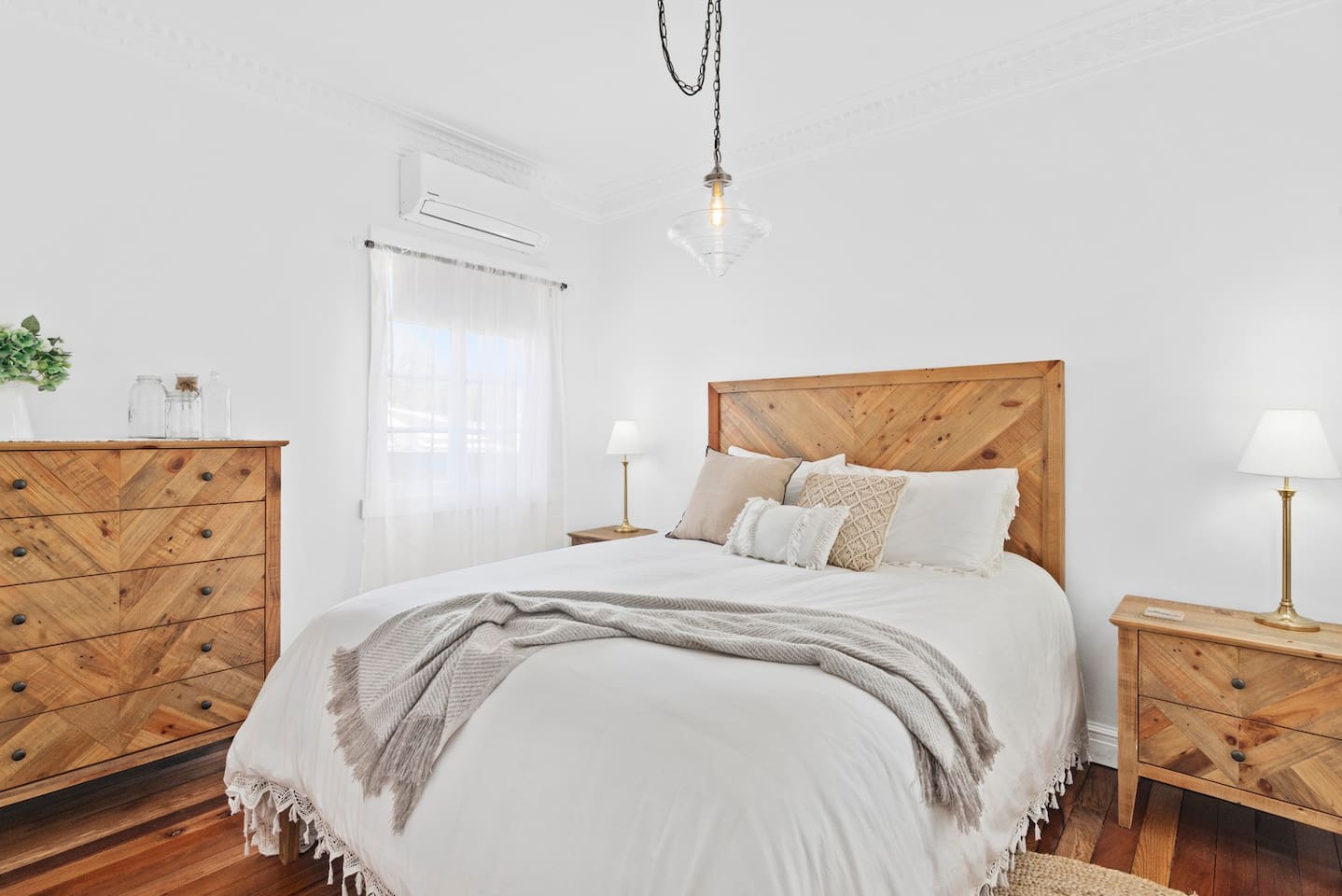 Luxury living meets yonder year at this quaint cottage tucked away in the stunning Scenic Rim. Just an hour's drive from the Brisbane CBD (and a few minutes away from O'Reilly's Winery), the recently-renovated home is set across four sprawling acres, under clear country skies. The surrounding mountain ranges make a beautiful backdrop for brekky on the spacious undercover deck, or to watch the sunset with a complimentary bottle of bubbly. Fur babies will love the rolling country hills, so be sure to bring them along.
Little Red Barn
Noosa Hinterland | Sleeps 6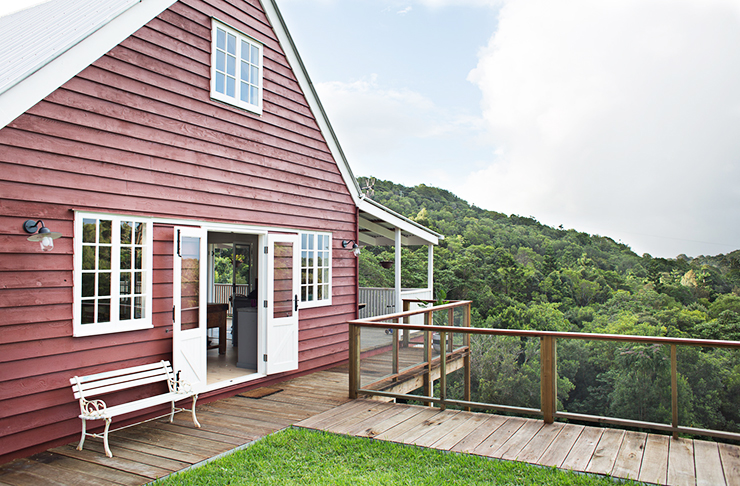 Don't be fooled into thinking the Little Red Barn won't be big enough, it sleeps seven and includes three bathrooms. Cool off in the concrete water tank swimming pool or have a soak in the cast iron bathtub that's up on the veranda as you take in the views of the hinterland. There's plenty of grass for pups to roll around on and a fireplace inside for chilly nights.
The Lake Shack
Wyeba Downs | Sleeps 2
Curl up by the fire after a day of lakeside adventures with a stay in this cosy fisherman's cottage just south of Noosa Shire. The Lake Shack is an ode to whimsical Australiana, featuring hardwood floors, an old-school cooktop and sweeping views of the surrounding wildlife. Push open the huge handcrafted doors and wander out onto the poolside deck, pull up a stool and enjoy a cuppa as you watch the setting sun set the bush aglow, your pup chilling next to you. Book here.
Looking for more glamorous getaways near Brisbane? Try one of these incredible beach houses.
Image credit: Airbnb