When it comes to up and coming suburban dining hubs in Brisbane, the Everton Park restaurants put it right up there with the best. You might think being halfway to Samford would make this northside 'burb a sleepy hamlet, but thanks to the arrival of dining and shopping hub Everton Plaza, it's all happening out here. So much so that even southsiders might be tempted to take the trip.
Ok, maybe not, there is still that age-old turf-war debate, but for those on the north, Everton Park has some unexpectedly banging eateries. Here are the best restaurants worth heading to Everton Park for.
Tetto
Anyone with an Instagram account knows about Tetto, Everton Park's resident Mediterranean-inspired rooftop bar. Climb up the stairs to be transported to an Amalfi coast vibe (and maybe triggered over that Euro Contiki trip you booked two years ago), complete with cocktails so refreshing they may as well be seaspray from the Tyrrhenian Sea. Small plates like bolognese arancini, Napoli meatballs and meat and cheese boards pepper the menu as well as larger dishes like gorgonzola gnocchi and fish and chips if you've worked up a hunger. It's perched atop Everton Park Lane so once again, easy access but also super popular, so don't forget to book.
Seoulful Chicken
Oh we do love a good play on words. You know what else we love? Korean fried chicken. Enter: Seoulful Chicken. Honestly, this place is just a cheat day as a whole-ass restaurant. Don't believe us? They literally have a carbonara bread bowl with whole fried chicken: a round loaf of bread filled with creamy carbonara pasta and topped with crispy chicken pieces. Obscene. If you aren't looking to get in a cardiovascular blockage for dins, they also have original, sweet chilli, garlic soy and snow cheese fried chicken and lighter stir frys and noodle dishes.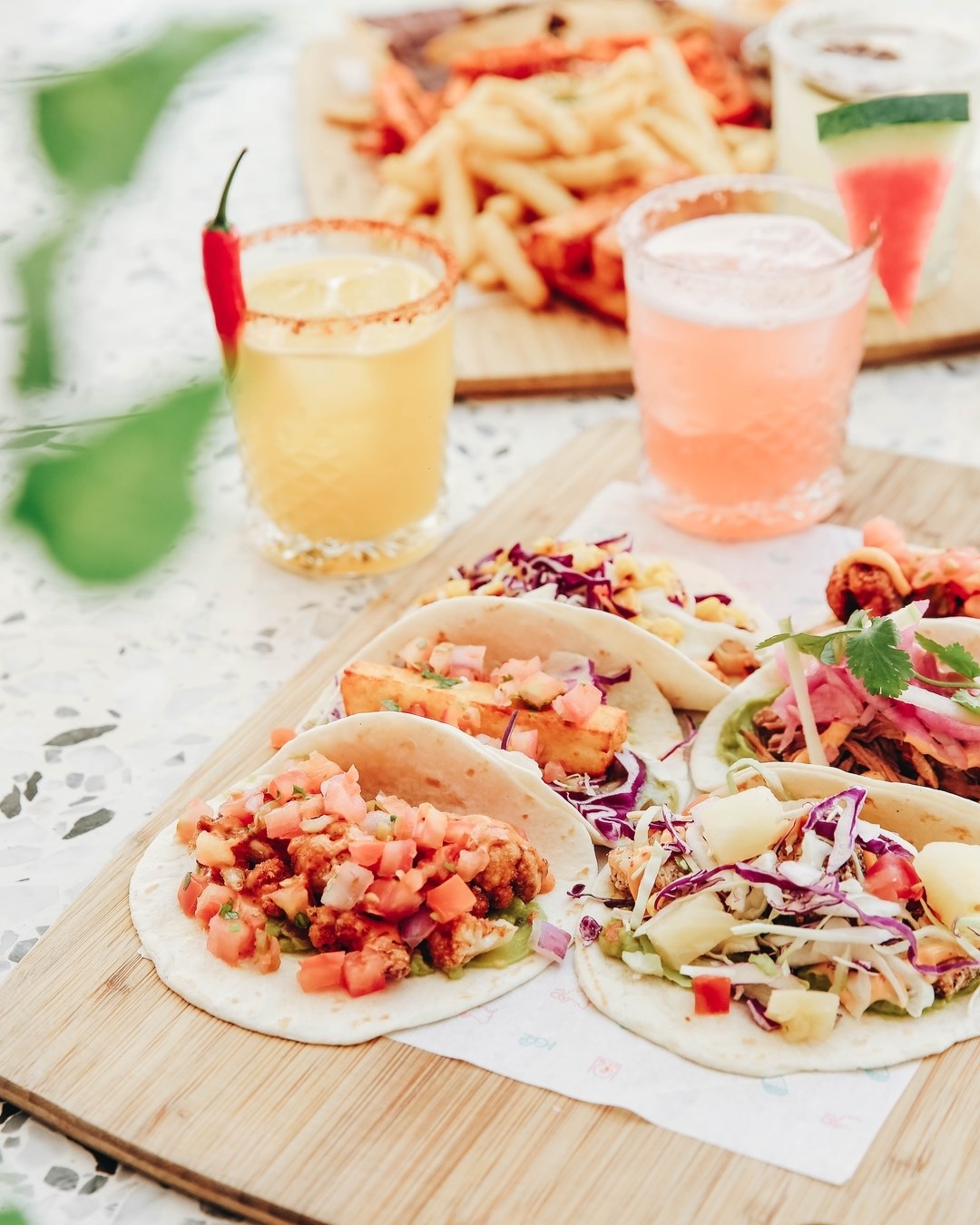 Comuna Cantina
Parked neatly in the laneway of new food-topia Everton Plaza you'll find Comuna Cantina. Just as much of a vibe as its CBD sister, the laneway Everton Park location is as breezy and pastel pink as it looks on Instagram. Go for the Latin American items on the menu—you can't go past their tacos and by god, if you don't pair it with a chilli passion fruit margarita you're doing it all wrong. We can't forget the bonus of the century—parking is way, way, WAY easier.
Impressive Dumplings
So we have royalty in our midst—Impressive Dumplings has just been voted onto our list of Brisbane's best dumplings and for good reason. If that and the roves of 5-star reviews on their website isn't enough for you, just take a peek at their menu. They have the faves you know and love, but what catches our eye is the rainbow dumplings with different flavours for different colours. The options they have on the menu seem to go on forever but this is for good reason– each and every dish is a 10 out of 10. They also have milk and iced tea to wash down your dumpling feast—honestly, how could it get better?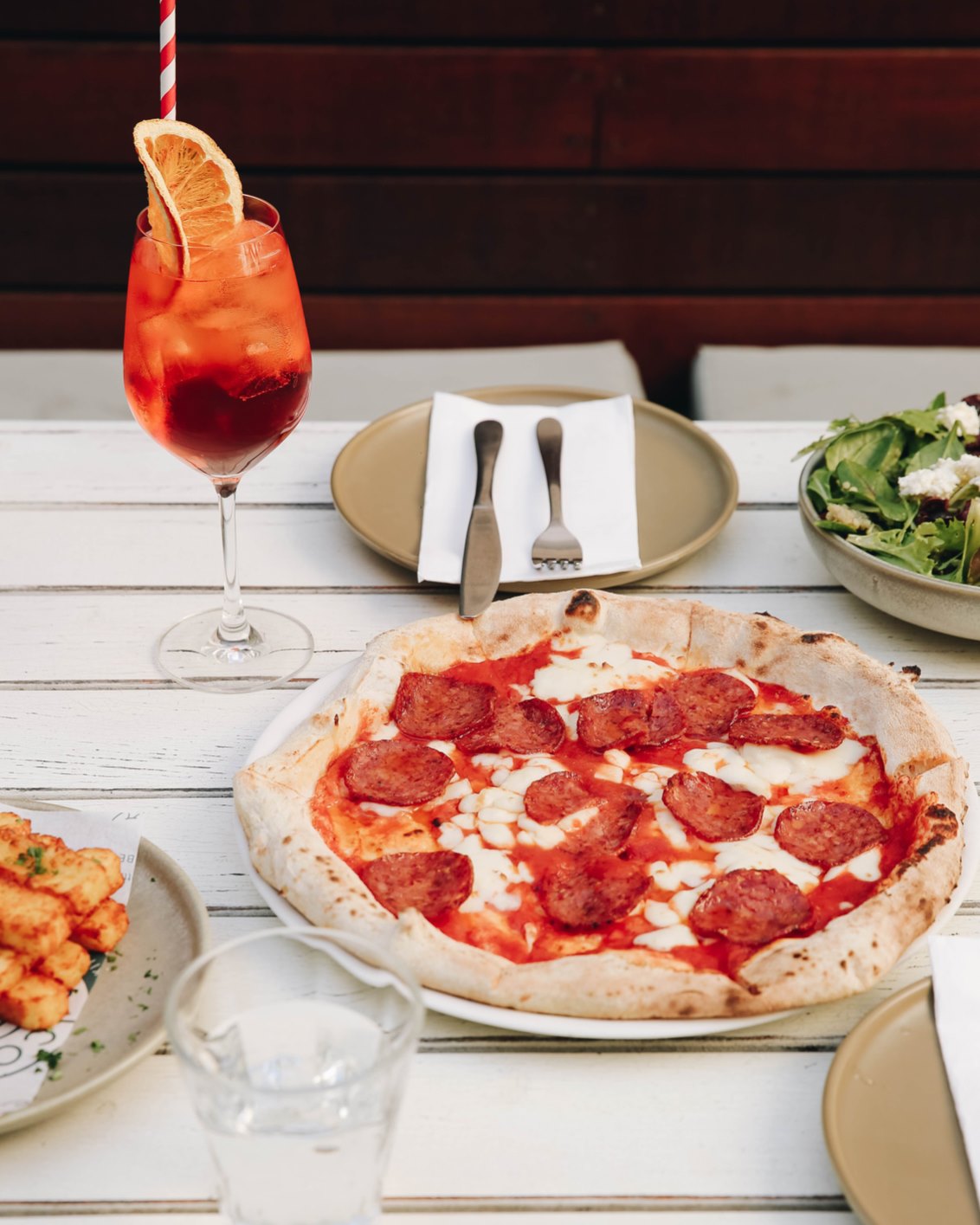 Corbett & Claude
Corbett & Claude—perhaps the best date night location on the northside. Is it the gorgeous forest-green interiors, the no-fuss menu or the all-around vibe? Who knows, all we know is that it's a good time. Expect to be sat at a subtly moodily lit table or booth and have well-done Italian bites—including a generous selection of wood-fired pizzas—float your way. Now the supporting act, the cocktails, are also something to applaud—there's a lychee martini on the list that should be illegal, it's that good. Definitely book, it's always a crowd fave for the masses, especially on weekends.
5 Boroughs
Hey Siri, play Empire State of Mind on Spotify. Right, now that we've set the scene, let us introduce 5 Boroughs—looks like an Aussie bar, but tastes like New York. Handcrafted burgers, NY style sandwiches, wings, tacos, waffle fries, steaks and pork ribs fly out of the kitchen and are paired with home-run classics like beer, an extensive and delicious list of cocktails and even decadent thick shakes and floats (the American version of a spider). Gather the squad for a feast or trivia on a Tuesday.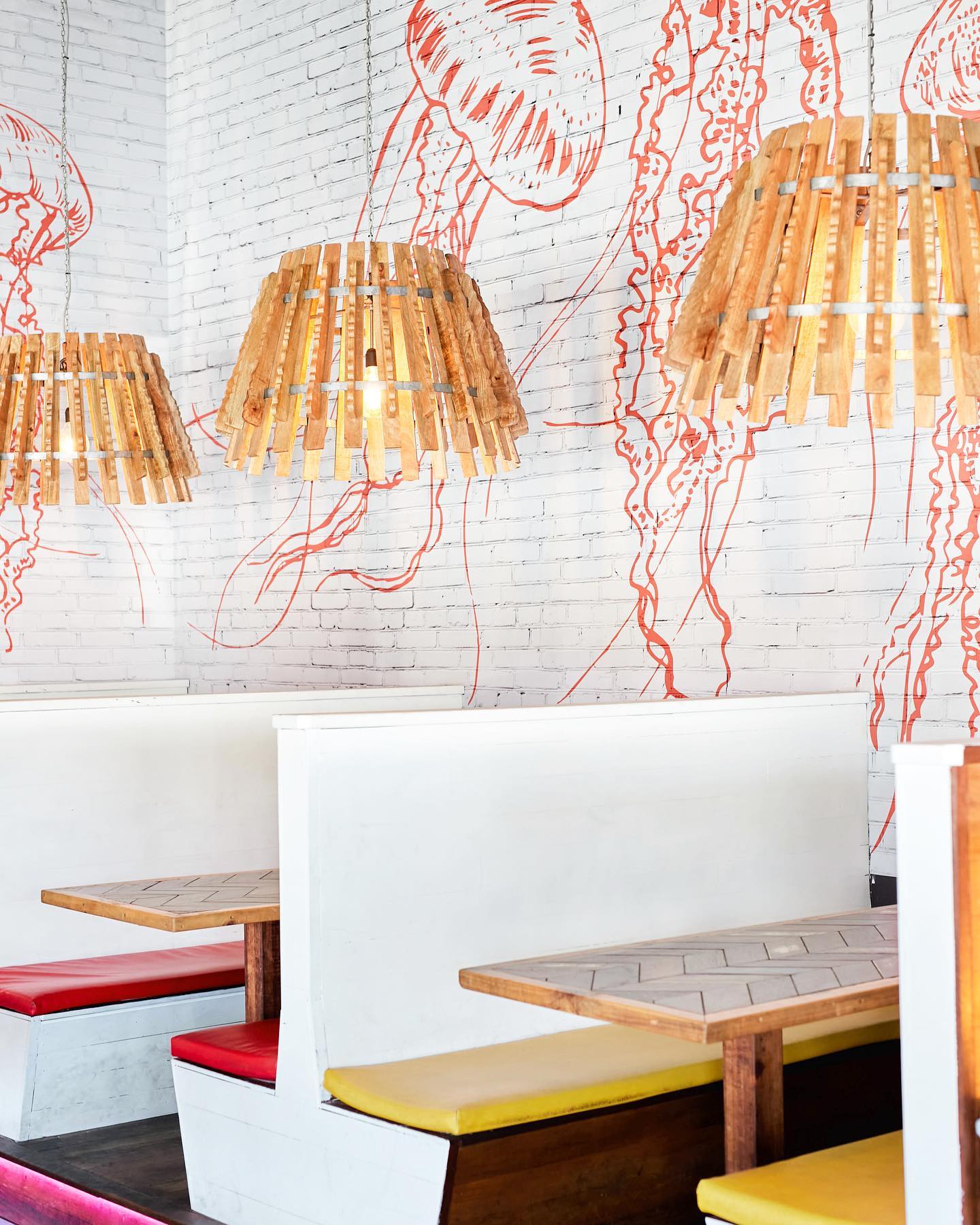 The Lucky Pelican
The king of the seafood scene in Everton Park goes to none other than The Lucky Pelican. The pelican isn't the only lucky thing, once you see their elevated menu you'll be feeling it too– Moreton Bay bugs in the 'burbs? What in the luxury? Surprisingly, as well as a beefy burger menu, the gang has a couple of vegan and vegetarian options on offer, and it also happens to be straight up gorge—think colourful booth seating, a jellyfish mural on the wall and wooden hanging lights.
Kab Kao Thai
Family owned and operated Thai joint Kab Kao Thai has been a staple amongst residents and foodies alike for just about ever. They've got all the classics on the menu—chicken satay sticks, spring rolls, pad Thai, pad see ew, you get the drift. If you're not sure, surely the first order discount will sweeten the deal, with 15% off your very first order. They'll also do you a better deal than UberEats—spend $50 on takeaway and you can get your banquet delivered for free. Dining in is also on the cards though, with a simple dining area inside.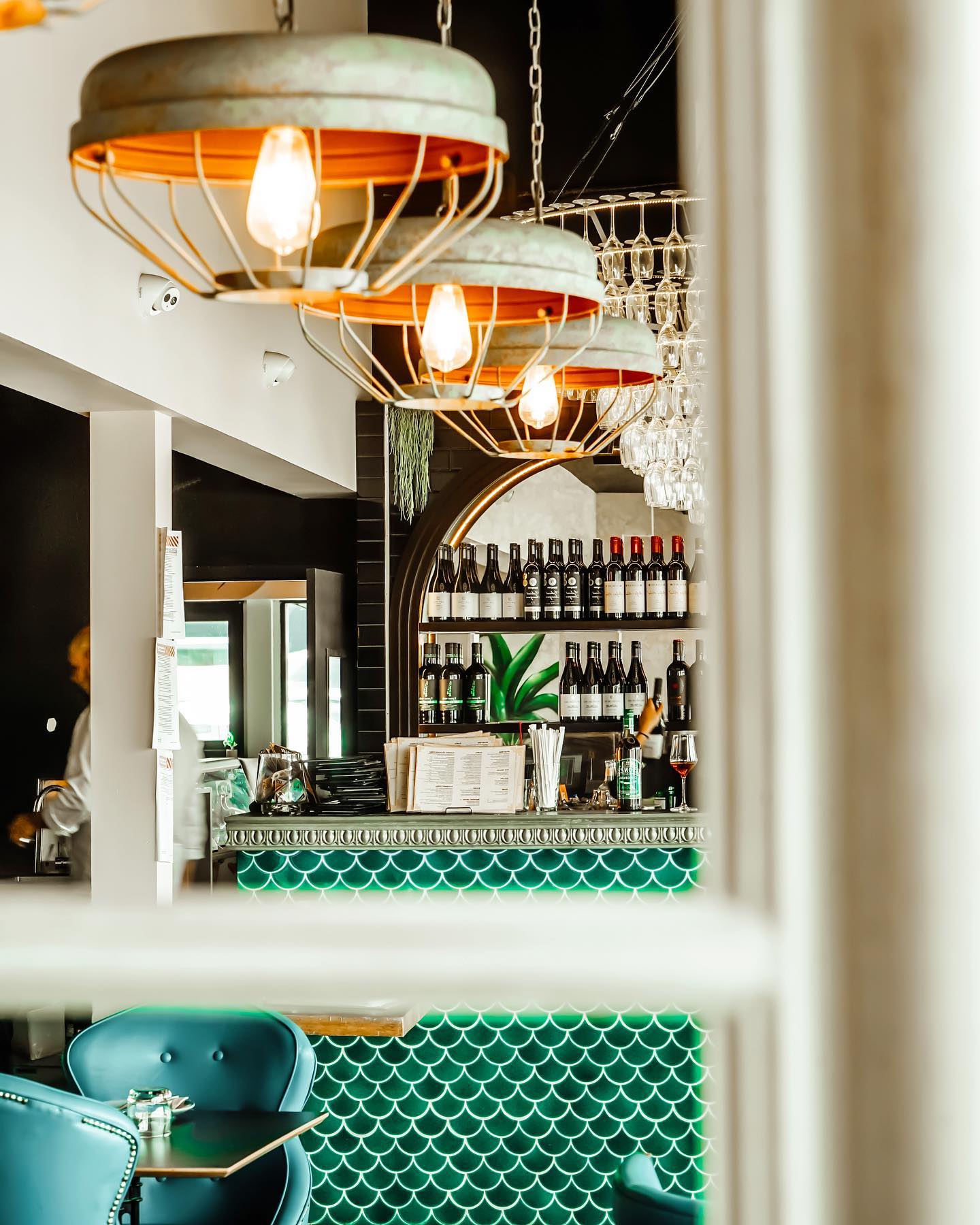 Mozzarella Cucina
Fancy a bit of an upscale affair? Your destination should be Mozzarella Cucina, Everton Park's premier night-out spot. The whole experience is decadent, from the giant champagne flute chandelier that welcomes you inside to the perfectly al dente house-made pastas and woodfire pizzas. And we haven't even gotten to the free-flowing wines and expertly concocted cocktails yet. Romantic and sophisticated it may be, but you'll still want to wear stretchy pants so you've got room for tiramisu at the end of your feast.
After breakfast? Check out the best cafes on Brisbane's northside here.
Image credit: Larissa Drazic