Beaches are a sacred commodity amongst Victorians, typically protected and kept hush-hush. From across the bayside suburbs of Melbourne to the coasts of Mornington Peninsula, The Great Ocean Road, Wilson's Prom, Phillip Island and more there are some spectacular stretches of sand and ocean.
Here's where to find the best beaches in Melbourne and Victoria for 2023:
The Best Beaches In Melbourne
We've got some nice beaches right here in town but it's pretty hard to compete with the ones further south. The bayside of Melbourne is full of nooks and crannies where, when hot absolutely heave with locals, inner-city folk, and the burb residents.
Half Moon Bay
Say what you will about an inner-Melbourne beach but Half Moon Bay is an absolute city treasure. Located in the bayside suburb of Black Rock, the cliff-wrapping stretch of beach with shallow waters on low tide is perfect for all levels of swimming. At dusk, it's littered with plenty of fish and chip enthusiasts taking in the scenes, stunning sunset vistas and crystal-clear water—a clear contender in the best beaches in Melbourne debate.
Brighton
Ah, the classic Brighton bathing boxes. A Melbourne icon, dating back to the Victorian era. There's just something fun about lounging on the sand surrounded by countless colourful houses. Okay, not countless. There are exactly 82. The water is usually fairly calm and swimmer-friendly, and when the weather's right you can catch a glimpse of windsurfers and water skiers getting in on the action.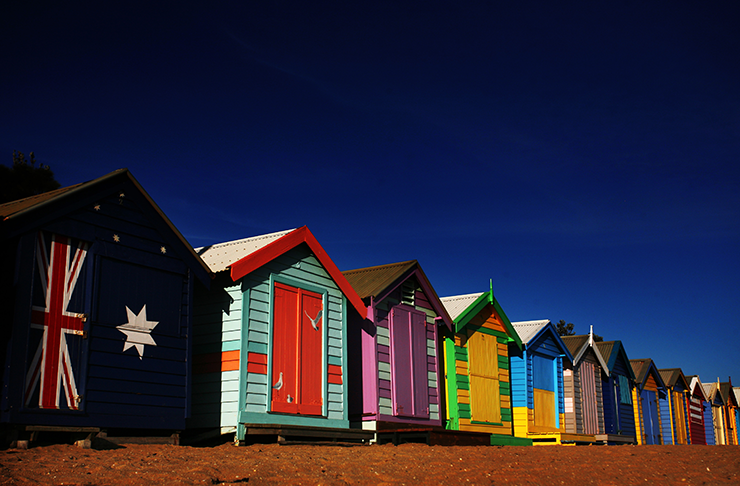 Black Rock
Black Rock is an accessible and reliable go-to, this contender for the best beach in Melbourne has some of the best swimming in the bay. The reason is the steep beach face and lack of sandbar, which means it gets deep quite quickly. Not great for the kiddies, but if you're looking to cool off on a Melbourne 40-degree stinker, it's a good option. The beach runs for about 750m, and swimmers are watched over by the guys at Black Rock Lifesaving Club.
Edithvale
If you haven't heard of Edithvale Beach, that's because sand-hungry locals are hogging it all to themselves. It's one of the few places around the bay where you'll find genuinely white sand. One of the favoured options as the best beach in Melbourne due to its activity potential; you can chill on the dunes or go paddle-boarding out in the shallows. The beach itself stretches for 1.5km between Chelsea and Aspendale.
St Kilda
We'll admit it's not the prettiest beach going around, but St Kilda beach is a Melbourne staple. Grab yourself some fish and chips and plonk yourself down on the sand, under the watchful eyes of the Luna Park Mouth, before hitting up one of the nearby bars. Stay late enough and you can even stroll along the pier and catch sight of some very cute fairy penguins. Use this for tanning, eating and people-watching. Swimming not so much.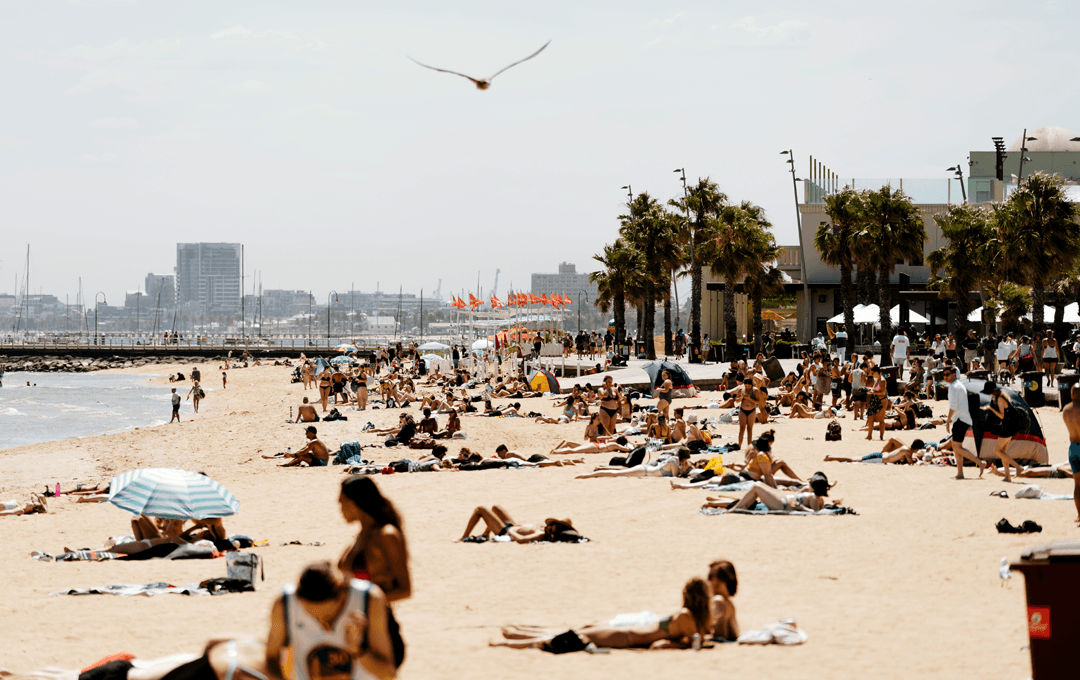 Mentone
Mentone is a charming little beach. Often overlooked for flashier neighbours like Sandringham and Chelsea. It starts just past the Rickett's Point Sanctuary and features the ever-friendly Mentone Lifesaving Club. Throughout the year, you'll see people strolling along the boardwalk with their pooches, getting in their morning Tai-Chi, or (weather permitting) going for a dip. This one definitely carries a family-friendly vibe, so pack your salad rolls, watermelon and sunscreen and get your butt down to the beach. Pro tip: come at low tide. It's shallow and warm for 50m out into the bay.
Williamstown
No, not Williamstown front beach, we're talking about the sandy strip around the point, away from the marina (and most of the crowds). This is a highly underrated day trip from the Melbourne mainland, and a chance to park up at one of the best beaches in Melbourne. You can hop a ferry to Williamston, eat your fill just across from the sand (The Kiosk is a good spot if you're looking for fancy), then wander through the Botanic gardens to the back beach.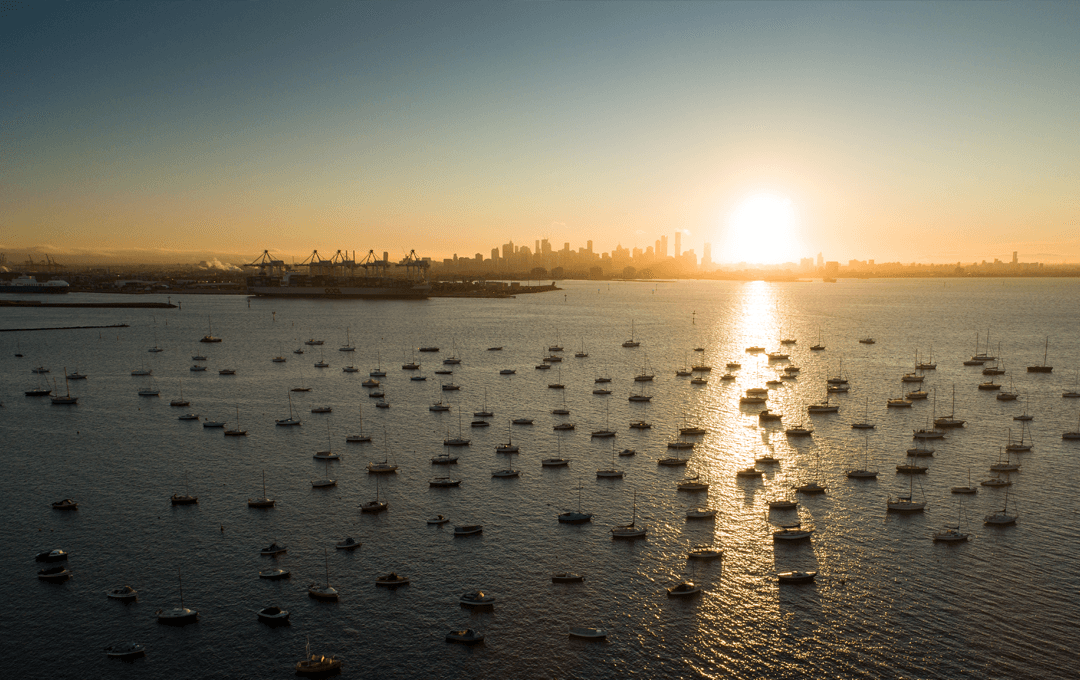 The Best Beaches On The Mornington Peninsula
The 'Ninch' is basically a coastal extension of Melbourne, each weekend when the temperature nudges above 25 degrees you'll experience a freeway migration of city-slickers at a snail-pace crawl to its crystal blue waters and bush hinterlands. As well as being a crowd favourite it's also home to some of the best beaches in Victoria, all with very different atmospheres.
Mount Martha
A pinnacle of the peninsula's beach offering, Mount Martha has a stunning beach right in the heart of town; a long stretch of sand extends from the cliff point right down towards Mornington. Being a bay beach you needn't worry about rips or waves, just gentle blue water that shimmers in the sun; there are also plenty of beautiful nooks around the cliff edge of Mount Martha that are perfect for snorkelling and fishing.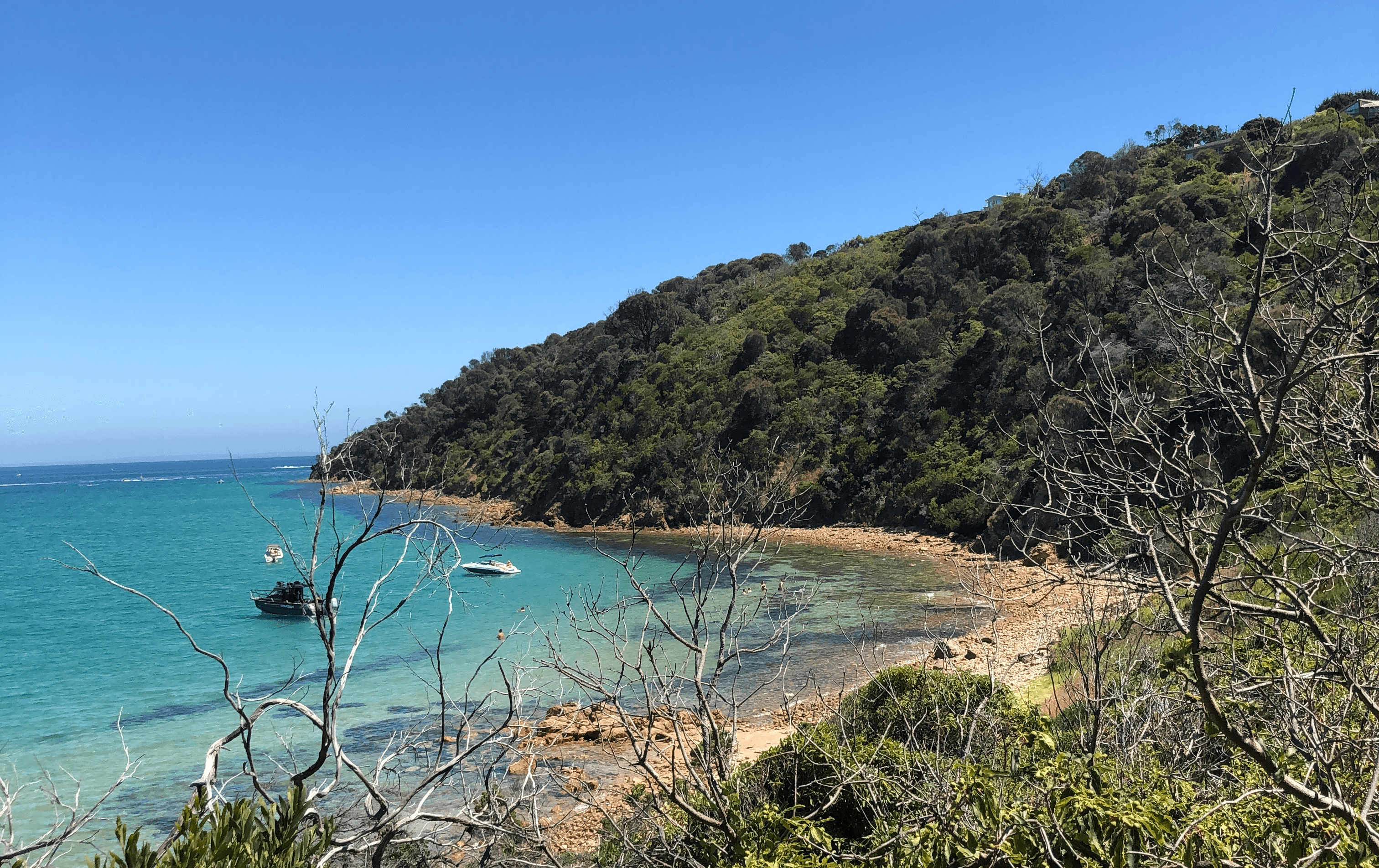 Sorrento Back Beach
With a little more thrust than the bay, this ocean-side beach can look completely different depending on the swells and tides. Still absolutely stunning, Sorrento's back beach is a playground for activities from clean beach break waves out the back; to rockpools on low tide and a long stretch of sand that is sheltered from the winds from the surrounding cliffs.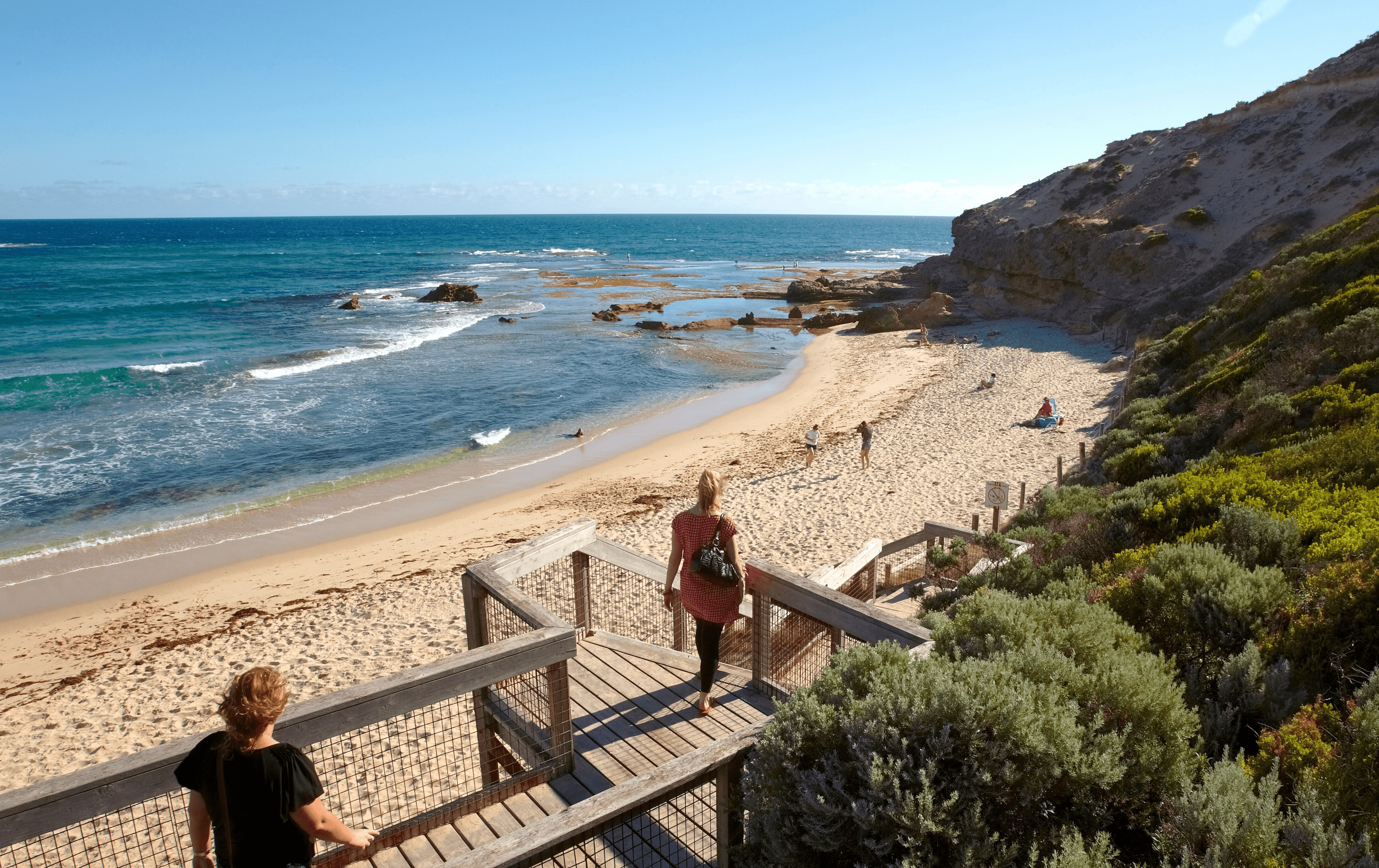 Bushranger's Bay
A hike is always better when there's something waiting on the other side, and this coastal treasure is one hell of a reward after the 35-40 minute gentle trek through the bush. Located down in Cape Schank, Bushrangers is a true sight to behold, but only experienced swimmers should delve deep as the currents can be quite strong here. However, if you prefer to take it easy on low tide you can access the swimmable rock pools an absolute natural marvel of the state. Also, keep an eye out for the local Kangaroo community on your walk, they love to hop in and out of the shrub.
Need somewhere to park up after all that adventuring? Check out this award-winning architectural stay.
The Best Beaches On The Great Ocean Road
Victoria's other premier coast, it may be a little further from town but it definitely feels a lot more remote with vast rainforest hinterland and big sections of secluded coast. A tourist favourite, the Great Ocean Road is a natural marvel and provides plenty of different options beach-wise, from quaint bays, points, and stretches of wide-open ocean.
Torquay
Torquay, a famed surf town and home to some of the best beaches in Victoria; from cosy corner right round to Bells, this place has plenty of options. The protected stretch of Torquay's main beach makes it a go-to for a summer splash and is typically heaving with crowds of beachgoers camped out for the day. If you're looking for a little more motion in your ocean head towards Point Danger where'll you find gentle waves and a ripper stretch of lawn to watch the sunset.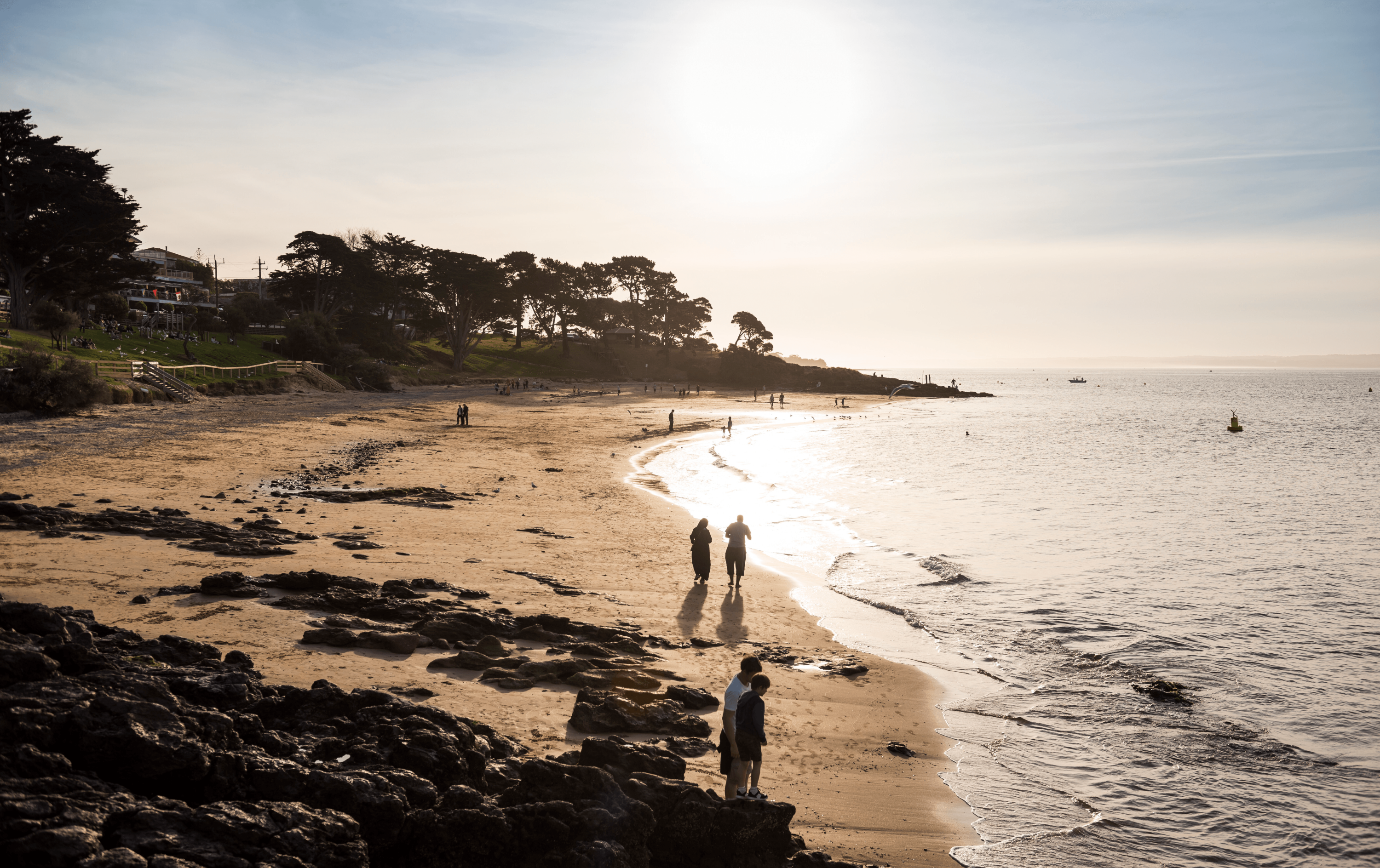 Lorne
It may be over two hours from the city but Lorne has Melbourne written all over it, it even has a Movida. Lorne's beaches are spectacular, the sweeping bay is sheltered from the wind and with the Otway hinterlands as the backdrop it's a magical place for a dip, and a red hot contender for the best beach in Victoria. Lorne point is also a popular spot for trying your hand at surfing with beginner-friendly waves that peel down the shore.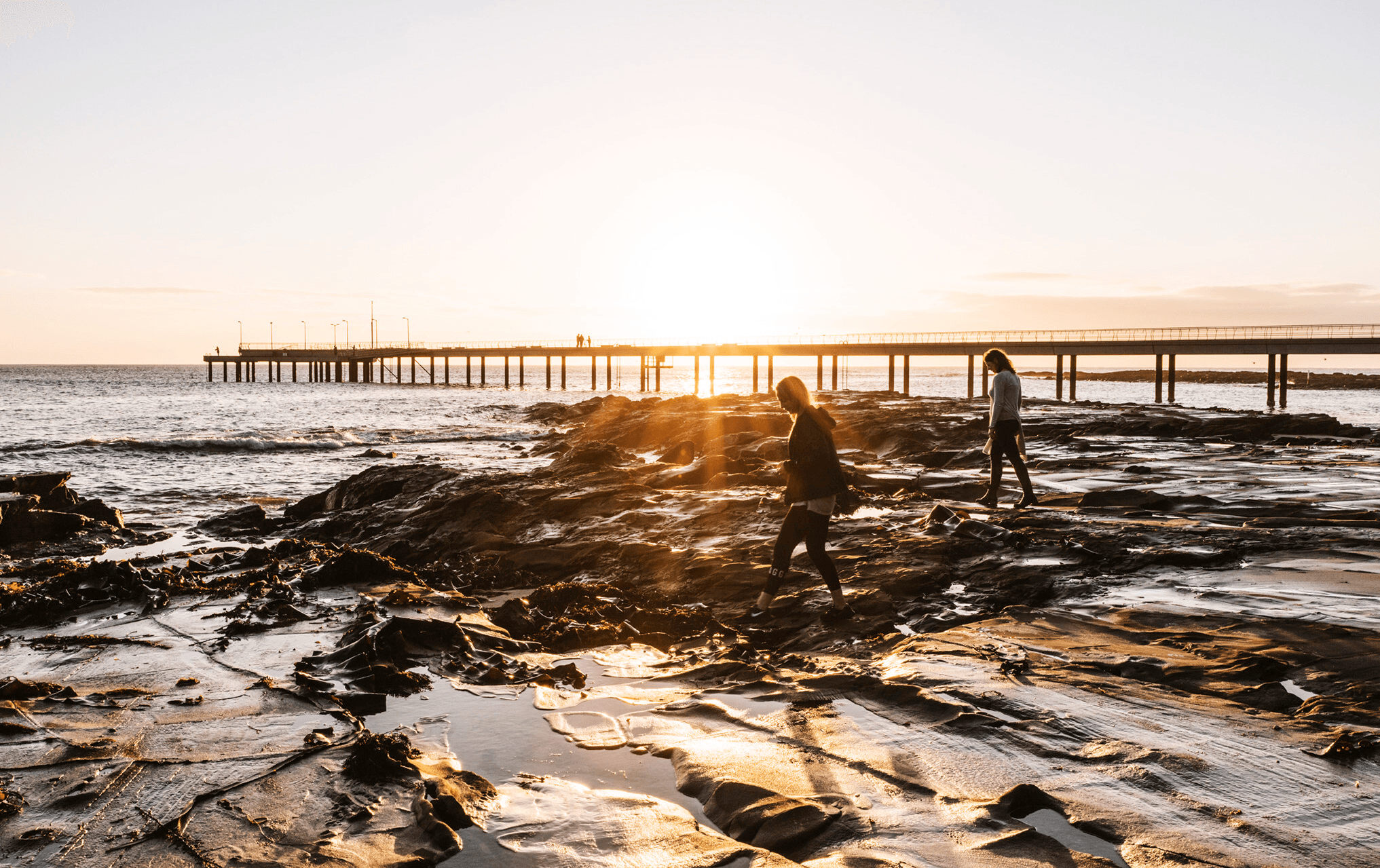 Wye River
Wye has long been one of the Great Ocean Road's best-kept-secret, just 15 minutes past Lorne, its got an all-time pub, a classic general store and cafe and a gorgeous bay in which the town is centred around. The houses are built into the hills and look out to the perfect secluded beach which can be easily missed if you're just passing through.
Want to stay the night, here's where to lay your head.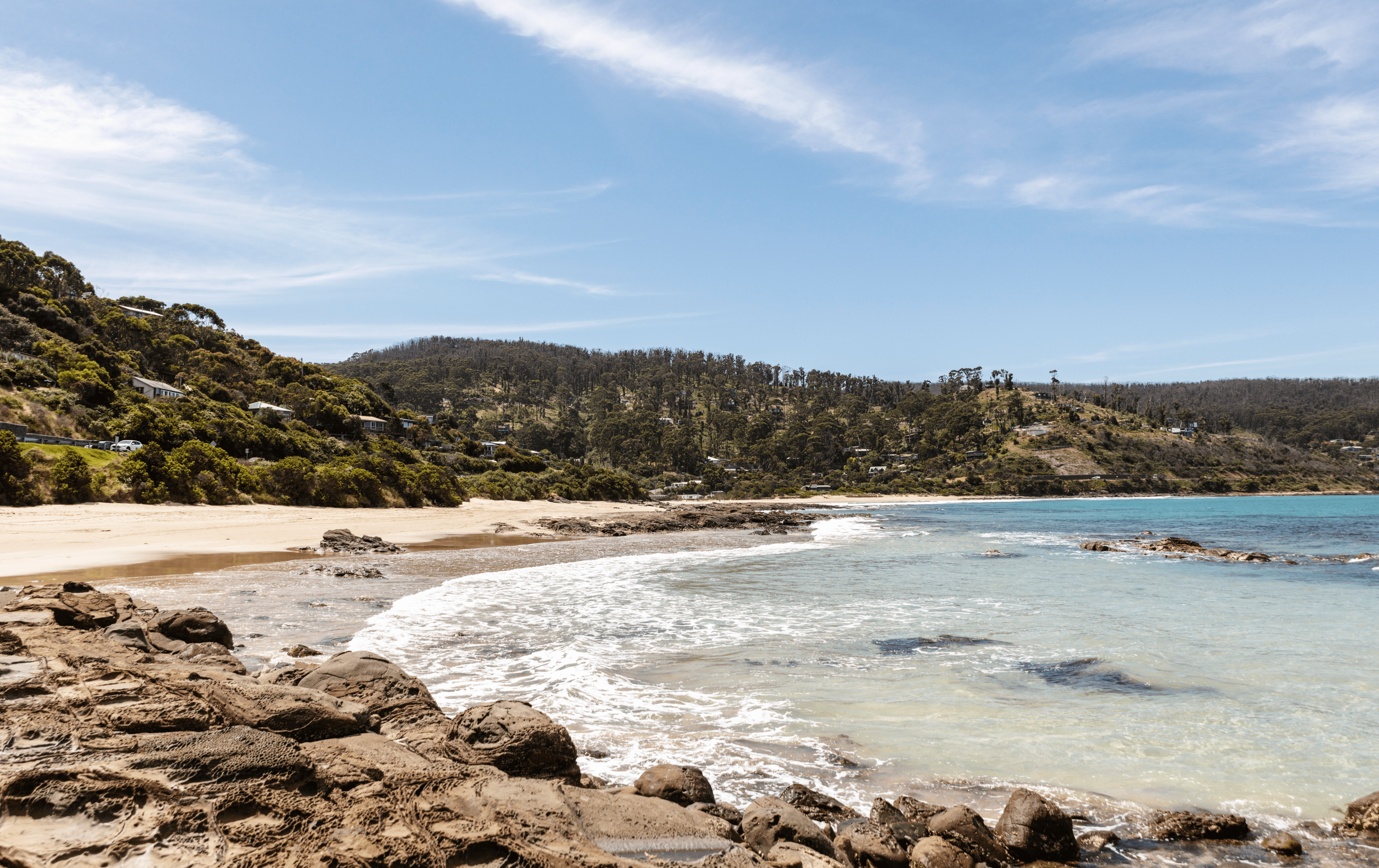 The Best Beaches In Wilsons Promontory National Park
A natural marvel of Victoria, hell Australia, Wilson's Prom is an absolute slice of heaven. The wombat-populated campgrounds of Tidal river are some of the best lodgings you'll find, and each day you're spoilt for options as to which beach to park up at.
Norman Bay
The main beach of Wilson's prom is Norman Bay, a short walk along the sand-banked Tidal river will open up to a wide cove of ocean. With absolutely stunning views and plenty of space, it's an absolute marvel. While you're there you can even try diving at Victoria's largest marine national park.
Whisky Bay
A bit more of an adventure, Whisky Bay is a short drive from Tidal River and a saunter down the hill to the stunning private beach. With smooth rounded rocks at either end and crystal blue water in the middle, it's easy to pass the entire day by parked up here.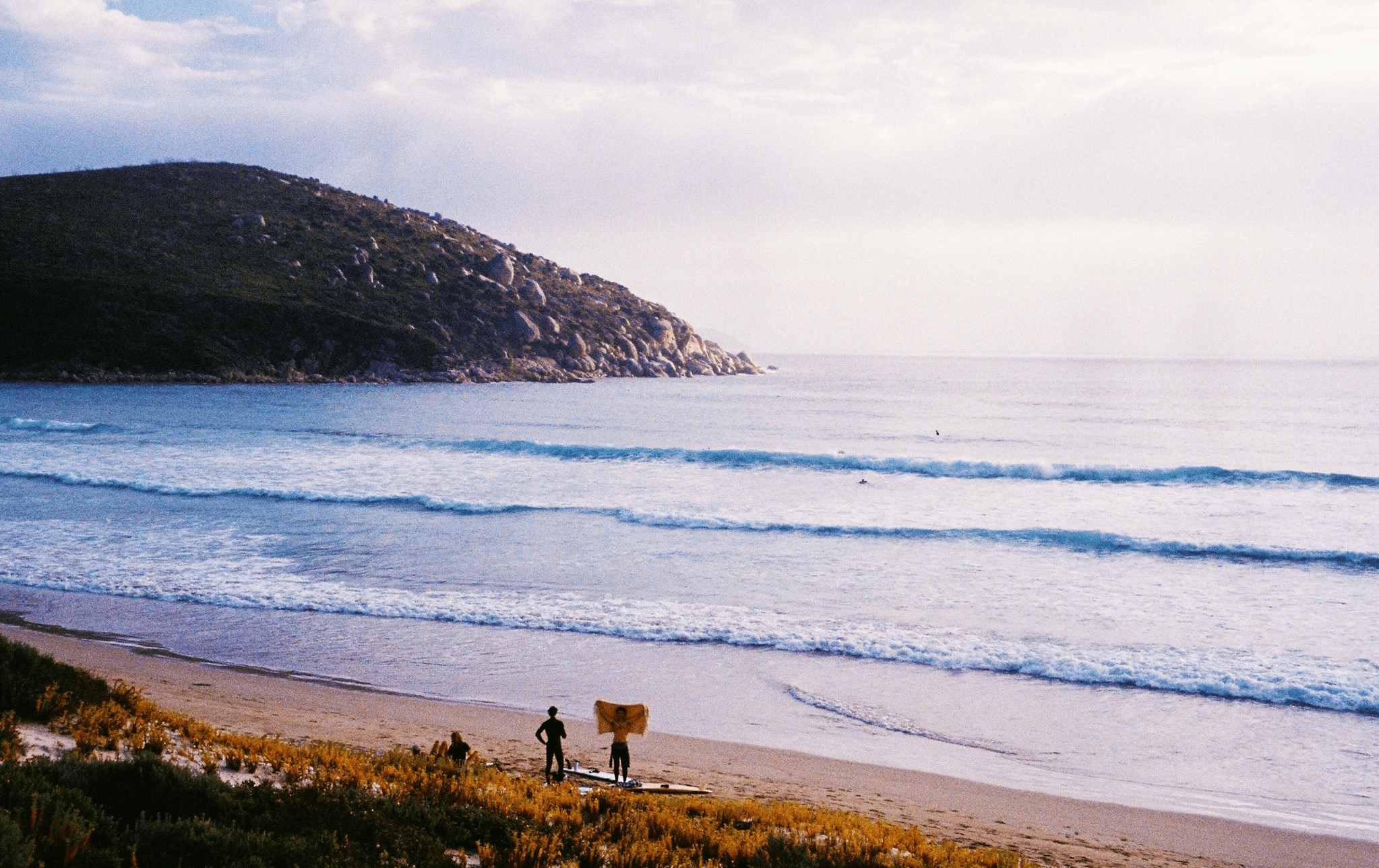 Squeaky Beach
Made famous for its namesake audible sand, Squeaky beach is a Wilson's Prom favourite. The white sand beach has a collection of rust-orange rocks to clamber across and perfectly clear turquoise water to splash in. Beware Squeaky can get pretty busy in the summer period so make sure your claim your spot early.
Beaches On Phillip Island
A seriously underrated beach destination in Victoria, Phillip Island's rugged coastline opens up to wide magnificent beaches such as the ocean-facing Cape Woolamai, a prized destination for seclusion and witnessing the natural beauty of penguins who make their run up the beach.
If you're looking for a more stable beach set up you can opt for the safer waters of Cowes which is a family-friendly go-to.
Looking for a spot to crash? Here are some of the island's top stays.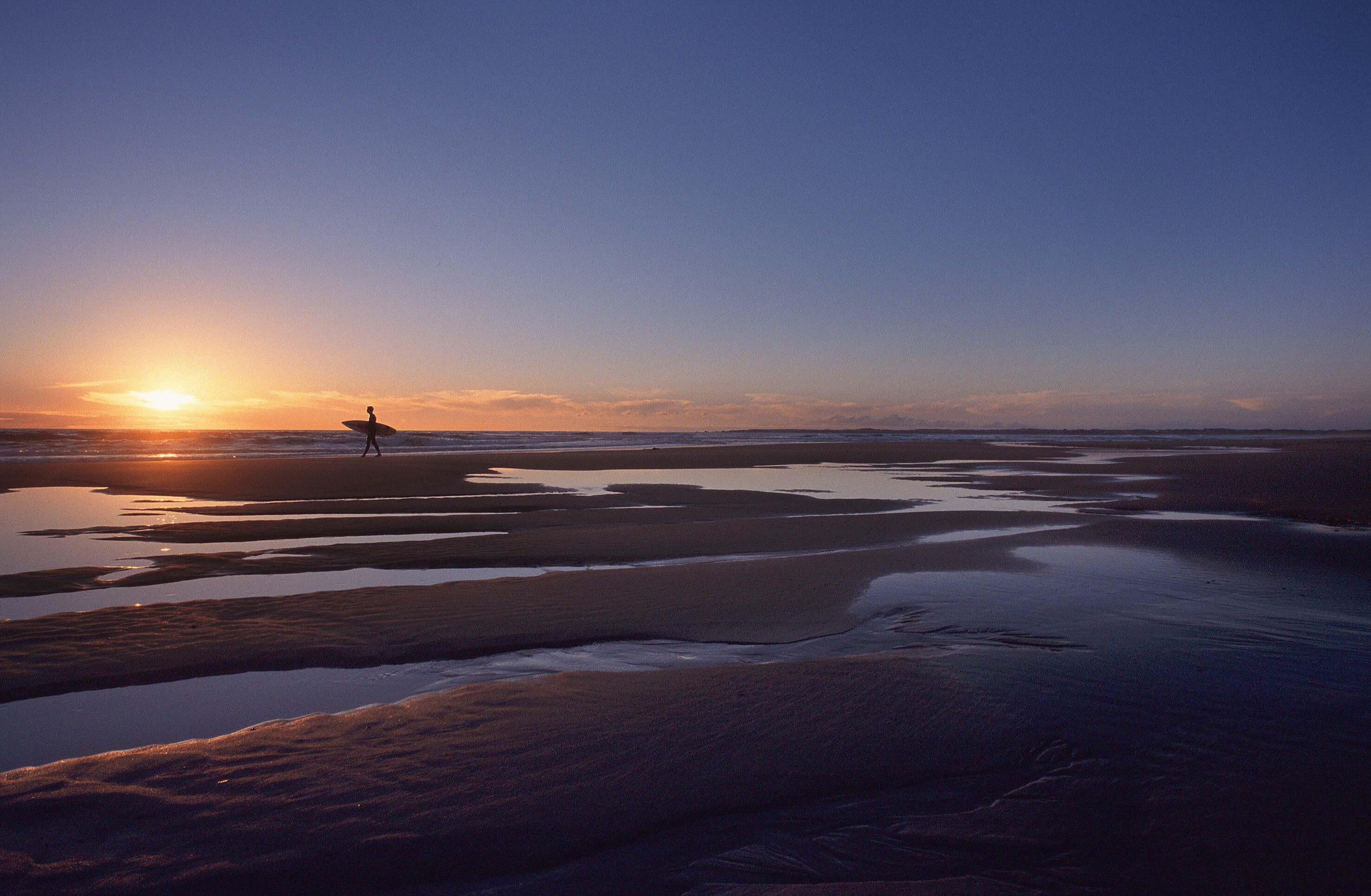 Check out more of the best:
Best Airbnbs In Melbourne
Best Beach Houses
Best Romantic Getaways
Best Outdoor Spa & Hot Tub Stays
Image credit (VisitVic)