With Easter around the corner, the sweet smell of hot cross buns is starting to waft out of bakeries across Melbourne. With so many on offer, it's hard to know who makes the best hot cross buns in Melbourne, is it the traditional take? Is it a chocolate-filled number? Or is it the undignified 'fruitless'?
Here's where you'll find the best hot cross buns in Melbourne for 2023:
Wild Life Bakery
BRUNSWICK
The gang at Wild Life are of course getting some buns in and out of the oven, too. For Easter 2023, Wild Life's iteration is a play on a traditional HCB; you've got all the essentials in there balancing those sweets and spices, but for that extra kick they're adding in a health splash of straight rye whisky courtesy of their mates at Gospel Distillery. They're also bringing back the wildly popular Chocolate and Sour Cherry hcb, made with Hunted + Gathered 70% Dominican Republic chocolate 'chip. Wild Life's hot cross buns are available now, but your best bet is to order ahead—more here.
Chic de Partie
ONLINE
One of the silver linings of Melbourne's lengthy lockdowns were the various order via DM bakeries, and one such account that caught our eye was Chic de Partie from Aidan Robinson, an ex-Dinner by Heston pastry chef. You can't go wrong with any of his creations, but it's his boozy brioche hot cross buns, complete with orange zest brandy cream, that take the cake. They're available right now via DM—and expectedly, they're going damn quickly. Best get to it.
Bread Club
NORTH MELBOURNE, ALBERT PARK
The cult-following of Bread Club is unlike any other, the loyal baked good community rallied hard for the Hot Cross Buns from Bread Club, and obligingly we agree, they're an absolutely perfect 10. The glorious sugary glaze over the top of the dense fruit and spiced-filled bun is like a shining beacon of glistening flavour. They're lovingly made using a three-step 24-hour process in which the pre-fermented dough is mixed with a variety of classic dried fruits and spices as well as a couple of more modern additions like cranberries and blueberries— Alongside their regular range, they've also just released a mind-melting twice-baked almond croissant hot cross bun. The extremely decadent Easter-themed baked good is a new rotating special, keep an eye out on the Bread Club Insta to find out how to get it.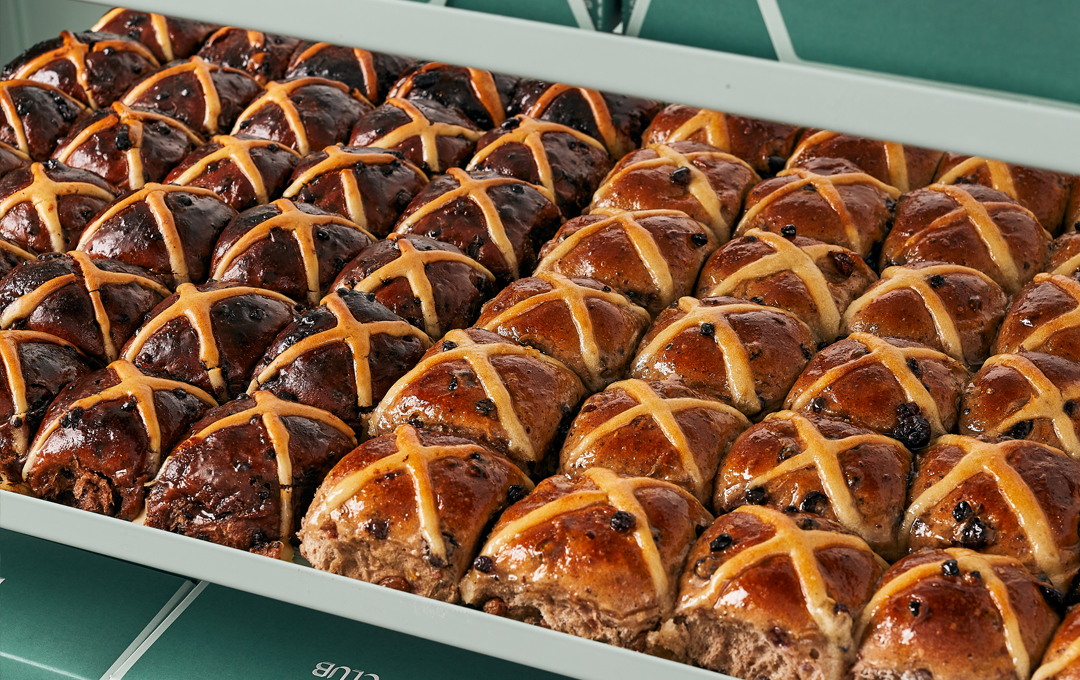 Tivoli Road Bakery
SOUTH YARRA
Not one for half-measures, the institutional bakery destination, Tivoli Road Bakery has long been lorded as one of the finest establishments in Melbourne to tackle a hot cross bun. Made with elite precision and featuring a to-die-for brown sugar glaze, this is a recipe that's been refined year on year, down to fine art, with that perfect mixed peel twinge to every bite. Even though they churn out a staggering amount of the hefty buns each day they still walk out the door at a staggering rate so ensure you're there pre 11am if you want to secure one.
Rustica
VARIOUS LOCATIONS
What can't they do? The absolutely lorded sourdough specialists, Rustica, are it again this time with their seasonally perfected, Hot Cross Buns. So choice-wise here it gets contentious because you've got three variations, the timeless classic original HCB, a dark chocolate iteration, as well as the incredibly innovative, Hot Cross Dougnnut which is your typical sultana, currant and spice mixed doughnut bun which is then piped full of vanilla, cardamom and brandy creme patissier. It may not be traditional but it's bloody good.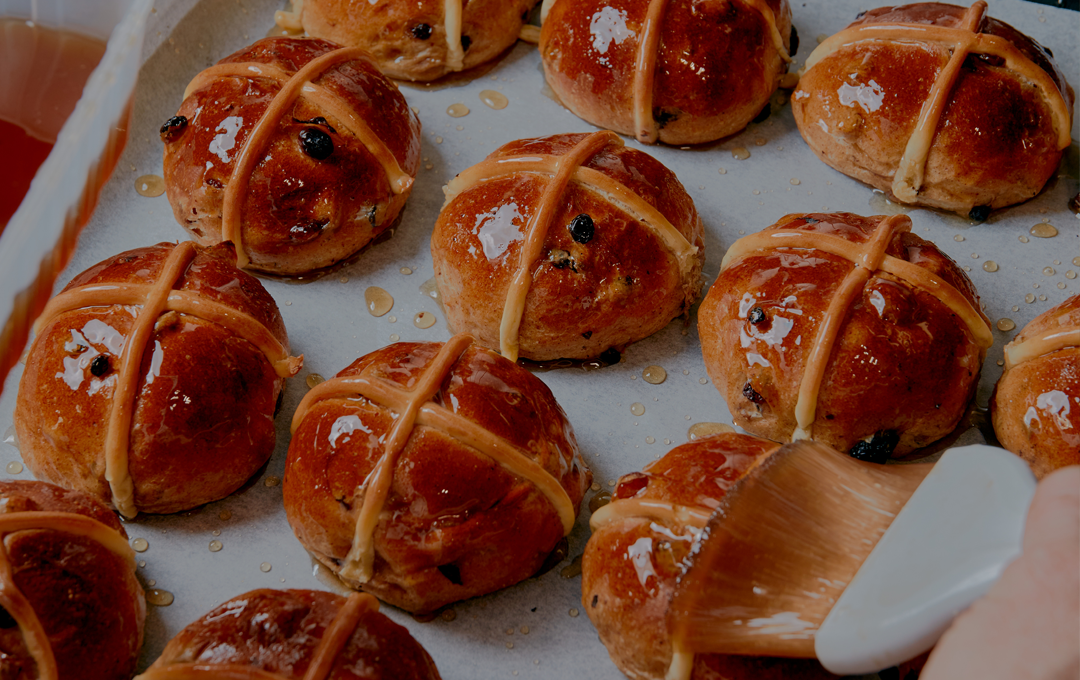 Black Star Pastry
CHADSTONE
This Sydney bakery is famous for their Strawberry Watermelon Cake, but they make a pretty mean hot cross bun too. It'll mark the third year in a row we can get these buns here in Melbourne, and we reckon they've been worth the wait. Black Star Pastry's buns are 100% vegan and beautifully glazed, this year the team is teaming up with artisan chocolate crafters, Koko Black. On the cards for the collab is a perfectly dense and sticky-glazed bun with all natural ingredients including thick chunks of tempered Koko Black chocolate as well as a spiced tinged glaze to the bun and chocolate cocoa cross on top. This contender for the best hot cross bun in Melbourne will be available in-store and online on Monday 13 March, check more out over here.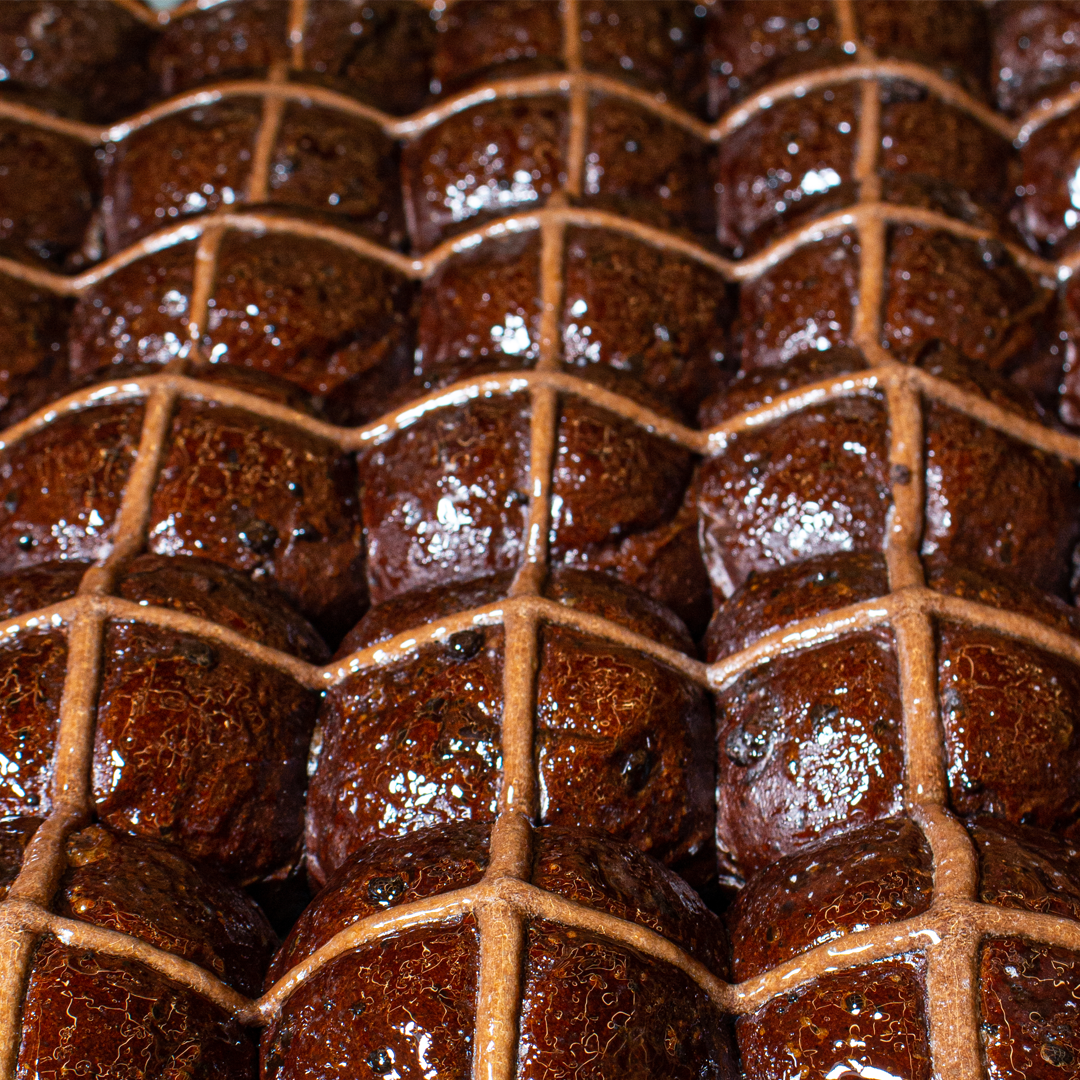 Cobb Lane
YARRAVILLE
We've been a big fan of the Cobb Lane team for quite some time, their dedication to the craft is something you can taste in every bite. Coming alive every Easter season, the Cobb Lane HCBs incorporate just about everything we love about the Yarraville-originated bakers; very decent in size, equating to around the width of your palm. They're soft but dense to the touch, comprised of rich orange puree, citrus peel and generous mixing of dried fruit you're tangoing with flavour with every bite.
Millers Bread Kitchen
DROMANA
So not metropolitan Melbourne, but the buns on offer here are worth clocking up a few kilometres. Millers Bread Kitchen is sandwiched between a motley collection of industrial businesses on Nepean Highway in Dromana, the refurbished garage space is now home to a tidy collection of some of the best-baked goods around and their hot cross buns are no exception with both traditional takes on the genre as well as more inventive iterations like raspberry and plum jam filled numbers. Showcased just out of the oven on large metal trays, the symmetry of the white crosses is memorising, and the spice-filled buns are delicately soft—no toasting required here.
Falco Bakery
COLLINGWOOD
A local favourite, a Collingwood icon, (now with stores in the suburb) Falco is the small-batch bakery known for its rustic loaves and flakey pastries. Their hot cross buns are some of Melbourne's finest, and if there's one thing this city needs in 2023, it's a healthy dose of wholesome baked goods from some small businesses. The best part, Falco's HCBs are available right now. Get to it.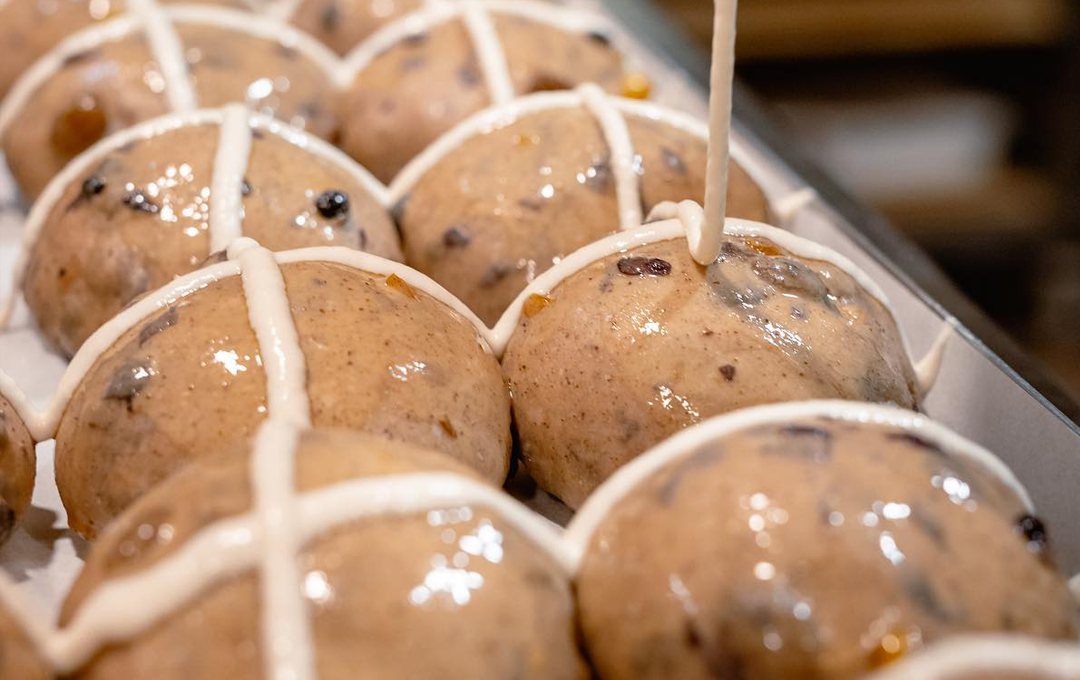 Ned's Bake
SOUTH YARRA, ARMADALE, ALBERT PARK, MIDDLE PARK
Ned's Bake knows the importance of doing a classic right, and their traditional hot cross buns might just be one of the best available in Melbourne this year. Dried sultanas, currants, and candied mixed peel are all balanced out by the perfect splashes of mixed spice and ginger set within those delightful brioche buns.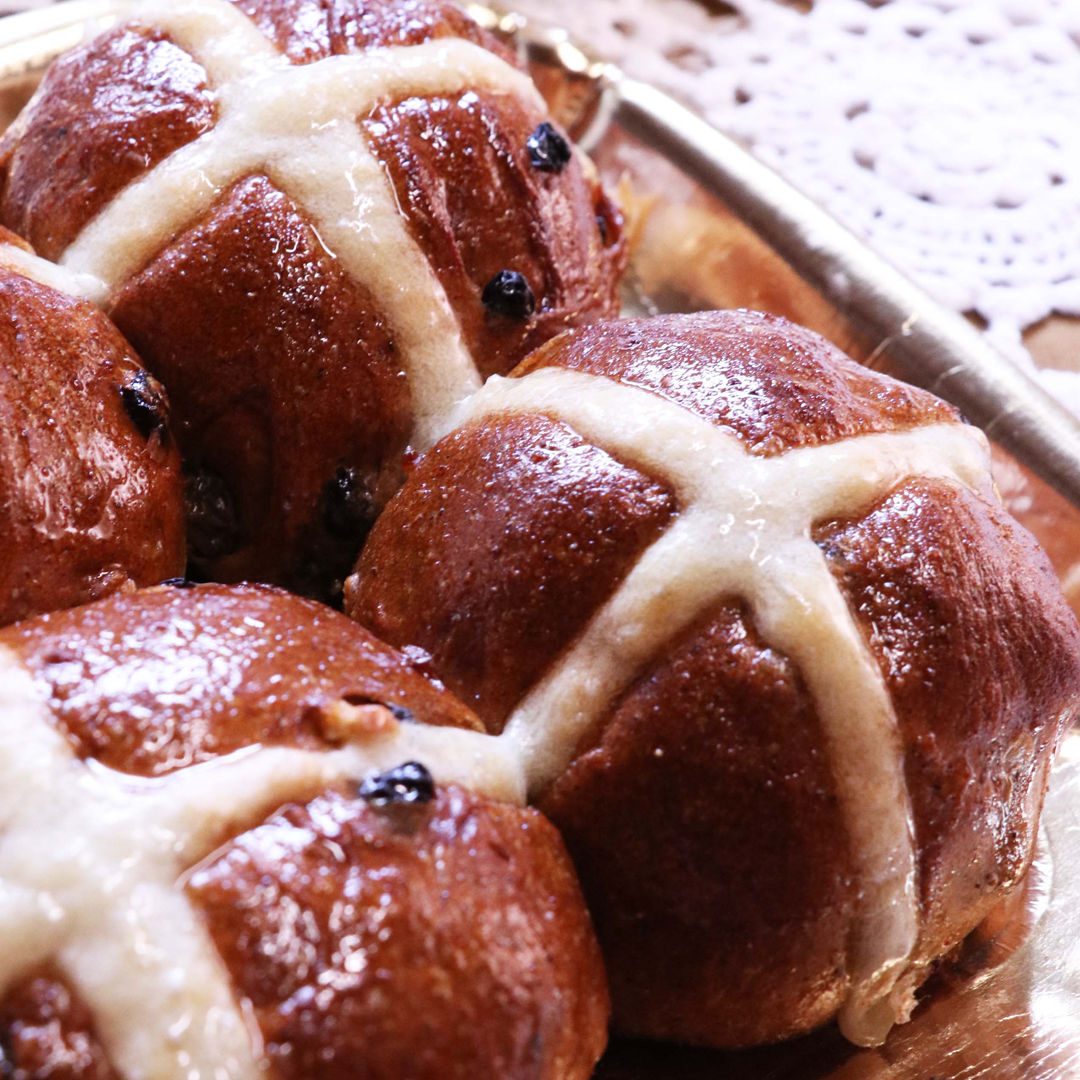 Woodfrog Bakery
Various Locations
Woodfrog Bakery is known for crusty baguettes and hearty sourdough loaves, but their hot cross buns are a seasonal treat we simply can't resist. The sweet syrupy buns are perfectly filled with fruity goodness. Buy them in a pack or individually—we dare you to stop at just one. Keep an eye on their Instagram for when their sweet, sweet buns are released.
The Hamptons Bakery
HAMPTON
In 2023, the standards for a hot cross bun in Melbourne are exceptionally high, and The Hamptons Bakery Head Pastry chef, Loreen Ihling, is all too aware of that. Coming from the world of Michelin-starred kitchens, there's been no stone unturned here; the fruit's been soaking since new years which is mixed in with a hand-rolled dough. This year will see both the traditional seasonal spice with a homemade orange puree as well as a decadent dark chocolate and cranberry option.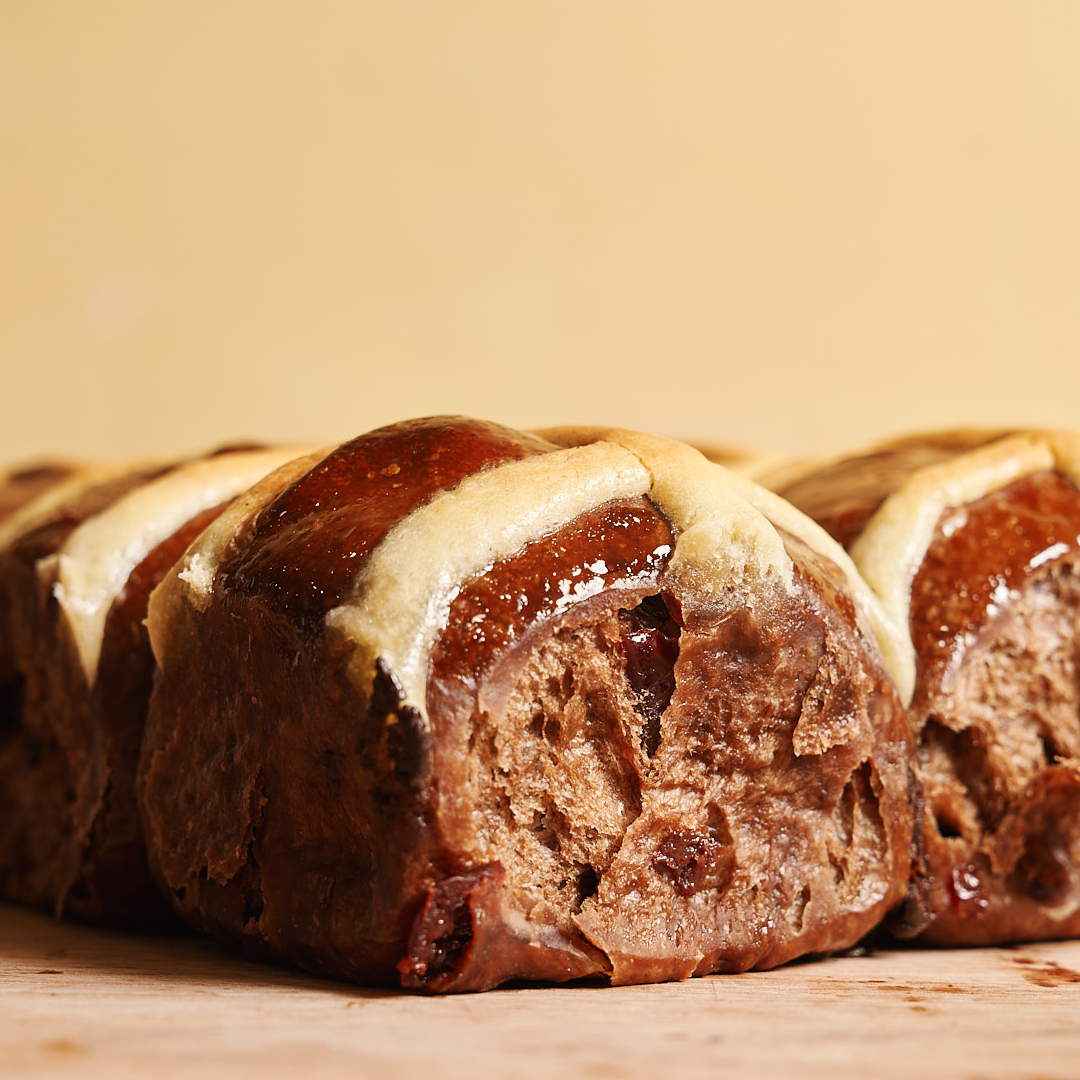 Check out more of the best:
Melbourne's best restaurants
Melbourne's best cafes
Melbourne's best bars
Melbourne's best breakfast
Image credit: Shelley Horan (Wildlife Bakery)