Situated in the northwest region of Melbourne on Wurundjeri land, Moonee Ponds is an inner-city suburban oasis just seven kilometres from the CBD. Awash with statuesque Victorian houses and red-brick cottages the area's leafy and tidy aesthetic has become a bedrock for dining and coffee culture.
To help you get a read on the area, here are the Moonee Ponds restaurants, cafes and bars you should be heading to:
Convoy
A newcomer to the scene, Convoy has started strong as a contender for the top Moonee Ponds cafe. Helmed by the same team behind Terror Twilight and Tinker, here you'll find a staple range of brunch items like cinnamon scroll hotcakes, their Turkish eggs with a beef Sujuk, a hot red pepper butter and lemon yoghurt served up on sourdough. Perhaps one of the biggest drawcards however is the caramelised miso brioches which come with a decadent hazelnut mascarpone.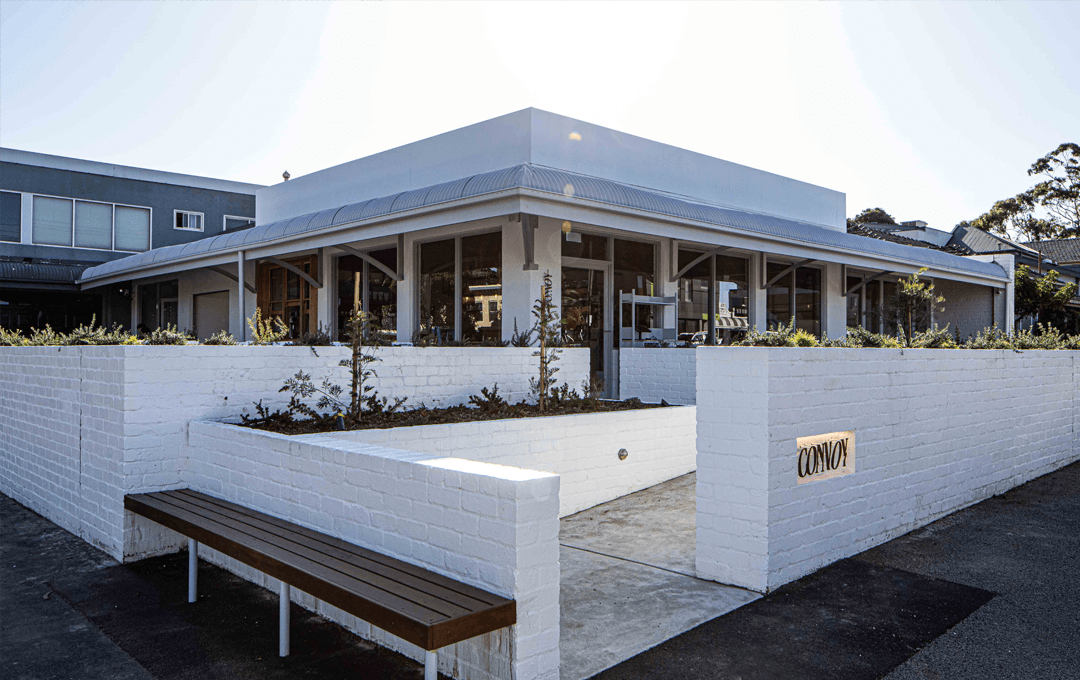 Hole In The Wall
Hole In The Wall is the neighbourhood-friendly destination on Norwood Crescent is centred around good coffee with beans straight from Seven Seeds and a selection of expertly crafted bagel options.
Owner Matt Rossi has developed several nostalgic takes on childhood favourites from the 'Malta' which is a hefty combination of house-made meatballs and Napoli sauce and melted provolone cheese to a homage to the States with the 'America' which is filled with a fillet of buttermilk fried chicken, cheddar and special sauce.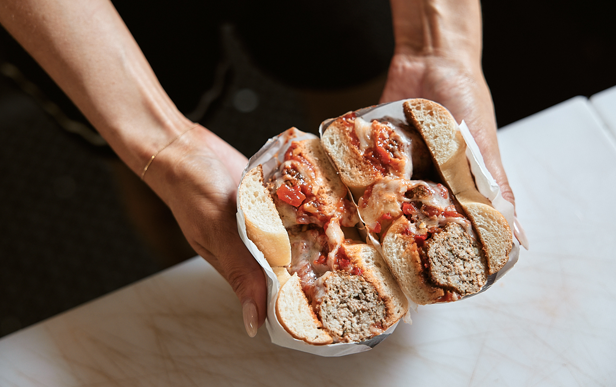 Parco Ramen
What started as Parco Project, a secret pop-up at Shujinko back in lockdown, has now manifested itself into a Japanese Restaurant Moonee Ponds' locals can bank on. Just like you would imagine an authentic Tokyo restaurant, Parco Ramen is a small storefront on Hall Street that sits only 19 people at a time, creating lines of noodle enthusiasts that swell the entrance.
Although small in stature there's a variety of menu options from the signature Tokyo signature, dark-miso vegan ramen, as well as a rich lobster and koji-based broth with Australian lobster tail alongside all the trimmings including dashi egg, spring onions, nori and sesame seeds.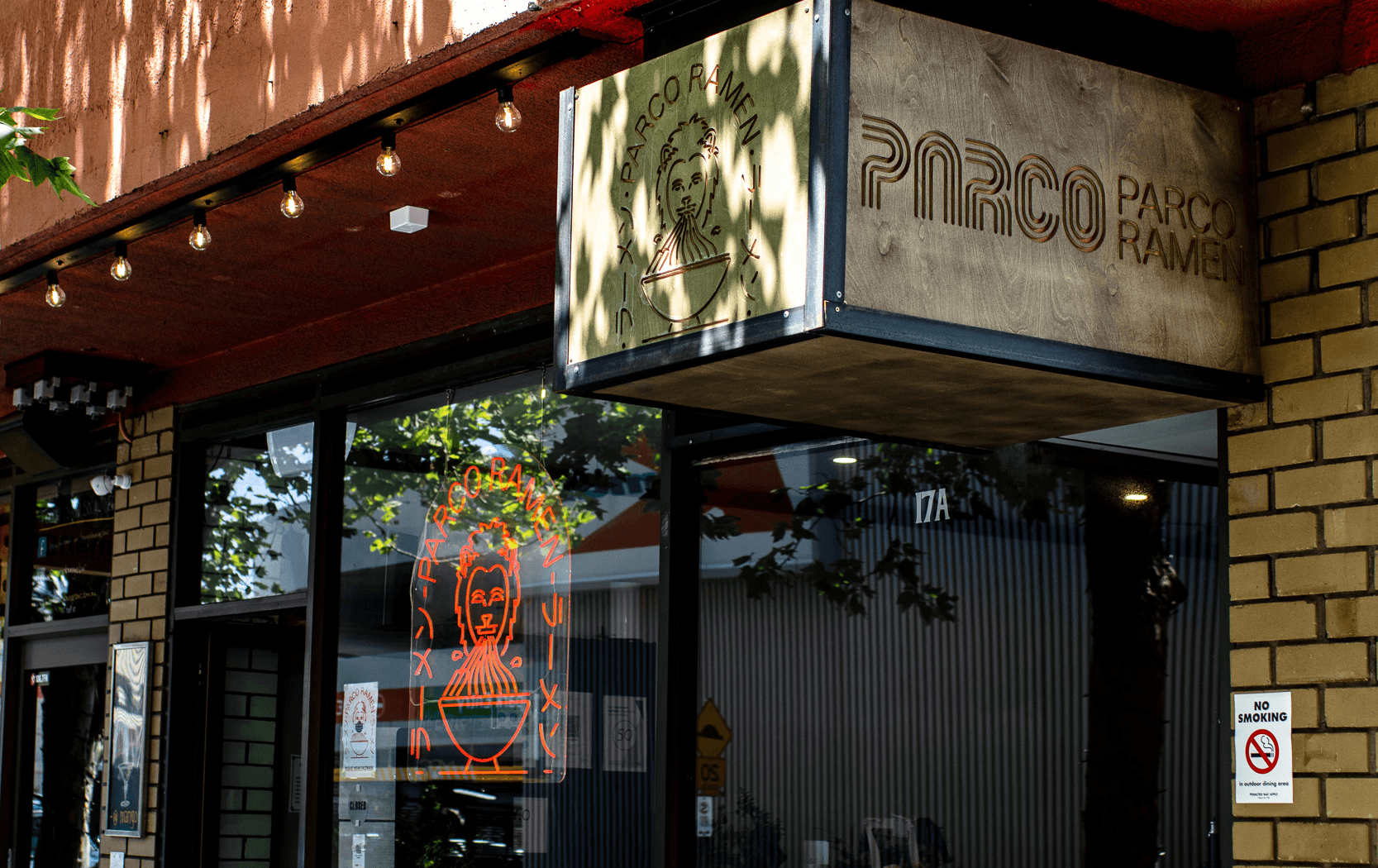 Darling Street Espresso
This quaint corner-resting cafe has been a mainstay for quality coffee and brunch in Moonee Ponds. Housed in a former milk bar and Situated at the intersection of Athol and Darling Street the cafe is a local go-to for good vibes and quality coffee, with Industry Beans behind the bar and a raft of solid breakfast and lunch options.
It's typically brimming at all hours throughout the entire week with locals tackling the menu, which includes brunch options from your lemon-infused waffles to the more substantial panko-crumbed fried chicken burger and a rotating selection of specials that pop up from week to week.
Ascot Food + Wine
Don't let the name fool you, it's a Moonee Ponds local by postcode and in heart, Ascot Food + Wine has been a culinary stalwart of the suburb from when it opened back in 2014. Since then it's won the hearts of locals as one of top restaurants in Moonee Ponds with its moody venue of dark tones, polished concrete and booth seating and Euro-leaning menu.
The intimately spaced atmosphere leads into the entire experience here as share plates of Hervey Bay scallops with garlic butter and a Pangrattato, to their staple lobster, roll and grill options like the fillet mignon or their incredibly bold Yuzu velvet cheesecake. The wine list is thoughtful and curated, with drops from several famed European regions including a Lambrusco from Emilia Romagna in Italy.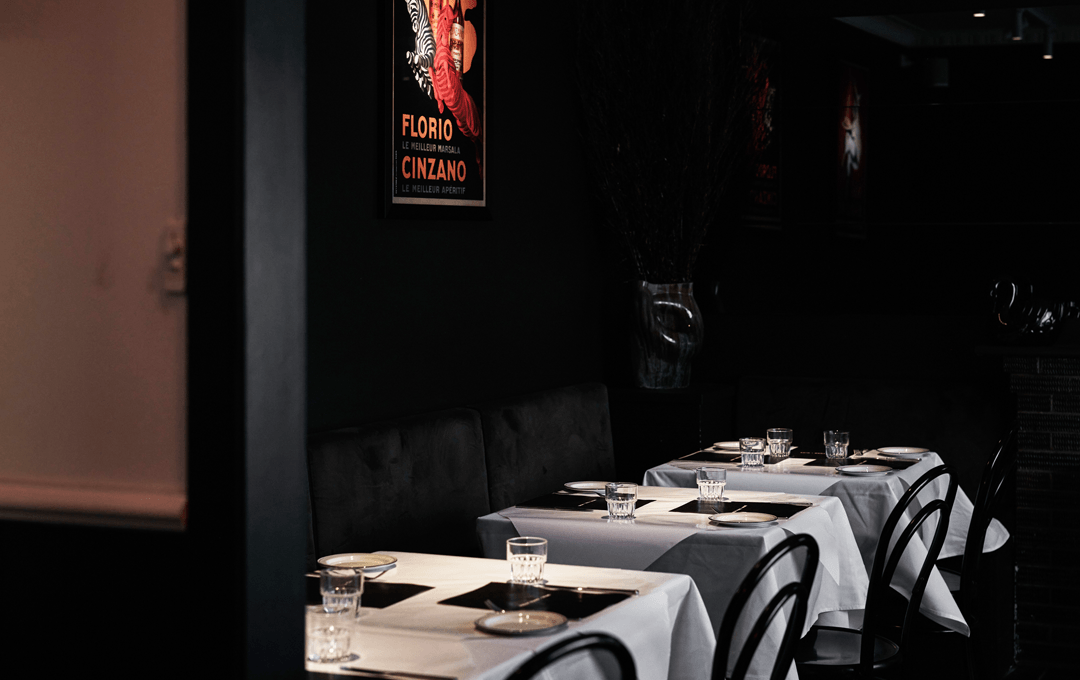 Sunny Boy Coffee Roasters
New to the region, but well-versed in the caffeine game, Sunny Boy Roasters on Mount Alexander Road is the latest project from Jake Bicchieri and Erkan Selek. Their collective espresso experience has led them to establish their very-own cafe roastery operation. Retaining the orange-painted walls of the previous trattoria, Sunnyside has a strong 70s energy radiating throughout, with added nods like swivel chairs and cushioned leather couches.
Aesthetic aside, the coffee here is dialled to a tee, with a variety of house-roasted espresso, as well as baked goods from Penny For Pound including a nostalgic take on the Australian classic, a primo Vegemite and cheese croissant.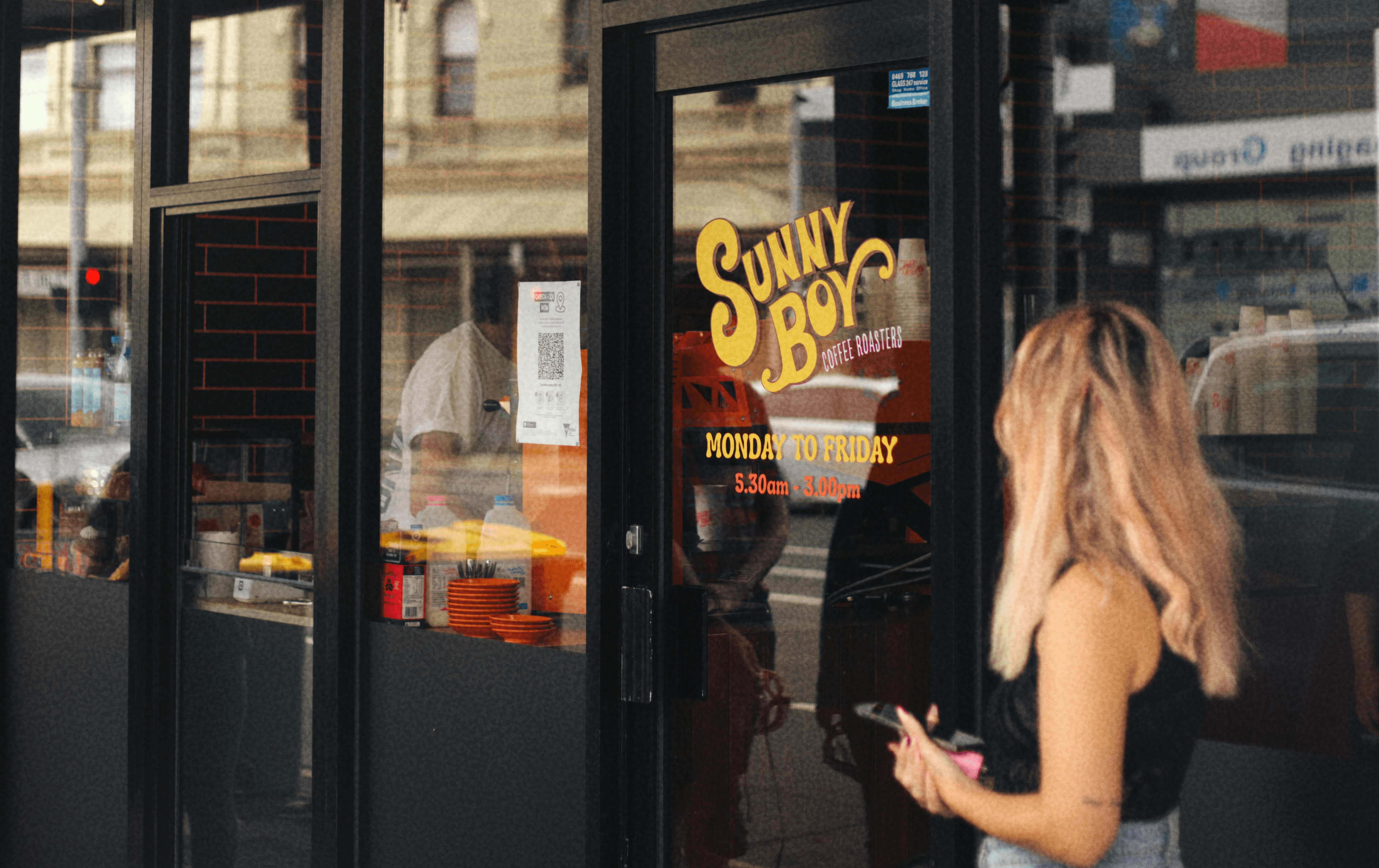 Il Caminetto
A quiet achiever, Il Caminetto which translates to 'the fireplace' is a staple Italian restaurant in Moonee Ponds and the locals have been keeping the secret well protected. Located on Pasco Vale Road, the rustic style fit-out takes cues from the picturesque Matera, a city in the southern region of Basilicata (now featured in No Time To Die) think marble benchtops, polished concrete bar seating, and a wide-open view to the woodfired oven busily churning out pizzas.
The 72-hour rested dough takes the form of several options, from the 'Granchio' with its unconventional yellow tomato sauce base, marinated crab, chilli, garlic and broccolini to the salt flavour bomb of the 'Boscaiola' a rich combination of Stracciatella cheese, Nduja, speck and truffle oil.
Holmes Hall
The team behind Ascot Vale's The Ascot Lot has transformed the heritage-listed Russo's site on Holmes Road and have revitalised the 500-square metre former supermarket site into Holmes Hall, a 400-seat mess hall, craft beer store and lounge, and laneway bar. Expect quality pub-fare, from your perfectly golden parma as well as more modern inclusions like share plates of Burrata, on the beer front there's a whole raft of tins in the fridge as well as a staple range of Mountain Goat and Range Brewing beer on tap.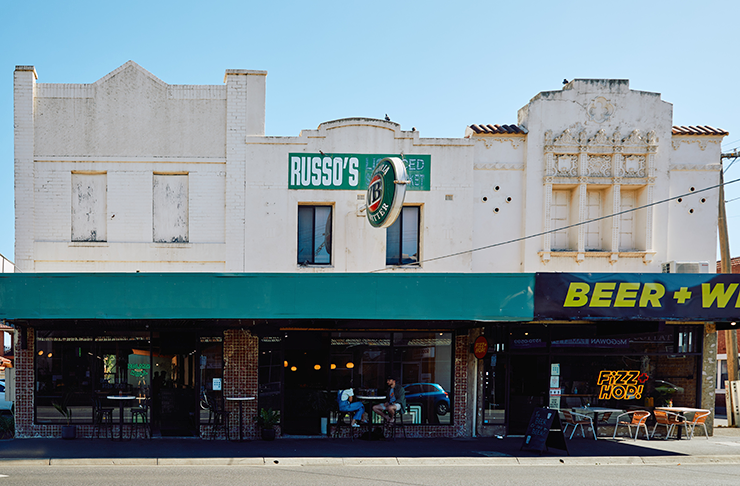 Philhellene
Led by the Rerakis family, Philhellene is a celebration of provincial Greek cuisine, foremostly seasonal Cretan-style dishes. Considered one of the best restaurants in Moonee Ponds, the space on Mount Alexander Road has retained its homestyle feel since opening in 2008 with framed pictures and artwork hanging from the raw brick walls.
Philhellene offers a unique alternative to conventional Greek food with dishes lovingly prepared by the second-generation family members in the kitchen, think zucchini flowers stuffed with herbed rice, lamb and artichoke Fricasse (a slow-cooked stew).
Strangelove's Wine Bar
A true locals haunt, Strangelove's is a homely-style wine bar with a team of extremely knowledgeable staff who are all too familiar with their tannins. It's a place to park up and sample some seriously good drops, with a wine list that is in excess of 500 wines, there's always something new to try, from an Adelaide Hills Pinot Noir to a Shiraz Grenache from Côtes du Rhône.
The space has a very eclectic feel; a motley collection of furniture fills the intimately-spaced interior and bar and outside there's a breezy beer garden with outdoor umbrellas and long wooden picnic tables, perfect for a late-arvo session. The menu is minimal but consists of arancini, as well as decadent charcuterie and cheese boards, perfect for keeping this level after cracking into the second bottle.
Bekka
A hallmark of dining in Moonee Ponds, Bekka is a Lebanese restaurant run by Richard and Suzanne Pavlov, both of whom are second-generation Australian Lebanese. The diner on Hall Street features floor-to-ceiling windows which provide a glimpse into the vibrant atmosphere of the space, typically teeming with large group tables digging into Mezza and sharing plates of regional Lebanese cuisine from all over the country.
The menu is split into three distinct sections with dips, small sharing dishes, as well as straight from the grill, which includes a range of Tawook skewers, Kafta and more. On the sweets front, you'll find a staple Muhallebi, a Lebanese interpretation of the traditional Middle-Eastern dessert, a creamy milk-based custard served cold with berries and an orange blossom syrup.
Check out the best restaurants in Melbourne for 2023 over here.
Image credit: Annika Kafcaloudis (Holmes Hall)