There are plenty of ways (and reasons) to get behind your favourite restaurant or cafe right now. One method is to order takeaway, the other is to order yourself some merch, rep it on the daily and show the world how bloody good your local is.
Here are some of the best garms from about town:
Coe & Coe
Go into Coe & Coe for a coffee, leave with a new best mate. (Probably) the world's friendliest cafe has a tidy grip of merch available which includes tees, long sleeves, totes and reusable cups—support your new friends and stock up here.
And yep, we miss you too, Coe & Coe.
Smith & Daughters
Proud vegans and fans of Shannon Martinez's incredible work in the kitchen, look no further, Smith & Daughters has a killer range of predominantly black wears. Get yours.
Saul's Sandwiches x Ichpig
Who knew sandwiches and streetwear would make for such a perfect collab? Saul's and Melbourne-based label Ichpig did. Hoodies, beanies and tees—the range spotlights not only the sangas and the label, but highlights the value of our local creatives.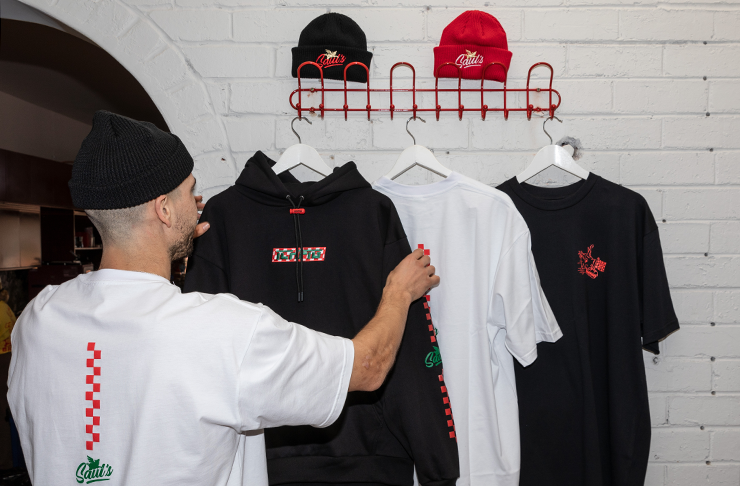 Cop The Saul's x Ichpig collab here. And while you're at it, check out OG Saul's merch here.
Nico's Sandwich Deli
Melbourne sandwich stalwarts, Nico's, is giving you an opportunity to show your true colours with several jerseys and tees repping their signature royal blue hue and already-iconic logo. Get it here.
Falco
Falco, who arguably make some of the best sourdough in Melbourne, also sell tote bags to carry it in. The hemp and cotton blend will ensure your loaf—or anything else you choose to throw in there—is transported with care.
Frankie's Tortas & Tacos
One of Melbourne's most-hyped openings from, Frankie's, is offering up tees and long -sleeves just like the staff wear. It'll be like you're a part of the team, the difference being your shirt won't smell like you've been cooking Mexican all day—which is either a good or a bad thing depending on how much you like Mexican.
St. ALi
Melbourne coffee mainstay, St. ALi, take their garms as seriously as their coffee. None of those cookie cuts that'll shrink two sizes after the first wash. The caps are a huge vibe, but there's no going past this hoodie. Get yours here.
Chotto Motto
You'll have almost as much fun wearing Chotto Motto's tees as you would dining there. Yep, Collingwood's colourful Japanese diner has the merch to match; you can find several bits and pieces here, though you'd be doing yourself a disservice if you skipped out on the neon pink and blue long-sleeve.
Bodriggy
Bodriggy is slinging several garms as loud as their beers. You can scope out their tees, caps and hoodies here, but can you really go past this sweater? We didn't think so.
Manzé
Melbourne has fallen in love with Mauritian pop-up Manzé (which is soon to be a permanent locale). In the meantime, you can sport these tees which are as gorgeous as their Mauritian-inspired dishes. Stock up here.
Everyday Coffee
Some would say it's inarguably Melbourne's coolest coffee spot, and if this deck—designed lovingly by one of their baristas—doesn't solidify that for you, you might be wrong. Order yours over here.
Moon Dog
You can't go to the pub right now, but you can recreate it at home—starting with Moon Dog's bar mat (and some tshirts if you want to go all out). Place your orders here.
Stan's Deli
Southside sanga and coffee joint, Stan's Deli, is all about aesthetic (and great sandwiches, of course). Pick up a tote, tee or one of those mugs you've no doubt seen all over Instagram from their Malvern locale.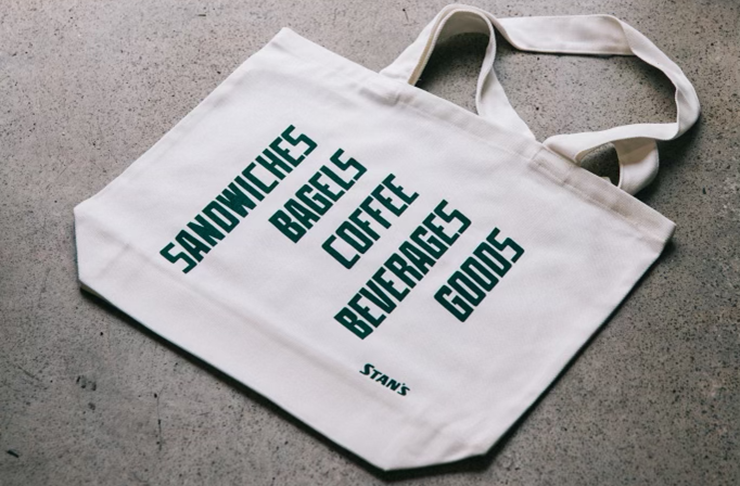 The Keys Leisure Centre
It's not open yet, but there's a palpable hype in the air for the Keys Leisure Centre set to open its doors at year. Prep yourself ahead of December and order your very cool bowling shirt with your membership package—you can even get your name personally embroidered if you order soon. Slick.
Hungry? See which of your favourites are doing takeaway
here
.
Image credit: