Whether you'd love to spend your weekend gazing at art-adorned walls with a quizzical look on your face thinking 'what the heck is that!?' or simply elevate your mind by marvelling at stunning artwork then we have found the best places for you.
Auckland is filled with galleries of talented local and international artists that will give you all the cultured feels, feed your mind and provide that life inspo you've been so desperately craving.
So without further ado, here is where to find Auckland's best art galleries.
Auckland Art Gallery Toi O Tamaki
Auckland CBD
It's a no-brainer that our list kicks off with the Auckland Art Gallery. Founded in 1888, it is the most well known, and for good reason. The CBD space is a fusion of historical and contemporary, expressed even in its architecture—two buildings combine the old and the new. With 16,000 pieces from the 11th century to today, Auckland Art Gallery showcases works that you won't see anywhere else. With this much art you'll have to make a day of it, so grab a bite at the café and make your way through the centuries. While they have permanent exhibitions, they often have top international exhibitions visiting our shores, so keep an eye on their website to keep up to date.
Gow Langsford Gallery
Auckland CBD
The contemporary art gallery Gow Langsford Gallery has made a name for itself despite being right across the road from Auckland's largest art gallery. Their two gallery spaces—one on Lorne Street and one on Kitchener Street—allow enough space for each artist to showcase a range of their works. Focusing in-depth on individual artists, the gallery provides detailed guides and artist statements. Committed to fostering contemporary art, Gow Langsford has hosted some of New Zealand's—and the world's—most acclaimed artists. This includes the likes of Dick Frizzell, Max Gimblett, Judy Millar, pop artist Andy Warhol and the man so famous that you only need to mention his last name—Picasso.
Gus Fischer Gallery
Auckland CBD
The Gus Fischer Gallery sits inside the beautiful historical site from 1934, formerly the home of Radio 1YA and TVNZ. The contemporary art gallery's curatorial themes reflect the building's history by focusing on current media and urban culture. The curatorial style is bold, dynamic, and built to foster a real, intimate exchange between the viewer and the artist. As the University of Auckland's flagship art space, Gus Fischer also regularly supports and showcases work from rising young artists and university art students.
Silo 6
Auckland Viaduct
There is no other art venue in the city that is quite like Silo 6, which sits on the stunning viaduct waterfront. True to its name, the exhibition space is literally situated in a large cluster of silos, which were once used to hold cement for the old railway system. Mirroring its nonconformist exterior, the inclusive exhibition space regularly hosts artists, performers, and events that are designed to stimulate in a bold and radical fashion.
The Wallace Arts Centre
Hillsborough
A beautiful Italianate historic building, Pah Homestead is the perfect spot to house the Wallace Arts Centre. Stroll through the sculpture garden, peruse the paintings and explore the exhibitions curated from the James Wallace Trust Collection. There is also an on-site café to tantalise your taste buds as you enchant your mind. The collection includes over 9,300 works by New Zealand contemporary artists. Today, the gallery continues to expand its collection by supporting new and emerging artists.
Melanie Roger Gallery
Karangahape Road
Sitting on K' Road, the centre of Auckland's vibrant hub of creativity and arts is the Melanie Roger Gallery. Enjoy the works of New Zealand's established artists and encounter emerging talents. Concentrating on the contemporary from New Zealand and abroad, Melanie Rogers Gallery has showcased names such as Billy Apple, Tame Iti, Stanley Palmer, Henrietta Harris, and many more. They change up their exhibition every month. Keep an eye on their website for a continuous feed of the country's most exciting artists.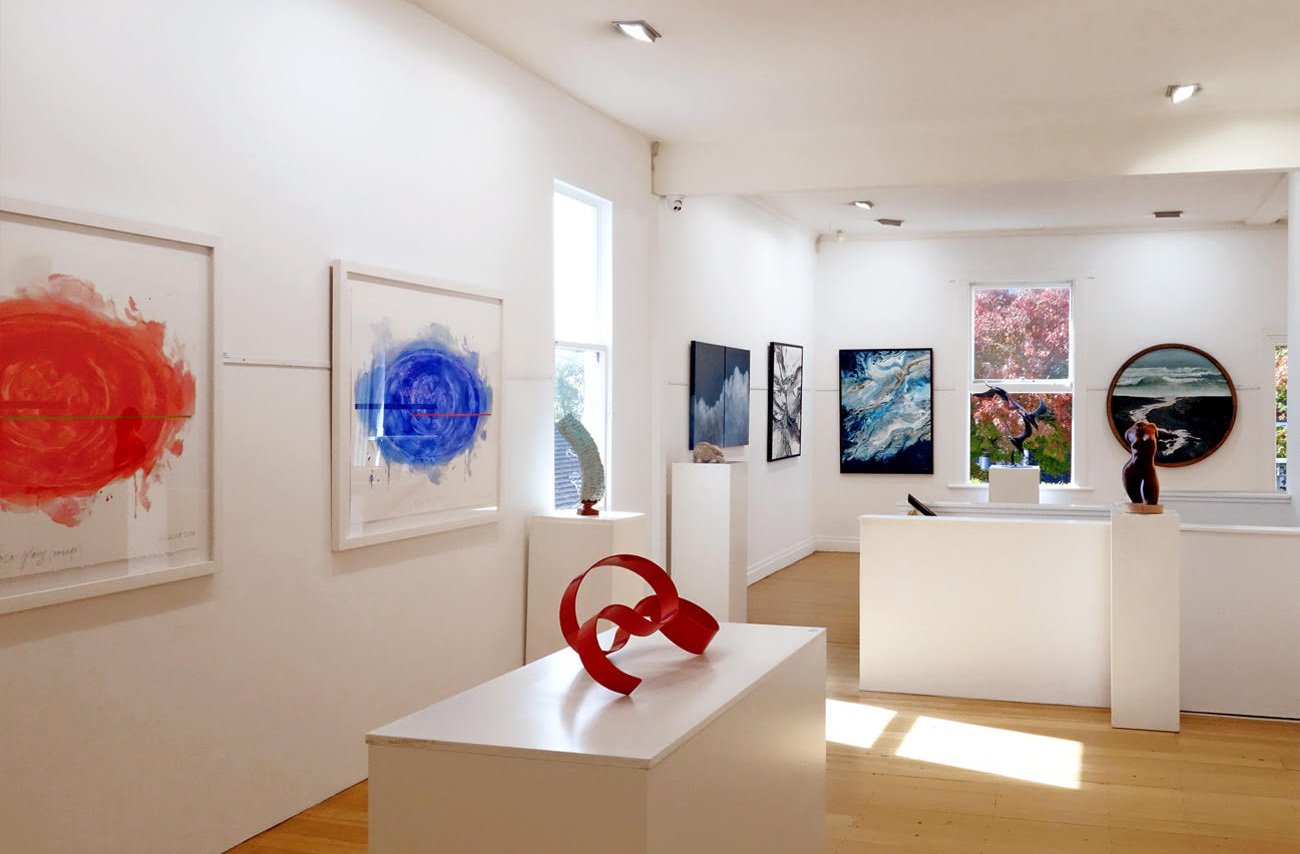 Parnell Gallery
Parnell
Parnell Gallery knows its art, having displayed since 1976. It is perfectly placed to exhibit both art and Auckland's fabulous scenery. Overlooking the city, with Rangitoto in the distance and art on every wall, you can't help but feel inspired. The gallery holds monthly shows in their dedicated exhibition space centering on paintings, sculptures and prints from predominantly NZ artists. Dick Frizzell, Otis Frizzell, Shane Hansen and Gretchen Albrecht are just a few of the big names that have been displayed here.
Artspace
Karangahape Road
Artspace is a gallery that challenges your perception of art and the world. It is a forward-thinking kind of space: bringing together contemporary art, curatorial activism, and critical thinking. The gallery aims to challenge societal norms, present new ideas, stimulate debates, and take risks. They also hold free talks covering topics such as social context, institutional programming, creative commons, and audience development. It is a gallery that is intimately aligned with Aotearoa's ever-changing culture and social norms. Come and stroll through their gallery space to rethink and reconnect with the land you inhabit.
Te Tuhi Centre For Arts
Pakuranga
Te Tuhi's name, gifted by the local tangata whenua, Nga Tai, references their ancestor and explorer who made his mark (tuhi) on New Zealand using red ochre on pohutukawa tree. Founded by a group of women who initially held meetings in a garden shed in 1975, Te Tuhi has come a long way but sticks to its roots. It remains engaged with the local community and educates on social, political and environmental issues.

Sculptureum
Matakana
The well-loved Sculptureum serves up a unique experience for both locals and tourists alike. Here, you'll find the works of Cezanne and Monet as well as many pieces from New Zealand's finest creatives. There are six indoor art galleries, each with a different theme: glass, figurative, recycled materials, animals, modern abstract works, and finally a huge glass chandelier by the famous American artist Dale Chihuly. The gallery also offers a stimulating culinary experience with its Rothko restaurant and bar. It's a destination worth dedicating a full day to.
Corban Estate Arts Centre
Henderson
Apart from offering ever-changing exhibitions in their three gallery spaces, Corban Estate Arts Centre also has studios for residential artists, adult art classes, a café, and artists' studios. Beautifully nestled within the winery vines of the old Corban Estate, once the largest vineyard in the country, the gallery boasts a rich history and a rare, secluded peacefulness as a result of its distance from the city centre. Constructed in a farm-like setting, the Arts Centre truly feels like an intimate family space for the art-makers as well as art lovers.
Te Uru Waitakere Contemporary Gallery
Titirangi
Te Uru sits in the Lopdell Precinct in the bushy locale of Titirangi. Strongly associated with the community, Te Uru alludes to a westward wind that carries the message and vision of the community. The exhibitions and collections are curated to push for change. Te Uru continues to challenge and change, showcasing contemporary art and design while keeping close to heart its original values of manaakitanga, innovation, collaboration, responsiveness, inclusiveness, and sustainability.
Turua Contemporary Gallery
St Heliers Village
One of the newer kids on our list of the best art galleries in Auckland, Turua Contemporary Gallery opened in 2019—the first gallery in the area for 30 years. The light-filled Turua gallery currently holds about five to six exhibitions a year which are a mix of solo and group shows, with relaxed and informal opening nights that are often bursting at the seams. In between these, they show a wide selection of many of their artists. Their website is great for browsing their latest pieces and you can even order online. This is an inclusive place for anyone with a love of art and with ex-design agency owners Melissa and Dean at the helm, you're sure to find a piece you love.
Also into arts and crafts? Here's where you can shop and support Auckland's local artists & designers.
Image credit: Auckland Art Gallery by ATEED, Silo Park, Parnell Gallery, Sculptureum.