With so much to be discovered in Auckland and so little time, it can be a wee bit overwhelming to know where to start. From scenic beaches and breathtaking landscapes to all the delicious food and awe-inspiring art a-plenty a tour around Tāmaki Makaurau could be just what you need.
To make the most of your time in Auckland, we're spilling the secrets on all the best tours in Tāmaki Makaurau you need to get amongst.
Here are 21 of the best tours in Auckland.
Guided Gallery Tour
Auckland Art Gallery
We all know a picture speaks a thousand words, and with an expert tour guide in your corner, you'll hear every one of them. Take your art gallery wanderings to the next level with a tour guided by a member of the gallery's knowledgeable team and get ready for a deep dive into the stories and histories that lie within each artwork, and the lives of the artists who created them. Tours are available in English and Mandarin.
The Art Of Foraging
Mamakan
Chances are you came to Aotearoa for the nature. If that's a hell yes, you should put The Art of Foraging at the top of your list. Hosted by Danish botanical artist, Mamakan, this seasonal walking tour is one of Auckland's best tours and it isn't touristic at all. Led by Danish botanical artist Mamakan, you'll explore Velskov Forest, feasting on native plants and enjoying nature-inspired cocktails, learning to identify them through a Nordic-style perspective on Aotearoa's edible flora. Part art installation, part cooking lesson, part nature gathering, proceeds will go towards the protection of the biodiversity of the Velskov Forest.
Gallery Highlights & Incredible Rooftop Tour
Auckland Museum
There's so much to see at Auckland Museum and you can make the most of it with a guided tour. If you'd like a solid introduction to the museum's collections we'd suggest the Gallery Highlights Tour. Running daily, you'll be guided through the museum's Māori and Polynesian collections, and the areas of the museum dedicated to Aotearoa's natural history, conflict, and geology. If, on the other hand, you can't stop marvelling at the museum building itself the incredible rooftop tour might be up your alley. Also daily, this tour does a deep dive into the museum's architecture, the people who work there and its place in the Domain all while taking in breathtaking views.
Tip Top Factory Tour
Mt Wellington
One of the tastiest Auckland tours, the Tip Top Factory Tour is in high demand, and with good reason—the ice cream giant has been churning out moments of summery iced joy since 1936. In the hour-long tour, which is open to all ages, you'll get to see how Tip Top ice cream is made, watch an informative video about the company and, most importantly, get to sample the goods. Delightful.
Distillery Tour and Tasting
1919 Distillery & Cellar Door
If G&Ts are your jam or you're partial to a whisky, you'll want to snap up a ticket or two to 1919 Distillery's popular tour and tasting. The 2019 NZ Artisan Awards alcohol winner and with their gin voted top five NZ gins by the Gin Society, you can bank on some seriously tasty tipples. You'll be one of six people on the 60-75 minute tour so there's loads of scope to ask all the questions as you fangirl/boy over the spirits, and if you decide to stock up after the tour you'll enjoy a sweet little discount. Nice.
Half & Full-Day Auckland City & Scenic Tours
Auckland Scenic Tours
If you're a first-time visitor to Auckland or just haven't had the chance to really explore, Auckland Scenic Tours offers a half-day or full-day journey through all the must-see spots. The full-day tour will have you crossing the iconic Harbour Bridge, hiking not one but two mountains in oh-so-cute Devonport before heading out west for a breathtaking beach, a famed colony of gannets and a stop at the historic Riverhead Tavern. In saying that, the half-day tour is not to be sniffed at either, it's a whirlwind tour of more than ten locations making it perfect for when you're in Auckland for a fun time, not a long time.
Auckland Helicopter Tour
Heletranz
Take to the skies in an Auckland Helicopter Tour by Heletranz and live the good life with epic panoramic views for days. Whether you want to get a look at the beaches of Auckland, get up close and personal with the Sky Tower or soak in the view from the top of a volcano (without the leg pains to go with it), Heletranz has it all. You can even opt for one of their bougie destination rides and feel like royalty when a helicopter drops you off at a fine dining restaurant, waits for you then carries you back to the city like the total boss that you are.
Harbour Dinner Cruise
Explore Group
A visit to the City of Sails wouldn't be complete without taking to the water. Explore Group takes sailing to a whole new level with their Harbour Dinner Cruise. You'll be welcomed with canapés and a beverage then treated to the history and stories of iconic landmarks as you glide through Auckland's waterfront. Next, you'll enjoy a three-course meal on board by restaurant Coop's, before leisurely sailing back to the Viaduct Basin.
Tāmaki Makaurau By TukTuk
Auckland Pedicab
For something completely different, opt to see Auckland City by pedicab. With a load of exciting tours to choose from, plus the opportunity to whip up something bespoke (pun intended), you can't go wrong with a TukTuk. So whether you're down for a classic city loop, a scenic sea drive, a sunset cruise, you'd like to fill your belly on a foodie's dream grub crawl, or you're after a concierge on wheels to accompany you to your next shopping extravaganza, Auckland Pedicab Tours won't disappoint.
Auckland Maori Luxury Tour
Time Unlimited Tours
Tāmaki Makaurau is steeped in vibrant Māori culture and the Auckland Māori Luxury Tour is a great way to learn more. You'll start on the waterfront along Tāmaki Drive then journey to the Waitakere Ranges, wandering among the ancient trees and learning the Māori names and the importance of plants as medicine. You'll immerse yourself in the culture and atmosphere of Te Wao Nui o Tiriwa the ancient forest of Tiriwa, all while your guide enriches you with the lore and legends of the bush. You'll finish the tour with a visit to a glorious black sand beach on the West Coast.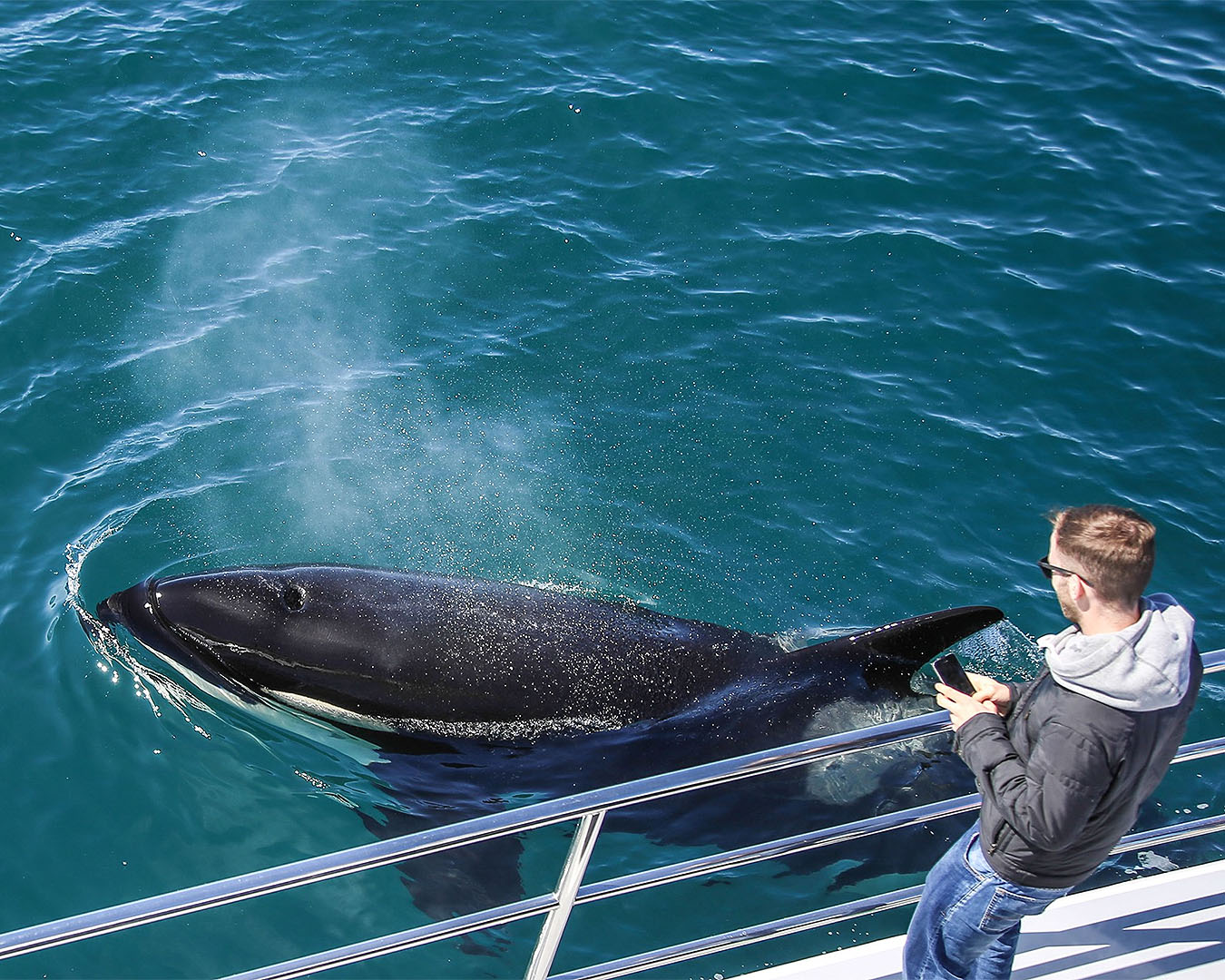 Whale Watching
Auckland Whale & Dolphin Safari
Don't just admire the waters of Auckland from afar, look deeper as there's more to discover when you take to the seas with marine science experts. Auckland Whale & Dolphin Safari gives you an insight into the marine life that have made the Hauraki Gulf Marine Park their own. Sightings always vary so each tour is a guaranteed one-of-a-kind experience. You might spy dolphins, seals, orcas, turtles… even whales. Auckland is the only place in New Zealand that has these creatures so close to the city, so there's really no excuse to not hop on this tour.
Auckland Urban Craft Beer Tasting Tour
Auckland Scenic Tours
The craft beer game is strong in Tāmaki Makaurau and in the Auckland Craft Beer Tasting Tour—the hoppiest tour in town—you'll sample the best of the best. You'll be whisked away for a four-hour experience at three unique craft breweries going behind the scenes discovering how the magic happens and, of course, sampling the goods. By the time the tour ends, you'll certainly know your pilsners from your sours (even if you don't the next morning).
Auckland On A Plate
Fine Wine Tours
Treat your taste buds to a full day of premium chocolate, cheese and the fanciest of wine in Auckland. Fine Wine Tours have tour guides that have been in the foodie scene for over 40 years, so we know that they are to be trusted! Begin your food adventure with a seaside morning coffee at Pt. Chev and make your way through to fine food stores, wineries, vineyards and markets. To make this tour even more of a treat, you'll take home a goodie bag of authentic New Zealand foodie items.
A History Of Libations
Auckland Historic Bar Tour
Dive into a backstreet journey through Tāmaki Makaurau's most vintage watering holes on the Auckland Historic Bar Tour. The laid-back Wednesday night walking tours are led by expert local tour guide, Darcy Peacock, who has been leading tours for years across Aotearoa, Australia and South East Asia. The tour takes place over three hours and is spread over five unique bars. Expect quirky anecdotes, quality yarns and, of course, pints a-plenty.
Rangitoto Sunset Tour
Auckland Sea Kayaks
Mighty Rangitoto is an iconic stamp on the Auckland skyline and there's no better way to get up close and personal than via kayak on a Rangitoto Sunset Tour. You'll set off in the afternoon, paddling your way across the sparkling waters of the Waitematā Harbour, and then tackling a one-hour trek to Rangitoto's summit to watch the sunset. Upon returning to the kayaks you'll enjoy a healthy Kiwi-style BBQ dinner and then paddle back to the city under starlight led by a skilled sea kayak guide. While not for the fitness-averse, this is surely one of Auckland's best tours.
Walking Food Tour
Eat Auckland
One of the best things about Tāmaki Makaurau is how multicultural it is, and the tasty and diverse food on offer. Eat Auckland provides walking cultural food tours. Delight in the authentic tastes of India and Sri Lanka in Sandringham, savour the flavours of the Silk Road in Panmure or dive into a Hidden Tastes Tour for an around-the-world foodie dream. Delicious.
Self-Guided Public Art Tour
Auckland Public Art
Tāmaki Makaurau is a treasure trove of public art—there are over 400 artworks in the collection cared for by Auckland Council with numerous pieces installed in and around the city at any one time. Whether you fancy yourself a bit of an art connoisseur, want to load up on vibrant snaps for the 'Gram or just love a good scavenger hunt, a self-guided public art tour could be just the thing. Auckland Public Art has mapped out all the current art installations so you can take to the streets, map in hand, and scope them all.
Mangere Mountain Hīkoi
Education Centre Te Pane o Mataoho
The City of Sails sits on an impressive 53 volcanoes, each rich in cultural and geological history, not to mention striking views. Mangere Mountain is 70,000 years old and is cared for by mana whenua (local people) at the Mangere Mountain Education Centre. The team's kaupapa (vision) is to link past, present and future by protecting the mountain and sharing its stories with the community. They offer fantastic guided hīkoi/walking tours of the mountain teaching attendees about the mountain's explosive past and its importance to Māori history.
Tiritiri Matangi Guided Walk
Tiritiri Matangi Incorporated
Aotearoa was once home to an abundance of birdlife, reptiles and fish but when humans arrived bringing predator animals like rats, mice, stoats and possums and an overactive trigger finger, species rapidly dwindled. Some were lost forever, some still perch on the edge of extinction and some are slowly rebuilding on wildlife sanctuaries dotted around the Hauraki Gulf. Tiritiri Matangi is one of these sanctuaries and a guided tour here is an absolute must. There are three routes to choose from—Wattle, Kawerau or Moana Rua track—and they range from 1.5 to 2.5 hours.
Party Bike
Beercycle
Sometimes the best way to see Auckland City is perched on the edge of a 15-person party bike and for those moments Beercycle is at your beck and call. While you don't actually drink on the bike (which is probably a good thing) over the two hours you'll be whisked away to a bunch of great bars and restaurants where you'll enjoy exclusive drink deals. At the very least it'd make for a very entertaining Tinder date.
Nature Walks
Self-Guided
Want to discover the natural beauty of Tāmaki Makaurau at your own pace? There are so many wonderful walks you can explore at your leisure, just be sure to clean your gear and use the wash stations to help end kauri dieback. Auckland's weather is renowned, too, for being four seasons in one day so a whole lot of clothing options flung into your bag won't go amiss.
Want to blaze your own trail? Take your pick from 50 epic things to do in Auckland.
Image credit: TIME Unlimited Tours, Heletranz, Auckland Whale & Dolphin Safari, Auckland Sea Kayaks, Tiritiri Matangi.
Editor's note: Urban List editors independently select and write about stuff we love and think you'll like too. Urban List has affiliate partnerships, so we get revenue from your purchase.