Mmmmmm pizza. A hug in carb form, it's pretty hard to mess up but some do it better than all the rest, especially when it comes to vegetarian slices.
So without further ado, get ready to feast at the 12 best places for vegetarian pizza in Auckland.
Clay
KARANGAHAPE ROAD
Wine shop, bar and restaurant, Clay, changes its menu every week but their pizza is always next level. Our pick? Their vegan aubergine, pickled chilli, mint and coriander paired with a natural wine. Beautiful.
Epolito's Pizza
Grey Lynn
New York-style Epolito's Pizza uses only locally imported ingredients on their hand-stretched pizza bases topped with their own sauce. They've got so many delicious vegetarian options—our faves include the three cheese goodness of Tre Formaggi and their East Side with artichoke, lemon and parmesan.
Gorgeous Pizza And Pasta Bar
Dominion Road
Purveyors of the finest pizzas in Auckland, you can't go past Gorgeous Pizza And Pasta bar for a taste of some delicious veggie NY-style pizza. With five veggie options on the menu and a knack for pairing unexpected ingredients with hella moreish results, pick up a Jackie O—sun-dried tomatoes and black olive pesto, rocket, fresh tomato, red onion, feta and mozzarella or if you're feeling adventurous, try the Salma with red kidney beans, corn, jalapeno peppers, piri-piri sauce, garlic, mozarrella, salsa and sour cream... reow!
Shoreward Bar & Kitchen
OREWA
A stone's throw from Orewa Beach, we love stopping at Shoreward's when we're on a roadie. Spinach, pine nuts, halloumi and roasted pumpkin combine on Shoreward's super tasty No-Meat-Za pizza. All their pizzas come on a carefully crafted base with homemade tomato sauce and shredded mozzarella.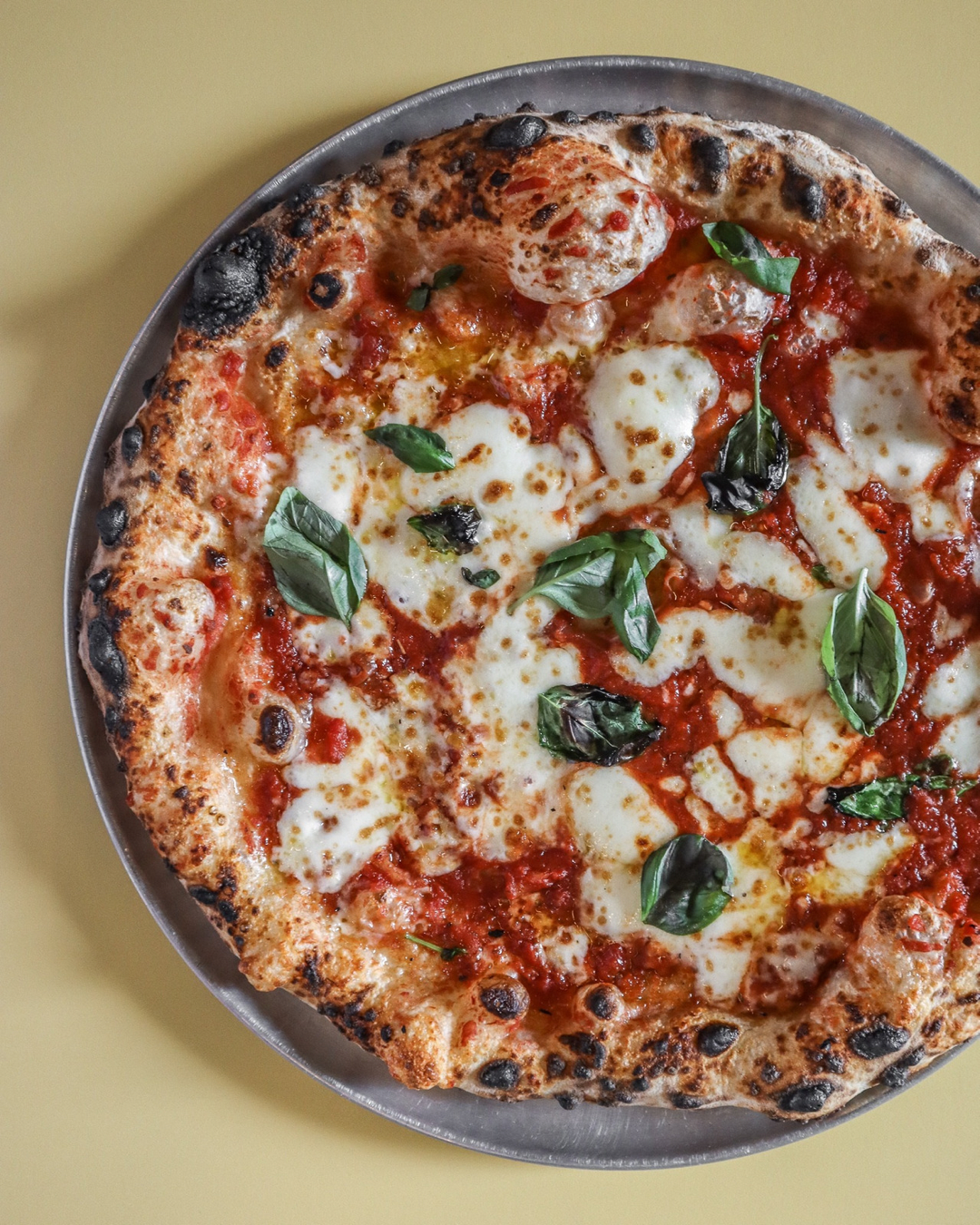 Umu Pizza
KINGSLAND
Serving sourdough with style we love, love, love Umu Pizza with their neon signage and cute pizza oven. Number One is their take on a classic margarita, Number Six is for when you're feeling fancy, with truffle pesto and pecorino, and Number Ninety-Nine is a mascarpone/ roasted potato/caramelised onion fantasy. Extras include wild broccoli (preach!) and the all important dips for your crust which come in artichoke, lemon and mint or roasted red pepper.
Dantes Pizza
PONSONBY, TAKAPUNA
Dante's pizza is like having a slice of Italy right in our own back yard. Everything about Dantes is as authentically Neapolitan as you can get. They use Caputo flour from Napoli to make their pizza bases, tomatoes from San Marzano and their mozzarella is from Campana. To top all that deliciousness off, their pizzas are baked in an authentic pizza oven hand made in Napoli.
Pizzeria Rosso Pomodoro
Dominion Road
Pizzeria Rosso Pomodoro is all about Italian pizza with a twist of Kiwi. Local and Italian ingredients are the go-to for these pizza makers. Wrap your mouth around the Verdure with its delicious toppings of aubergine, basil, courgette and potato or indulge in their plant-based Boscaiola with a mouth-watering mushroom mix.
Stumpy's Woodfired Pizza
Dominion Road
Let the flavours of the Mediterranean tickle your taste buds with one of Stumpy's delicious hand-stretched, thin base pizzas. Their Margherita is primo for vegetarians. And, they've even got a food truck for catering your next special event.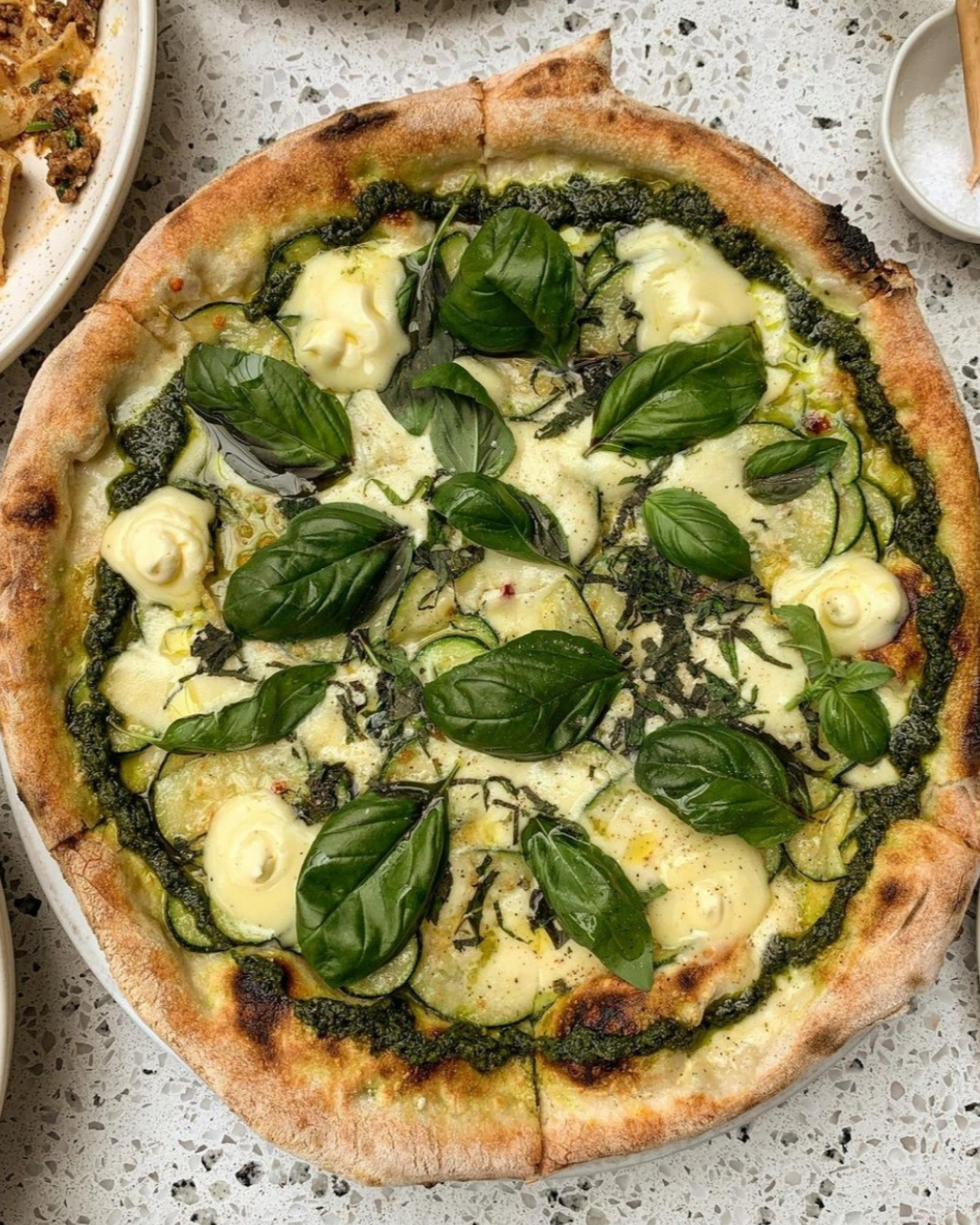 Non Solo Pizza
Parnell
Non Solo Pizza is all about Italian food and if you're looking to demolish a deluxe vegetarian pizza, we recommend their Pugliese with tomato, feta, mozzarella, chilli, capers, anchovy (or not, if anchovies aren't your buzz), red onion, black olives, oregano, garlic and parsley.
Freeman & Grey
PONSONBY
For the best priced pizza in all the land, look no further than Freeman & Grey. From 12-2pm and 5-7.30pm get your hands on a whole pizza for just $5 every day of the week. We're digging their Arrosto Vege with roasted veges, feta and plum sauce, and their Mexican-reminiscent La Fiesta with corn chips.
Leigh Sawmill
LEIGH
If you're willing to do a day trip for your pizza (and you should be) head to Leigh Sawmill. Featuring local produce, these pizzas are absolutely delicious. We love their Vego—with Napoli sauce, mozzarella, mushroom, capsicum, red onion and rosemary—which can be made vegan and/or on request. Visit on Thursdays from 5 to 9pm and you'll get to feast for half price.
Prego
Ponsonby
Our final epic pick is Prego. Situated on Ponsonby Road, it is an Italian restaurant serving up a delectable menu. Their Funghi is A-MAZ-ING with its toppings of Portobello mushroom, Swiss brown and button mushrooms and gorgonzola—a match made in melty heaven.
Want to go completely plant-based? Here are Auckland's best vegan restaurants.
Image credit: Engin Akyurt, Umu Pizza, Non Solo Pizza.