The summer months may be behind us, but one Auckland eatery that is celebrating summer all year long is Beach Club. A destination spot that is dishing out the beach vibes—and we're totally for it.
Nestled into Orakei Bay Village, Beach Club is in the heart of Orakei's restaurant scene but is certainly a stand-out eatery that adds a touch of luxury to this corner of Auckland.
Transforming what used to be an empty warehouse, Josh Jang has created what can only be described as the ultimate beach house. From the ocean blue coloured walls, the coastal photography, the natural oak furniture—which they built themselves may we add—and we can't forget the outdoor deck chairs for lounging on, cocktail in hand and soaking up the views of the Orakei Basin.
The menu is equally as stunning. It has been beautifully crafted, it's not only easy on the eyes but easy on the tum too. Think half a dozen succulent oysters, a beef burger with a Korean Twist, sweet and spicy fried chicken, dumpling soup—heck, let's just dive right into it, shall we?
If like us, you think biting into an oyster is like sinking your teeth into a little piece of ocean heaven, then we suggest starting off by ordering up some freshly shucked oysters from the oyster bar. Choose from au naturel, grilled, or battered—each equally as delicious as the other. They're soft, juicy and 100% glorious, pair this with a cheeky glass of champers and you've got a meal fit for a king. We'll let you in on a little secret—if you dine on a Wednesday you can get a dozen of these bad boys for half the price. Winning!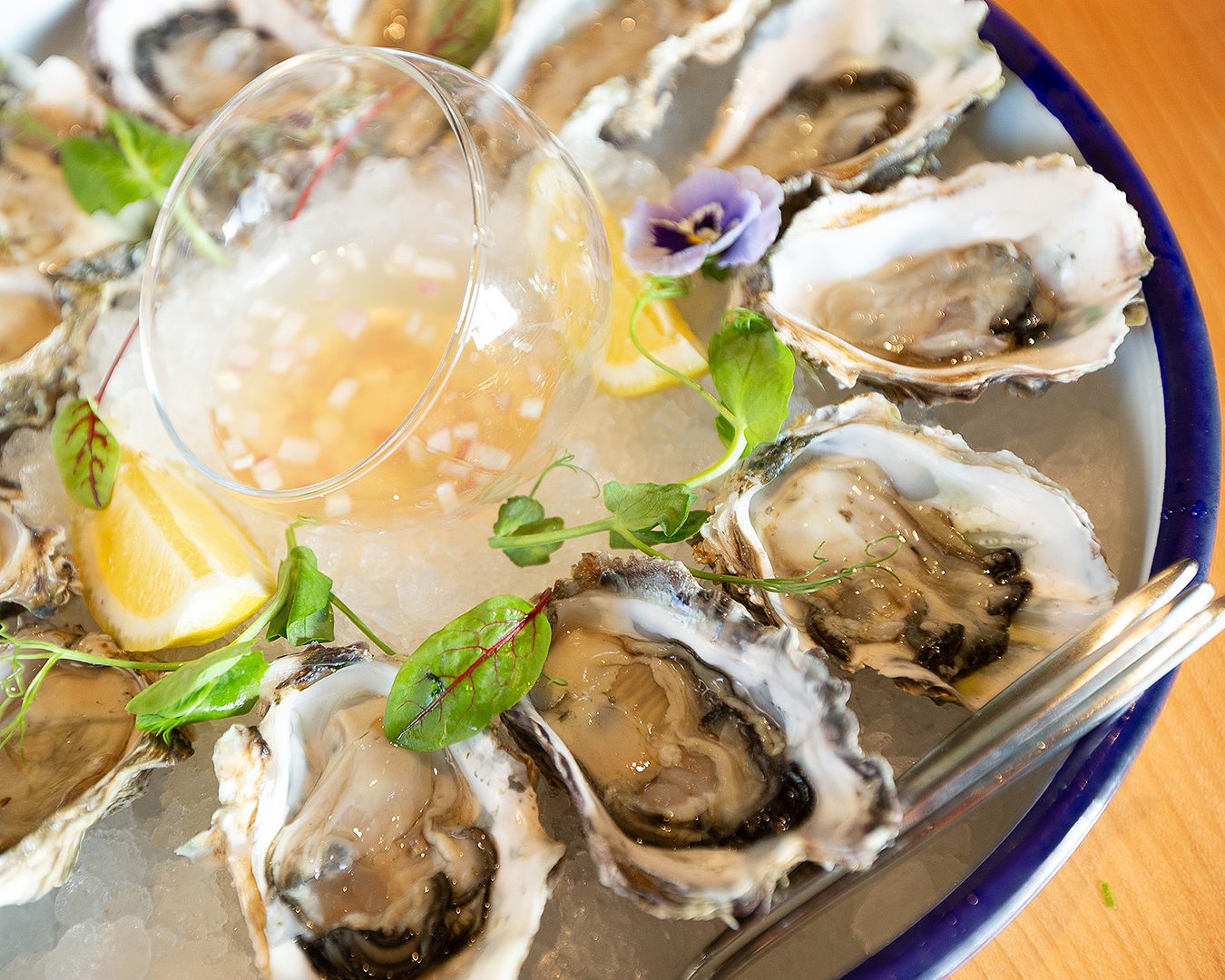 We know your taste buds are tingling already, but that's just the beginning. Unbuckle your belts as we're about to get onto the mains. Get your paws dirty with the Korean fried chicken, served with a drool-worthy gochujang sauce—it's sweet, spicy and best of all finger-lickin' good.
Take it up a notch with the bulgogi burger, made up of juicy soy-marinated beef, cos lettuce, tomato, mustard mayo and wait for it, double cheese (now, that's what we're talking about) all served on a succulent soft bun—it really is a beautiful thing.
The nation's fave dish captures our hearts all year long, hence why our top pick has to be the fish and chips. Yes, we know fish and chips may sound simple, but this dish is anything but. Think beautifully battered fish of the day, paired with truffle powdered steak cut chips and a sprinkle of parmesan. Warning: these are devilishly moreish, and multiple bowls may be consumed.
Unfortunately, we can't comment on the dessert as the menu is being crafted up as we speak, but rumour has it that a delicious Tiramisu is on the cards.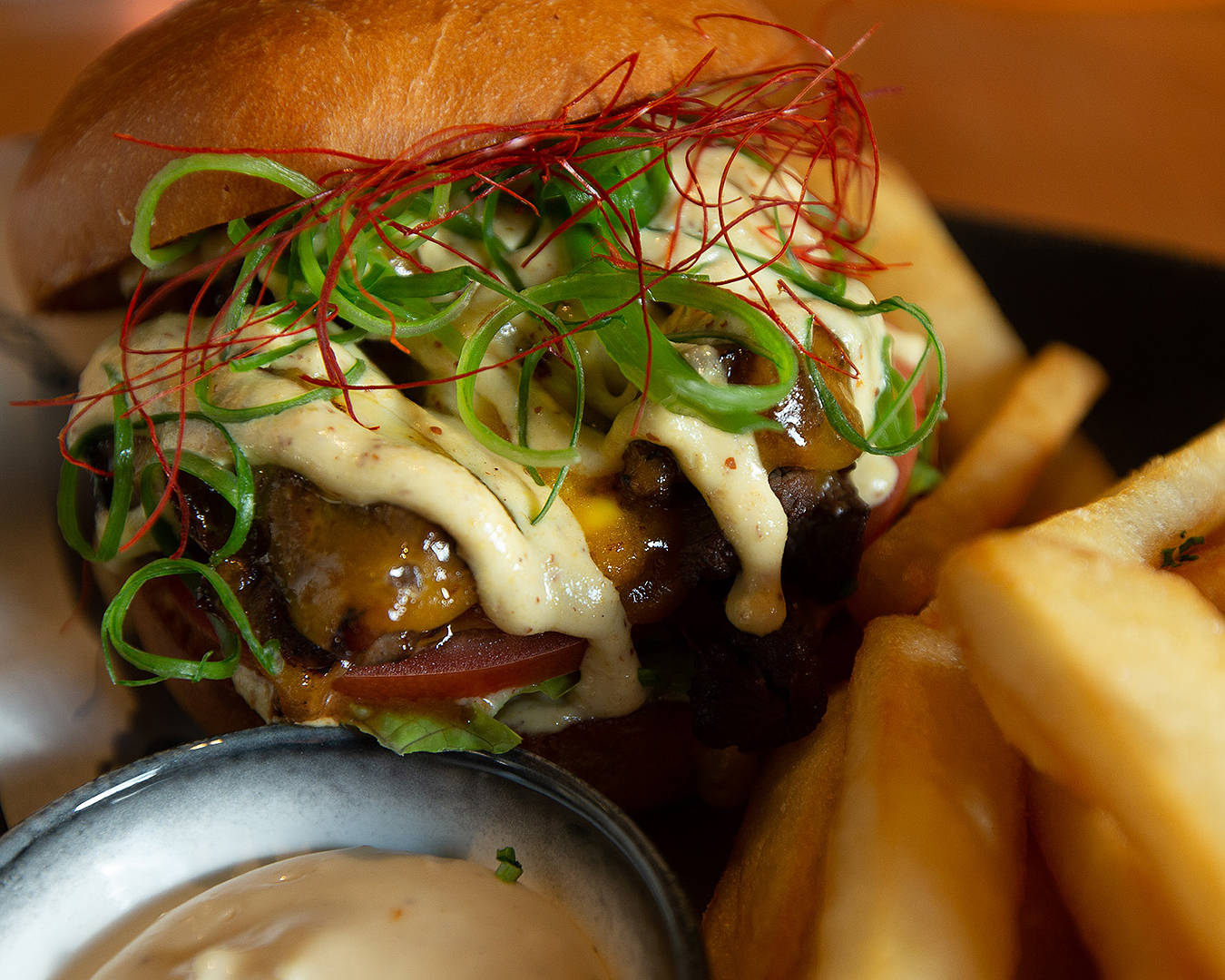 To wash down all that goodness, we think a tipple or two is in order. Serving up classics with a twist, the Orakei Mojito made up of rum, lime, sugar, lemongrass and a hint of chilli is a real thirst quencher. If you like a stiff drink, then the Spice Girls will do the trick and if like us you like a grammable tipple, then the Hermes Sour is your perfect pour. Be sure to pop in Tuesday-Thursday between 4pm-7 pm and take full advantage of the cocktail happy hour, where you can get your slurp on for just $10—it would be rude not to.
Now, we love a cheeky deal and luckily for you Beach Club is dishing out the specials left, right and centre. Gee whizz! Grab a free coffee with your brekkie Tuesday-Thursday until 12pm and for all you love birds out there every Tuesday you could bag yourself a free dessert and a glass of bubbles for two by simply saying these three words "I love you."
Whether you're looking for a wee snack to warm the cockles or wanting to wine and dine until your heart's content, Beach Club certainly does cater for all, oh and did we mention they're pet friendly so even your furry friends can join in the fun.
So, if you're looking to continue the summer vibes, then Beach Club is the place for you, in fact, it's the only club you'll want to be part of.
For more images and information, including opening hours, click here.
Image credit: Wono Kim