As we gradually come out of lockdown, we just can't stop thinking about all those bucket-list walks that have been on our to-do list since forever. We can now move around the country once more, which means our #trampgoals are that little bit more achievable. Just remember to follow government guidelines on contact tracing and maintain a 2-metre distance between your bubble and others, though longer tramps that involve DOC huts may need to wait.
It's no secret New Zealand is home to some truly gorgeous walks and hikes. These journeys will take you to rugged mountains, emerald pools, white sand beaches, majestical forests and beyond. The best bit? There are literally hundreds of tracks to conquer.
To help you kick off your planning obsession, we've found ten of the best New Zealand walks—from short day hikes to three-day tramps and everything in between. So fire up the group chat, dig out those boots and get ready to have your mind blown.
Tongariro Alpine Crossing
Central North Island
Yeah, yeah, we know this walk has become a wee bit congested over the past few years, but trust us, it's still one of the best one-day treks in New Zealand and you'll kick yourself if you don't do it at least once. Tongariro National Park is our fine country's oldest national park, chockablock with dramatic scenery, volcanic craters and those sparkly emerald lakes. The crossing itself takes between six to eight hours, and you can suss out a shuttle to take you to and from the site (your feet will thank you for it). If you want to explore the area more, you're in luck. There are loads of walks in and around Tongariro National Park—check 'em out here.
Abel Tasman Coast Track
Nelson
Keen to tick off New Zealand's Great Walks but don't know where to start? The Abel Tasman Coastal Track is considered one of the cruisiest walks of the bunch, taking you along coastlines of sparkly blue water, golden beaches and beautiful sculptured cliffs. This multi-day hike (two to five days) will see you walking through lush native bush, camping under the stars (be sure to book campsites well in advance) and inhaling the deliciously fresh air. Give your weary feet a break by kayaking part of the track and be sure to check out the Cleopatra's Pool, a cooling rock pool with a wicked natural waterslide! Pro tip: keep an eye out for fur seals—these playful little guys often make an appearance.
Mount Victoria Lookout Walk
Wellington
As much as we love Auckland, our wee capital of Wellington is pretty damn rad. It boasts one of the coolest city walks in New Zealand, the Mount Victoria Lookout Walk, which goes from the bustling CBD, through peaceful forest and finally, up to the summit. There, you'll be treated to sprawling, 360-degree views of lovely Welly. Once you've finished soaking it all up, head down to Oriental Bay for a well-deserved ice cream. Oh, and if you're a Lord of the Rings fan (of course you are), keep your eyes peeled for the 'Hobbit's Hideaway', where old mate Frodo and his fellow hobbits hid from the Black Riders.
Routeburn Track
Otago
Ready to take a walk on the wild side? We thought so. The Routeburn Track showcases Aotearoa's alpine beauty in the most spectacular way. Walk through not one but two of New Zealand's national parks—Mount Aspiring and Fiordland—marvelling at gigantic valleys, waterfalls and snow-capped mountain peaks along the way. There's also plenty of wildlife to spot if birdwatching is your thing. The walk takes around three days, with each day offering a whole new world of breathtaking views and experiences.
Te Waihou Walkway
Waikato
For the ultimate roadie and walk combo from Auckland, head to Putaruru's Te Waihou Walkway. The highlight of this three-hour return walk is the blue-as-can-be Blue Spring, the source of around 70% of New Zealand's bottled water. It remains a brisk 11-degrees year-long and will make you wish you were a mermaid. It's easy to see why this is one of the best walks in New Zealand.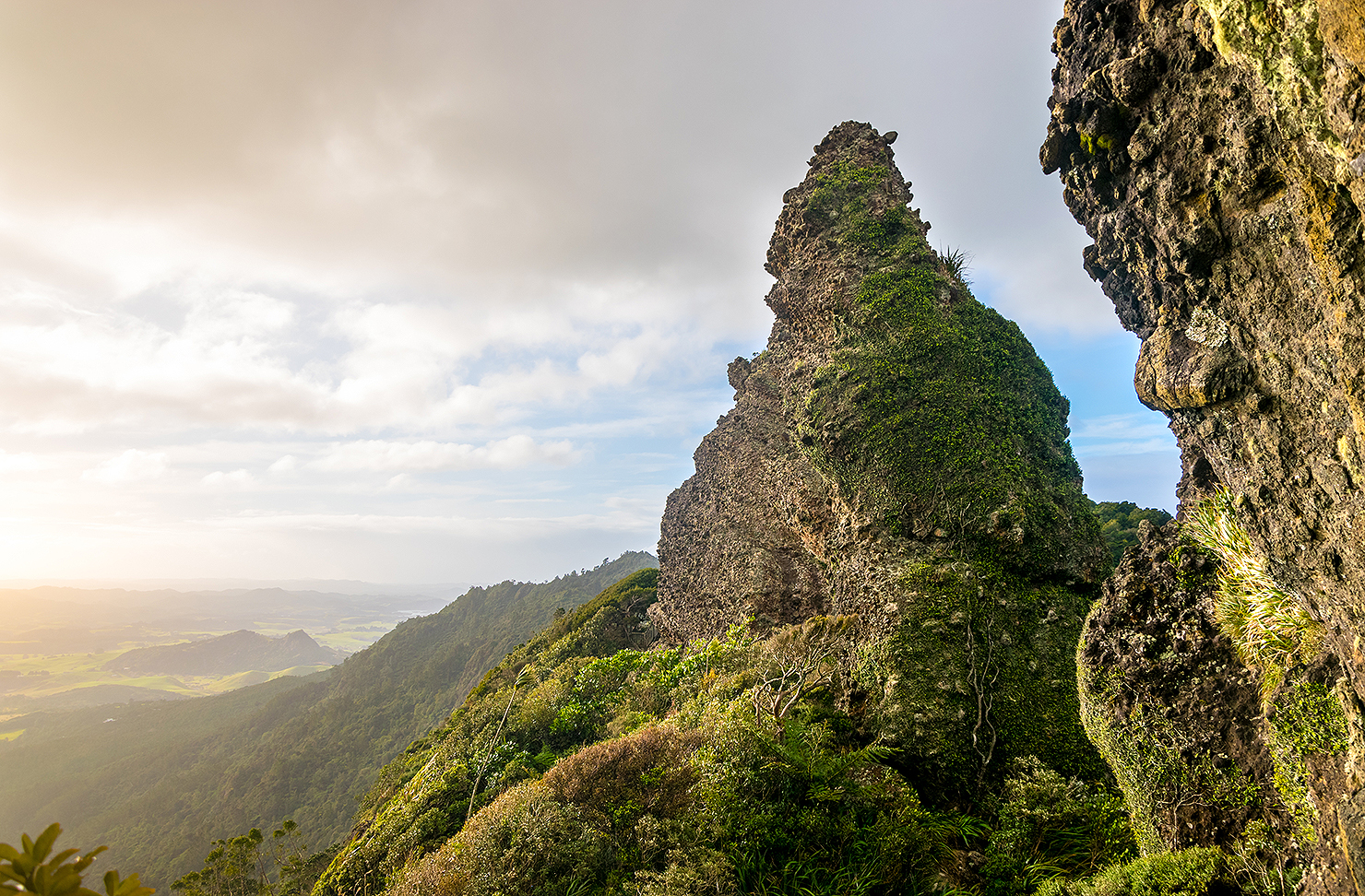 Mount Manaia
Whangarei Heads
This Northland walk ain't for the faint-hearted. Mount Manaia is one heck of a challenging walk but dayum, is it rewarding. The two to three-hour walk will have you questioning if the stairs will ever end (spoiler: they do) and eventually you'll be catching your breath at the summit with the stellar views of Northland right before your very eyes.
Rob Roy Glacier Track
Wanaka
Thanks to Wanaka's Rob Roy Glacier Track, you can get up close and personal (really, you'll be right up in their grill) with active glaciers. Step into the Mount Aspiring National Park from Raspberry Creek car park, across swing bridges, under ferns and into the alpine valley, until you reach the tremendous glaciers clinging to the side of the mountain. Listen for mini avalanches (don't worry, your viewing point is super safe) and simply admire some of Mother Nature's finest work.
Roys Peak Track
Wanaka
While you're down the mighty south, it'd be rude not to tackle the beautiful beast that is Roys Peak. This five to six-hour return walk takes you up to 1578 metres, where the views of Lake Wanaka will quite simply, blow your mind. The track itself zig-zags a fair bit and should only be done by peeps with a decent fitness level, but once you reach the top, the blood, sweat and tears (jokes, there will only be sweat) will be instantly worth it. Be sure to take an extra layer or two as the weather can change quickly.
Te Henga Walkway
Auckland
If you've got a casual eight hours up your sleeve, then Te Henga Walkway is calling your name. Part of the Hillary Trail, this 8km walk goes from Bethells Beach to the south of Muriwai and is the best way to see Auckland's wild, wild west coast. Be sure to bring ALL the snacks (and hydration), you're going to need them.
The Milford Track
Fiordland
Last but certainly not least is the world-renowned Milford Track. This walking trail is a whopping 53km (!) and requires four days of strolling through some of the most beautiful terrains on earth. There are crystal-clear lakes, massive valleys and epic mountain peaks, as well as plenty of suspension bridges to cross and Sutherland Falls, the largest waterfall in New Zealand, to marvel at. Don't forget your proper camera—you'll want to capture this once-in-a-lifetime trek that is one of the ten top New Zealand walks.
Fancy something a little less... strenuous? Check out the best road trips in New Zealand.
Image credit: Tongariro Alpine Crossing, Awaroa Bay by NelsonTasman.nz, Ruapehu by Graeme Murray, Routeburn Track by Stewart Nimmo, Mount Manaia by Cappan, Roys Peak Track by Miles Holden.