What a month it's been for the Auckland foodie scene, just when you think things couldn't get any better, a fresh new batch of gems open their doors. Keeping our tummies full and mouths watering, we've rounded up the new openings you simply don't want to miss.
Rabbit Cafe
Eden Terrace
Forget absolutely everything you think you know about vegetarian food and hop on down to the friendly folk at Rabbit Cafe. With a menu so foodgasmic, you won't even miss meat. You won't want to miss their kickass quinoa fritter, almost as big as your face, this bad boy is topped with horseradish saw and a sprinkle of candied walnuts. YUM.
Lorne St. Larder
CBD
The Teed St. Larder's new young sibling brings a taste of awesome to the CBD. Lorne St Larder serves up an epic cabinet of goodies, fresh salads, golden ravenous pies alongside the best French toast in town, this foodtastic new addition is definitely one to add to the foodie bucket list.
Jess' Underground Kitchen
Remuera
Amongst all the hustle and bustle of our big little city, who really has time to cook a wholesome, homemade meal? Lucky for us, local life saver Jess Daniell has spread the love even further with a new quick-stop spo, with Jess' Underground Kitchen on Remuera Road. Featuring a scrumptious homemade cabinet stocked fully of salads, slices and epic wraps, prepared home-made dinners and freshly brewed atomic coffee, it's a winner in our books.
Duck Duck Goose Eatery
Rosedale
This Southeast Asian delight can be found nestled amongst the industrial estate of Rosedale. Duck Duck Goose Eatery has a dedicated latte menu, loaded Best Ugly bagels, a wicked French toast, and the fluffiest omelette in Auckland this is sure to be your new go to brunch stop.
Happy Boy
Royal Oak
Oh, happy day! From the expert minds behind Kiss Kiss comes new kid on the block, Happy Boy. You'll find this new gem in lucky 'burb Royal Oak. An adventure from the get go, you'll find yourself stepping into the future with a modern American menu with an Asian twist. Think delicious soft, bao-style steam bun burgers, sticky five-spice pork ribs, shoestrings fries alongside an insane Siracha mayo and a wicked umami slaw. For those with a bit of a sweet tooth (guilty), you won't want to miss the Chinese-style doughnuts or the massive swoon-worthy warm brownie, served alongside salty miso butterscotch.
Feriza's
Wynyard Quarter
Brought to us from the same people behind the likes of Devon on the Wharf and Deco Eatery, comes Feriza's. With flavours from Turkey, Greece and the Middle East, it brings the taste of the Ottoman Empire right to the heart of Auckland. We recommend diving into The Feast—a palatal plate of smokey, char-grilled beef, chicken and Sujak served with a Bulgar pilaf. Alongside, there's yoghurt, hummus and fresh tomato salsa. And, put down that knife and fork and eat with your hands! This is one place to layer and wrap your succulent food in all its delicious goodness.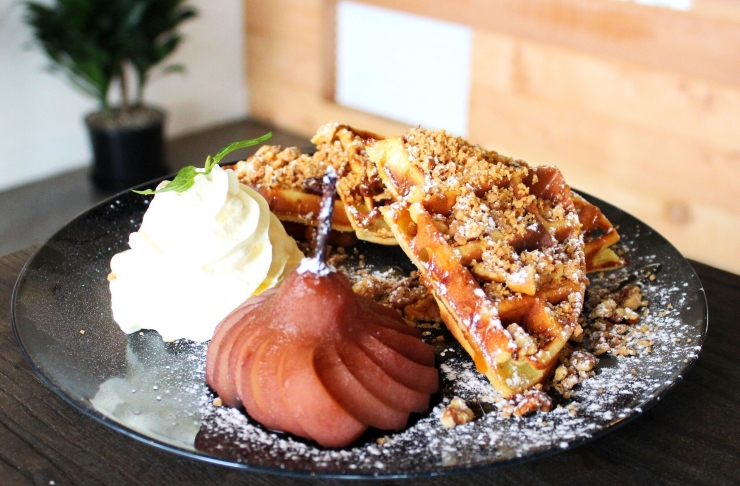 Once Strangers
Grafton
Why can't we be friends? Well, at Once Strangers, we can! This Grafton cafe makes it easy with conversation starters on each table. And, you can rest assured that the food is just as good. Pro tip: don't go past the waffles. The pear and walnut waffles are our top pick, topped with a caramel drizzle and walnut crumble, served alongside a poached bear and whipped cream. Served up hot and fresh, you'll be dreaming about it 'til round two.
Ain't No Taco
Eden Terrace
Love tacos? Check. Love tequila? Check. If this sounds a bit of you then you'll want to make a beeline for new opening Ain't No Taco asap. This bright and colourful restaurant gives you a ray of sunshine in these otherwise dreary winter conditions. And, they even have an ENTIRE WALL dedicated to hot sauce. Here, you'll find you'll find the likes of Korean-inspired bulgogi pork, with daikon pickle and slaw, tequila and lime chicken with coconut yoghurt and lettuce and Jamaican jerk tofu and mango salsa. No Mexican feast is complete without guac and chips and Ain't No Taco take theirs to a whole new level. With lashings of queso fundido (cheese and jalapeno fondue) atop a mountain of corn chips lathered in guacamole, we just can't get enough of them.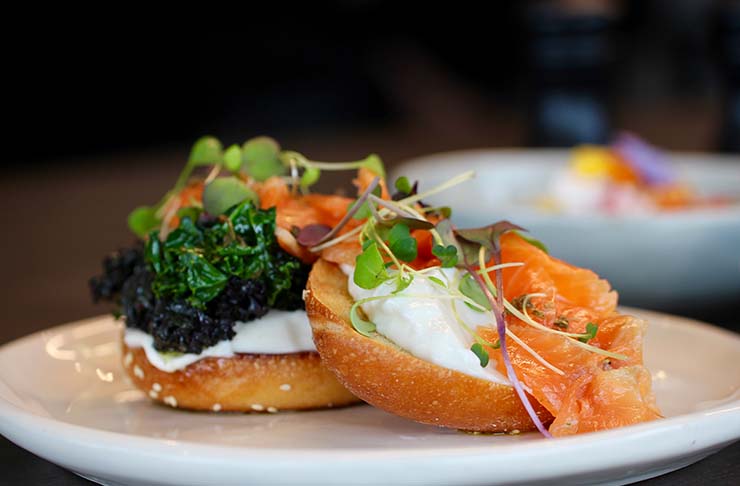 Honey Bones
Grey Lynn
A welcome addition to Grey Lynn is new opening Honey Bones. Brought to you by the same people as Crumb Cafe, you'll find a cabinet filled to the brim with tasty options to satisfy that hunger— sumptuous sandwiches, golden scones and fruit muffins. If you've got the time, kick back and relax and enjoy food from the kitchen. Our pick is the Turkish poached eggs—afloat in yogurt Tahini, with delicately sautéed mushrooms, spicy harissa oil, crispy sage and a thick slice of warmed sourdough, it is truly something to behold.
Image Credit: Jaiden Bhaga, Kate Rose
SaveSaveSaveSaveSaveSave
SaveSaveSaveSave
SaveSaveSaveSaveSaveSave