We all know Newmarket as an incredible shopping destination, but what about its many epic eateries?
From Peruvian tacos and schnitzels the size of your face, to perfect coffee and cocktails in bongs (for reals!), this suburb certainly has plenty to eat out on.
So without further ado, here's our pick of the best restaurants and cafes in Newmarket.
The Best Restaurants In Newmarket
Arte Della Pasta
Remuera Road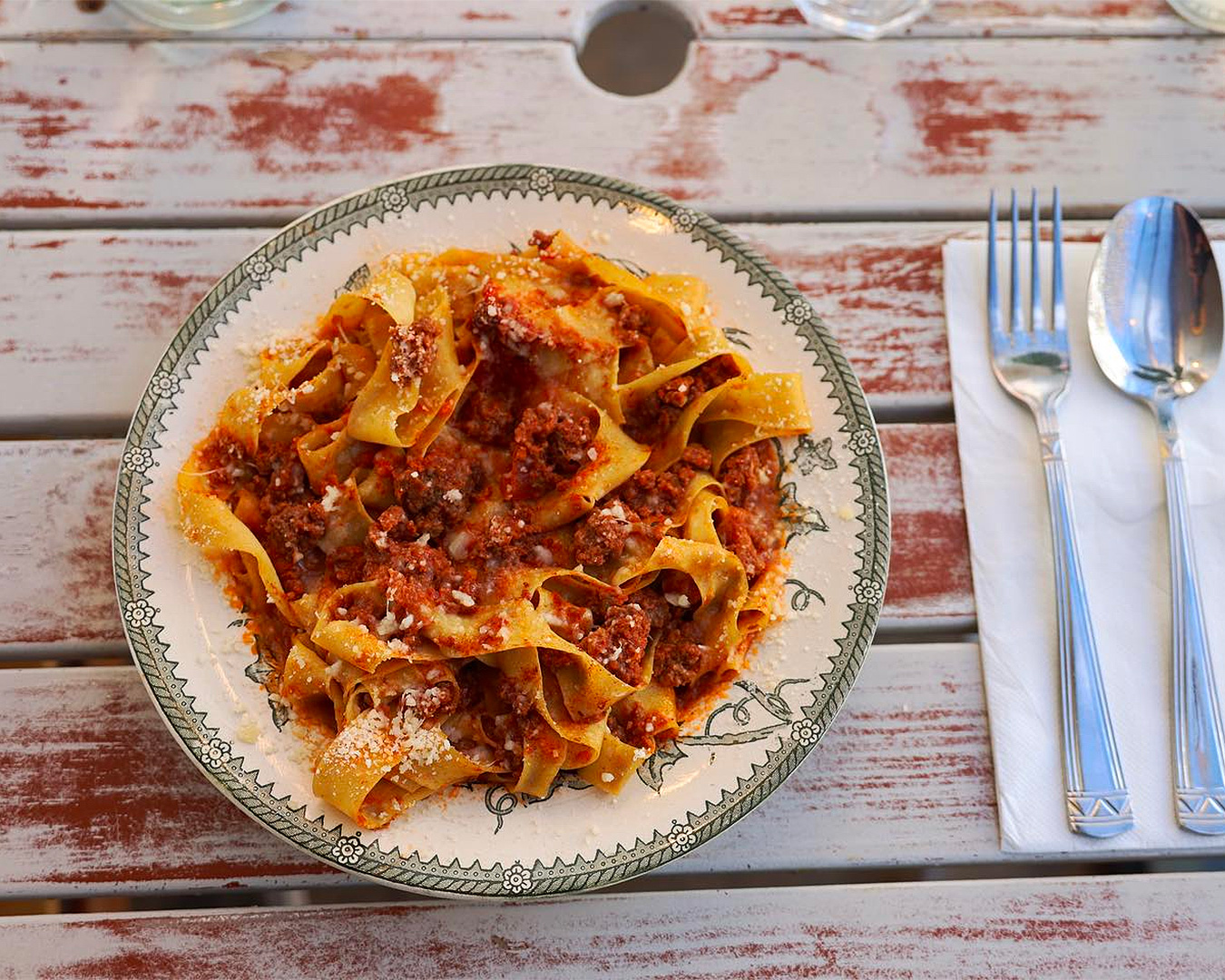 In the mood for a piping hot bowl of pappardelle, smothered in beef ragu and Stracciatella cheese—slices of fluffy, filled foccacia (now there's a mouthful)—or perhaps a slab of creamy, coffee-laced tiramisu?
You'll find all of these delicious dishes plus more at the charming Arte Della Pasta. You can even book into one of their pasta-making classes to replicate some of these dishes at home (look out, Nonna!).
TianFu Noodles
Khyber Pass Road
IKYMI, TianFu is one of Auckland's best places for a spot of noodle-slurping. Cheap and cheerful with noods for days (which is exactly how long it would take you to work your way through the menu), the Dan Dan noodles are especially popular though their dumplings in spicy sauce also have quite the reputation.
The spice-shy may want to proceed with caution, however—here, hot really does mean hot.
Corner Burger
Westfield Newmarket
Burger fiends will wanna drop by fan fave, Corner Burger. This cool spot inside Westfield Newmarket is responsible for some of the city's tastiest burgs, featuring grass-fed beef patties, cornflake buttermilk chicken thigh, Jack Daniel's BBQ pulled pork, cajun fried tarakihi and other drool-worthy fillings, all jammed inside a super-soft brioche bun.
They also do a string of epic sides and even better, alcoholic bevvies (because everyone knows that burgers and beer are besties). And if, like us, you have a second stomach just for sweets, be sure to check out their insane dessert burgers—we like the Snickers, which pairs a donut bun with homemade Snickers parfait, vanilla ice cream, peanut butter, caramel and chocolate sauces and sprinkles. Yeow!
Aigo Newmarket
Osborne Lane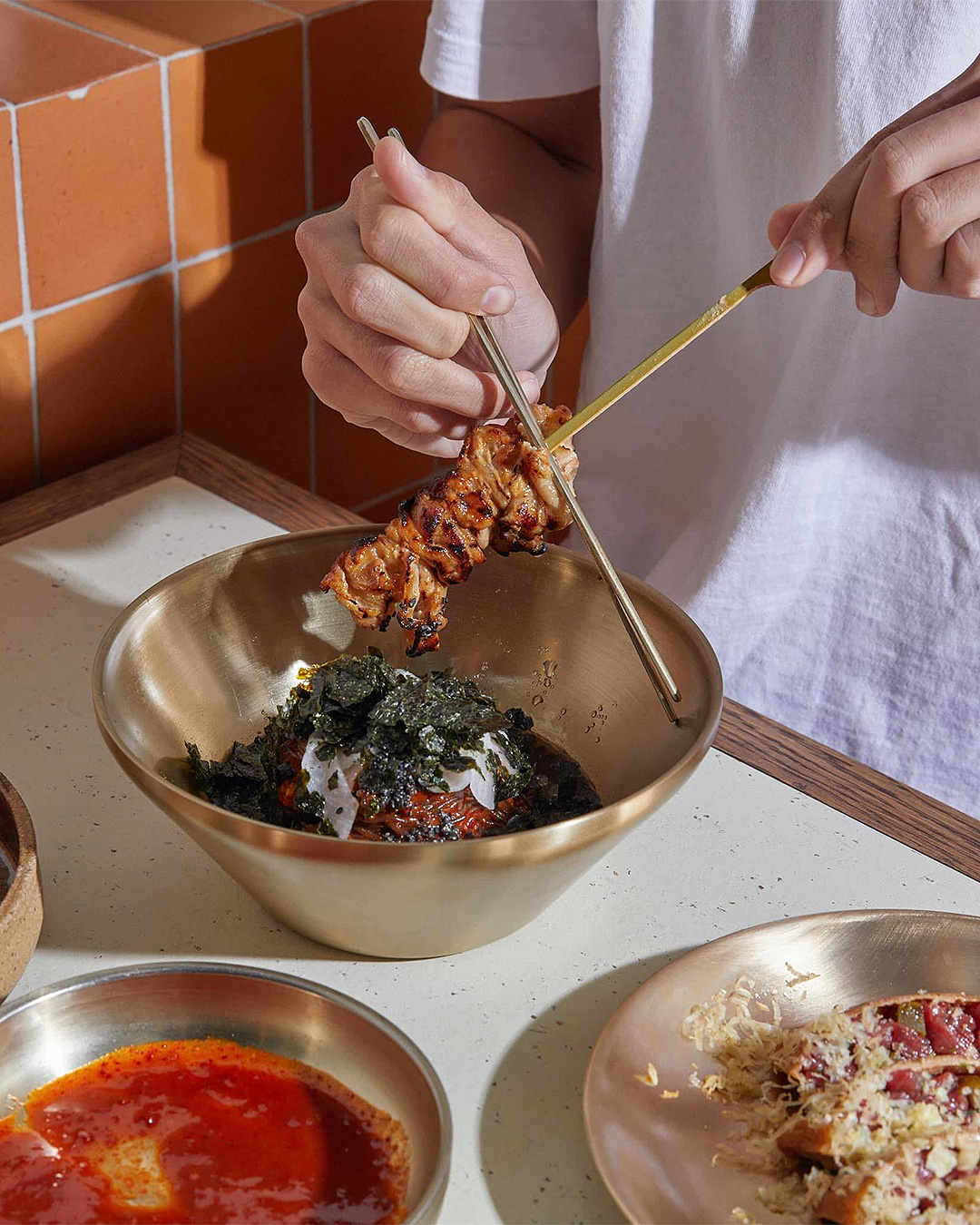 For oodles of noodles and a whole lot more, check out Aigo from hospo legend, David Lee. Following on from the success of the first venture in Ponsonby you'll find this place tucked in behind Candy Shop and Duck Island Ice Cream.
Don't leave without trying their game-changing take on tteokbokki, smothered in cacio e pepe, torched cheese and truffle. Woof.
Pearl Garden
Teed Street
Tucked away on Teed Street is Pearl Garden, the Kan family's authentic Chinese eatery that's been bringing its deliciousness to Newmarket for more than 45 years.
Yip, Mama Kan started the business way back in 1975 with a vision to hero unique Chinese cuisine and she's clearly succeeded because this spot is still humming in 2021 and was even voted Best Chinese Restaurant by Metro magazine.
Using fresh ingredients and a menu reminiscent of Mama Kan's cookbook, this is the spot for seriously good dim sum including their much-loved pork and cashew dumplings.
Archie Brothers Cirque Electriq
Westfield Newmarket
Sure, Archie Brothers is more of an arcade than it is a restaurant, but that shouldn't discount them from a mention on this list. Why? Not only do they know how to make some pretty tasty grub (think burgers, pizzas), but their milkshakes and cocktails are all kinds of insane.
Topped with cookies, candy and in some cases a whole ice cream, there is no way we couldn't include them. Sipping on your chosen tipple amongst Archie's buzzing, carnival-like atmosphere only adds to the experience.
The Candyshop
Osborne Street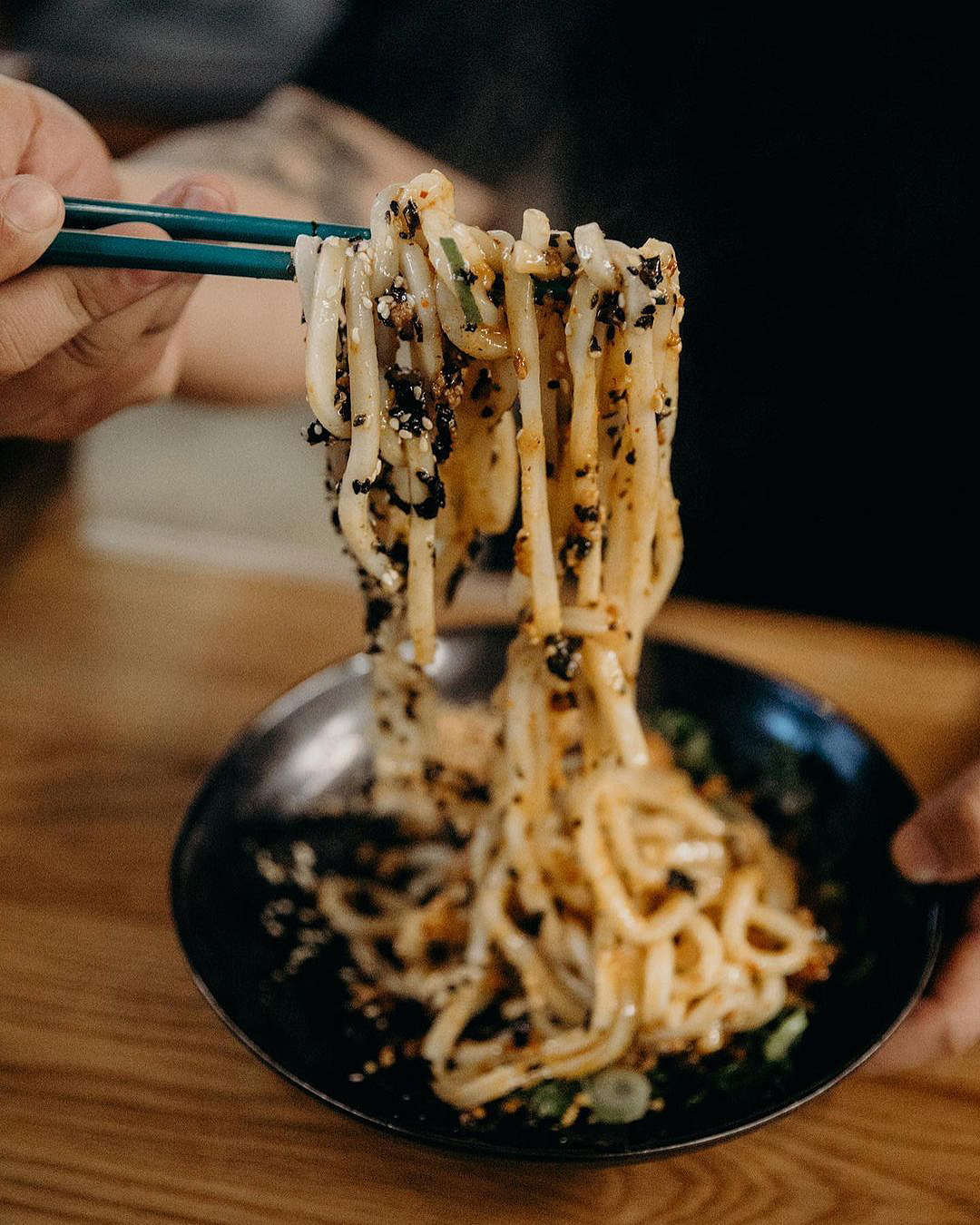 When 50 Cent bragged about taking us to 'The Candyshop', we sure hope he was talking about the one in Newmarket because honestly, we'll settle for nothing less.
With a strong Korean influence, this is one of the best restaurants in Newmarket and you'll want to stuff your face with at least one of everything on the menu.
Get amongst breakfast burgers and croffles in the AM, wrap your mouth around fried chicken and bibimbap for lunch, then chow down on wagyu chopped cheese sliders and beef dumplings in the PM.
The only thing that could possibly make this situation any better is coffee, wine or a cocktail and guess what? They have all three.
Selera
Khyber Pass Road
In the mood for no-frills Malaysian? Enter
Selera
, the home of piping hot, plus-sized bowls of laksa (widely considered Auckland's best) and a smorgasbord of other authentic and equally drool-worthy dishes, from curry and wonton soup to dumplings and curry buns.
And it appears we're not the only fans, cos the place is forever slammed. We suggest heading along early to secure a spot (and a bowl of that laksa, which sells out on the reg).
Baha Betty
Westfield Newmarket
Get ready for a flavour explosion at Baha Betty, an eclectic and highly delicious spot found on Westfield Newmarket's rooftop dining precinct.
Blending Mexican and Californian cuisine, their menu is jam-packed with flavour—think fried chicken, nachos, burgers (basically, all of our dream dishes in one place). However, if you have room for only one thing, make it their juicy signature beef tacos.
Bonus points for their on-point drinks offering, which includes everything from ice cream floats right through to bubbles.
INCA
Westfield Newmarket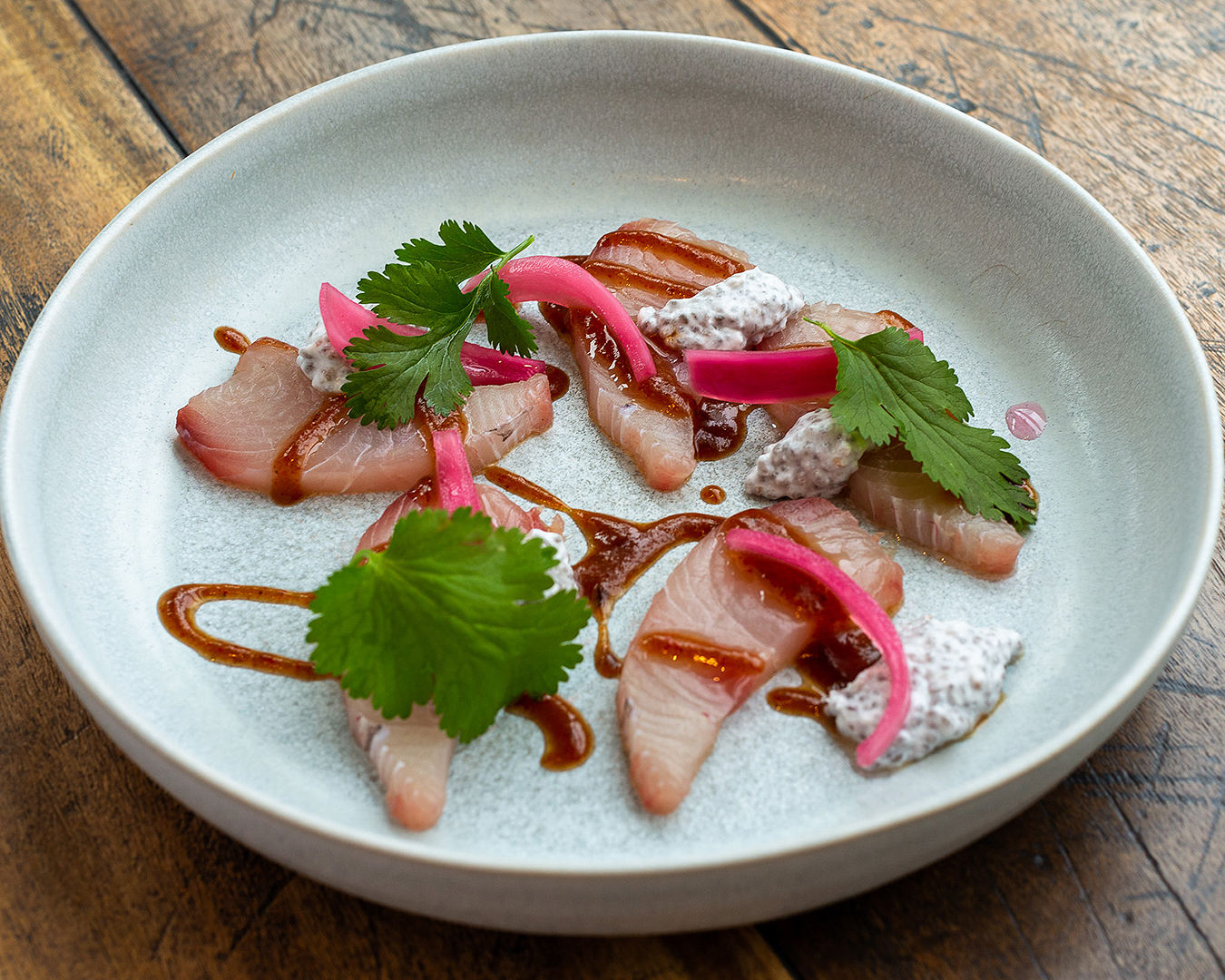 Acclaimed chef Nic Watt (who you'll recognise from SkyCity's award-winning restaurant, MASU) and Darren Johnson are the brains behind INCA—a lively Nikkei-style eatery located on the rooftop at Westfield Newmarket.
Meshing together South American and East Asian flavours, you know that when you dine here, the grub is going to be seriously tasty. Tuck into everything from crispy prawn tacos and kingfish sashimi to woodfired baby back pork ribs and cedar-roasted chocolate and raspberry pudding for afters.
We also love the exotic fit-out, which includes an open-plan kitchen where you can watch the chefs in action—flames and all.
The Bavarian
Westfield Newmarket
Let your appetite loose (and probs your belt, too) at The Bavarian—Westfield Newmarket's very own German dining hall.
These guys certainly know their way around comfort food, serving up everything from baked pretzels and roast pork belly to schnitzels the size of your face (if you really wanna go to town, check out the legendary Sohweineschnitzel).
These should of course be enjoyed from the comfort of their wooden benches, a stein of beer in hand. Don't leave without trying their delicious apple strudel (though be warned, this may require a second stomach).
Khao San Eatery
Davis Crescent
Khao San Eatery is your go-to for Thai food with a fusion twist and by that, we mean South East Asian flavours paired with premium Kiwi ingredients like South Island salmon and locally sourced wagyu.
Slurp on down a bowl of tom yum noodle soup, spice up your day with one of their hearty curries (the Massaman is a fave) or give yourself a food baby proper with their whole fresh market fish. And the best bit is, you can have a cocktail while doing it.
V.T. Station
Davis Crescent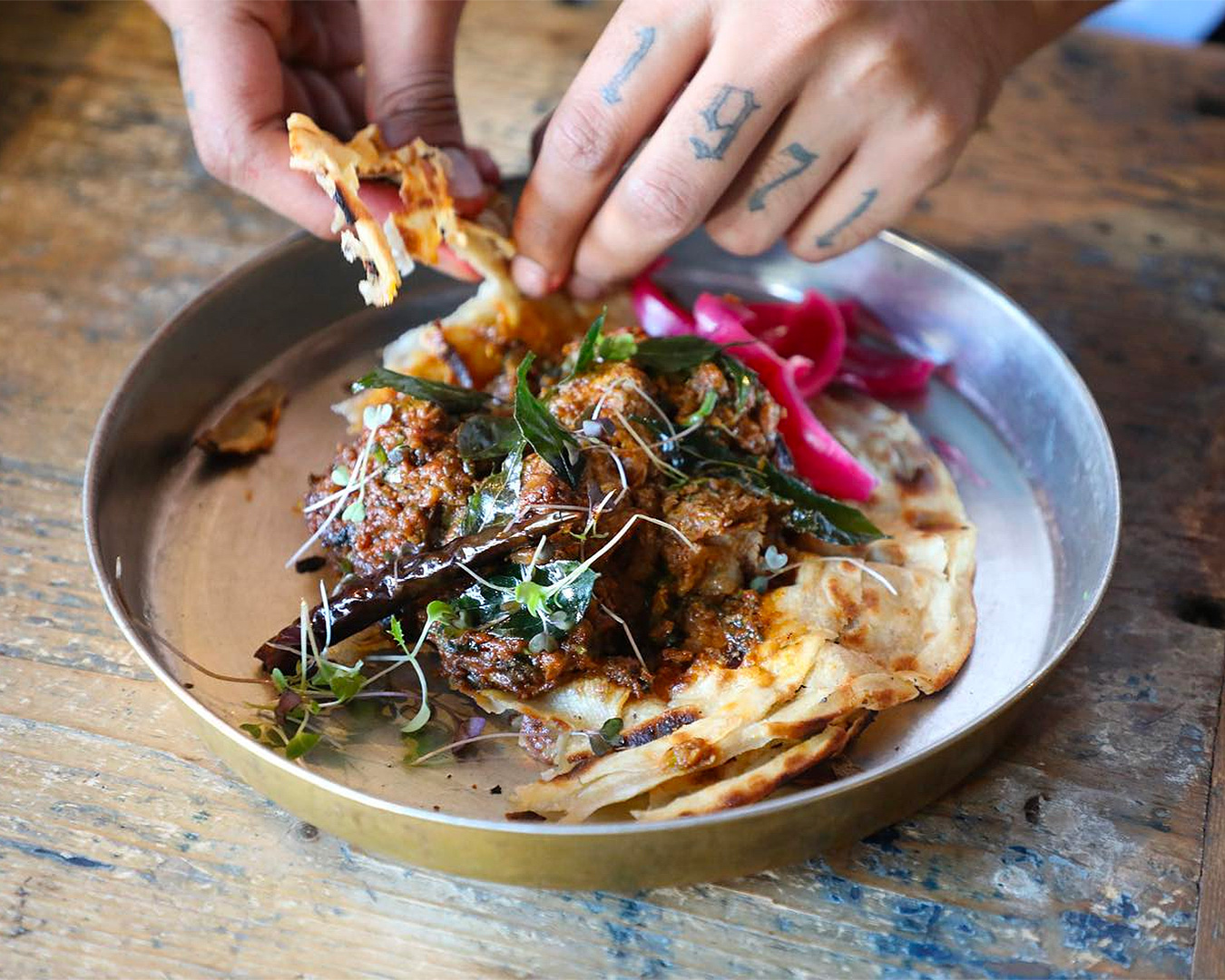 V.T. Station made quite the impression on us when it first opened in 2019, and we're sure your own visit will have you feeling a similar way.
Not only does this spot boast an incredibly memorable fit-out, styled after the famous Mumbai train station from which it takes its name—the fare here is off the charts.
Expect beautifully presented Indian street food (a paradox, we know, but trust us when we say it works), paired with insane cocktails, including one served inside a bong. IYKYK.
The Flying Burrito Brothers
Davis Crescent
We'll never say no to a taco, especially one with a margarita on the side. That's where our friends at The Flying Burrito Brothers come in.
Their colourful Mexican cantina on Davis Crescent is a total vibe and is definitely not the spot for a quiet one. Round up the crew and take your taste buds on a delicious journey south of the border with small bites aplenty alongside quesadillas, fajitas, enchiladas—the whole shebang.
They also have a crankin' dessert menu and yes, plenty of bevvies up for grabs including a range of speciality margs.
Burger Burger
Osborne Lane
Our love for Burger Burger still runs deep after all these years, and their Newmarket spot never fails to disappoint.
Tucked away on Osborne Lane, it's always buzzing and is particularly useful for dealing with those post-shopping munchies.
Smash back one of their famous beef burgers (some of the best in the city, don't you know), eat your body weight in potato skins, and even sink a cocktail or two if the occasion calls for it.
Just remember to save room for something from the dessert bar (hellooo, ice cream sandwiches).
The Best Cafes/Other Eateries In Newmarket
Luna Bakehouse
Broadway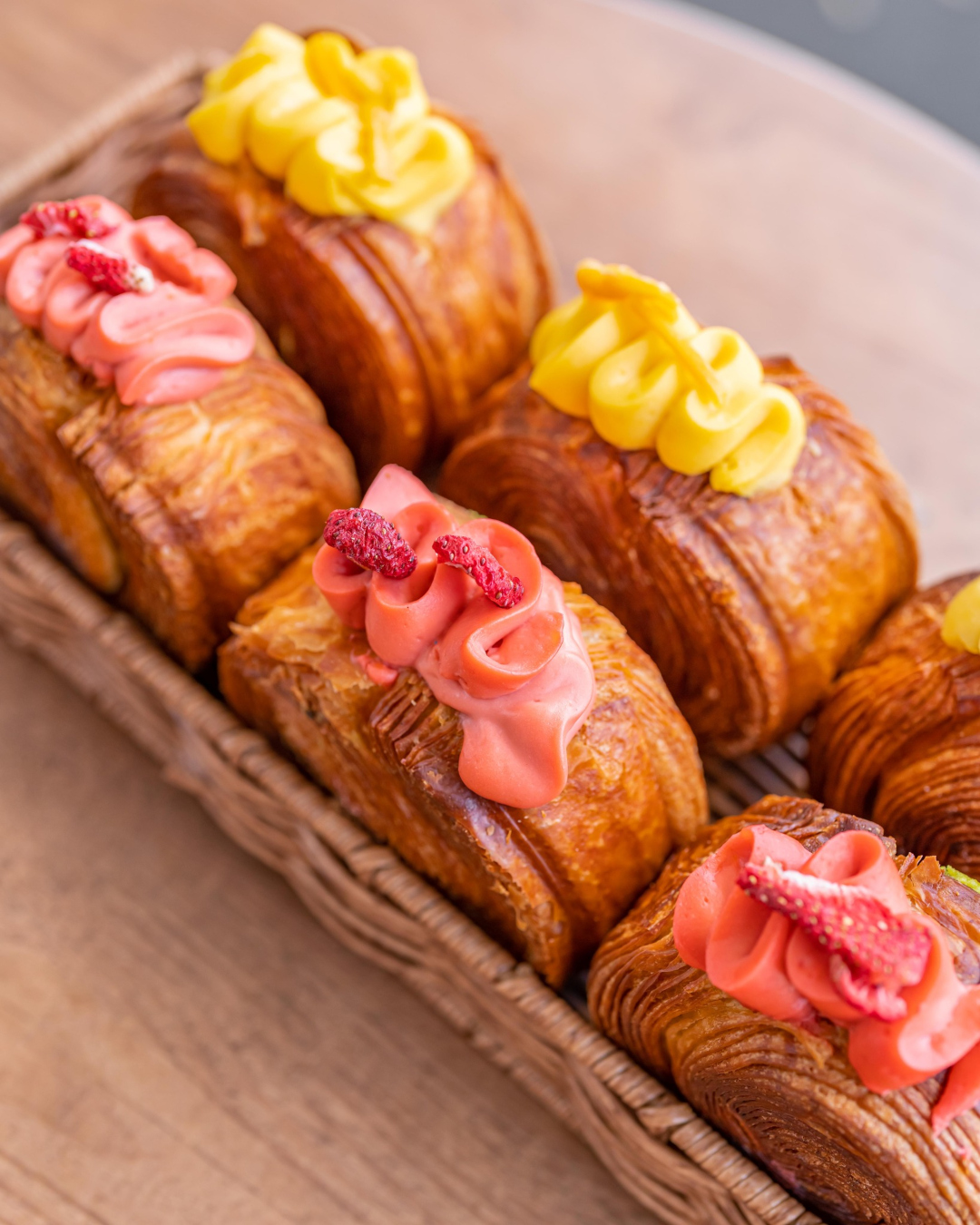 Luna Bakehouse is responsible for the circular croissants and soft serve ice creams, served in croissant cones that you've probably seen blowing up social media.
Joining stores in Elliott Stables and Glen Innes, this pint-sized spot is designed for grabbing treats on the go, with just one table out front.
Sitting alongside their viral creations, you'll find the likes of Biscoff cruffins—halloumi and butter chicken sauce danishes—and tubs of matcha and white chocolate cookies.
Sweeten the deal with one of their decadent moccachinos, made from Kokako coffee and Whittaker's chocolate.
Camper Coffee
Osborne Lane
Now might be a good time to mention Camper Coffee, The Candyshop's much loved, coffee-swilling sibling which is located within the second of The Candyshop's spaces.
This is the spot for freshly roasted brews made with single-origin beans, which experience tells us you should enjoy with one of their strawberry danishes. P.S. We really appreciate that logo.
Newbie Newmarket
Broadway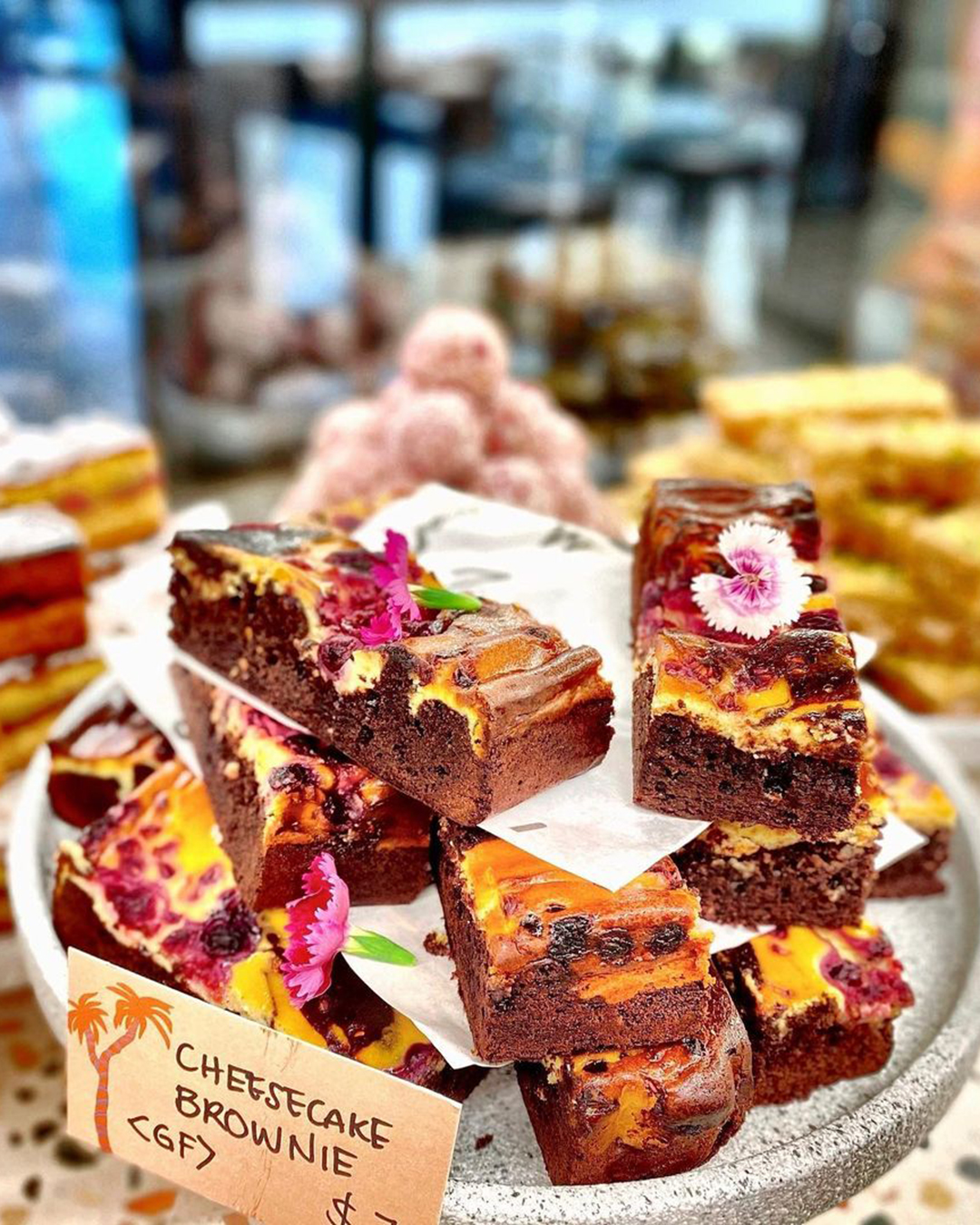 Eggs bene? Check. Smashed avo? Check. Purple yam French toast? CHECK. These are just some of the goodies you'll find on offer at Newbie, a popular haunt amongst Newmarket locals.
Along with these incredible brunch-time finds, you'll also have the choice of some outrageously good cabinet food (their doughnuts are especially delish). Find them hidden inside the Mercury Plaza building on Broadway.
Mutual Friends
Morgan Street
Bought to us by the legends behind popular burger joint, Parade, Mutual Friends was an obvious choice for this list.
Not only do they sling a damn fine cup of Allpress coffee, but they also offer some seriously tasty cabinet food and brekkie options, which have been known to include acai bowls, waffles, and smoothies.
Look for them on Morgan Street, inside the swish QB Studios workspace.
L'affare Newmarket
Melrose Street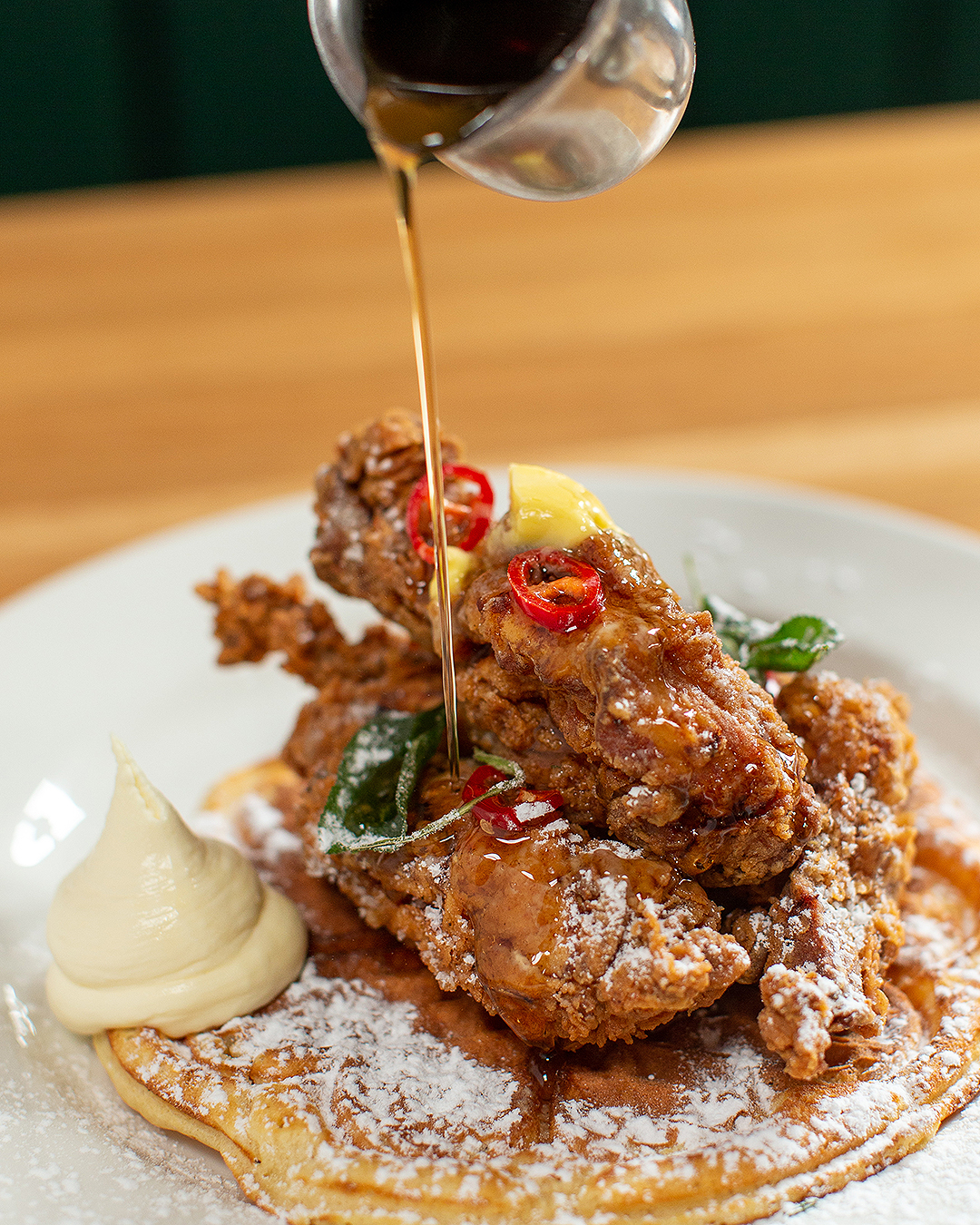 If coffee's your poison, you can't go past L'affare, whose name you will have seen emblazoned across packets of coffee beans at your local supermarket. And this spot in Newmarket is where some of those same beans probably originated, being that it is their Auckland HQ (the brand is originally from Wellington), a roastery, cafe and 'bean store' all in one.
We recommend fuelling up on the eggs bene with cured salmon and housemade muffins, and the fried chicken waffles with bourbon syrup and sour cream. However, just know that they also do burgers and beers, if that's more your jam.
Don't forget to pick up a bag of beans and any coffee-related equipment you need before you leave.
Little & Friday
McColl Street
Ever since they launched onto the scene many moons ago on the north shore, Little & Friday has held a very special place in our food-loving hearts.
Their Newmarket branch is, therefore, a welcome addition to the neighbourhood and is a treasure trove of old-fashioned goodies, including their gorgeous single-serve cakes (a meal unto themselves), mouthwatering pies, and OTT doughnuts—which you'll find on each of our respective 'best of' lists.
Yes, you'll want to take the whole cabinet home with you, along with some of their prettily packaged gifts for good measure.
Duck Island Ice Cream
Osborne Lane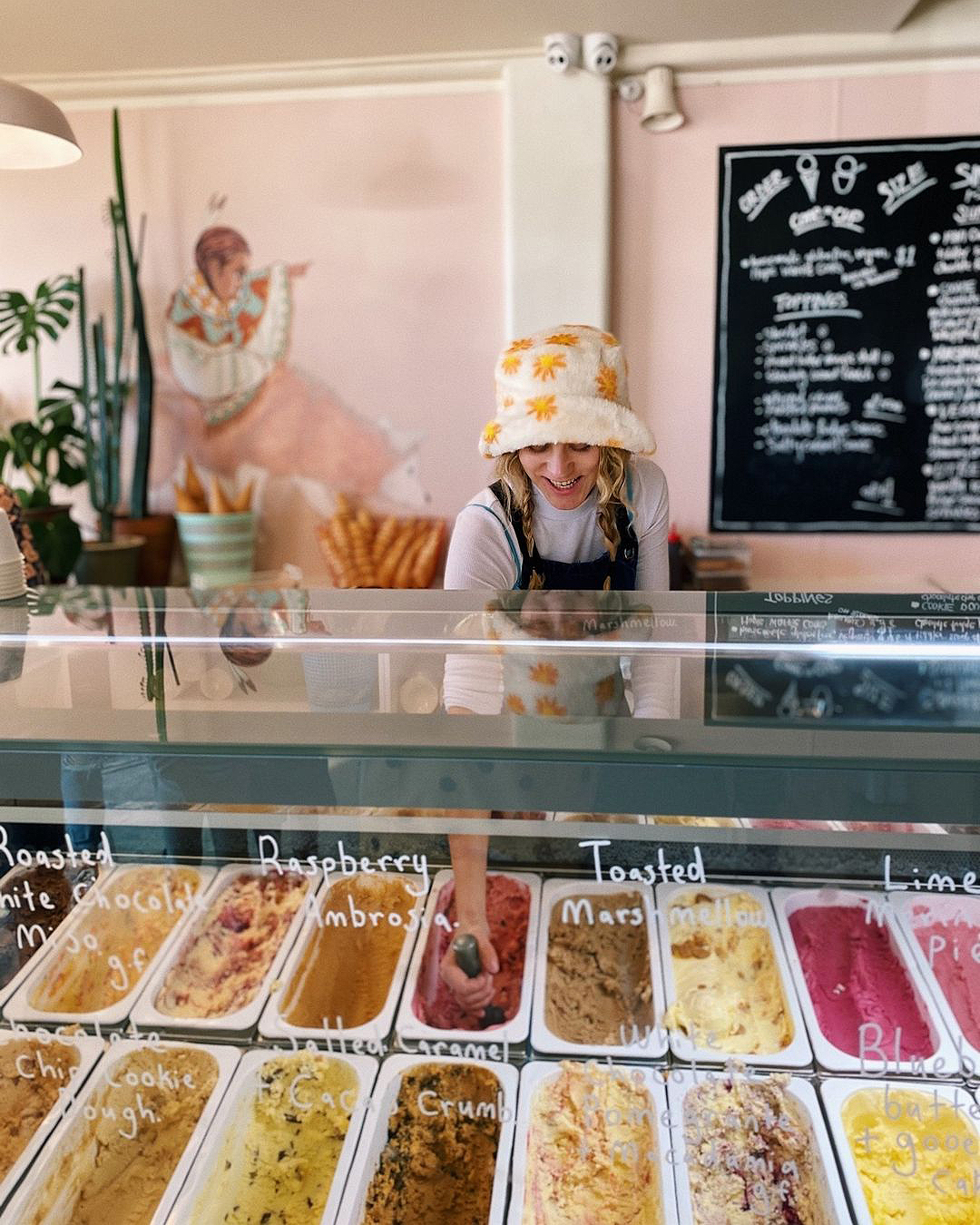 Even the icy chill of winter won't put us off visiting Duck Island, the pale pink ice cream parlour on Osborne Lane.
Joining stores in Takapuna and Ponsonby (along with those in Hamilton and Wellington, as well as space in the freezer at your local supermarket), there's something utterly irresistible about this particular brand of ice cream.
Perhaps it's the nod to nostalgia (with flavours like fairy bread, ambrosia and peppermint slice), their inclusiveness (that means dairy-free and vegan options)... or perhaps it's simply their sweet-as-pie fit-out.
Whatever the reason, you'll want to check out this spot lickety-split. Bonus points for sharing a wall with the aforementioned Candy Shop.
Daily Bread
Morrow Street
Daily Bread (the venture from German baker Patrick Welzenbac and Orphans Kitchen/kingi duo, Tom Hishon and Josh Helm) has a growing number of bakeries across Auckland, including this gem inside Citta Design's Newmarket store.
For freshly baked pies, pastries and of course bread, you won't find better. Being the sweet-toothed peeps that we are, we can never go past one of their cardamom buns, while their doughnuts and hazelnut croissants are also rather glorious.
Wash down your choice with a cup of Coffee Supreme (custom-blended, no less), then grab a couple of loaves to take home.
Daldang
Broadway
Daldang is where you'll find fatcarons—super-sized versions of the traditional French treat, the macaron.
And size isn't the only thing these babies have on their side, they also come in a range of unique flavours including strawberry cheesecake, crème brulee, matcha choc, tiramisu, and even Milo.
We're especially obsessed with their shellcarons—pretty, scallop-shaped macs that have us feeling all Ariel-like.
Into trying new spots? We heard that! Check out Auckland's best new openings.
Image credit: V.T Station, Arte Della Pasta, Aigo, The Candy Shop, INCA by Wono Kim, VT Station, Luna Bakehouse, Newbie Newmarket, L'Affare Newmarket by Wono Kim, Duck Island Ice Cream.