Sometimes occasions call for a romantic gesture for that special someone. And no, we don't just mean a swipe to the right. It might be a simple date, an anniversary, a birthday, or time to pop a question – whatever it is, we've got you covered. Here at the Urban List, we're absolute suckers for anything vaguely romantic and we know we're not alone. If you think your better half deserves something better than a night in with Bridget Jones and half the confectionary aisle, read on to see our list of the most romantic things to do in Auckland.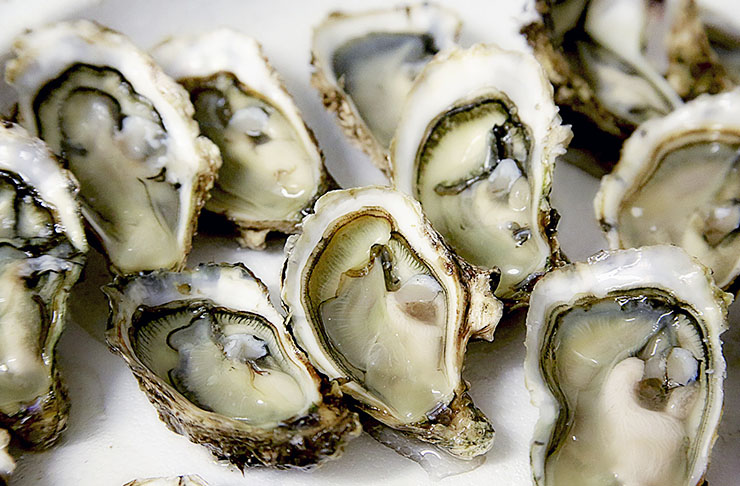 Eat All The Oysters
Yeah… it's an absolute cliché. But it's tried and true—trust us it works. Just the perfect a pair as the two of you (naw), oysters and champagne are a sure-fire way to success. Notorious ladies man Casanova is said to have had 50 oysters for breakfast daily, so surely that's all the evidence you need. Enter Oyster and Chop where you can enjoy oysters and steak with a view. At any one time, you'll find up to ten varieties of oysters and a fabulous wine list. Other notable places to grab this fabulous combo are Depot, The Oyster Inn, Ostro or check out Where To Find Auckland's Best Oysters.
Go For A Romantic Picnic
Head to one of Auckland's speciality food stores—think Nosh, Sabato or Farro. Bundle up an impressive array of deli items to put in a little basket and head to a fitting spot. Or, take the effort out (you smart thing you), and grab some food from Bird on a Wire. And if that feels like too much effort, then why not have your picnic food delivered? Picnic Box does all the work for you by creating a hamper box (choose from casual or indulgent) and delivering it to your door. Or, With Love Styling takes your romantic date next level with their pop up picnics. Our top spots for a romantic picnic are Cornwall Park, Tawharanui, St Heliers or Cornwallis Beach out West. Or, if you need a little privacy, check out these hidden picnic spots.
Dine At Auckland's Most Romantic Restaurant
Of course, we could fill this list with the many date-night-worthy restaurants in our city. But The Sugar Club sits at the top of that and offers an amazing romantic experience. The Sugar Club's winning formula is due to its spectacular setting… what with the views from the 53rd floor and the opulent interior inspired by Italian film 'I Am Love'… you get the picture. The food by celebrity chef Peter Gordon and Josh Barlow match the sensual setting and the seven-course degustation menu is sure to impress that certain someone as one of the most romantic things to do in Auckland.

Spa Treatment For Two
There is little more that gets the romantic juices flowing than a massage. East Day Spa offers two different packages, the East Duo and the Mumtaz. A massage, facial and Cleopatra milk bath await you with the latter. Or pair this option with a happy ending—East Day Spa also offers spa packages followed by lunch at The Sugar Club, MASU, The Grill, or Gusto at the Grand.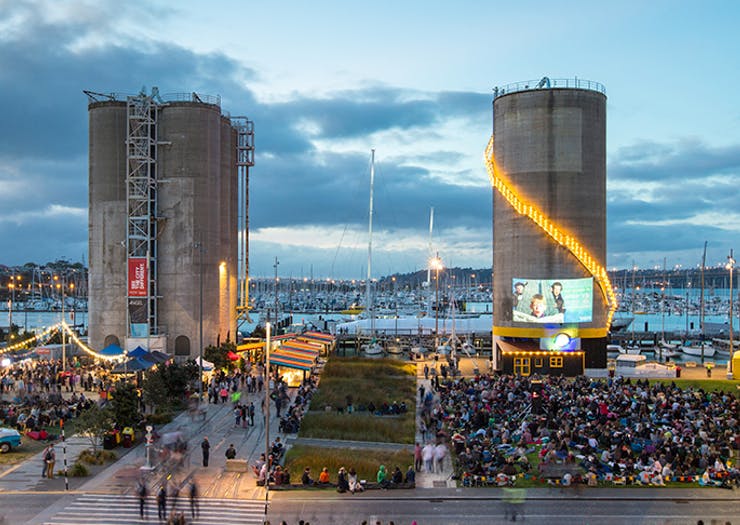 Catch An Outdoor Movie
Outdoor cinemas are not just reserved for the drive-in rock n' roll movies. Our own Silo Park projects movies onto a silo so you and your special someone can enjoy en plein air. Accompanied by great food trucks to grab a bite and Silo Park bar for a matching vino or brew, this is a perfect but more casual option for a romantic night out.
Take A Flight
Get some air under your wings and book a Seaplane to take you on a scenic circle of Rangitoto, a hot air balloon for a sunrise trip followed by a champagne breakfast with Balloon Expedition Company, or a helicopter flight over to Waiheke for a romantic winery lunch accompanied by plenty of vino. Prepare to impress and earn major brownie points. Just check for issues with heights before splashing out on this option.
Or Take A Horse Ride
Take your significant other for a horse trek along the idyllic Muriwai Beach for a romantic stroll the black sand, rolling dunes and a beautiful forest. As one of the most romantic things to do in Auckland, there are a ton of different options available, but of particular note is the engagement package. Ain't nobody gonna say "neigh" to this! (sorry couldn't help ourselves there). This original idea consists of a romantic sunset ride where your guide will leave you at a special spot already laid with a blanket, flowers, a picnic and a bot of champagne to give you the liquid courage to do the deed.
Escape To Great Barrier Island
In our experience, the most romantic times are when you're just left alone. How often have we gone all out and gone out for a romantic dinner only to have it spoilt by the next table being a divorced couple discussing post-marital childcare arrangements, or an awkward tinder date where someone obviously used a serious photo filter. Erase all other distractions and get that focus back to where it should be. The perfect way to do so—a romantic getaway to a secluded place. Get your glamp on at Castaways Glamping or go further afield and head to Great Barrier Island. Book a Romantic Escape package including flights, private bush accommodation and a 4WD to take exploring.
Get Hot 'n' Steamy
Get your mind out of the gutter. We're talking about the Auckland Wintergardens. If you're after something a bit more original and low-key this is a pretty amazing spot to take someone. In the Domain, this often overlooked destination is worthy of a date destination. Dating back to 1900 this Victorian-style glass house is filled with exotic tropical plants including the infamously smelly 'corpse flower'. That's not blooming anymore, and so thankfully is unlikely to ruin the success of your date.
Share A Cocktail
Sharing really is caring, and Auckland serves up some mighty fine shared cocktails for you and your SO to sip together as you gaze romantically into each other's eyes. Naturally, Bedford Soda & Liquor tops this list. Their cocktail list really is something to behold. We recommend the steaming copper kettle served with smoking dry ice for total romance. Or head to the ever-popular Blue Breeze Inn and share the Toolong A Lover—a fresh, baby coconut with coconut-infused rum and hand-smashed pineapple and topped with a rocket-red cherry. A story of one coconut and two lovers...
Soak In A Sensational Sunset
Does anything say love more than watching the day turn to night as the sky lights up in its magnificent glory? You know the drill: pink sky at night, shepherd's delight, pink sky in the morning, shepherd's warning. While you may not appreciate the rain the following day, watching the sunset as pink and red and orange flood the sky, is truly one of the most romantic things to do in Auckland. Our top picks to watch the sunset are at the top of a volcano—Mt Eden, Mt Victoria and One Tree Hill offer stunning views or go all out and take a ferry ride to Great Barrier Island and soak in the magic from the Mt Heale hut.

Indulge In Sweet Everything's
Add a little sweetness to your sweet with by taking your SO out for dessert. Auckland's dessert scene is brimming with sweet treats. Head to Aotea Square's OKO for their world-class signature volcano—caramelia mousse, dark chocolate crumble, brownie base and with hot chocolate sauce. Or, enjoy a romantic date at Milse or Miann, or head to Parnell for one of Casa Del Gelato's Instagram famous shakes. No sweet date list would be complete without mentioning Giapo. Giapo's creations are an ever-changing smorgasbord of deliciousness that will add sweetness to your love like no other.
Stroll Hand In Hand
From beautiful coastlines to waterfalls, beaches to the bush, Auckland is truly a nature wonderland. Pack a wee picnic in your backpack and take your partner on a love journey they'll always remember. Whatever your fitness level, there are plenty of options for romantic walks in Auckland. Head West and enjoy the black sand majesty of Piha beach before going up the road to the Kitekite Falls. You'll hear the song of native birds while walking the native bush before coming to a dazzling waterfall. Perch on one of the rocks and enjoy your packed picnic as the water gushes from three stories' above. If you prefer something city-side, then a walk along Tamaki Drive is a must-do for your romance. There are plenty of bars, cafes and restaurants along the way, too. And, if you manage to time it right, you can order some fish and chips and enjoy them while watching the sunset—it'll be a trifecta of love.
Lady And The Tramp
We're not one to say someone is a tramp, but take a leaf from one of the most romantic films of all time, Lady And The Tramp, and enjoy a bowl of spaghetti at one of Auckland's best Italian restaurants. Stick to the tried and true Prego. Nab a seat in their outdoor courtyard, cuddle under a blanket in the cooler months or enjoy the blue skies when it's warmer. Either way, there's romance to be found! The stunning courtyard at Parnell's NSP is also the stuff dreams are made of—and their food and service are second to none.

Add A Dash Of Bubbles
Another one of Auckland's most romantic things to do is sharing a glass of bubbles. And, no, we don't mean while you're sitting at home. Take your love to the next level while enjoying a glass of champagne with spectacular views. Some of the best in Auckland, include the Hilton's Bellini Bar. With floor to ceiling windows, it feels as if you're sitting right on the water. Or, head to the popular Soul Bar and Bistro. With its much-loved hanging flowers and sea views, you and your love will feel like a million dollars as the bubbles bring your taste buds alive.
Pump That Adrenaline
If taking things high wasn't quite enough for you, then add some thrill to your romance—nothing will bring you closer together than the sound of two beating hearts. Start things slowly with a trip to Rainbow's End. More than one love has blossomed on that log flume (make sure you buy the photo afterwards to capture your love forever) or, if you really want to feel the thrill, try the Stratosfear. You can also take a jump—a bungy one, that is—off the iconic Sky Tower or even the Harbour Bridge. Or, take to the water and clasp your sweaty palms together as a jet boat takes you on the ride of your life around the Auckland Harbour.
Escape The City On A Romantic Day Trip
As much as we love The City of Sails, some of the most romantic things to do in Auckland are beyond the city lights. Hop in the car and take a road trip for an all-day romance. Head to historic Puhoi to enjoy a gentle kayak down the river, stroll around the beautiful old buildings and shops before settling in at the Puhoi Pub for a drink and delicious grub. With plenty of outdoor seating, we recommend grabbing a pozzie on one of the lace iron tables along the balcony where you'll only have eyes for each other. Or, head South and climb the stairs of the Manukau Heads lighthouse. Hold hands and whisper sweet nothings as you look over the harbour. True love is right here!
Like this? Check out more things to do in Auckland here.
Image credit: Lost Picnic , Silo Park, Todd Eyre, Lauren Matilda Matthews
SaveSave
SaveSaveSaveSave
SaveSaveSaveSave