Queen's Birthday weekend has arrived which means three days of rest, relaxation and feasting are on the cards. While some places close their doors for the public holiday, there are still a number of epic spots to head along to whether you are after a delicious brunch, a boozy lunch, an indulgent dinner or a few drinks in the evening. Make the most of your long weekend by treating yourself to some of Auckland's greatest cafes, bars and restaurants.
Here is where to eat and drink at this Queen's Birthday weekend.
Cafes

La Fourchette, St Heliers
The contemporary seaside French brasserie La Fourchette offers a modern take on classic French food. The simple space has big windows which fill the room with light and water over St Heliers beach, giving the place a relaxed vibe. The café doubles as a patisserie where you can enjoy the indulgent French sweet treats made from La Fourchette's in-house bakers. The breakfast menu is loaded with options to suit everyone—the truffle omelette with parmesan and lemon dressed roquette is perfect for the savoury dish fans. As for those who like something sweet it is only fitting to order the pain perdu—authentic French toast with seasonal fruits, salted caramel and vanilla ice-cream. It wouldn't be a French spot without crepes and the team have pulled through with a decadent crepe menu, which matches perfectly with your morning coffee and the water views—bliss. La Fourchette is open as usual this Queen's Birthday weekend and note that on Monday there is a 15% surcharge.
Williams Eatery, Viaduct
Williams Eatery is located in the heart of Wynyard Quarter and is the perfect spot for breakfast, lunch, or just a coffee and small bite throughout the day. The concrete and wood combination with the abundance of lush plants gives the space a modern and trendy vibe, and the food served up is as delicious as it is beautiful. Focusing on high quality, organic and free-range produce from local suppliers, there are options for vegetarians, vegans and those gluten or dairy free too. The brunch menu includes fried cauliflower with sunflower seed puree, pickled cucumber, Sichuan and sesame salt. For lunch the line caught market fish with celeriac puree, veloute, silverbeet and roasted hazelnut is a winning choice. Williams Eatery is open as usual this Queen's Birthday weekend and there is no surcharge.
Catroux, Westmere
The small and simple Westmere café Catroux is a favourite and reliable spot for locals to grab an easy and tasty lunch on the go or sit in for a delicious breakfast. The cabinet is loaded with bright and fresh salads, paninis with apricot glazed ham, salmon fillets, daily sandwiches and of course the array of homemade sweet treats. The breakfast menu changes with what is seasonal, featuring creative and nutritious dishes and always with free range eggs and bacon. The smooth and strong Eighthirty coffee will kick your caffeine craving or opt for one of the smoothies or fresh juices for something more refreshing. Catroux is open from 7.30am-3.30pm on Saturday and Sunday, and 8.30am - 3.30pm on Monday with a 15% surcharge.
Odettes, City Works Depot
Odettes
is a go-to for Aucklanders wanting a tasty brunch and perfect coffee. Nestled in the City Works Depot, the beautiful café is extra roomy, opening up to an outdoor area to enjoy on a warm day. The morning menu is stacked with delicious options including the vanilla crepe with passionfruit curd, grilled peach and mango ice-cream, or for something light try the chocolate granola with yoghurt cream and muscatel strawberries. If you have arrived hungry then Odettes have you covered with their herbed scramble with halloumi, broccolini, fig jam, midnight baker and bacon. They are open as normal this Queen's birthday weekend and there is no surcharge.
Restaurants
Harbourside, Viaduct
Habourside Ocean Bar Grill is an institution in Auckland's foodie scene. If you are a seafood fan, then this is your spot because the stylish and relaxed restaurant boasts a wide selection of ocean delicacies on their lunch and dinner menus. To start, choose from the squid karaage with wasabi mayonnaise, chilli, radish and spring onion or the West Coast whitebait fritter with lemon and chive butter sauce, petit salad and grilled spelt. For mains the grilled market fish is always a favourite, changing with what is freshly caught and served with saffron poached prawn, charred courgette and fennel, tomato passata and basil. There is also a meat and vegetable menu if you prefer featuring dishes like the seared duck breast with baby carrots, fennel puree, pistachio, mandarin gel, star anise and jus.
The Coop, Takapuna
In the mood for fried chicken? The answer is always yes, and The Coop is always the place to go. Specialising in the crispiest and tastiest chicken around, the North Shore gem is a relaxed spot to stop in for a quick and easy lunch that is ultimate comfort in a meal. Their Jerk chicken menu features a range of flavours including smokey barbeque with orange marmalade and chopped peanuts, kimchi with Napa cabbage and gochujang mayo and hot rosemary honey with black sesame. Complete your meal with a side of sweet corn hush puppies and a chocolate Oreo and peanut butter milkshake and you will be completely satisfied. The Coop is open as usual over Queen's Birthday weekend from 11am till late and there is no surcharge.
Porch, St Heliers
A hop and skip away from the sand of St Heliers beach is Porch, the casual bar and eatery with dreamy views and delicious eats. Whether you are stopping in for lunch, dinner or something in between, this beach-side gem will have you covered. The extensive selection of wine and craft beers, as well as the talented kitchen of chefs, make it the perfect stop. The chilli and ginger mojito with white rum, lime and mint is the refreshing drink you need to start things off while perusing the delicious menu. For something light try the chicken and prawn dumplings with chilli, lime and bone broth and the bigger share plates menu features the king cut bone-in ribeye with steak butter, fries, jus and herb salsa. Normal opening hours apply this weekend and note that there is a 15% surcharge on Monday.
Augustus Bistro, Ponsonby
Located in the iconic former Ponsonby Post Office you will find Augustus Bistro. The modern European bar and bistro is inviting with beautiful indoor plants and homely details. The restaurant expands into a private courtyard full of flowers and a roaring fire, making evenings cosy and intimate. The gourmet menu has a selection of carefully created meals that will blow you away. The handmade pasta menu features scampi ravioli with sweet corn, sherry brown butter and basil as well as the saffron parpadelle and three meat ragu with parmesan. For a main, the slow-cooked beef short rib with smoked carrot puree, horseradish and confit turnips is a winning choice. Oh, and there are also separate cheese and dessert menus so you can really treat yourself. Augustus Bistro is open normal hours over the long weekend with no surcharge.
Amano, Britomart
Amano fits the bill no matter what you are after, brunch, lunch or dinner, the restaurant is one of the best spots in Auckland. The Italian-inspired, rustic and seriously tasty food celebrates local and seasonal produce, creating daily dishes to enjoy. Arrive hungry because the breakfast menu features prosciutto with potato hash, chilli and a poached egg, or try the Bolognese on sourdough with a poached egg and parmesan. The lunch and dinner menu is divided by section–dairy, meat, vegetables, seafood, pasta and dessert. The pasta menu mustn't be overlooked where you'll find authentic, house-made pasta like the ravioli with pancetta, charred Waikato courgette and ricotta filled egg dough pasta parcel. Finish off with the espresso and mascarpone trifle to round out the experience on a real high. Amano is open as usual this Queen's Birthday weekend and there is a 15% surcharge on Monday.

Bars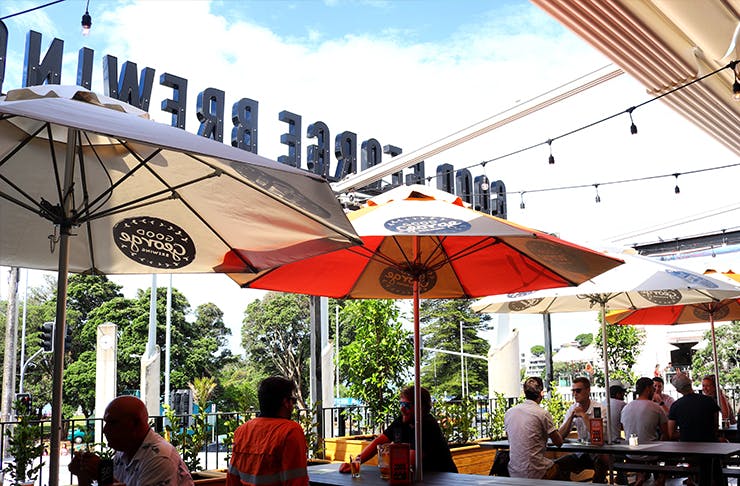 Good George Craft House, Mission Bay
Head to Mission Bay and check out the rooftop spot with great views and great beer. Good George Craft House brew their own beer and cider and the overall vibe is relaxed and welcoming, often with live music adding to the atmosphere. If the sun is shining, pick a table on the deck and soak in the water views while perusing the menu. If you are peckish try the in-house jalapeno poppers with herb aioli or the Good George winglets with crisp buttermilk and charred lime. Or opt for a platter to share, the taco platter, the grazing platter or the tasting platter will each satisfy those mid-afternoon cravings and are great for the table. Good Georgia Craft House is open as usual this Queen's Birthday weekend with no surcharge.
The Glass Goose, CBD
A top a hidden staircase just off of Federal Street is The Glass Goose Bar and Eatery. The secret rooftop spot is modelled off a garden glass house and is full of lush greenery. Tucked away from the city bustle, settle in around a table on the patio for evening drinks as the sun sets. The cocktail menu is impressive and delicious, for something refreshing try the Fresh Pickings—cachaca rum, fresh strawberries, limes and cucumber. If you are more of a sweet tooth then the Dark Choc Negroni might be more your style, Campari, sweet vermouth, gin and dark chocolate liquor. Saturday and Sunday hours are as normal but the bar is only open for dinner service on Monday and there is a 15% surcharge.
Regatta Bar and Eatery, North Shore
The perfect spot for afternoon drinks and catch-ups with friends, the North Shore's Regatta Bar and Eatery has the views and the vibe you want on a long weekend. On a nice day snag a table outside on the veranda where you will be treated to ocean views that'll take you straight to holiday mode. If you are a beer drinker then good news, you can get a jug of Monteith's golden larger for $20 and as for the wine fans, the G.H Mumm Cordon range is available along with the extensive wine list of pinots and savs. The food offerings range from small dishes to larger mains, and the share menu is the best option for the table. The three different share options are Sandbar, Farmer's platter and Catamaran, which all include an array of delicious nibbles such as lamb ribs, crispy chicken wings, whipped feta, and pan-fried prawns. One of these and a few bevvies will keep you satisfied, the bar is open as normal all weekend with a 15% surcharge on Monday.
Headquarters, Viaduct
The waterfront pop-up is a favourite viaduct spot for late lunches, afternoon drinks and dance evenings. HeadQuarters has one of the greatest locations possible with a large outdoor area where you can soak in the water views and bask in the low sun before it sets. The simple and humble food is always delicious and often finished over the flame to give an extra hit of flavour. The bar menu is perfect for grazing off and includes pork steamed buns with hoisin sauce, pickled shitake, cucumber and fresh chillis as well as the chilli fried chicken with sriracha mayo. For something more substantial, the main menu offers larger plates including the confit duck leg on beetroot risotto and chocolate balsamic dressing. HeadQuarters is known for the extensive drink specials and extended happy hours and are open as usual this Queen's Birthday weekend with no surcharge.
Want more? Here are the best things to do in Auckland this Queen's Birthday weekend.
Image Credit: Jaiden Bhaga, Augustus, Lydia Arnold