Y'all can't deny that American food has wriggled its soul and belly-filling way into our Kiwi lives. From low 'n slow hunks of meat to fine slices of pie and fried chicken, the influx of American restaurants and food trucks in Auckland is something that we can't get enough of.
To help you get on the US of A buzz, we've uncovered eight of the best American joints in town.
Peach's Hot Chicken
Panmure
Chow down on authentic, southern-fried chicken at Peach's Hot Chicken, an epic food truck-turned-restaurant in the heart of Panmure. Choose from a range of drool worthy dishes, available in varying heats but all equally delicious, in an upmarket, diner-style setting that will have you feeling about as American as American pie (which, by the way, is also on the menu).
SMOKIN COLE BBQ
Grey Lynn
Boasting the only fresh barbecue in Central Auckland, SMOKIN COLE BBQ is on a mission to educate Kiwis on how a well-cooked rib should look and taste (clue, falling off the bone means it's overcooked) and is the only place to be doing real Americana dry-rubbed ribs in Auckland. Incidentally, The Memphis dry rub rib recipe is a closely guarded secret—one taste and you'll understand why. These ribs are hands down some of the best ribs we've tasted in Auckland for some time. Paired with some good old mac and cheese (truffle mac 'n' cheese no less) and you're in for a real good American feed.
Juke Joint BBQ
Mt Eden, Commercial Bay, Orakei, City Works Depot, Onehunga
Beer and barbecue are the best of friends. Juke Joint BBQ lets you customise your very own barbecue tray to demolish with a pale ale. Opt for pork rib, beef brisket, pulled pork or pastrami with a couple of sauces (the espresso BBQ rocks our socks) and sides. Tater tots and burnt end beans are compulsory. Chuck it all in a dinner roll and prepare to get messy.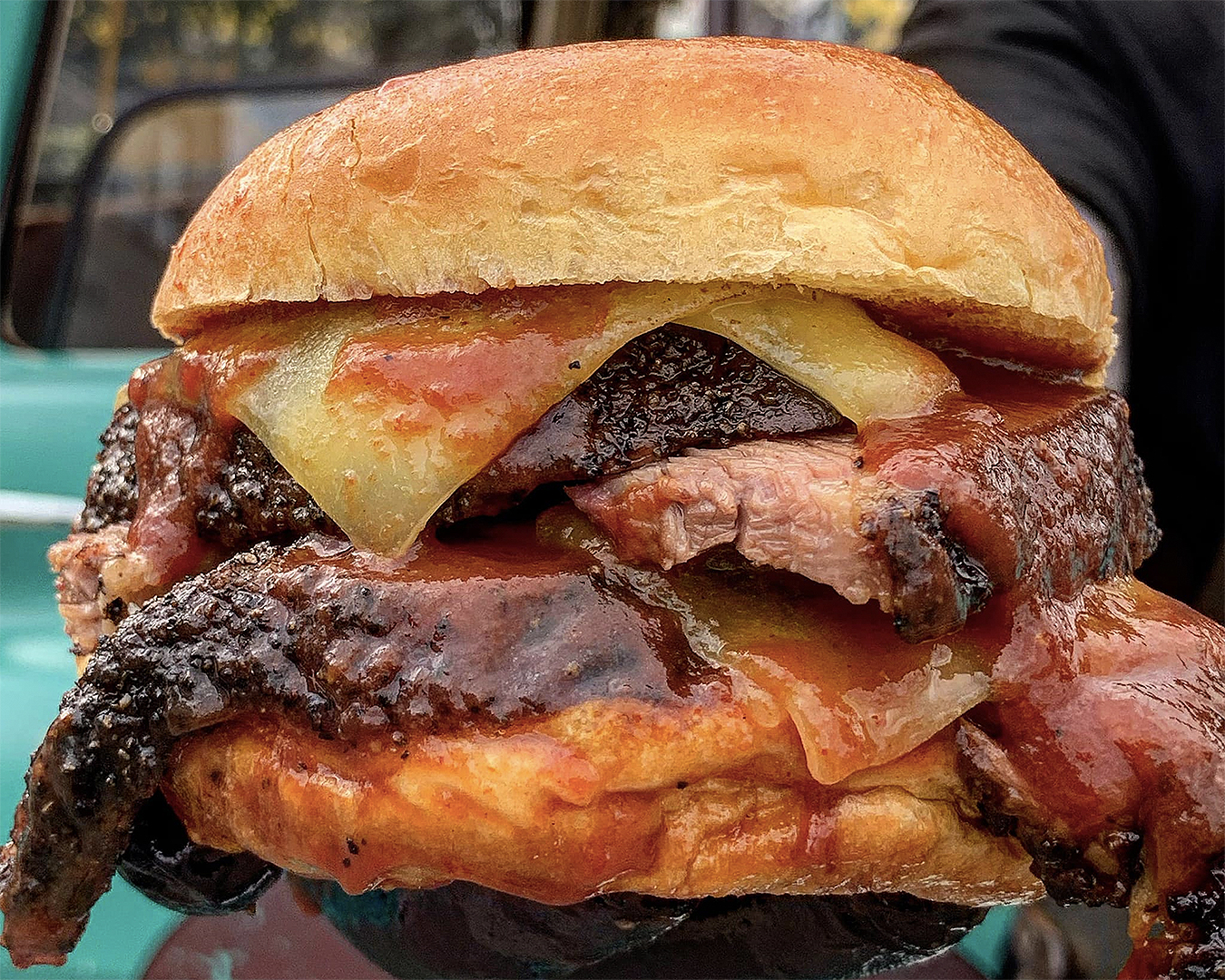 Blue Ox Babe BBQ
Pukekohe
If you like your meat slow-cooked, Blue Ox Babe BBQ out in Pukekohe is the place to come. With eye-popping full or half racks of pork on the menu along with some finger-licking chargrilled chicken, you'll want to book ahead to make sure your choice cuts are available when you come. Their pork-belly burgers are also not to be missed. Bring your loose pants.
Miss Moonshine's
Silverdale
One-stop pit boss spot, Miss Moonshine's will introduce you to the world of smoky, slow-cooked meat. You'll find 8-hour beef short rib and brisket, pulled pork with moonshine sauce and beer can chicken—chowed down alongside pigtail fries, claw and butter lettuce. Before you tackle that, begin with cornbread and burnt butter or mac 'n' cheese balls with truffle mayo. 'Merica!
The Fed
Auckland CBD
Bottomless cups of Joe, Reuben sandwiches, 'tato salad and cheesecake—The Fed is pretty much everything you could ever want from an old school NYC Jewish Delicatessen in Auckland. This Federal Street food joint is open from 7am 'til late so you can waltz on in whenever you're in need of some belly filling and good times.
Miss Clawdy
Wynyard Quarter
Finger lickin' American food is what Miss Clawdy's all about. While they're Auckland famous for their Southern-fried jerk chicken, there's so much more you need to try. From jambalaya and market fish ceviche to po'boys and tacos, Miss Clawdy has got it going on. Her classic cocktails include spiked punch, old fashioned cherry lemonade, green tea mojito and a thirst-quenching blueberry and lavender Collins—sure to have you embracing the fun lovin' Miss Clawdy attitude in no time.
Morepork BBQ
Ponsonby, Kumeu
The low'n'slow barbecue movement is still having a moment in Auckland and, with Morepork BBQ, it's definitely here to stay. There's smoked meat plates, fresh salads, hearty sandwiches (pulled pork is our pick) and delish sides. Don't forget to finish your Moremore BBQ experience with a slice of bourbon pecan pie.
After some good old fashioned burgers? Here's where to find Auckland's best burgers.
Image credit: Peach's Hot Chicken by Wono Kim, Blue Ox Babe