Whether you're after a gift for a friend, a bite to eat, or just a casual stroll and a browse, you're bound to find what you're looking for at one of Perth's local markets. So we're helping you satisfy all your stall-hopping cravings, with a round up of all the best night markets, farmers markets, beachside markets and everything in between.
Scope out this list of the best markets in Perth this month and beyond.
Perth's Best Night Markets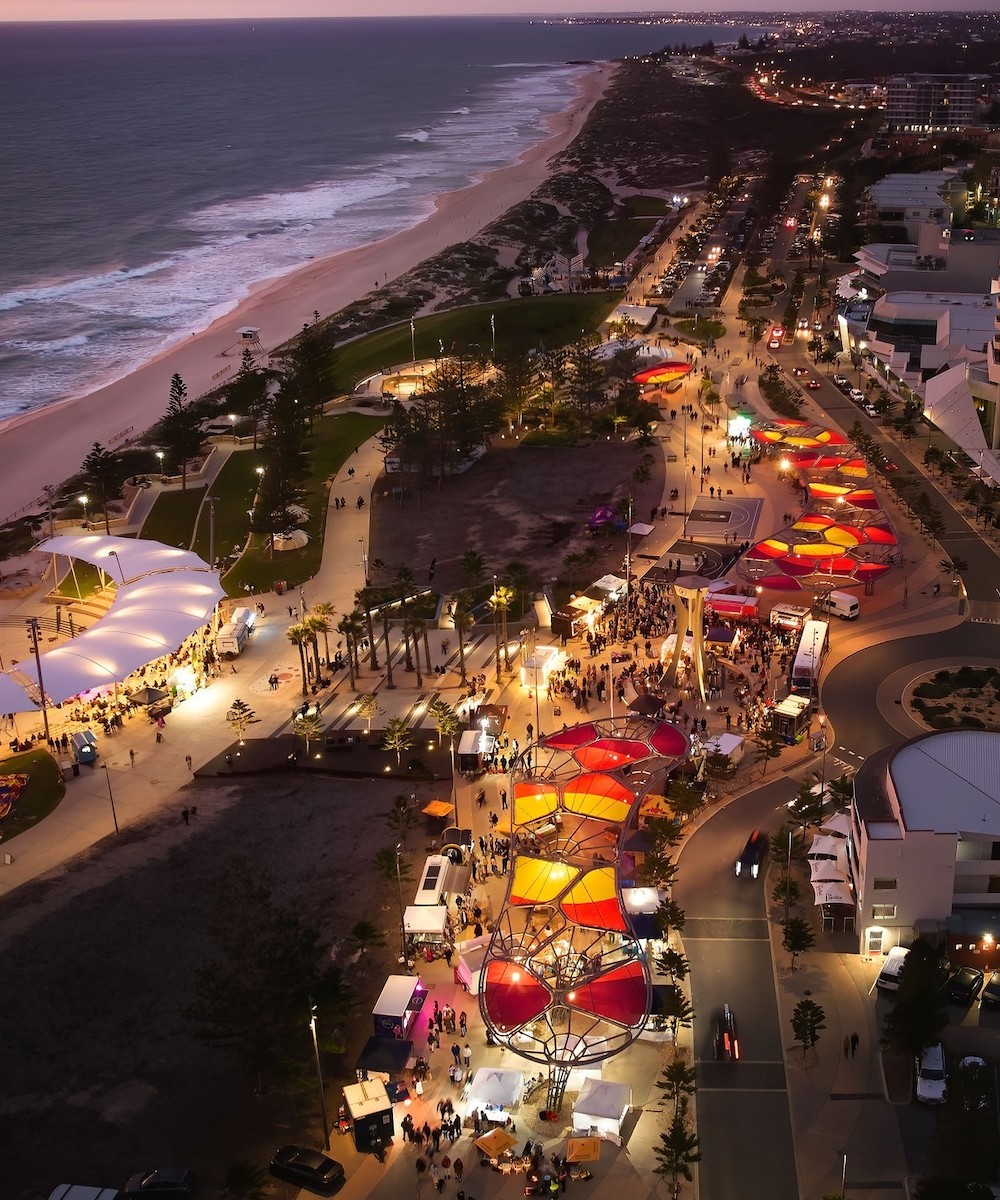 Inglewood Night Markets
For street party vibes and endless food trucks, you really can't beat the famous Inglewood Night Markets. The huge food-filled markets are back in action on Beaufort Street every Monday night from 6pm to 9pm, so pack your pup and get down to sample some of the goods on offer. If it gets too much, you can always retire to the licensed craft bar area for a cold drink and DJ tunes.
Where: Beaufort Street, Inglewood
When: Every Monday night throughout summer
Scarborough Sunset Markets
Perth's most iconic beachside markets are held at Scarborough Beach Thursday evenings from 5pm all summer long. They've got loads to check out like live tunes and performances, loads of artisan retail gems and endless food stalls to eat your way through, including tasty new eats courtesy of Don Birria, SMOKR BBQ, Treacle Treat, Clean Tasty Dirty and Honey Creme alongside your tried and true faves. There's also a swanky new Hippie Kombucha mocktail bar, located right on the sand so you can max out on island vibes.
Where: Scarborough Beach
When: Every Thursday night throughout summer
Twilight Hawkers Markets
This bustling street food market in the heart of Perth CBD is a summer must. Every Friday until 31 March you'll find rows of vendors in Forrest Place slinging delicious eats from all over the globe alongside roving entertainers and live music. It's the perfect spot for an affordable after work bite with your mates. Plus, it also happens to be late-night shopping night in the city so you can wander on through the malls after your feed.
Where: Forrest Place, Perth
When: Every Friday night throughout summer
South Perth Streats
The South Perth foreshore has to be one of the prettiest spots to park up picnic-style with a pile of food truck eats and your biggest appetite. That's what makes the South Perth Streats night market such a winner. Well that, and the fact that the lineup of eats are next level good (see: the mac and cheese pictured above from Munchy Machine) and it's also BYO. Get the crew together, pack a rug and some drinks for a chill night out by the river.
Where: Sir James Mitchell Park, South Perth
When: Every Thursday, Friday, Saturday and Sunday until 2 April (5pm - 8.30pm)
Bassendean Markets
Live music, good food, endless stalls—this local market in the charming heritage suburb of Bassendean is always a good time. Once you've worked through all the stalls, we suggest you grab some bites and throw a rug down for a picnic at a nearby park.
Where: BIC Reserve, Bassendean
When: Last Saturday of every month returning 25 February (4.30pm - 8.30pm)
Scarborough Sunset Markets Winter Edition
Every Saturday evening from 3pm until 8pm throughout winter, up to 50 food trucks and market stalls wrap around the Scarborough Clocktower and stretch up the promenade for Scarborough Sunset Market's Winter Edition. To really amp those cosy vibes up, check out their custom-made fire pits with marshmallows provided for roasting.
Where: Scarborough Beach
When: Every Saturday night (3pm - 8pm) throughout winter
Perth's Best Farmers Markets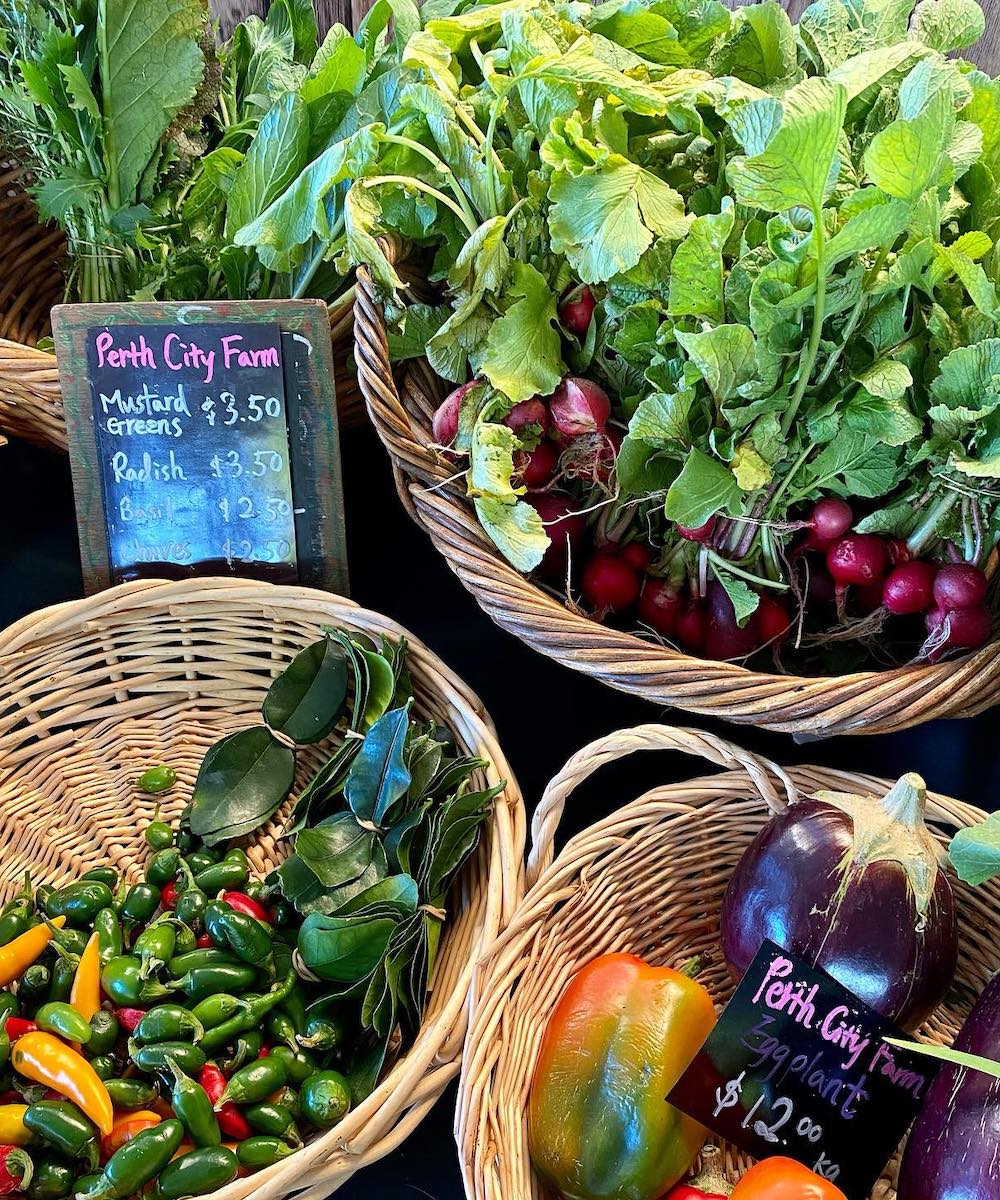 Fremantle Markets
A long-time weekend must, the iconic Fremantle Markets are the perfect way to spend a relaxing day strolling from stall to stall. Whether you're a market native or a first-timer, there is always something new to buy or eat. So lace up your walking shoes, grab your wallet and prepare your stomach because this little piggy is off to the markets.
Where: South Terrace and Henderson Street, Fremantle
When: Every Friday, Saturday and Sunday (9am - 6pm)
Perth City Farm
Bringing you the best in organic and spray-free fruit and veg along with loads of other tasty goods to fill your kitchen with, Perth City Farm's Saturday markets are one of our faves. We're talking fresh baked bread, wild-caught seafood, local honey and more. Plus, you can even pick up homemade bathroom goods too.
Where: Perth City Farm, East Perth
When: Every Saturday (8am -12pm)
Subi Farmers Market
For fresh produce to keep you going over the weekend, head to the Subi Farmers Market, open every Saturday from 8am 'til 12pm at Subiaco Primary School. First opening up to the public in 2009, this wholesome spot supports local farmers, growers and producers. Buy anything from delicious sambos and baked goods, to canine treats for your furry friend.
Where: Subiaco Primary School
When: Every Saturday morning (8am - 12pm)
Kyilla Community Farmers Market
Located in Kyilla Park, North Perth, this community based market is open every Saturday morning. For all things fresh, this is your one-stop-shop—think fruit and veg, meat, honey, flowers and heaps more. Support the community and head down on Saturday.
Where: Kyilla Park, North Perth
When: Last Saturday of every month (8am - 11.30am)
Need more? Check out more of our fave farmers markets in Perth.
Perth's Best Makers Markets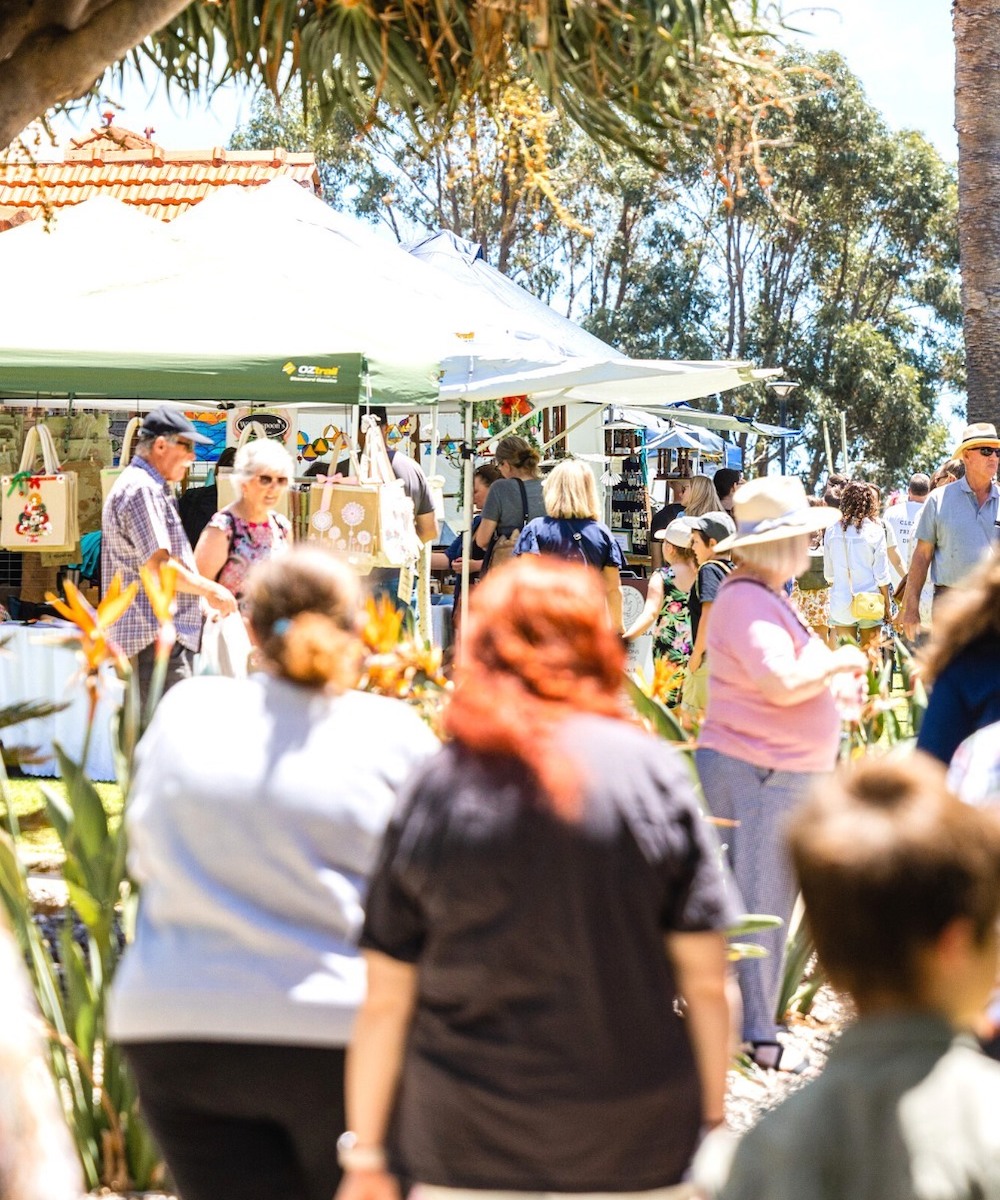 Summer X Salt Markets
Pack your swimmers and pup and head to Clarko Reserve in Trigg for the return of Summer X Salt Markets. Completely plastic and waste free, this year's iconic oceanside markets will have more than 200 beachy-inspired stalls to explore from sustainable-minded local creatives, artists and designers. There's also delicious food and drink trucks, live music, kids activities, outdoor wellness sessions, run clubs, coastal clean ups and more, so there's plenty for the whole fam to get around.
Where: Clarko Reserve, Trigg
When: Saturday 4 and 18 February, and 4 and 18 March 2023 (8am - 1pm)
Markets By The Sea
Popping up in a cruisy new seaside location, Markets By The Sea is back for its fifth summer of fun. Grab an iced coffee and stroll through rows of stalls featuring local goods from over 80 incredible artists, creators, designers and growers. The relaxed coastal markets are completely kid and dog friendly, with loads of lush spots to throw a picnic rug down, plenty of food truck eats to tuck into and even a bar if you're feeling thirsty after all that shopping.
Where: North Shore Community Hub, Kallaroo
When: 12 February and 12 March 2023 (10am - 3pm)
Perth Hills Artisan Markets
This indoor market in the Perth Hills offers up one of the biggest collections of local handmade goods. With loads of local artists, potters, woodworkers and foodies all slinging their unique goods under the one roof, it's the perfect spot to search for a cute crafted gift or just pick up something new for yourself.
Where: Mundaring Arena
When: Sunday 19 March, 21 May, 3 September, 15 October, and 16-17 December 2023
Perth Upmarket
The Perth Upmarket boasts some of the most amazing creations—whether it's artwork or food, you'll be in for a treat. Taking place inside the grand Winthrop Hall at UWA from 10am 'til 4pm, make your way around the huge range of stalls. There's perfect gift opportunities and you can grab a tasty coffee to sip while you browse.
Where: UWA's Winthrop Hall and surrounds
When: Sunday 19 March, 18 June, 17 September and 26 November 2023 (10am - 4pm)
Heathcote Sunday Markets by Perth Makers Market
With over 150 stalls stocking the finest handcrafted goods, the Heathcote Sunday Markets by Perth Makers Market is one of our all-time fave spots to scoop up some beautiful locally made arts and crafts. The lush riverside setting, solid food lineup and awesome pirate ship playground also makes this a great activity for anyone heading out with kids in tow.
Where: Goolugatup Heathcote Reserve, Applecross
When: Sunday 26 February, 9 April, 21 May, 24 September, 5 November and 17 December 2023 (9.30am - 3.30pm)
Want more? Here are the best farmers markets in Perth.
Image credit: Munchy Machine Perth, Scarborough Sunset Market, Perth City Farm, Perth Makers Markets