A stack of freshly cooked pancakes and a great coffee has to be the ultimate Sunday brunch, but why relegate pancakes to just one day of the week?
From your classic buttermilk stack to the likes of cinnamon scroll and matcha pancakes, Perth's best pancakes are best enjoyed all day every day.
Sweet, savoury, or a bit of both—we've got you covered.
Padbury's
GUILDFORD
As if the sight of Padbury's Meringue Munro Pancakes wasn't enough, you can now sleep easy knowing these bad boys are available until 3pm. Thick fluffy pancakes loaded with lemon curd, lemon candy, honeycomb and meringue—it's a yes from us.
Nic & Kolo
APPLECROSS
Perth's love of cinnamon scrolls isn't going anywhere, so we will be forever grateful to Nic & Kolo for combining our love of pancakes and a cinny scroll into one mighty breakfast. These super fluffy pancakes drizzled in a cheesecake glaze will set you up for a very good day indeed.
Kumo
NORTHBRIDGE
If you thought the popular Japanese soufle pancake pop-up KumoKumo had disappeared, fear not. They actually just settled into a permanent store and had a bit of refresh both in name and recipe. The new goods are better than ever, and thankfully a little bigger than the old pop-up stacks. Drop in and try best-selling flavours like Creme Brulee & Boba, Baconana (Bacon & banana) and the classic Sunny Honey.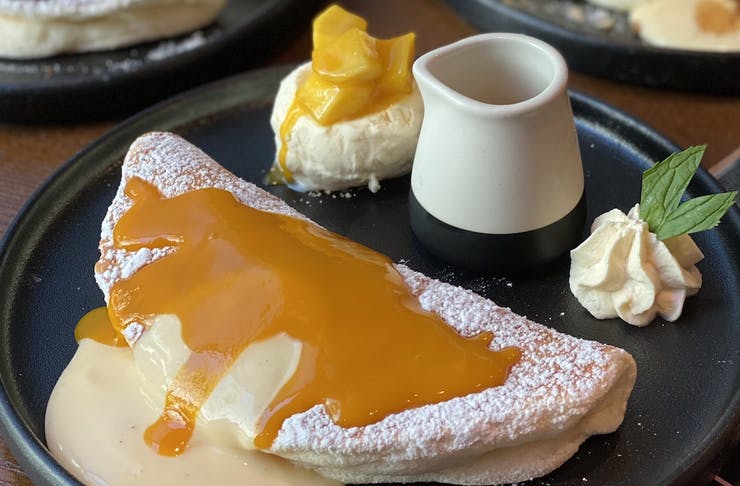 Elixir
WANNEROO
Elixir, also known as the holy grail of pancakes, is a place any self-proclaimed dessert-for-breakfast lover should have checked out. The crew at Elixir change the flavours every year and 2021's are sure not to disappoint. There's apple crumble or Oreo cheesecake, and we bow down to anyone who manages to finish either.
Cherry And Grapes
WEST PERTH
For fat souffle style pancakes in Perth, it's hard to go past the sweet stack at Cherry And Grapes, served with strawberries, chantily, maple syrup, vanilla ice cream and crushed meringue. But what's more, if you're not in the mood for a sugar hit, there's also an equally epic savoury version complete with maple bacon, hollandaise sauce, sous vide eggs and avo. We love to see it.
The Little Banksia
KENSINGTON
The buttermilk pancakes at The Little Banksia will have you feeling all sorts of fresh. These fluffy delights are topped with grilled peach, maple, lime, rosemary, raspberry curd, praline cream, hazelnut brittle and salted caramel. Enough said, these are a damn fine stack of pancakes.
Bib & Tucker
NORTH FREMANTLE
It's a tough gig trying to decide what to order at Bib & Tucker but rest assured, their pancakes are as good as everything else on the menu. The buttermilk banana pancakes are topped with salted caramel, pecan and Tasmanian double cream and they're pure perfection.
The Little Bay
WATERMANS BAY
The fresh flavours on The Little Bay's creme brulee pancakes will light up your morning as you sit sipping your coffee and admiring the view we all love living here for. Cardamom, orange and kataifi pastry crumb, raspberry coulis and popping candy will have you coming back for more.
The Little Raw Deli
Carlisle
Vegan pancakes means you're permitted to enjoy it guilt-free, right? Right! The Little Raw Deli in Carlisle is doing pancake Saturdays where you can order Snickers or Ferrero Pancakes (or both). These buckwheat pancakes are also gluten free so they're friendly for all your intolerant mates.
Fika On Brix
Beckenham
Fika on Brix might only do pancakes on Sunday, but it's worth the wait each week. Every month they've got a new flavour so there's always an excuse to get back to Beckenham. In the past they've had lamington pancakes, black forest pancakes with dark chocolate, pandan coconut pancakes with fresh mango, and most recently, strawberry trifle pancakes. They've always got a killer flavour to enjoy, so get excited for their next announcement.
Keen to keep the day of food going? Here's where to find the best high tea in Perth.
Image credit: Nik & Kolo, Kumo, The Little Banksia and Emma Bryant