Don't know about you, but in my opinion, the slightest hint of rain means it's officially time to slurp down some hot noodle soup. Chicken noodle, ramen, laksa, pho—they each have a special place in my heart. But lately, it's the thick and fragrant hot pot broth that's been front and centre in my dreams. And for that, I headed straight to Dragon Hot Pot.
If you're yet to dive into the wonderful world of hot pot, let me fill you in. Hot pot, or huǒ guō (火锅), hails from China and is often considered more of a social experience than your regular ol' dish, with different regions and households all having their own spin. Similar to going out for Korean BBQ, it often involves cooking at your table, except instead of barbecuing you're cooking thinly sliced meats, seafood, veggies and fresh noodles in a boiling pot of spicy broth, then dipping them in your condiments of choice before stuffing them swiftly into your gob.
Now, Dragon Hot Pot is a little different. You won't be cooking at your table, their clever chefs will take care of that for you, but you do still have some work to do before you tuck into your dinner. It can be a little intimidating if you've never been in before, but don't fret, we'll break it down for you.
When you arrive, you'll see a big supermarket-style wall of fresh produce—this is where you're going to select what goodies you want in your hot pot. Unless you're with someone super fussy, I'd suggest sharing one pot (or a couple for bigger groups) between you, as not only is the bowl humongous, but it's also more in the communal spirit of hot pot.
Pick up one of the large pots and a pair of tongs and start working your way through. There'll be rolls of thinly sliced meat in a freezer (you don't want to miss these), as well as endless seafood, tofu, bean curd, mushrooms, Chinese vegetables and other delicacies in the open fridges that line the wall. Chuck in whatever takes your fancy (bonus points for throwing in something you've never tried) and don't forget to add some fresh noodles too before you take your pot to the counter.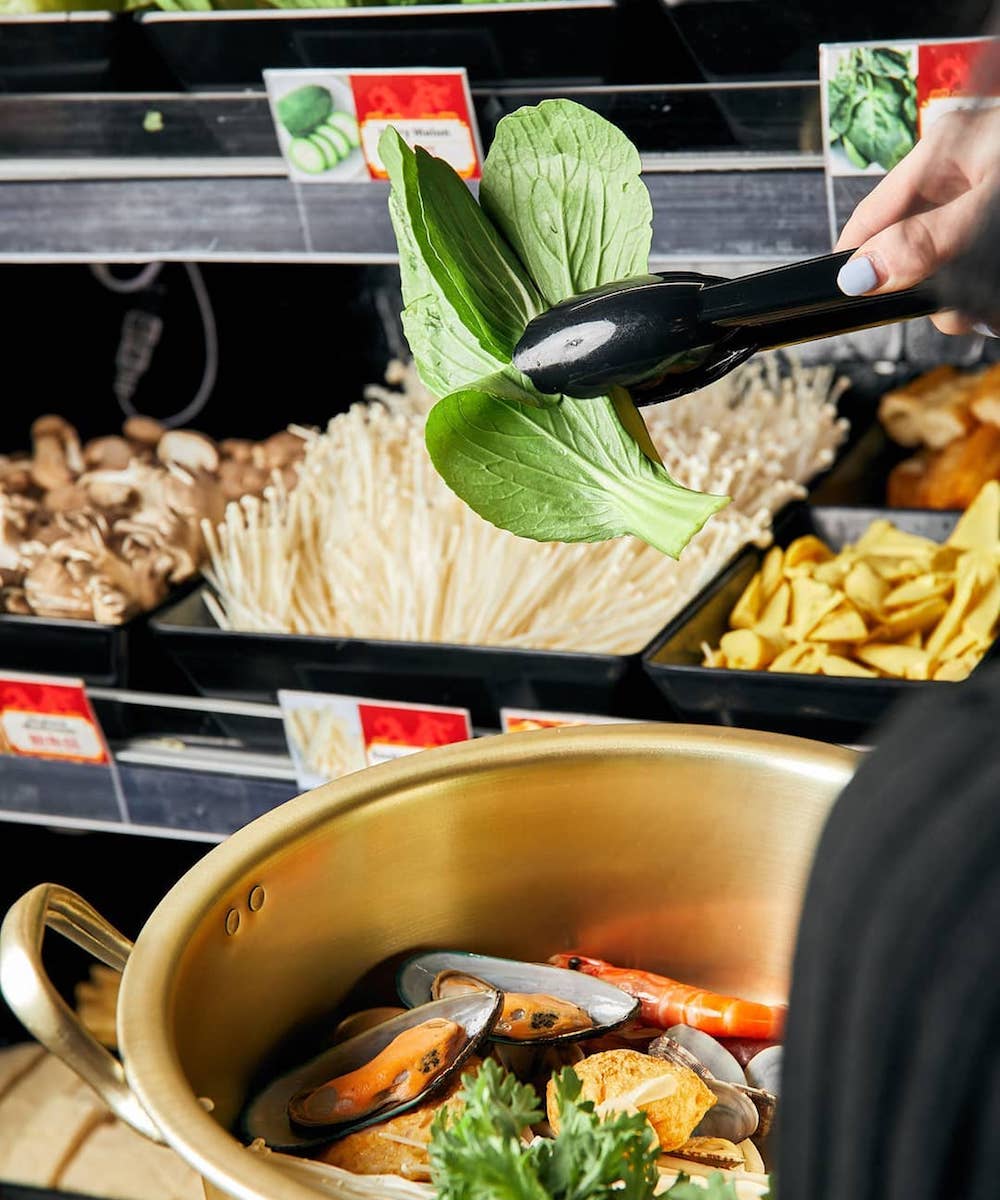 At this point, they'll weigh your pot and price it up (so keep it light if you're on a budget), before asking which soup base and spice level you'd like. Based on century-old hot pot recipes that use a combination of marrow bones cooked over 12 hours and loads of traditional Chinese herbs, all of them are pretty darn good, but you really can't go wrong with the Signature Ma La Tang. And if you're worried about spice level, just go mild—you can always add more chilli to your bowl once it's cooked.
Now comes the hard part. You'll take a seat at your table and wait for that big, beautiful yellow bowl to come out. It's pretty tough watching others around the restaurant dig in, but stay strong. You can distract yourself by filling up some bowls with your sauces of choice at the condiment station.
Once the steaming hot bowl of fragrant broth and delicious noodles is dropped at your table, it's time to get serious. Scoop little serves into your individual bowl and use your chopsticks to dip pieces into your sauce before eating, and repeat 'til there's nothing left. Trust me, once you start, that big bowl will go down pretty quick, but hopefully, you put enough goodies in so you're not fighting over who gets the last piece of fried tofu.
You'll find Dragon Hot Pot at 225 William Street in Northbridge and 877 Albany Highway in Victoria Park.
Once you've got your fix, soak up more soupy goodness at Perth's best ramen joints.
Image credit: Dragon Hot Pot