If you ask us, brunch might just be the most magical meal of the day—you can easily go a greasy burg or pancakes flooded with ice cream and syrup and nobody bats an eyelid. So when we hear rumours of a buzzy new neighbourhood brunch spot, we listen.
Opening up on Thursday 15 April at 308 The Strand in Dianella, Nogi Lane is the love child of couple and longtime venue managers Callum Ellis and Tracey Ly. Both are Dianella locals and couldn't look past the opportunity to bring something new and exciting to their own neighbourhood.
"We love our neighbourhood! We felt there was a real opportunity to bring something really special to the area. We wanted to create a cafe that you'd expect to find in the CBD or big cities like Melbourne and Sydney," said Ly.
So when they picked up the old CoffeeMob which backed onto Nogi Lane (hence the name), they set out on transforming it into the fresh and comfy community coffee hub you see today, complete with bright and lively interiors, pup-friendly exterior, and playful artwork from Northbridge artist Jack Bromell.
But those cool community vibes are nothing without a good menu to back it up, and trust us the kitchen is in good hands here. They've enlisted the help of Jason Nicholas as Head Chef (Hotel Rottnest, Vasse Felix, and BLVD Specialty Coffee) to pump out the kind of delicious brunch-time faves that will keep you coming back for more.
Aside from all the classics, there's a very indulgent banana and toffee pancake topped with macadamia crumble, honey butterscotch sauce and a whole freaking vanilla ice cream waffle cone that will impress even the biggest sugar addicts in town. If you're more of a healthy morning kind of person, go green with the zucchini noodles, seasoned avocado, broccolini, kale crisp and garlic bread. Keep an eye out though, as they'll continue to evolve the menu to showcase different seasonal produce.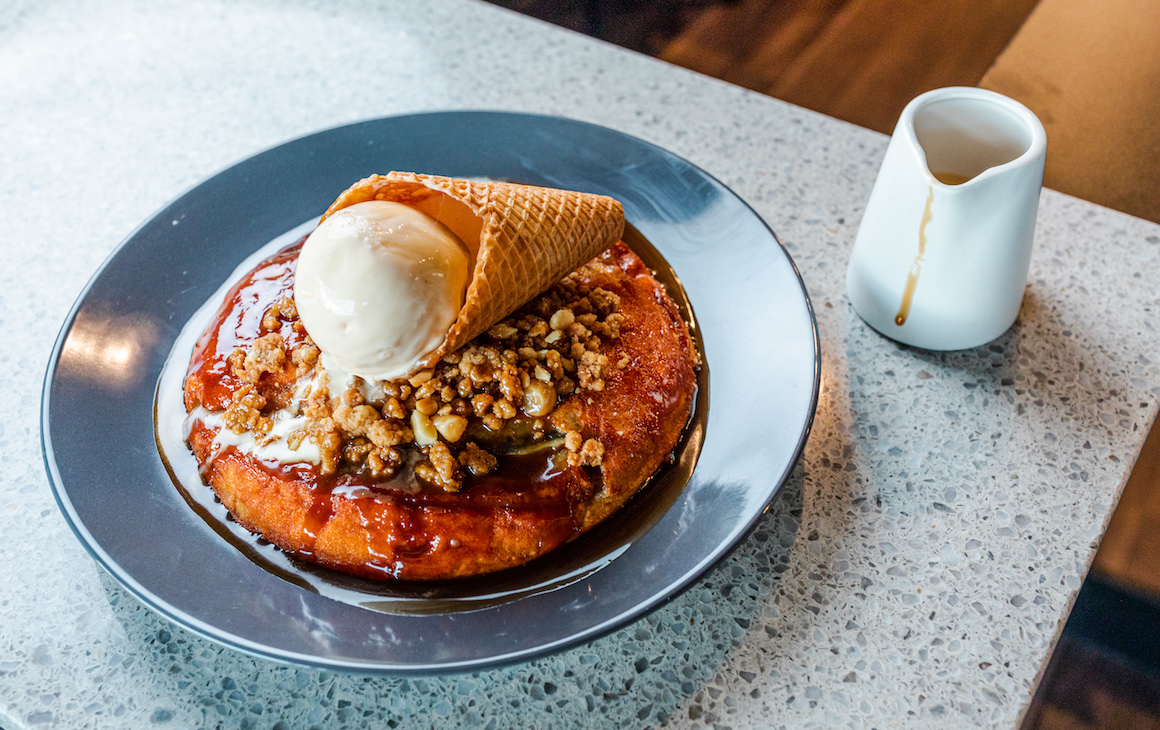 On the coffee side, you'll get a good brew thanks to roasts from Five Senses and milk of every kind from the likes of MilkLab and Soy Boy. Plus, check the fridge as they've got some special slow brewed organic soda from Somersault alongside Juicist juices and Karma drinks.
Ellis and Ly are excited to welcome local foodies, families and pups into Nogi Lane for dine-in brunch from 7am to 1.30pm Tuesday to Sunday—with the takeaway window open 6am to 2pm Monday to Friday and 7am to 2pm Saturday and Sunday.
In the meantime, work your way through all of Perth's best breakfasts.
Image credit: Supplied