Ah Easter, our favourite time of the year to over-indulge on all things chocolatey and sweet. And while you could hold out for the big family get-together to pig out, we reckon you should spread the Easter feasting out a bit and make the most of all the yummy treats on offer around Perth while you can. From adorable chocolates to mind-blowing boozy delights, there's plenty to get around.
Here's who's serving up the best Easter treats in Perth this year.
The Guildford Hotel
The Guildford Hotel may have just won Easter. They've whipped up some absolute cracking treats, available exclusively for the long weekend. We can't get over the giant hot cross bun filled with vanilla crème pâtissiere—it's so big you might need a friend or two to actually get through it but then again, if there's ever a time to overload on a hot cross bun, it's now. Wash it down with a few of their super special Easter cocktails including the Coconut Rough, Hot Cross Bun, and the adorable Espresso Martini Trio (because obviously one type of espresso martini is never enough), all served in choccie eggs. Yum!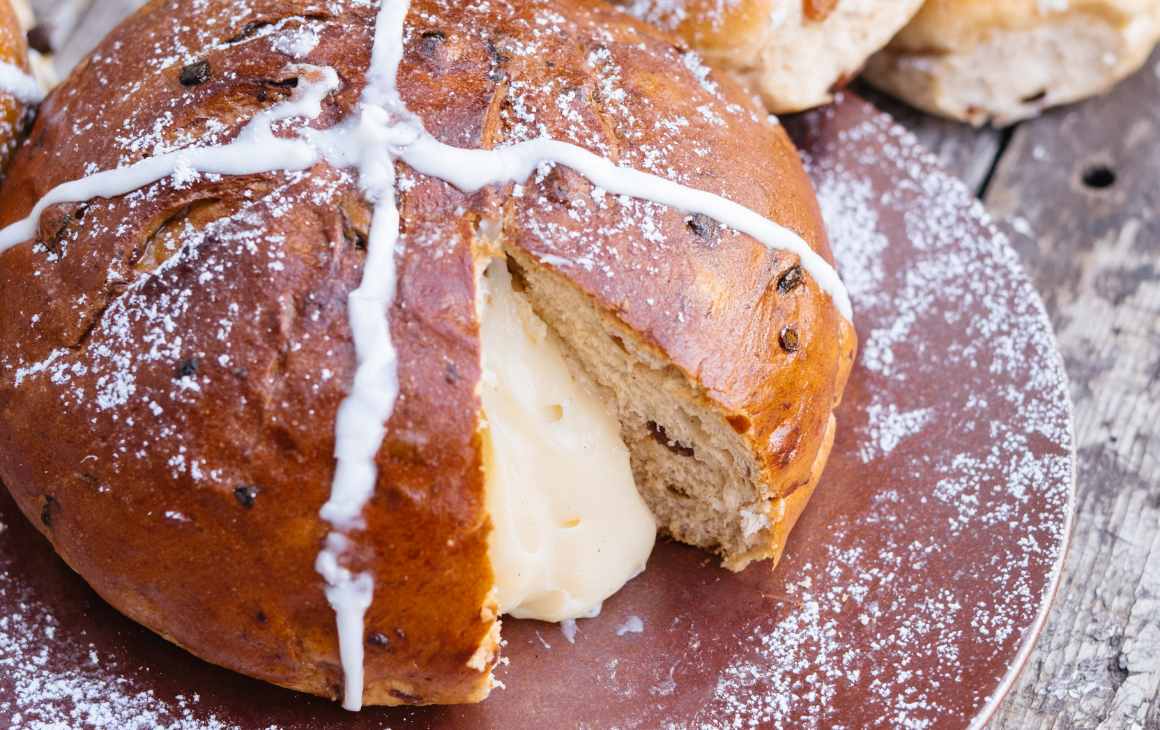 Pretzel
We're big fans of this pastel pink pretzel house and no surprise to see they've jumped into the kitchen to serve us up a tasty baked treat this Easter. Drop by and scoop up a sticky and delicious 50% milk chocolate and 50% cinnamon pretzel all through April.
The Aviary
The iconic Eggspresso Martinis are back at the Aviary rooftop in Perth. Smooth, creamy and all sorts of delicious, we can't get enough of these eggs. And this year they've got two flavours to try. Keep it classic with vodka, vanilla, Kahlua, and cold brew coffee. Or give the caramel number a go, featuring spiced rum, caramel, Kahlua and cold brew coffee. There's only a limited number available each day, so better hop to it.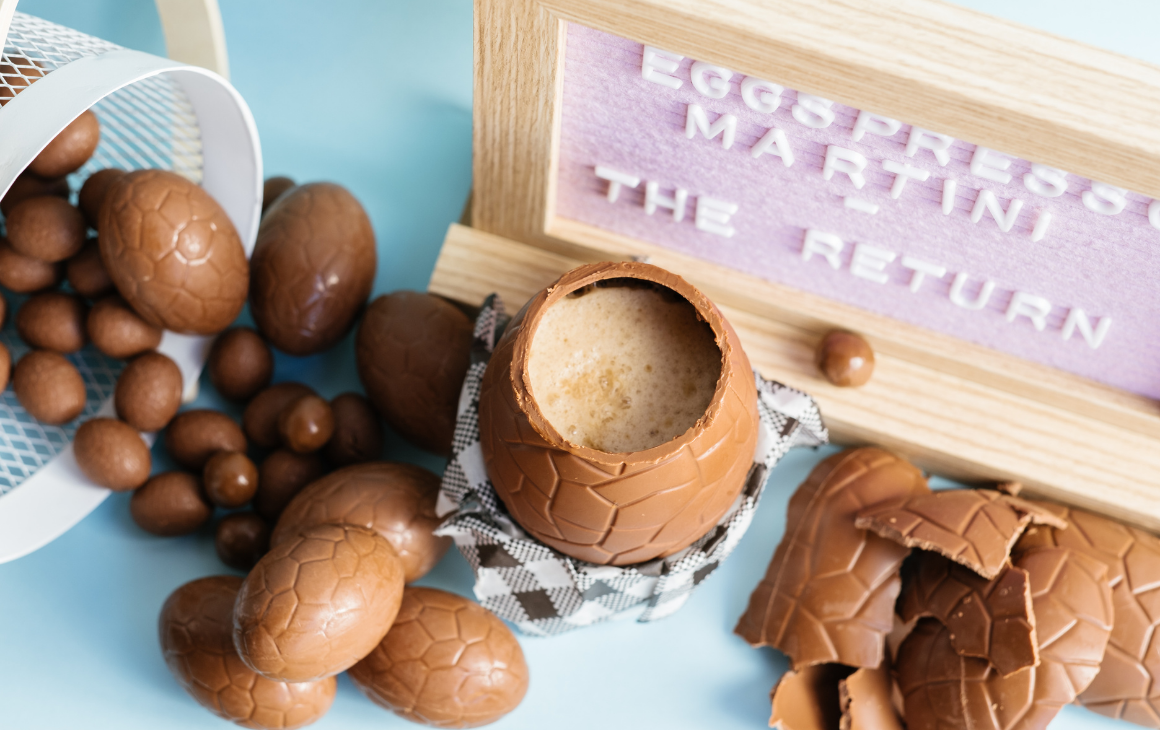 Roho Bure
Just because you can't have dairy, doesn't mean you have to miss out on all the chocolate treats this Easter. Roho Bure and Crunchbox have teamed up again to deliver the ultimate vegan Easter egg, with Crunchbox on the dairy-free chocolate shell and Roho Bure filling them with their drool-worthy vegan ice cream. Head to their website now to preorder one of these goodies while you can.
The Reveley
If you like your Easter sweets with a side of riverside views, you can't beat The Reveley. Start your Easter journey downstairs with a triple choc milkshake topped with Easter eggs before rushing up to the rooftop for the boozy mini chocolate egg nest. What's not to love?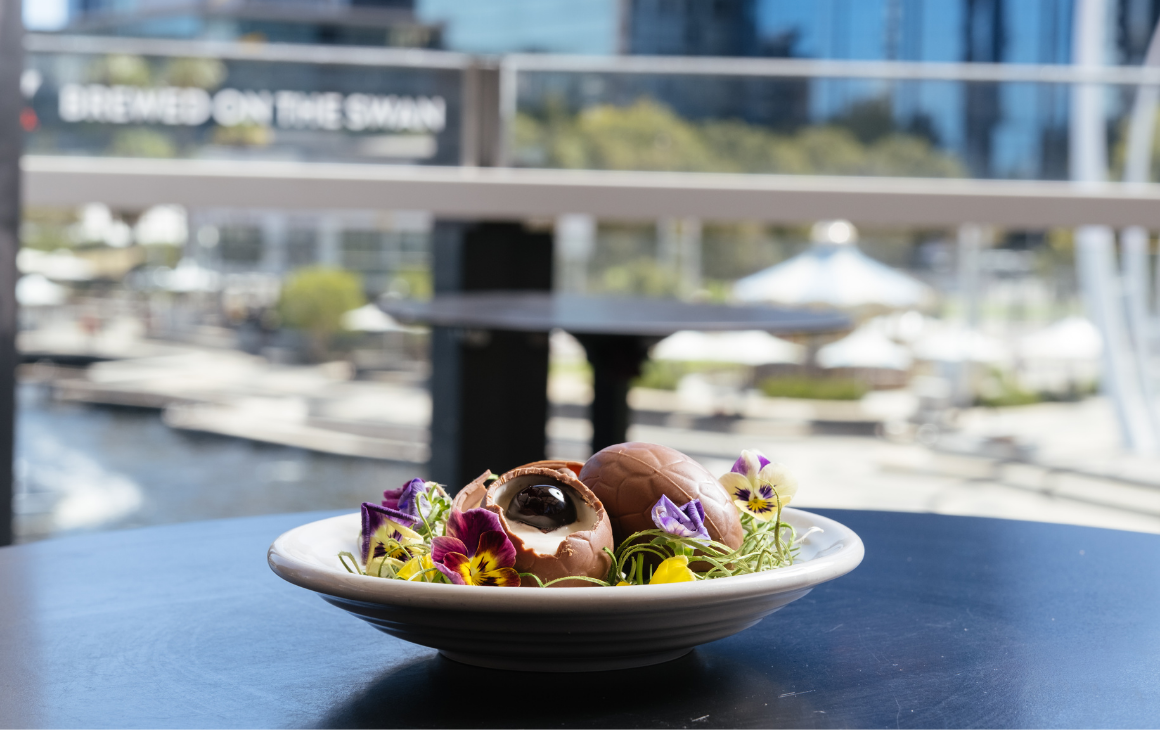 Harbourside Fremantle
Another spot boasting a beautiful waterfront location and killer cocktails is Harbourside in Fremantle. They've whipped up a sweet concoction of vanilla vodka, crème de cacao, and chocolate, all topped off with an easter egg, because why the hell not, right? Pair it with some of delish share style bites and a Freo sunset and you'll be feeling ready to relax into your long weekend.
Caballitos
Caballitos is spicing up Easter with a little something special in the boozy bunny department. Drop by and order a round of the 'At It Like Rabbits' cocktails—it's cheeky and sweet, and all served up in a big chocolate rabbit, of course. It's available Thursday 1 April (as part of their epic Nacho Typical Thursday) and Saturday 3 April. And if you happen to be in on the Thursday, you could also get some fresh Easter-themed ink.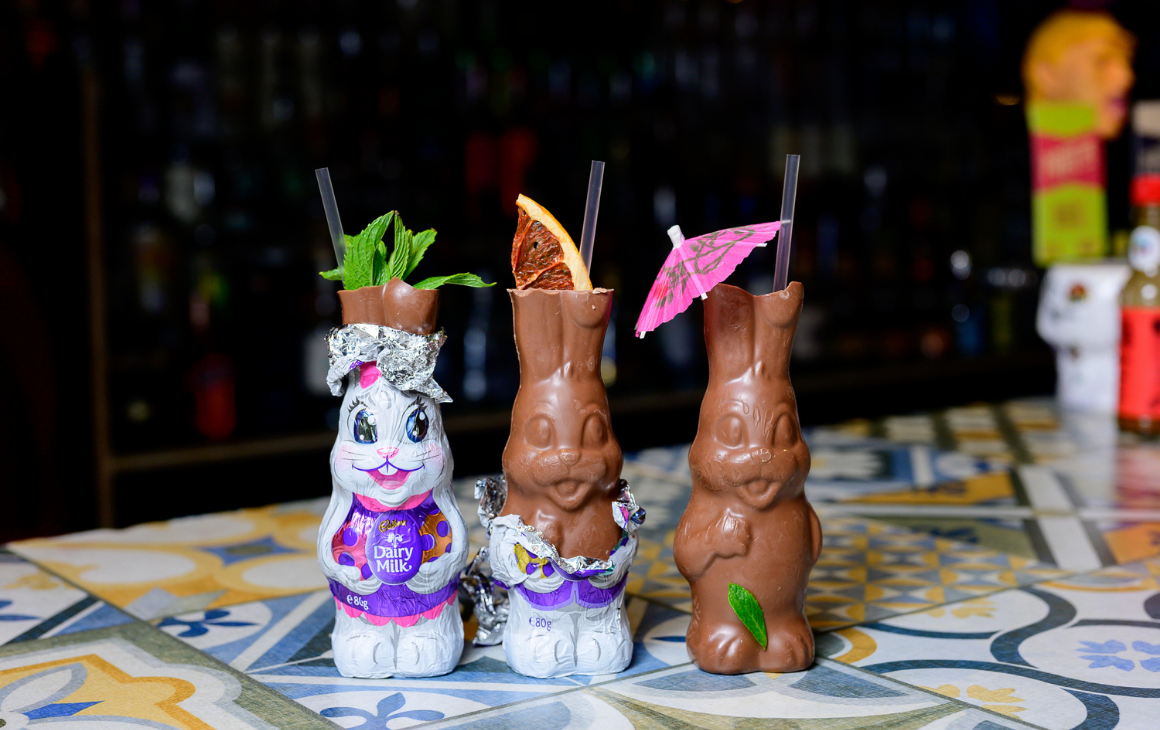 Samuels On Mill
If you need an extra push to check out the new Samuels On Mill, take note of these mouthwatering Easter specials. For mains, they've got a beautiful seafood dish (it is Easter, after all) so go ahead and dig into the WA half cray and scallops with kumato tomato, citrus beurre blanc, baby carrot and parsley oil. Then finish with the dark chocolate and hazelnut praline cremeux, raspberry gel and white chocolate ice cream. Although honestly, we're tempted to skip the meal altogether and go straight to the bar. Their indulgent Easter drinks list features a play on the classic Cadbury Cream Egg, the Cream Eggtini (available in classic or berry flavour), as well as a very cute Drunken Rabbit, which is topped with chocolate bunny ears. We're sold.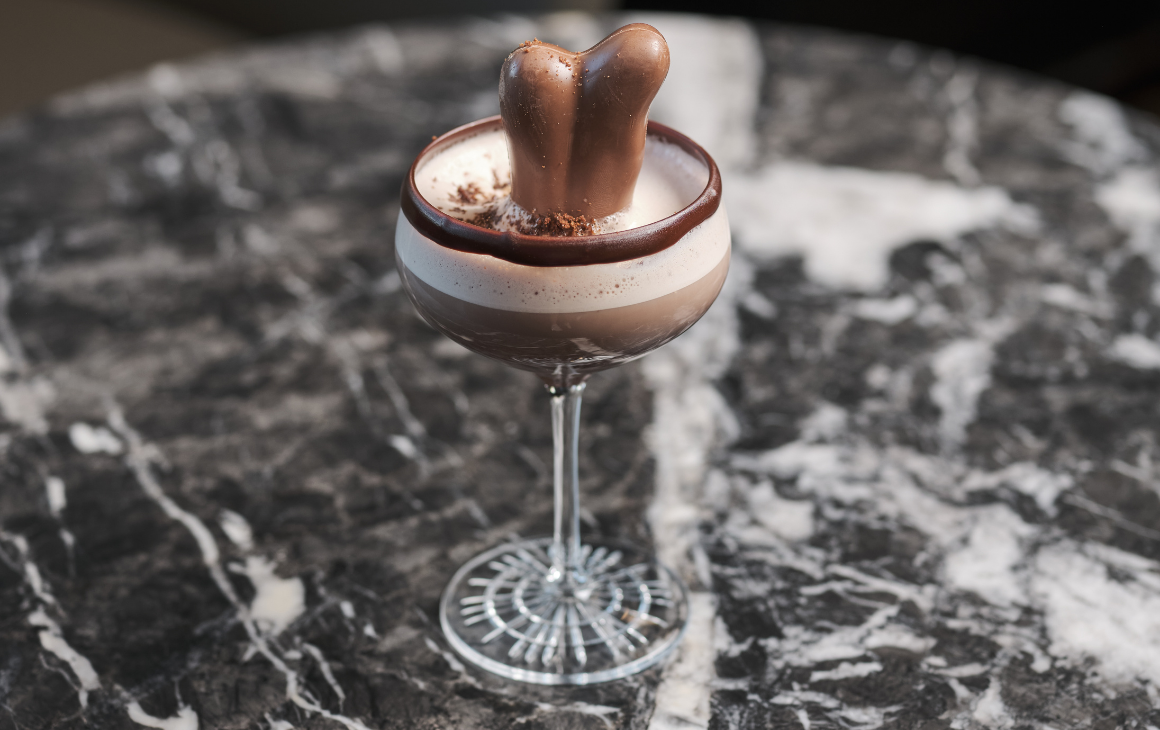 Koko Black
Koko knocks Easter out of the park year after year, so you know you can't go wrong at this gourmet chocolate shop. Favourites like the dark zesty orange and almond block and their espresso martini marbles are available, but it's this year's signature Easter range that you definitely can't miss. Treat yourself to the Hot Cross Bun or Carrot Cake Bites or Dozen Praline Eggs and definitely don't forget their range of milk bunnies.
Margaret River Chocolate Factory
We couldn't finish this list without mentioning one of WA's most iconic Easter treats, the Chokka Quokka. If you're yet to get your hands on one of these chocolate versions of our loveable Rottnest Island marsupial, are you even West Australian? Even better, you'll be helping raise funds for quokka conservation and research just by purchasing a large Chokka the Quokka or Chokka gift pack. Of course, The Margaret River Chocolate Factory has plenty of other Easter delights to indulge in too. Head to their store to check it all out.
While you're in the Easter spirit, check out Perth's best hot cross buns.
Image credit: Supplied