One of the oldest and most widely consumed beverages in the world, our love affair with beer is all-enduring and ever-reinvigorated. WA in particular seems to nurture the relationship well, from historical stalwarts like The Old Swan Brewery (production site of icons like Swan Draught and Emu Export) and Fremantle-born Matilda Bay Brewing, to the craft beer industry institutions of today like Little Creatures and Feral.
The best part is, there's so much in between. With a serious surge in the opening of new urban breweries in Perth this year, we thought it high time to take stock of all the places in our fair city crafting a good brew and offering a homely place to enjoy it. Whether it's ocean, CBD or bush views you're looking to enjoy your beer over, here are all of Perth's best breweries.
The Island Brew House
Perth
Taking pride of place in Elizabeth Quay in the spot that formerly hosted Isle of Voyage, The Island Brew House is looking like your new summer go-to, complete with a range of craft beers, a neighbouring pizzeria, and an outdoor stage set to host live performances throughout the warmer months. With killer views over the Swan River and CBD skyline, not to mention a Friday afternoon happy hour that has after-work drinks sorted for the rest of time, this place is bound to be a new favourite.
Bright Tank Brewing
East Perth
One of the newest urban breweries on the scene and the latest reason to head to Perth's east end, Bright Tank Brewing is the brainchild of husband/wife duo and life-long foodies Matthew Moore and Gemma Sampson. Crafting a range of core and seasonal beers, the wall behind the bar is already full of taps and we've been told to expect more—so there's no shortage of options for beer lovers. Their obsession with good food means Moore and Sampson (along with genius Head Chef Jake Gledhill) have ensured this is one Perth brewery where the food is just as good as the brews—and let us tell you, the result is something special. If the word 'Beergustation' does things to you, we recommend getting in the loop with these guys ASAP.
Otherside Brewing
Myaree
Born out of a wish to 'can the feeling' of a music festival, Otherside Brewing is all about making beers for drinking—beers, 'without the BS'. While their core range is made up of a classic lager, a session ale and an Indian Pale Ale, they're also brewing up a whole lot of experimental stuff plus some 'pilot' beers that might one day join the fam for good. These guys started out as a one-off brew for a festival, then became heavyweight gypsy brewers, and now you can enjoy Otherside beers at their very festive bricks and mortar brewhouse in Myaree.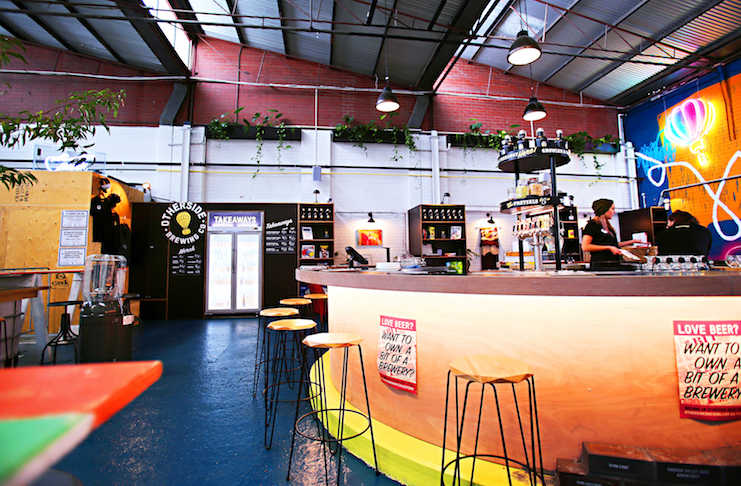 Blasta Brewing
Burswood
Open 6.30am 'til midnight on the daily (we're exhausted just contemplating that!), Blasta Brewing Co is all about globally-inspired beers (the word 'Blasta' itself comes from Scottish Gaelic, meaning 'delicious') and classic pub food. We reckon the Grapefruit IPA and the bacon-wrapped stuffed jalapeños would go down pretty alright together.
Northbridge Brewing Co
Northbridge
The original Beerland Brewing outpost, Northbridge Brewing Co quickly found itself right at home by serving up good food and exceptional beers seven days a week in a super relaxed environment. Enjoy a beer while looking out over the tank rooms (where the magic happens) or head up to the Skydeck to enjoy your pint over some CBD skyline action. The share plates don't tend to go astray either!
Nowhereman Brewing
West Leederville
Any brewpub that has the word 'rambunctious' in their tagline is absolutely fine by us. Housed in a refurbished warehouse in the inner up-and-coming pocket of West Leederville, Nowhereman Brewing is coming out with some delish beers that showcase fresh flavours and the depth of the craft. Couple one (or three) with almost anything off their produce-driven menu and you're onto a winner, people.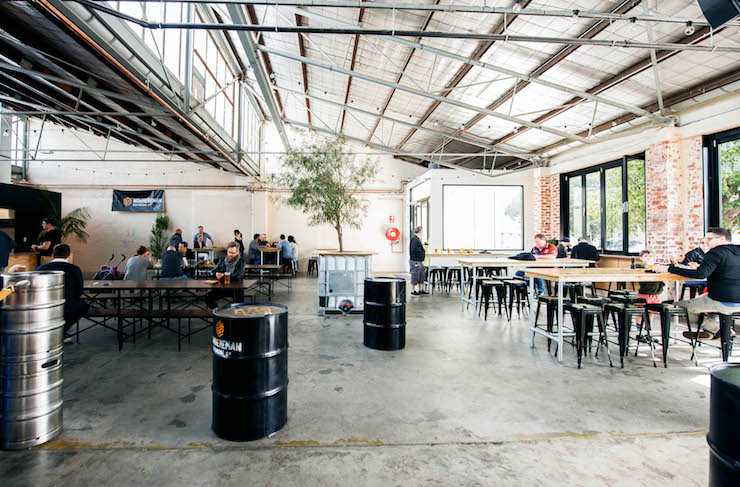 Whitford Brewing Co
Hillarys
Having just won up a storm at the Australian International Beer Awards, Whitford's Brewing Co features similar stylings to sister venue and flagship brewpub, Northbridge Brewing Co. The two-storey brewhouse has the same 'Skydeck' feature as its urban counterpart, but the Indian Ocean views here are hard to beat and make for a perfect afternoon sipping on Beerland's award-winning brews.
Little Creatures
Fremantle
The grandfather of WA's craft beer scene, Little Creatures' quality and charm hasn't been one bit diluted by the proliferation of urban breweries in Perth. Forever purveyors of delicious brews, laid-back vibes and good times, this is the kind of place you keep coming back to even when the hype has worn off.
The Camfield
Busrwood
When we heard a 2000-pax brewpub was opening right next to the brand new Optus Stadium, we knew it was going to be mayhem. And The Camfield is just that—beautiful, delicious, prayer-answering mayhem. The place is so big that the microbrewery housed within almost gets lost, but rest assured—it's there, and it's doling out some pretty fine brews under the Bevy Brewing Co label. If you're wanting to try the beers alongside a meal, book yourself and 24 friends in at the 'Brewery Table'—the beer tastes even sweeter when you've got a full view of the inner-workings of the place.
The Old Brewery
Perth
With more than a century-long history of brewing some of our state's most iconic beers, it's satisfying to know that The Old Brewery, which for a long time ceased production of anything, is now home to well-loved microbrewery Riverside Brewhouse. With a range varying from the light 'Narrows Lager' to the hoppy 'Angus Pale Ale' plus a rotation of seasonal brews, even those who are only in it for the (extremely good Swan River) views will find something they'll enjoy.
Shy John
Perth
Shy John is a two-storey brewery and yum cha joint located in the heart of our city in Yagan Square. That's right – dumplings and craft beer, both in the one (very conveniently located) place. Need we say more?
Golden West Brewing Co | Coming Soon
Leederville
Not yet open, Golden West Brewing Co will be coming to Newcastle Street in Leederville in time for summer, so get excited. The brainchild of seven local Perth lads who love a craft brew, expect good times and good beers aplenty.
The Monk
Fremantle
A small batch, independent brewery right in the heart of Freo, The Monk offers up a core range of six beers that you can very conveniently grab in a tasting paddle for just $21. They also craft a bunch of delicious ciders—infused with flavours like blackcurrant and basil or salted caramel (seriously)—and offer a pretty tempting food menu. With regular DJs and live music on the roster, this is a good spot to enjoy a night out on Freo's main strip.

Feral Brewing
Baskerville
The Perth brewery that needs no introduction, Feral Brewing hit the big time and sold themselves to Coca Cola Amatil in 2017—but we still love them, dark and twisted metaphors and all. They're all about beer done the old-fashioned way – championing local ingredients and fashioning them into drinkable beers for the modern village. And they do a damn good job of it too! Visiting the brewpub is one of those 'things you should've done' if you're from Perth, so if you haven't been, well, you know what to do.
Indian Ocean Brewing Company
Mindarie
The Mindarie marina's resident craft brewery, the Indian Ocean Brewing Company sources ingredients from all over the world with one priority—the quality of the finished product. Their craft beers pair perfectly with their Mediterranean-inspired menu and waterfront vibes, plus they have a whole bunch of daily drink and food specials that are enough reason to love it alone!
Homestead Brewing
Caversham
Another spot to stop in at when jaunting around the Perth hills is Homestead Brewery at Mandoon Estate. Grab a beer and some tapas, enjoying the view of their shining brewing equipment to one side and undulating vineyards to the other. Magic!
Elmar's In The Valley
Henley Brook
Brewing beers in strict accordance with the 1516 German Beer Purity law, Elmar's in the Valley is one of the only breweries in town offering a classic German beer hall-inspired experience. Apparently they're home to the largest glass micro-brewery in the southern hemisphere, and to be honest the copper setup is so pretty we don't even care if that's true or not. Pull up a spot in the raised beer drinking area – with glass windows, the views it allows over the brewery and restaurant make for a great vibe. Pair your beers with some delicious German smallgoods or a full-on feast—perhaps the bratwurst plate with mashed potato, sauerkraut and mustard?
Mash Brewing
Henley Brook
Soak up all things beer at Mash Brewing's Swan Valley outpost, their original brewing digs. Sample fresh beer straight from the source or settle in for an afternoon session—their smoked meats go perfectly with a refreshing brew or three.
Want to go even further afield? Here are the best breweries in Margaret River.
Image credit: