School holidays, weekends and public holidays with kids got you down? The chorus of "I'm boreddddddd" coming from the kids' every 3.5 minutes making you want to pull your hair out?
Well it turns out, keeping children entertained doesn't have to be a nightmare, nor blow the budget. There are plenty of things to do in Perth with kids, from free activities to attractions your rugrats will want to see again and again.
So whether you're on vacation or a sandgroper yourself, here are the best things to do in Perth with kids.
Flying Trapeze Perth
Alfred Cove
Raising a family of daredevils or adventure seekers? Here's one to keep them on their toes. The foreshore at Alfred Cove is home to Perth's most experienced Flying Trapeze School, catering for everyone from beginners to professionals. The sky really is the limit, all activities are conducted within a safe, fun environment and there's no experience necessary. If the trapeze sets your nerves on edge, there's always the bungee trampoline where you can jump and flip in complete safety. The trapeze is open Friday to Sunday and a two-hour workshop will set you back $70 per person. Sounds like it's time to run away and join the circus!
Gwelup Secret Garden
Gwelup
We know, it's a secret right? Well, the secret's out! Hidden in the northern suburb of Gwelup is a seemingly normal suburban park with a stunning fairyland right in the middle. From muddy tracks to mossy hollows and towering greenery well worthy of a social media snap, it's a kid's paradise where you can't help but forget you're in the middle of the 'burbs. There are no carpark or entry fees, so pack the wellies and be prepared to get a little lost and slightly muddy. It's all in the name of a good adventure! Now, don't tell anyone we told you—but you can find the Secret Garden at Lake Careniup, part of the wetlands system in the City of Stirling. Shhhhhh!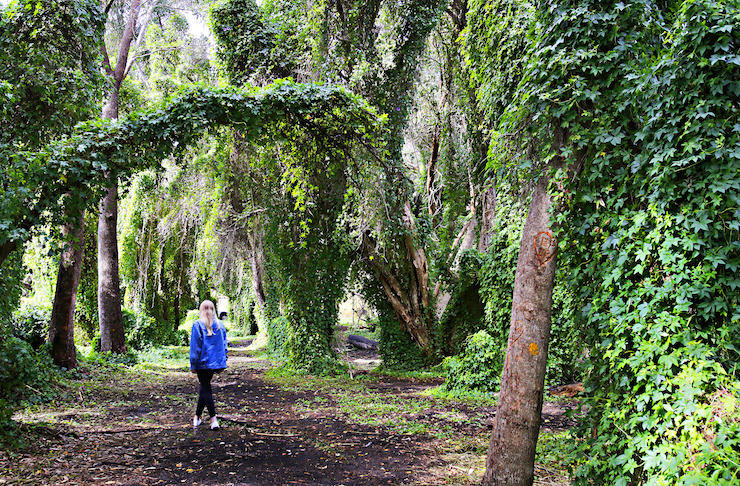 Bike Ride Through Kings Park
Kings Park
What better way to get some exercise and see one of the world's biggest inner city parks than jumping in the saddle for a spin around Kings Park? Cycling is A-Ok on all roads in Kings Park, but if you're with the kids be sure to take note of the designated cycle paths. Plus, with plenty of playgrounds, the DNA Tower climb, State War Memorial and treetop walk, there's plenty to do once the cycling is done. If you don't have your own bike, visit the hire terminal in the carpark behind Fraser's Restaurant. You can hire a bike and helmet for the whole day and take your time at a cost of just $1.40 per hour—bargain!
Wembley Mini Golf
Wembley
Need to keep the kids and husband entertained? This one's for you. The 18-hole, landscaped miniature course at Wembley Golf Course represents a scaled down version of a full size course. Whether you're a beginner, intermediate or an advanced golfer, the whole family will enjoy winding through sand traps, bridges and water features. There are no bookings required and the course best suits children over six, with a family pass setting you back only $59.
Mettams Pool
Trigg
Perth is blessed with an incredible coastline, so why not take the kids to explore some of its hidden gems. Mettams Pool is one of those—an insta-worthy little bay nestled along the popular West Coast Drive strip. A favourite among locals, the pool is a reef-ringed oasis with a protected swimming area and great snorkelling close to the shoreline, making it great for kids of all ages. Even better, there's quality coffee available at nearby cafes North Beach Deli or Yelo, ensuring mum and dad can get their caffeine fix before the grommets hit the sand.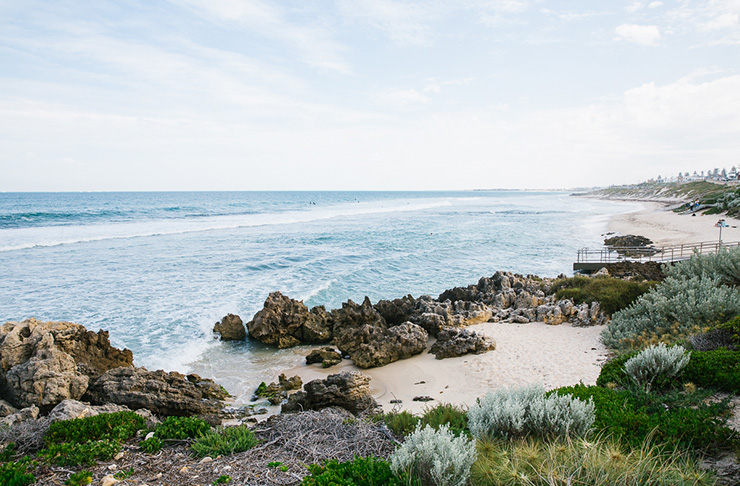 Perth Zoo
South Perth
Put simply, 120 years of visitors can't be wrong… Yes, that's how long sandgropers and travellers to WA have been enjoying a trip to Perth Zoo. Far from the caged animals of old, the Zoo prides itself on its conservation efforts—caring for and contributing to the survival of species from all over the world. Take your visit one step further with some of the Zoo's behind the scenes encounters by becoming an elephant keeper for the day, taking a zebra car tour, walking the dingoes or going face-to-face with the giraffes. Or simply take a packed lunch and take advantage of the safe, shaded picnic locations and playgrounds. Adult entry costs $31 and kids' admission starts at $15, making Perth Zoo Australia's most affordable major zoo.
Fishing At Hillarys Boat Harbour
Hillarys
Fish on! What West Aussie doesn't love a bit of fresh air and a free dinner? Perth is lucky enough to have some great kid-friendly fishing spots so everyone can have a great time. Rig up your rod and head to Hillarys Boat Harbour to hook tailor, king whiting and skippy within the safe surrounds of the harbour. Then fire up one of the public BBQs to cook your catch or, if all else fails, Nino's or Top Catch can whip you up a delicious feed of fish and chips. If you prefer to admire your fish rather than catch them, AQWA provides a spectacular underwater journey along our coast without getting your feet wet. A family pass to the aquarium costs $79.
Lake Laschenaultia
Mundaring
Whether it's camping, swimming, canoeing or a picnic that tickles your fancy, Lake Leschenaultia in the Shire of Mundaring ticks all the boxes for families. Originally known as Chidlows Well, the Lake has been converted into the perfect spot for a family day out outing with shaded areas, lawns, white sand beaches and playgrounds. Entry into Lake Leschenaultia is free and it is open every day of the year. If you fancy a night under the stars, the lake has three separate camping areas, boasting 23 sites with a mix of powered and unpowered options. Sites will set you back a $20 site fee plus $9.50 per person, per night.

Scitech
West Perth
Did you know there are approximately 9,000 taste buds on your tongue? Or that starfish have five limbs and can re-grow four of them? Well, these are the zany facts to discover when you treat the budding scientist in your family to a day at Scitech. The state's permanent, interactive science museum includes a planetarium, theatres and a range of themed feature exhibitions every year. The perfect outing for a rainy or stinking hot day, Scitech is open every day of the year except Christmas Day and Boxing Day. It's also a fantastic birthday party venue, suitable for children aged 4 to 12.
Rottnest
Rottnest
There's never been a better time to visit WA's favourite holiday island, with ferry operators offering plenty of bargains on kid's fares and island entry. Just 18kms west of Fremantle, Rottnest feels like a world away with endless white beaches, crystal clear bays and kilometres of roads to explore—not to mention the quokkas! There are few cars on the island, so bikes are the main method of transportation making a trip to Rotto the perfect time to take off those trainer wheels! Whether you're taking the kids on a day trip or planning a family getaway, the family fun park and mini-golf course is a must-visit.
Bibra Lake Regional Playground
Bibra Lake
If the kids need to burn off a bit of energy, look no further than Bibra Lake Regional Playground in Perth's southern suburbs. At 7000 square metres, there's plenty of space for kids to let off some steam while you sprawl under a shady tree on the banks of the lake. The park is packed full of exciting spaces and equipment which read like a kid's Christmas list; a double flying fox, swings, assault course, aerial rope walk, in-ground trampolines, sandpit, and pole maze. Catering for all ages and abilities, the park's disability-inclusive features mean no one misses out. The playground also includes Australia's first wheelchair accessible BBQs, with custom designed ignition buttons for the visually impaired, so pack a family feast and settle in for the day.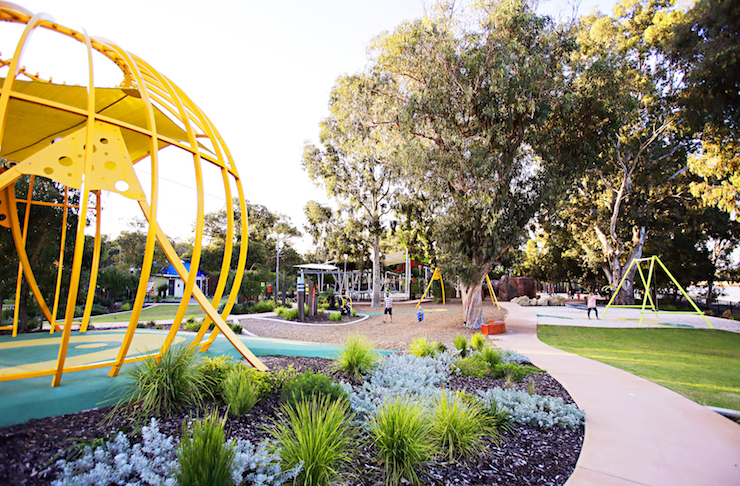 Galaxy Drive-In
Kingsley
Is there a better way to watch a movie than in a sleeping bag, under the stars in the back of a ute? Well, we haven't found one. Take a stroll down memory lane with a trip to Perth's last remaining drive-in movie theatre—Galaxy Drive-In in Kingsley. Borrow a ute or four-wheel-drive, chuck a mattress in the back and pull up tail-gate facing the screen for a cinema experience the kids will never forget! Gates open at 6pm and the movie starts at 7.15pm—but get there early or you won't get a spot, we're serious! Bring along some board games for an old-fashioned family fun night before show time. If you're on a budget, take advantage of the Tuesday special where entry is just $20 per car—a perfect bargain night out with the kids!
The Leighton Battery
North Fremantle
Looking for something to do with the kids around Perth? Why not step back in time with a visit to the Leighton Battery heritage site in Mosman Park. The Battery, which is serviced by a web of tunnels under the hill, was an artillery site which formed a major part of Fremantle's defences during World War II. Now, every Sunday, members of the Royal Australian Artillery Historical Society of Western Australia open the battery and tunnels for guided public tours. Explore a key part of Perth's military history with more than 300 metres of tunnels, up to 10 metres deep, with rooms recreated to let you experience what it was like working there over 70 years ago. Adult entry costs $8 and its just $2 for kids, a small price to experience a piece of history.
Kid at heart? Here are all the best things to do in Perth if you're a giant kid.
Wembley Mini Golf | Image credit: Elle Borgward at Wembley Mini Golf, Gwelup Secret Garden and Bibra Lake Regional Park, Louise Coghill at Mettams Pool