Does anyone else view their dining experiences through the lens of a camera? You know what we're talking about; choosing where to sit based on favourable lighting or pretty backdrops to complement a cheeky selfie, ordering the most attractive dish on the menu and taking a million photos of your coffee before it turns cold.
To save you trawling through Instagram to find your next good-looking pit stop for breakfast or lunch, we've pulled together the most beautiful cafes on the Sunshine Coast for your dining pleasure.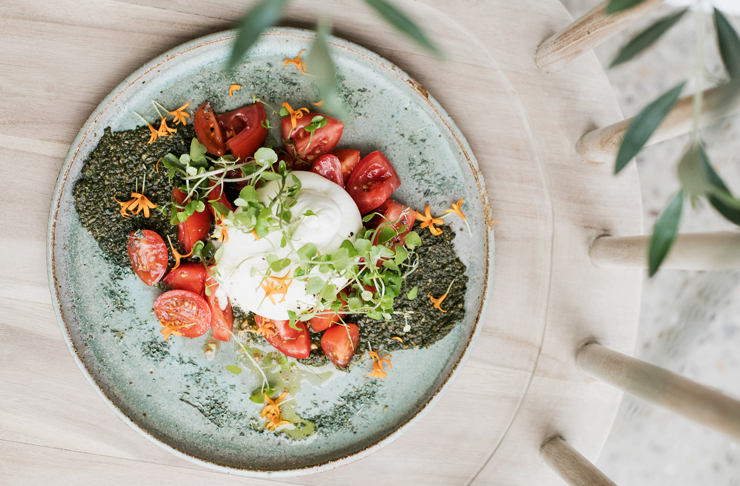 Cafe Vie
Buderim
Not only is Cafe Vie slinging some of the best vegan eats on the Sunshine Coast, but the interior is absolutely stunning. With white walls, polished concrete floors and a sky high ceiling allowing light to flood into this incredibly happy space. Plus, um, there's an actual tree? Indoors? Soaking up all the sun rays from the light-filled space? You gotta see it to believe it.
Moonstruck
Noosa
Once you step inside Moonstruck's snug interior, you're immediately enveloped in the warm lighting and glinting mosaic marble floors that emanate old-school European cafe vibes. You'll notice right off the bat that a big part of Moonstruck's charm is in all those unique, well-thought out details. Besides amazing boutique roasted coffee—courtesy of Boy himself—and an unique range of gin, Moonstruck's menu will not let you down when it comes to food. Plus, it's definitely one of the most aesthetic cafes around the Sunshine Coast.
Criminal Coffee Co
Maroochydore
Step inside Criminal Coffee and the first thing you'll notice beyond the size of this cafe, is the elaborate, dusty pink pressed tin espresso bar, lit by industrial-style pendants and backed by brick archways. Then, you'll be pulled to the dark timber chairs, exposed rafters, polished concrete floors, sleek Chesterfield couch and, of course, the olive subway tiles that line the walls throughout. It doesn't feel like the Sunshine Coast, and we're loving the escape.
Slide Coffee Roasters
Coolum
For the last three years, Aaron Bradley and his wife Rahel have turned Slide Coffee Roasters into their dream business and late last year, they furthered that dream by adding an epic tasting room to the mix. Besides serving up some serious delicious coffee, the light-filled space with white walls, wooden and rattan accents, is one of the prettiest spots to grab a cup of coffee, guaranteed.
The Velo Project
Mooloolaba
Set in a converted garage and decked out with retro furniture (hello, comfy couches) and knick knacks, The Velo Project is as far away from bland and sterile as you can get. Even better, it's tucked away from Mooloolaba's main drag, so you won't come by Velo Project unless you hunt it down, which we highly recommend doing.
VanillaFood
Noosaville and Noosa Heads
Insta husbands beware, VanillaFood is the ultimate eye candy. Not only are the breakfast and lunch offerings simply stunning, guaranteed to attract plentiful likes and comments on the socials, they also have two luscious locations with endless photo opportunities at Belmondos in Noosaville, and the latest addition to the VF family in Noosa Heads.
White Picket Fence
Caloundra
Blush walls, archways and indoor plants, White Picket Fence is a dream come true. Flatlay your day away with their epic basics board or capture your outfit of the day with a casual pose at the table. They're also welcoming of fur babies, so that's a massive plus.
MV Catalina Noosa
Noosa
If laidback luxury floats your boat, then hop aboard the MV Catalina Noosa. The Hamptons-styled Catalina has been restored to perfection and is the ideal place to enjoy lunch on the water, the only hassle will be deciding which photo to post first—the nonchalant selfie with a Pinot in hand or the stunning vista of Noosa River.
Monica's Cafe
Maleny
Indoor plants cascading down the wall, a loft complete with leather lounges and pouffes, and the most spectacular wall adorned with picture frames and old worldly treasures—Monica's Café is the kind of place you want to secretly move into.
Collective Haus
Yandina
You'll want to take your time with this one. Located in an old church in Yandina, Collective Haus is an eclectic collection of antique furniture, vintage clothing and coffee. Spend a morning exploring and inject a little movie montage magic into your Insta stories. We think we've found our happy place.
Homegrown
Palmwoods
Beyond the iron gate at Homegrown, is a secret garden where foodies come out to play. Indulge in brunch in the laneway, sit back and relax with a coffee on the deck of the Tin Shed roastery, or catch up on some reading in the seclusion of the garden.
Padre Coffee
Noosa
Padre Coffee is bringing the Melbourne vibes to us here on the Sunshine Coast with its fresh, clean and super modern interior. And we particularly love the internal window panelling behind the servery, allowing a look into the belly of the beast, AKA the roastery, so you can watch the magic happen as you sip on a fresh brew. This is easily one of the most beautiful cafes on the Sunshine Coast.
Aimee Provence
Buderim
Paisley wallpaper, chandeliers and fresh blooms garnishing the tables, Aimee Provence exudes a high class fitting for a high tea parlour. Dress up and treat yourself to a Devonshire-style tea, where rosebuds swirl in glass teapots and the scones are served in tiered stands. And those petit fours, they will capture perfectly in Portrait mode.
Guru Life
Rosemount
Loud and lairy and totally cool, the jungle vibes are strong at Guru Life. Ease into the week with the ultimate brunch spread by the duck pond, or savour the last of your weekend with their Sunday session. Either way good times will ensue.
Tome
Maroochydore
When compiling a list of the most beautiful cafes on the Sunshine Coast, it's impossible to leave out Tome. Simply stepping into this cute cafe will set your heart aflutter with its crisp decor, pendant lighting and artwork, and then there is the cake cabinet, which is stocked with the most divine cakes you ever did see.
Image credit: Amy Higg for Urban List