Cruise along Gympie Terrace at Noosaville and you'd be forgiven for checking this girl out.
It's probably one of the only times the Mr will get a hall pass to wolf whistle or ogle at another lass's assets. Hell, you'll probably join in with sheer admiration.
Why the free reign? Because we're talking about MV Catalina—a boat that's been a long-time resident of Noosa River for about 20 years and has recently been refurbished to a magazine standard. Seriously, we're talking Vogue-worthy.
And the reason we're tellin' you about it is because Catalina is now open to the public.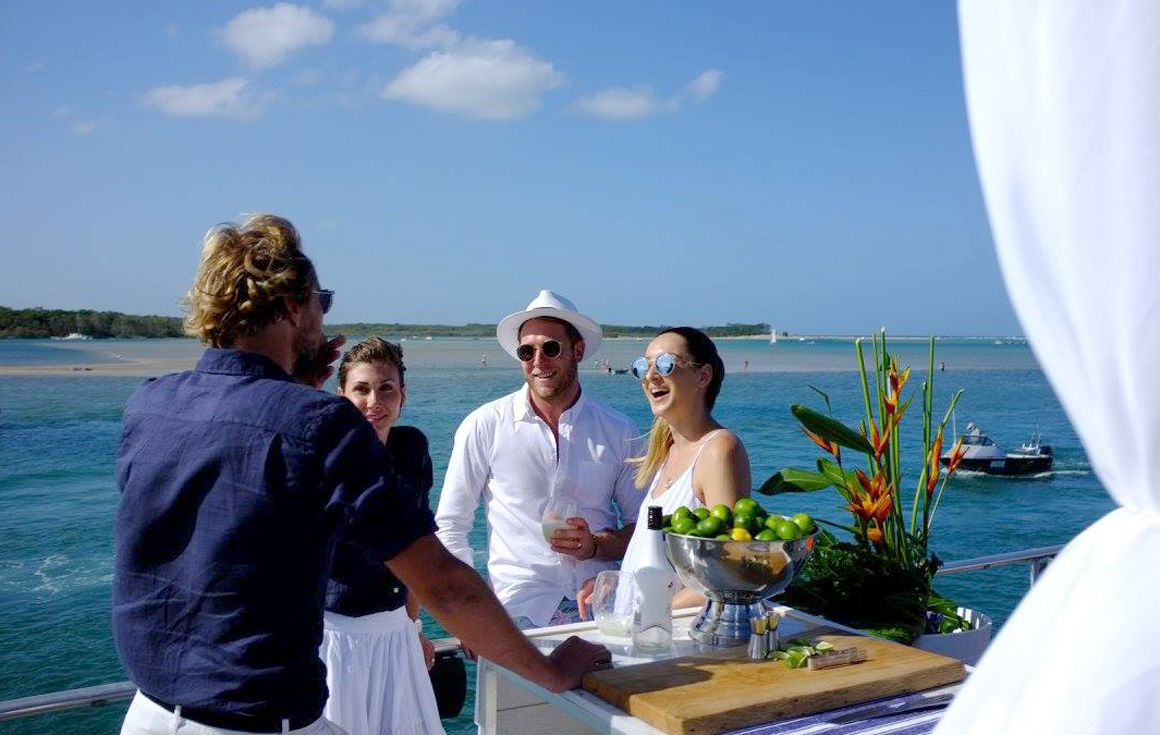 Anyhoo, back to the story.
So, if Catalina rings a bell it may be because you've hopped aboard at least once in your life to coast along Noosa's waterways. But since your last ride, things have changed. Noosa-raised, Bree Price and Tim Norris, along with her husband Scott, have taken ownership of the boat turning around a major revamp of Catalina in a short six weeks.
The results are stunning, but we didn't really expect anything less from someone who was once a third (along with her other brother Adrian and friend Eddie) of one of Australia's most-loved labels, Aje.
Lashings of white paint, rattan baskets cradling palms, cute deck chairs, a pared back bar area; Catalina nails the coastal chic vibe, and this is only the lower deck. Upstairs you'll find another bar (hello open-air rooftop cocktails!), giant white sun umbrellas, navy and white nautical striped day lounges for when you lose your sea legs, and on the right day, a DJ spinning tunes.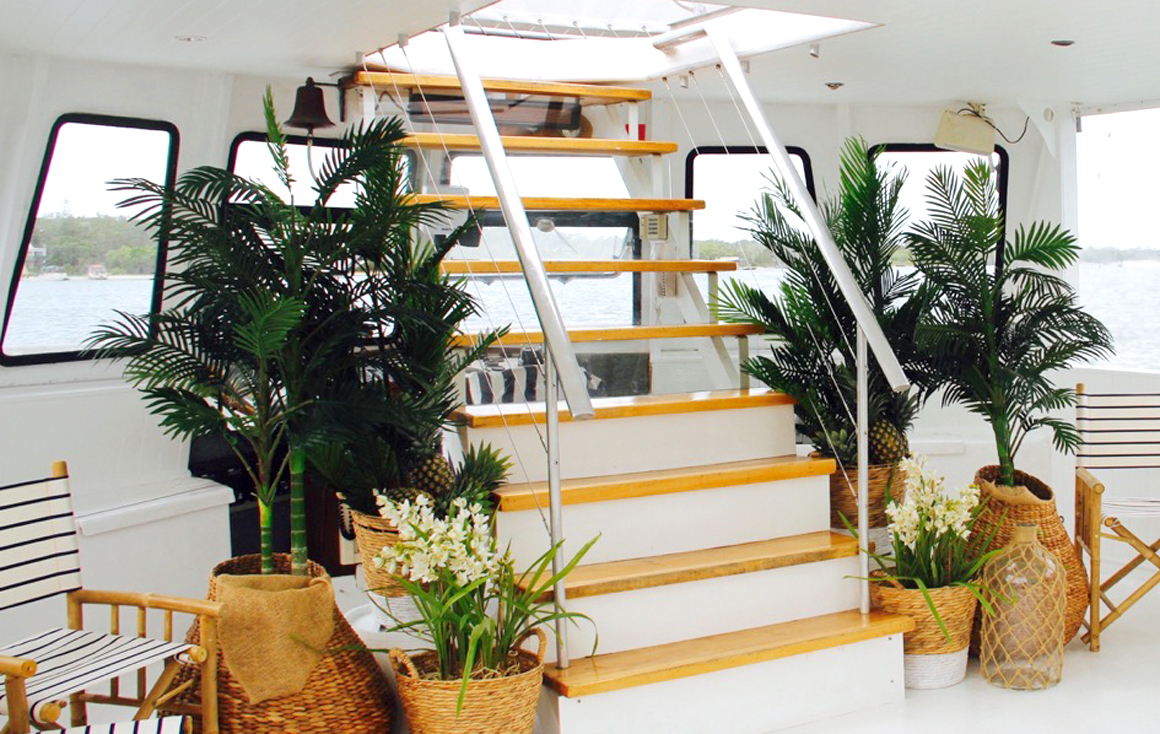 Setting sail on New Year's Day for the first time since its refurbishment, Catalina was flocked with an in-the-know local crowd who were keen to sip on signature cocktails, throw back oysters and finger food (prepared on a nearby pontoon), and take in sunset on the water. Sounds like bliss, yeah?
If you have a serious case of FOMO, because this is seriously the coolest thing to happen in Noosa in like forever, then we're going to let you on a little something that will get you up to speed. Fast.
As well as hosting weddings, private events, and special events like the NYD party, Catalina is showing up with the goods almost every weekend for Saltwater Sundays—an afternoon that we have no doubt will rate at the top of the best Sunday sessions on the Sunshine Coast.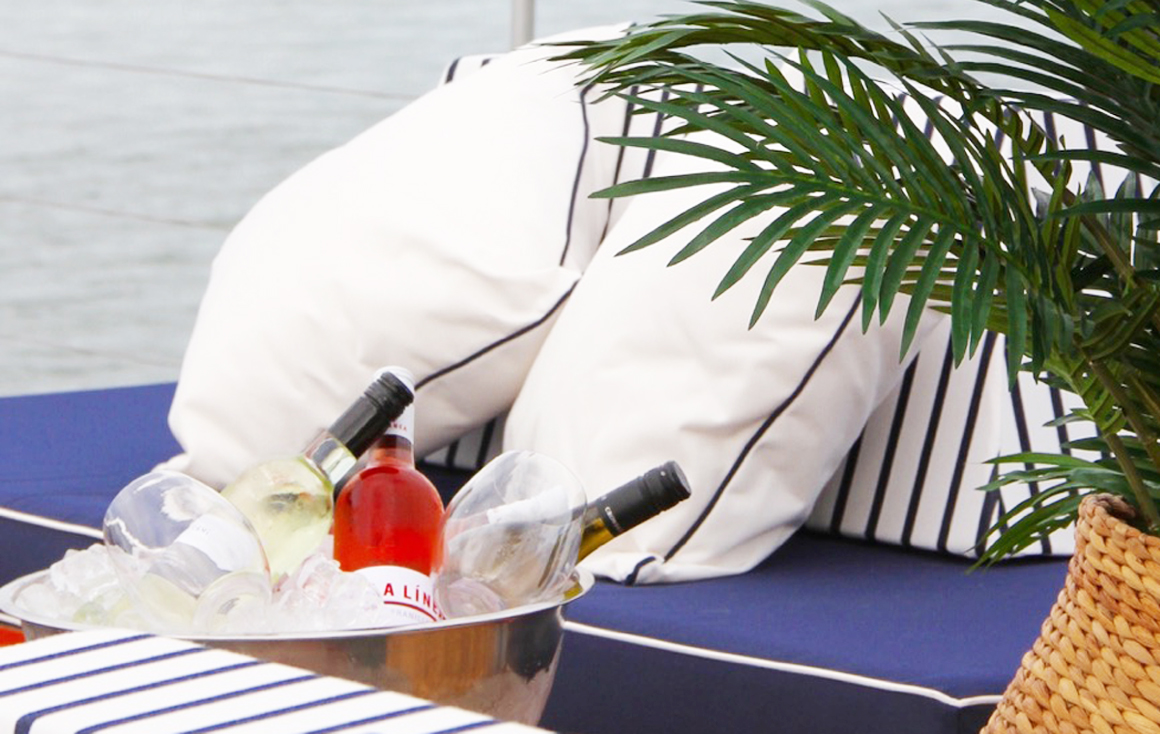 Boarding the boat at 4pm and disembarking at 7pm, Saltwater Sundays will take you on a gentle cruise upstream to the picturesque Lake Cootharaba for sunset. With live music—DJs to jazz bands and more, will be taking to the floor in the coming months—tickets are going cheap at $15. And that includes a welcome drink!
When Catalina isn't busy playing the ultimate Noosa event space to private functions, weddings or Sunday sessions, she's parked up at a wharf along Gympie Terrace, just outside the Catalina coffee shop. We know, this just keeps getting better, doesn't it?
Yep, along with the boat, the talented threesome has turned the boat's ex-ticket office into a new teeny tiny Catalina coffee shop serving up a seriously good cup of joe from Single Origin Roasters. A sleek marble bench top, esteemed baristas and a riverfront position, make this newbie one of Noosa's best coffee haunts. And it hasn't even been opened a month.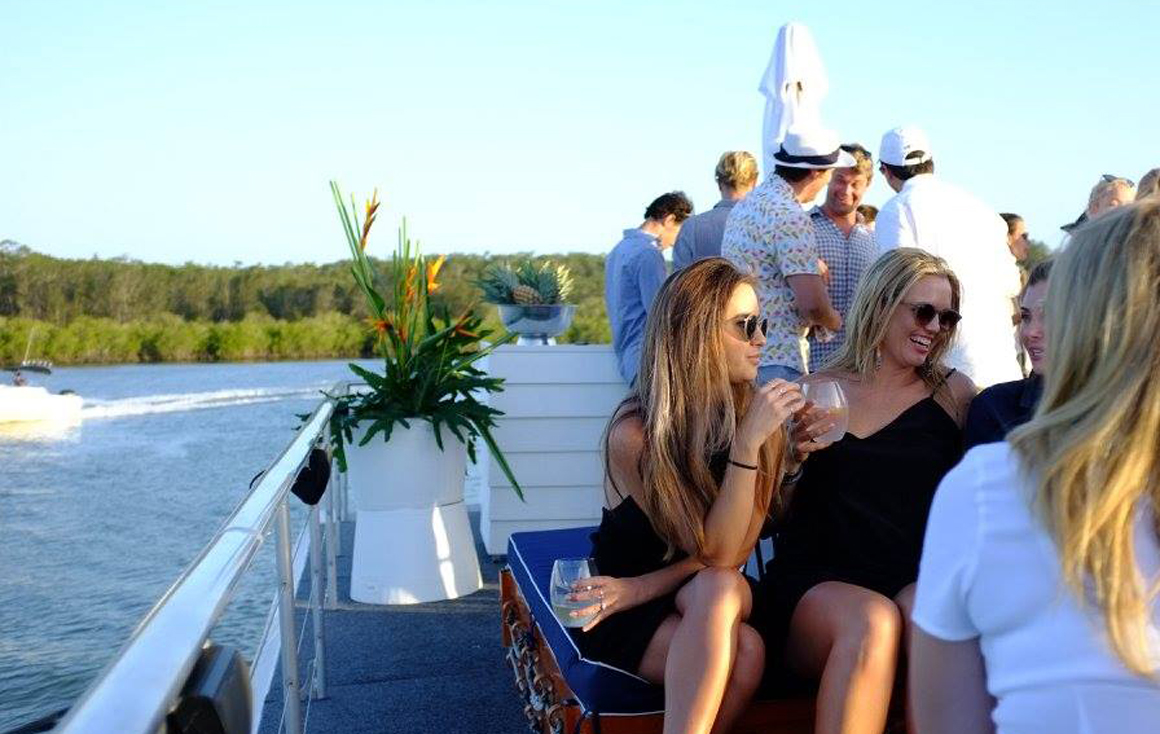 Serving coffee from about 5.30am, if you can hold out until 7am you'll be able to hop aboard the moored boat and sip your brew on the water. The views from the top deck beat any you'll get from the shore.
With the website yet to launch, stay up to date with all Catalina's events on their Facebook page. For detailed wedding info (which we'd advise you to jump on before the word is out) contact Bree.
Image Credit:
Emma Nancarrow and
Catalina