Coffee—it's an issue that's as contentious as politics or pizza. You might love a nook in Caloundra somewhere, but your friend swears their local in Mooloolaba is the only place to get a consistently smooth, yet strong, cup of joe aka the best coffee on the Sunshine Coast.
Then there's those peeps, who order a quarter strength mocha on soy milk, and even they have a favourite coffee shop that gets their piss-weak coffee order just right.
It's not an easy feat hunting down the best coffee on the Sunshine Coast but we've happily knocked back plenty of cups of the good stuff, all in the name of research. And so here we are, in no particular order (because that'd be ridiculously impossible), our picks for the best coffee on the Sunshine Coast and the spots to drink it.
Guru Life
Out in the sticks, Guru Life is a must-visit coffee spot that doubles as a roastery and cafe. Dishing up breakfasts of epic proportions alongside their cups of liquid gold, this Rosemount cafe totally floats our high-standards boat. Guzzle your helping of the Guru blend in the garden, and if you really want to connect with nature, get your duck feeding shoes on—there's a pond on the property.
Clandestino Roasters
Based in the Noosa industrial estate, inside Belmondo's, Clandestino Roasters has to be one of the biggest, if not the biggest, coffee brand coming out of the Sunshine Coast. Keeping addicts caffeinated at their roastery, their beans are also scattered in cafes across the region. Go here to experiment with different drops and coffee-making styles, and if you like what you taste you can bag ready-to-go beans along with pro equipment to take home. It's like the temple to coffee.
Costa Noosa
If you cruise into Sunshine Beach around midday on any day of the week, you're going to be hit with the tantalising scent of coffee beans getting roasted. And if you follow that scent, like any sane person would, you'll end up at Costa Noosa where they'll be toasting single origins and blends, for your enjoyment. If it's freakin' hot outside, get the boys to do you up an iced long black—the drink of the summer, for good reason—and find a perch on pretty much the best deck sans water views in Noosa.
Tome
We all know about their cakes, but Tome also does a seriously good coffee. If you're around Ocean Street, and need a pick me up, we really can't think of anything better than one of their gluten-free cakes washed down by one of their epic iced coffee concoctions. A sight to behold. And then hold. And then drink.
Humdrum Espresso
Tasting as good as it looks, you'll spot this cute cafe on the main drag of Eumundi, close to the markets. Humdrum's house blend is the Magneto Espresso, from local coffee crew Clandestino, with a rotating single origin. Your tea-sipping buddy won't be left out either, with a selection of over 25 different flavours.
The Colombian Coffee Co.
We love coffee. But more than coffee, we love passion. And The Colombian Coffee Co. has it by the shipload. Beyond serving some of the best coffee on the Sunshine Coast, they've also branched out with open-to-the-public in store cupping evenings, and more recently created a handcrafted, bottled Brew Espresso Extract, perfect for those espresso martinis. If you need two pick me ups, consecutively, 'cause sometimes you just do, then sip a piccolo here before ducking across the road for an Espresso Martini at Taps, made with the Colombian Coffee Co's specialty cocktail mixer.
The Pocket
You can't really miss The Pocket. It's not because it's a big space, because it isn't, but no doubt, when you're dallying along Seaview Terrace, it'll be overflowing with coffee freaks who know they pour a cup of the best coffee on the Sunshine Coast. Adored by just about everybody, this espresso bar is super close to the beach and gives you the perfect reason to explore one of the best little beachside towns on the Coast. Oh yeah, we just went there.
Little Boat Espresso
Marcoola, couldn't get much cooler than Little Boat Espresso. The go-to if you're hunting down a caffeine fix, you'll come for the coffee but stay for the innovative and super tasty brekky dishes. Holy smashed avo!
Urban Garden
Taking over the old Maroochydore courthouse, Urban Garden is doing something right. And we're guessing it's got to do with the coffee. Smooth, robust and served in small cups (or shall we say "proper" cups), you'll be sharing tables or benches with creative folk (they actually have wifi—whoop!).
Hand Of Fatima
One of the best coffee spots on the Sunshine Coast, Hand of Fatima is renowned for being consistently good. Pair your liquid gold with one of their epic Middle Eastern brunch dishes and it's guaranteed your weekend won't get much better.
Glass Coffee
Sitting pretty in Cotton Tree, if you haven't visited the refurbished Glass, it's time to pick up your act. Super chilled vibes and friendly regulars, will make your coffee taste that much better. Promise!
Sunshine Sunshine Espresso
We dare you to skip beachside Currimundi just once, and instead run the gauntlet that is Nicklin Way to the other side where you'll discover the hidden Sunshine Sunshine Espresso. This espresso bar is the place to head for a seriously local slow-dripped iced latte or straight black cold drip.
Cuba St.
Sitting on David Low Way in Marcoola, if you've done a recent airport run down the Coast, or driven the coast roads from south of the bridge to Noosa, then there's a good chance you've driven straight past Cuba St. We're here to tell you… don't even think about doing it again. It's a foolish mistake, and one you will live to regret long after your first cup of coffee at this cafe.
Lamkin Lane Espresso Bar
Dear Lamkin Lane,
It feels like yesterday that you opened the doors to your cute-as-button, make-us-want-an-awning cafe. But it wasn't. We've actually been sipping on your brews for years and years. It needs to be said though, that it feels like we've always known you and now, we can't imagine life without you. Thank you for pouring one of the best coffees on the Sunshine Coast.
Forever yours,
The Urban List
Compound
Surf and coffee go hand in hand like Tay Tay and her girl squad. If you're in Coolum or heading there for the waves, save yourself for a hit from specialty roasters Padre Coffee at Compound. Tucked a street back from Coolum's main drag, Compound's four walls provide a gallery-like space for not only a mean espresso bar but, vintage surf threads, relic boards, and free-flowing casual banter. Start your day right, start your day here.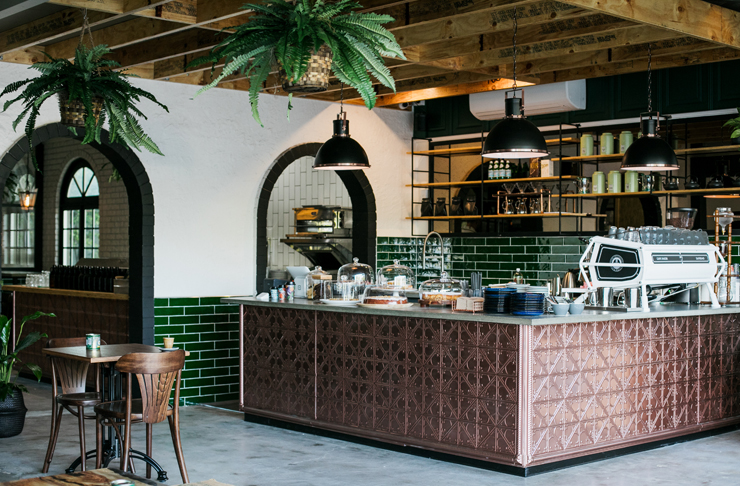 Criminal Coffee Company
This coffee shop slash toastie bar slash roaster slash co-working space is fast becoming one of the most-loved cafes on the Sunshine Coast, and for good reason. Situated on Maroochydore's sunny and sandy Sixth Avenue, the Criminal Coffee Company is the perfect place to refuel after a surf, catch up with your friends or to grab a quick pick-me-up on your morning walk. They also function as a modern co-work space, with plenty of room for business catch ups, study sessions and meetings. Oh, and their toasties are downright, well, criminal, including their vegan option loaded with chargrilled zucchini, fresh basil, vine ripe tomatoes, dukkah and vegan cashew cheese.
Small Change Espresso
This friendly local coffee joint is all about saving the planet, one delicious specialty coffee at a time. As their name suggests, Small Change Espresso are about those little changes that we can all make to help our planet, and when these changes include sipping ethically-sourced cold-brew coffee out of an ice-cold metal straw, they're pretty easy to get behind. Their minimal and modern cafe aims to keep their footprint low by using only sustainable and eco-friendly products, and they also sell a range of environmentally friendly retail goods.
Iggy Sun
Inspired by the flavours, smells and sights of the middle east, Iggy Sun is one of Noosa's best coffee spots. Located in Noosa Junction, this colourful and eclectic cafe offers both great coffee and delicious, healthy food—think: slow-roasted chicken with cashew sauce, yoghurt panna cotta and fresh muffins worth writing home about.
Groundskeeper Willie
This dog-friendly café and roastery sources the best coffee from around the world and brews it right here on the Sunshine Coast. Groundskeeper Willie doesn't just do coffee, however. They also know a thing or two about brewing ice-cold specialty teas, making them the ultimate summer drinking haunt. And the best part? With every kilo of coffee they sell, they give back $1 to dog rescue organisations. Go on, do it for your furry friends.
Padre
If you consider yourself to be a bit of a coffee snob, then Padre should already be on your go-to list for serving some of the best coffee on the Sunshine Coast. This Noosa espresso bar and roaster takes coffee very seriously, and it shows in their unique blends, intricate latte art and happy customers. Worth jumping in the car and hunting down in the industrial area, this is one light-filled space you won't want to leave in a hurry.
Flying West Roasters
Hidden away in Doonan, this industrial style cafe is home to the famous beans of Flying West Roasters, which have started lining the shelves of many Sunshine Coast, Brisbane and New South Wales cafes. From humble beginnings at the Eumundi Markets, their specialty brews have been 20 years in the making, and where better to try them then their flagship space. With a small but tasty menu also on offer, this is the perfect spot for to meet for a lazy midweek brunch.
Malarkey Artisan Coffee
Concealed by a massive poinciana tree and surrounded by a yard of lush greenery, this sweet little coffee shop provides a shady escape from the hustle and bustle of everyday life. Malarkey Artisan Coffee's beautiful garden makes it the ultimate place to sit back and relax, whilst sipping on one of the best coffees on the Sunshine Coast. They also sell beautiful ceramic keep cups, plants and arguably the best double choc chip cookies in the world. Go on and try them for yourself.
Zabe Espresso Bar
Cafe by day, live music bar by night, Zabe Espresso Bar is the perfect combination of a friendly local eatery and an old-school bar. With icy fresh cold-brew coffee on tap (literally…they now serve cold brew straight from the tap), this place is perfect for those summer afternoon catch-ups. Why not stick around for happy hour in the evenings? After all, good days always start with a coffee and end with a cocktail.
Little Cove Coffee Co
This humble Noosa roastery has a pretty simple ethos; good beans, good service and good coffee. Stop by Little Cove Coffee Co for a coffee and you'll be able to feel the love and passion that goes into every cup. And what's more, they want you to be able to experience the magic of finely roasted coffee at home, so they sell all of the beans and equipment you need to brew your own liquid gold at home. Why? Because they want their coffee to be shared and enjoyed in as many places as possible.
John Kyle Espresso
This aesthetically pleasing espresso bar has fast solidified itself as pouring some of the best coffee on the Sunshine Coast, and the locals are pretty happy about it. John Kyle Espresso is known not only for creating coffee that's as pretty as its interior, but also for their delicious eats, friendly service and one of the best plates of smashed avo in Buderim. Whether you keep coming back for the top-quality coffee, the delicious cookies or the amazing Buderim view, you'll be a regular in no time.
The Birds And The Beans
The old-school coffee joint is run out of a converted garage and is every bit as cool as it sounds. Serving up piping hot coffee and ice-cold smoothies and drinks, The Birds and The Beans has it all—Insta-worthy decor, very good coffee and (importantly) delicious eats and sweet treats. If you're like us and you enjoy an almond croissant or fresh friand with your cup of joe, then this is the place for you.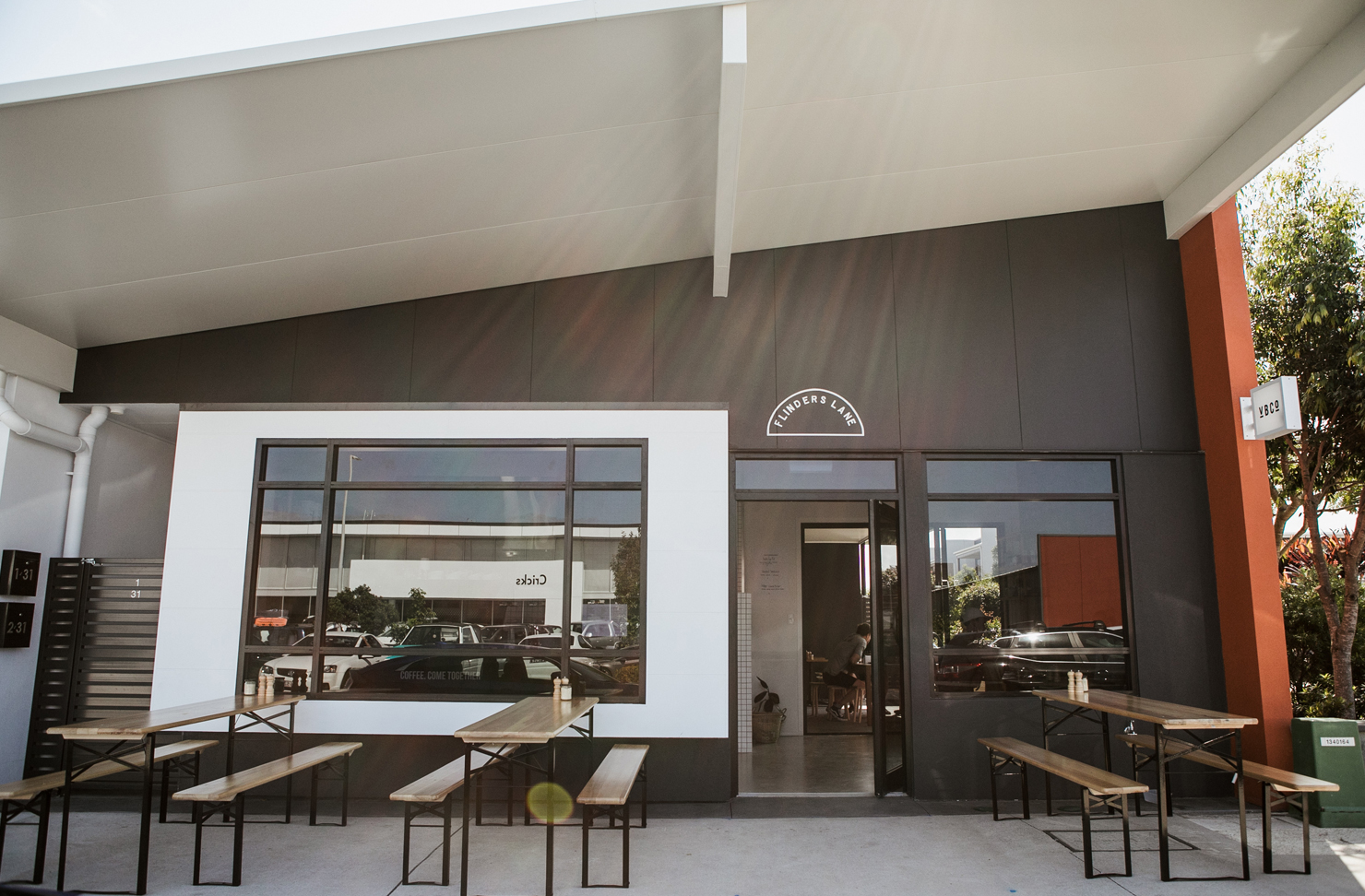 Flinders Lane
Perfect for weekend dates, late brunches and even afternoon beers, Flinders Lane is handsdown one of the best cafes on the Sunshine Coast. Not only do they churn out some truly moreish Vintage Black coffee, but they also have an impressive menu and some very fun retail shelves full of everything from coffee beans and keep cups to pickles, jam and chutney. And just when you thought it couldn't get any better, they even host yoga sessions. Is there anything this place can't do?
Now you've had the best coffee on the Sunshine Coast, what about the best breakfast on the Sunshine Coast?
Image Credit: Claire Plush, Rikki Lancaster, Ariana Gillrie, and Daniel Hine for The Urban List