We all know that the true tell-tale sign of a brilliant breakfast joint is how they can whip up a bacon and egg roll. It's a hungover Sunday must, a tradie staple, and a no-brainer when it comes to feasting on the go at your local market.
As simple as they seem, there's a lot to consider when it comes to assessing a bacon and egg roll: bread roll density, desired egg runniness, bacon crispness, the condiment combo and, of course, whether cheese has a role to play, for starters.
Check out the best bacon and egg rolls in Sydney, according to Urban List readers.
The Best Bacon And Egg Rolls In Sydney, According To You
Frank's Deli
Waverley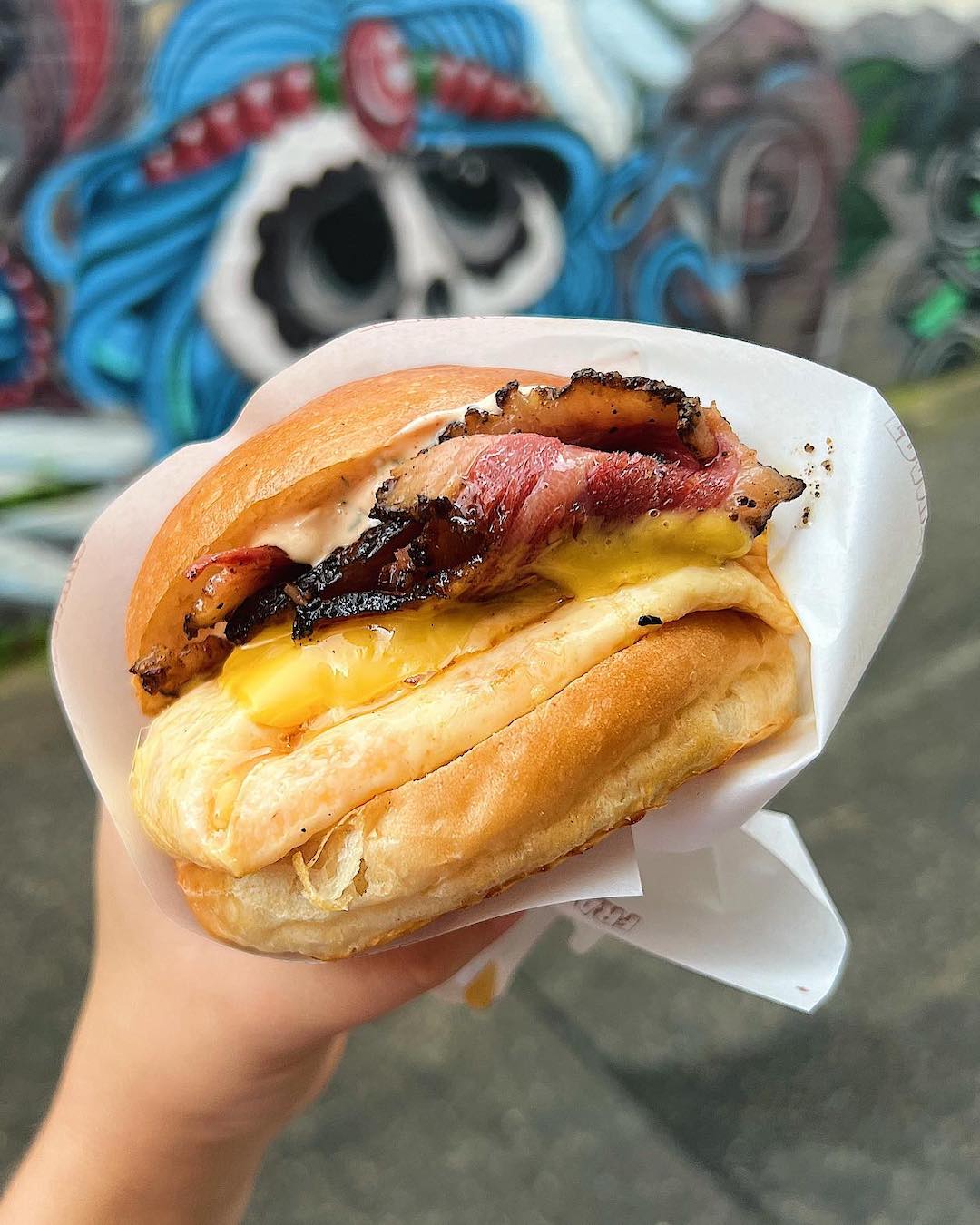 This iconic New York-style spot is all about deli classics with a Euro twist that reflects the owners' heritage, and their all-day menu that complements their loaded sandwiches very much ticks that box. Frank's Deli swaps out the usual bacon for Polish speck (mega juicy, slabbed between a milk bun with fluffy folded egg and gooey cheese. Pair it with a mega-nourishing bone broth to get through the day feeling like you have superpowers.
Bowens' At Orange Grove Markets
Lilyfield
Bowen's bacon and egg roll has gone down as one of the most legendary feeds in Sydney. You'll find them at Orange Grove Organic Food Markets in Lilyfield from 9am to 1pm every Saturday. It sticks to the real essence of what makes a bacon and egg roll bloody great and has the tell-tale sign of an iconic Sydney feed: a hefty queue (but it is absolutely worth the wait). Filled with crackling bacon and soft egg, the best part of this experience looks like a self-serve sauce station where you can go to town (free of judgement) on your ideal combo of tomato, BBQ, and Tabasco sauce.
Blackwood Pantry
Bondi And Cronulla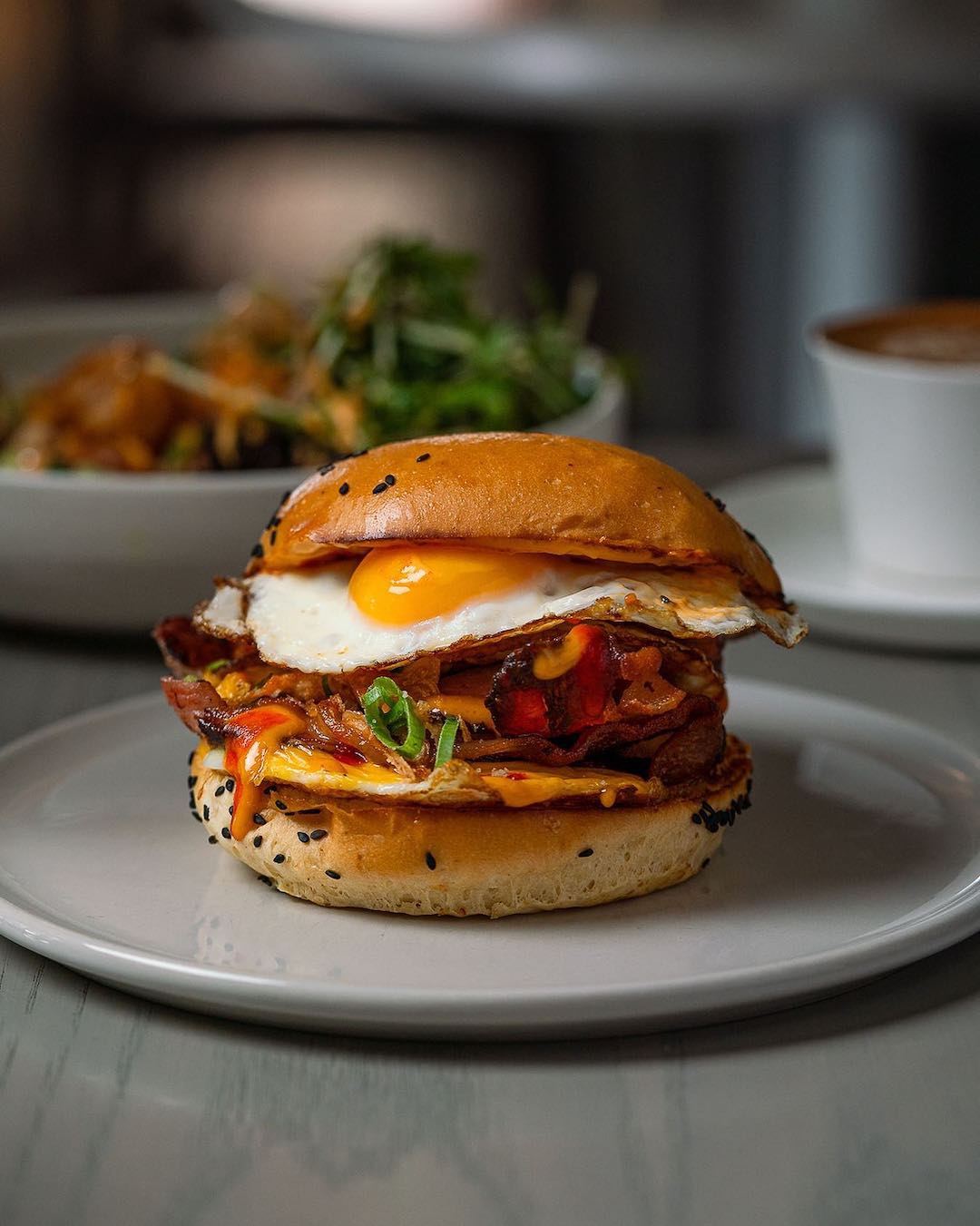 Blackwood Pantry is the type of early morning breakfast joint that just makes you feel 10 times better. Maybe it's the beach vibes, maybe it's the colourful menu or maybe, just maybe, it's the damn delicious bacon and egg roll with double-smoked bacon, a fried egg, cheddar, sriracha and lime mayo, crispy shallots on a toasted potato bun—you can even double down on the egg, bacon and cheese if you really have a hole to fill.
Saga
Enmore
Known for its rustic, seasonal pastries and epic sandwiches, the breaky sanga at Saga is guaranteed to start your day on a high note. Think bacon, a fried egg, hash browns, house-made BBQ sauce and pimento cheese on their pillow-soft white bread. Chuck a salted honey tart on your order for the ultimate breaky indulgence.
The North Spoon
North Sydney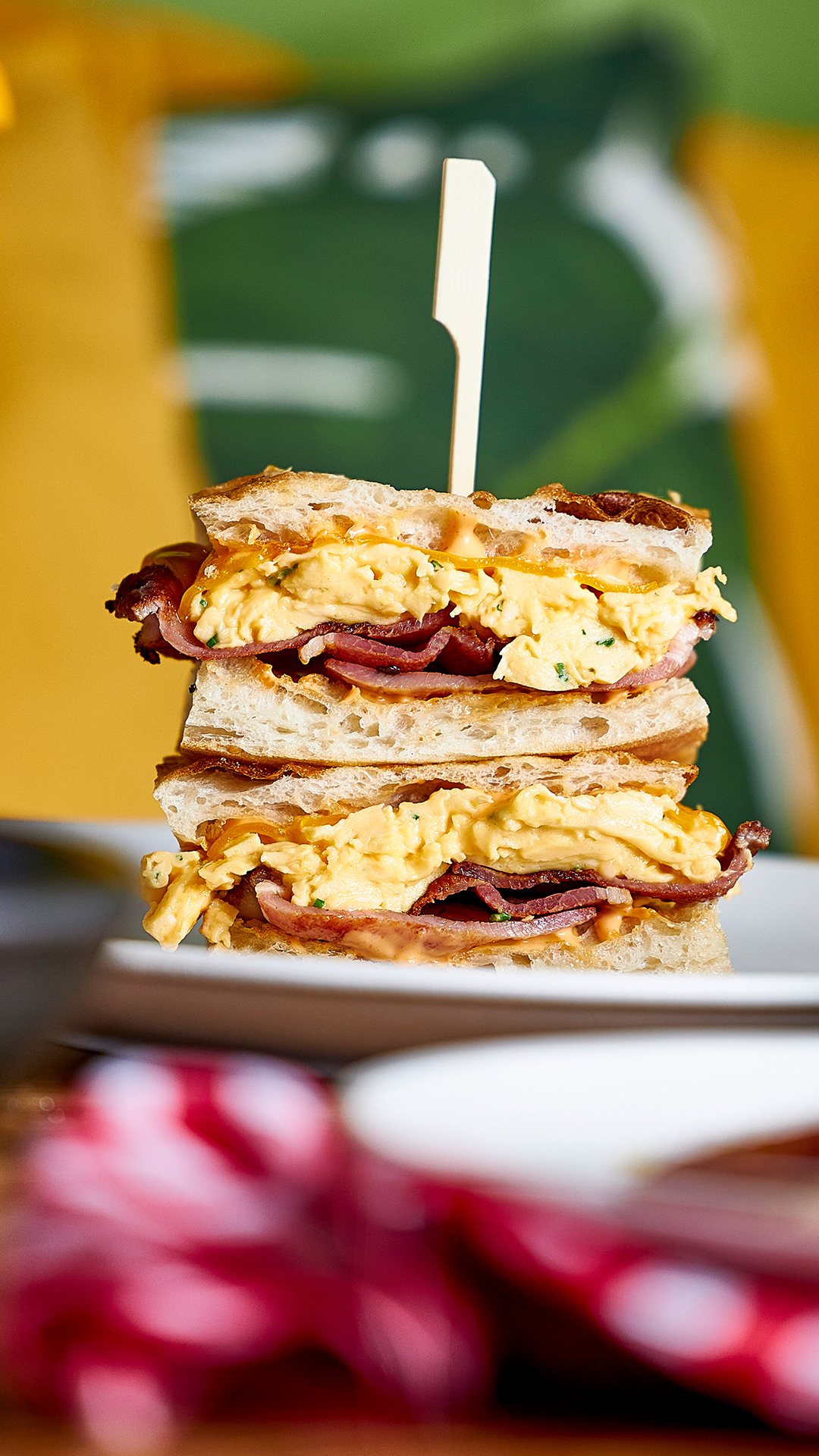 This charming garden-inspired eatery is big on plating up fresh breakfast and lunch feeds, with one clear menu standout that has quietly earned itself a rep for being one of Sydney's greatest bacon and egg rolls. The North Spoon's take is a hot concoction of fluffy scrambled eggs, crispy bacon, zingy sriracha mayo, and stringy cheddar cheese, all sandwiched between two soft slices of Turkish bread. Want to try and whip it up at home? We've got the recipe here.
Pina
Potts Point
This pumping breakfast spot down a charming laneway can do no wrong, and their bacon and egg roll is no exception. Pina's additions of harissa adds a bit of punch, while the perfectly silky eggs and crispy bacon tick all the usual boxes. You can even add kale if you're feeling in need of some *balance*.
Stoneground Bakery
Hunters Hill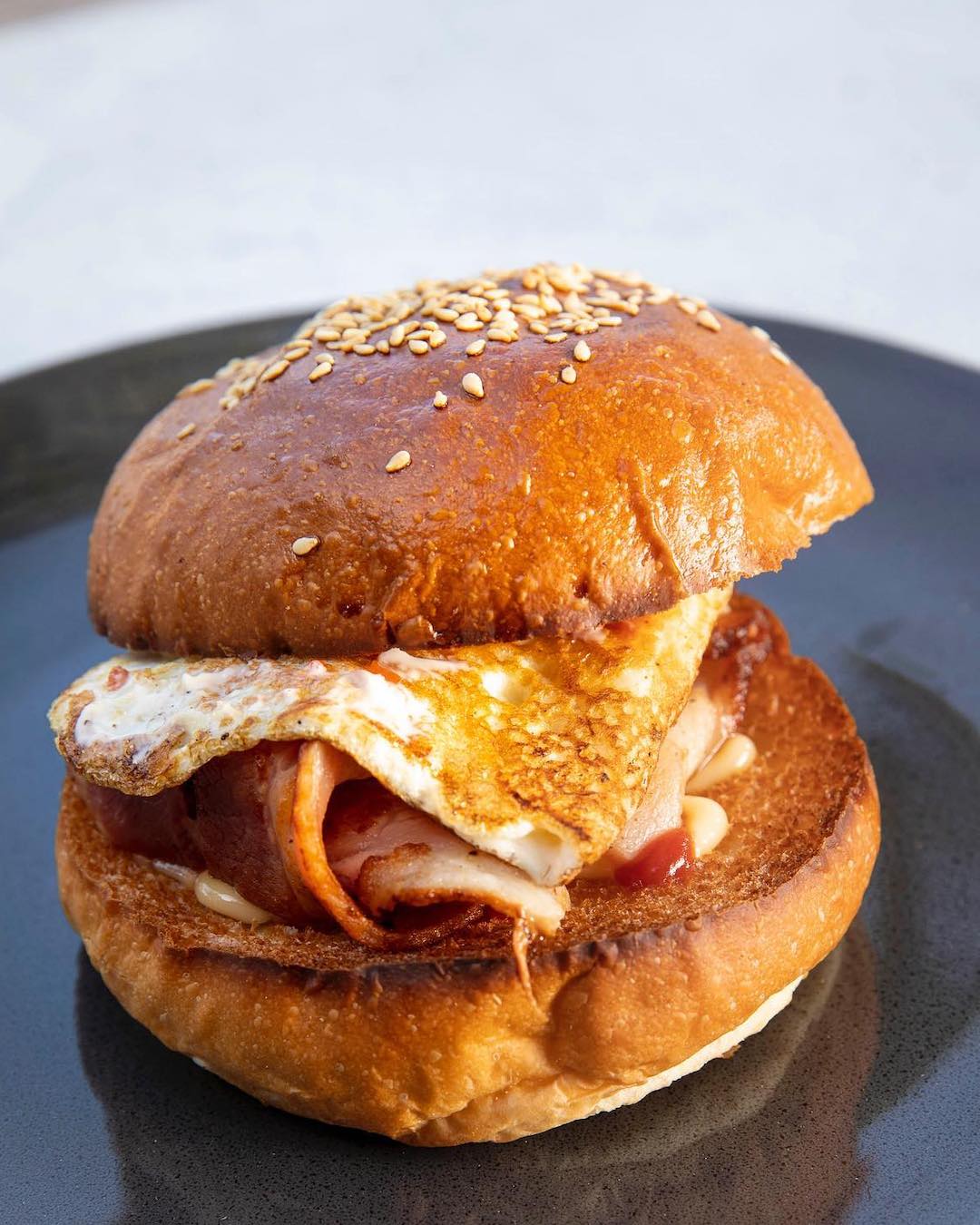 We love Stoneground Bakery for a number of reasons, including their Greek biscuits (paximathia and koulourakia), and the fact they've honed in on what makes a bacon and egg roll magnificent in its simplest form: think a Stoneground brioche bun with rasher bacon, egg, and either creamy aioli, BBQ sauce, or tomato relish, coming in under a tenner. Feeling bougie? They also do a benny burger with bacon, a poached egg, spinach and hollandaise.
Single O
Surry Hills
This beloved roastery-turned-cafe churns out super satisfying breakfasts, including a mean take on the go-to bacon and egg roll. Single O's is on a milk bun, nestling a fried egg, bacon, coffee-infused "red eye" mayo and apple ketchup for a unique take on the classic we all know and love.
More Of The Best Bacon And Egg Rolls In Sydney
Paramount Coffee Project
Surry Hills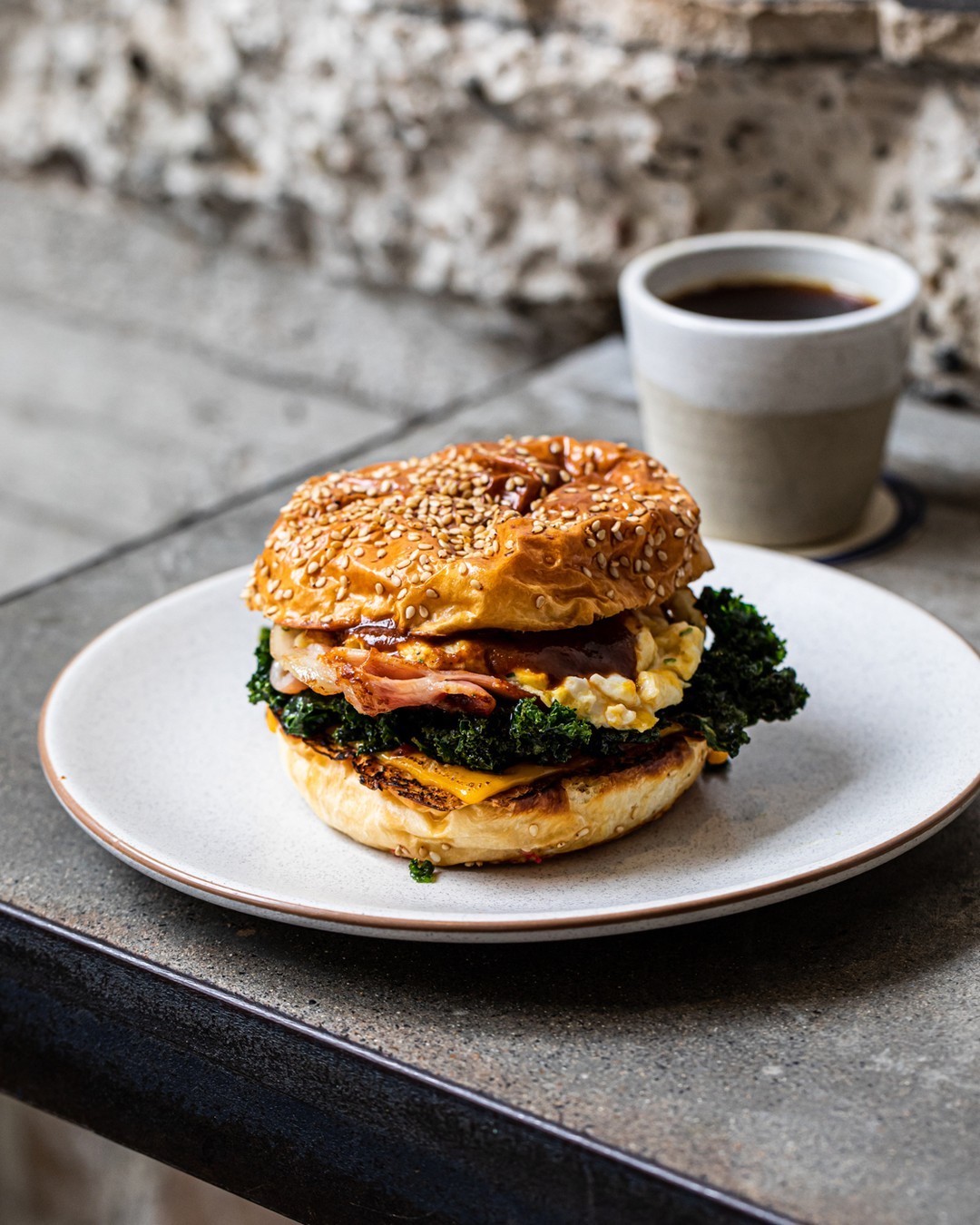 Paramount Coffee House can make toast look like artwork, so it should come as no surprise that the bacon and egg roll here is a winner too. Having been the joint brainchild of the team that brought you Reuben Hills Cafe and Melbourne's Seven Seeds, PCP is a no-brainer on the Sydney breakfast scene. Labelled as the "BKE Roll" this guy is loaded with BBQ sauce, garlic scrambled eggs, kale, and bacon. You can add avocado to this bad boy too to make it the pinnacle hangover feed.
Archie Bear
Mosman
The beloved Mosman Rowers Club is Sydney's oldest sports club, slating up one hell of a food menu worthy of your weekend in the restaurant, and coffees and simple but satisfying breakfasts in their cafe, Archie Bear. Scope out the bacon and egg roll, which includes Kewpie mayo and hot BBQ sauce on a milk bun. Want something to wash it all down? You can't go past the homemade lemon iced tea.
Karoo & Co
Wahroonga
While they're known for whipping up one of Sydney's best lemon meringue tarts, the crew at Karoo & Co has a serious bacon and egg contender on their hands. You can nab this bacon and egg roll any time of day (thank you, all-day menu) and it comes dressed with aioli, rocket, BBQ, or tomato sauce (or relish if you're a sucker for the gourmet life). Add a hash brown to give this glorious stack a crunchy and salty kick.
7th Heaven Cafe
Sutherland And Kirrawee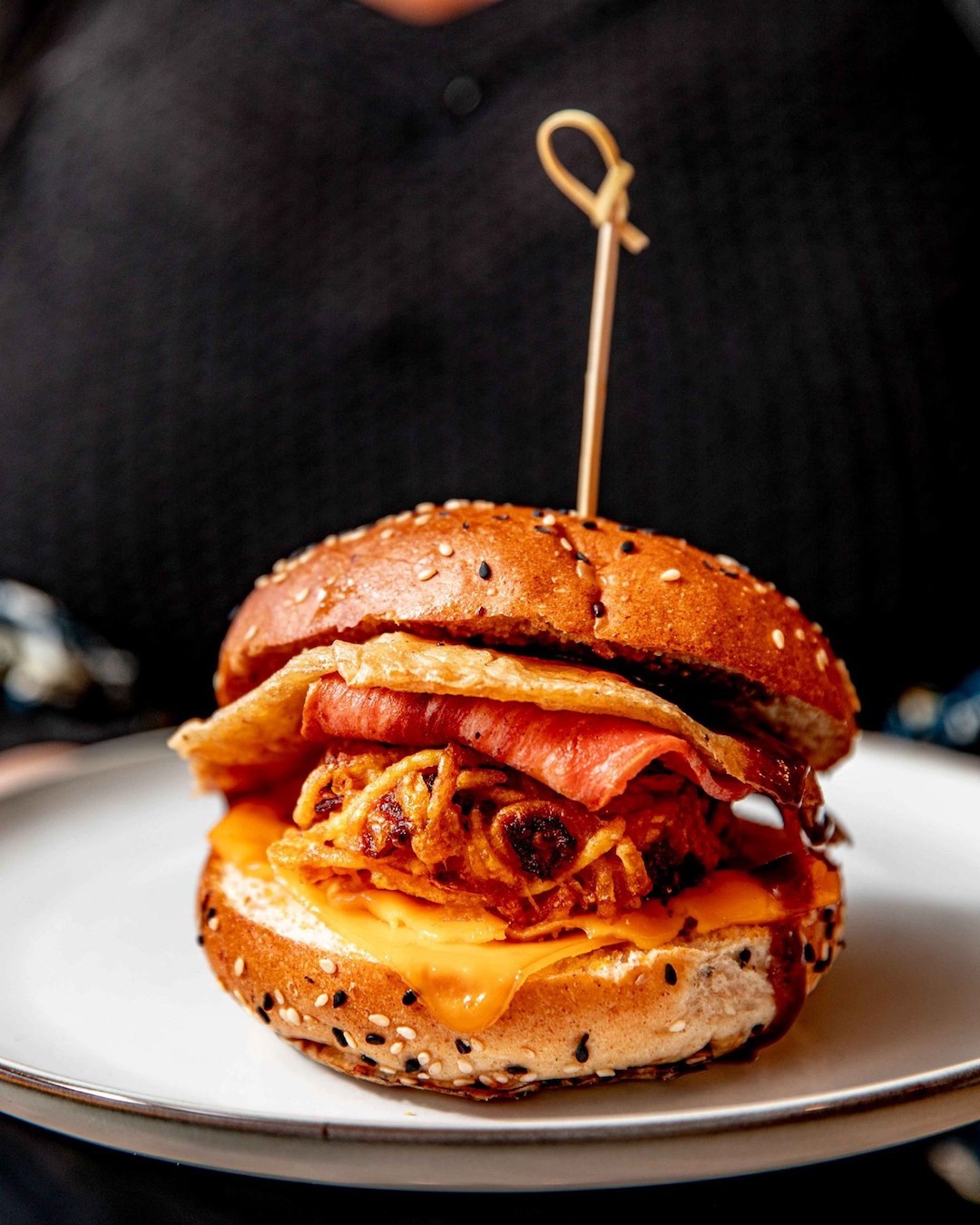 Switched to plant-based but need your go-to hangover fix? 7th Heaven does a vegan roll with plant-based bacon, a fried egg, cheese, housemade hash browns and BBQ sauce (you can also add Beyond Meat beef and caramelised onion too). Prefer it the usual way? You can go for a roll with the real stuff on there too.
White Rabbit
Various Locations
White Rabbit's bacon and egg roll is king on the breakfast scene, all down to the fact that this behemoth will put you in a food coma for the entire morning (which we love). Made with smoked bacon, fried eggs, chipotle BBQ sauce, hash browns, rocket and cheese on a soft potato bun, you had best order this one up with a cup of OJ to wash it down properly.
Quick Brown Fox
Pyrmont
The menu at Quick Brown Fox features fanciful things like banoffee pie waffles and buttermilk pancakes, but if it's a savoury breakfast you're after— the bacon and egg roll here does not disappoint. Made with two fried eggs, bacon, and punchy bois boudran sauce on a ciabatta, it's a perfectly balanced breakfast sambo.
Still hungry? Here's your definitive list of Sydney's best food trucks.
Image credit: Mosman Rowers, Frank's Deli, Blackwood, The North Spoon, Stoneground, Paramount Coffee Project, 7th Heaven