Much like cheese is the glue that holds life together, a stellar bacon and egg roll is the fuel to a very good day.
For those who live on Sydney's north side, the leafy cafe and restaurant known as The North Spoon is no new discovery. Having opened back in 2017, this charming garden-inspired eatery is big on plating up fresh breakfast and lunch feeds every day of the week. When you're here for lunch, you can't really go past The North Spoon's spicy salmon poke bowl, or the mortadella sando packed with lettuce, Westmont pickles, provolone, mustard, and mayo.
But, at breakfast time, there's one clear menu standout that has quietly earned itself a rep for being one of our city's greatest bacon and egg rolls. This handheld brekky fix is a hot concoction of fluffy scrambled eggs, crispy bacon, zingy sriracha mayo, and stringy cheddar cheese, all sandwiched between two soft slices of Turkish bread.
And lucky for you, we've gone and tracked down the recipe for this famous on-the-go feed. Here's how to recreate The North Spoon's famed bacon and egg roll at home.
Ingredients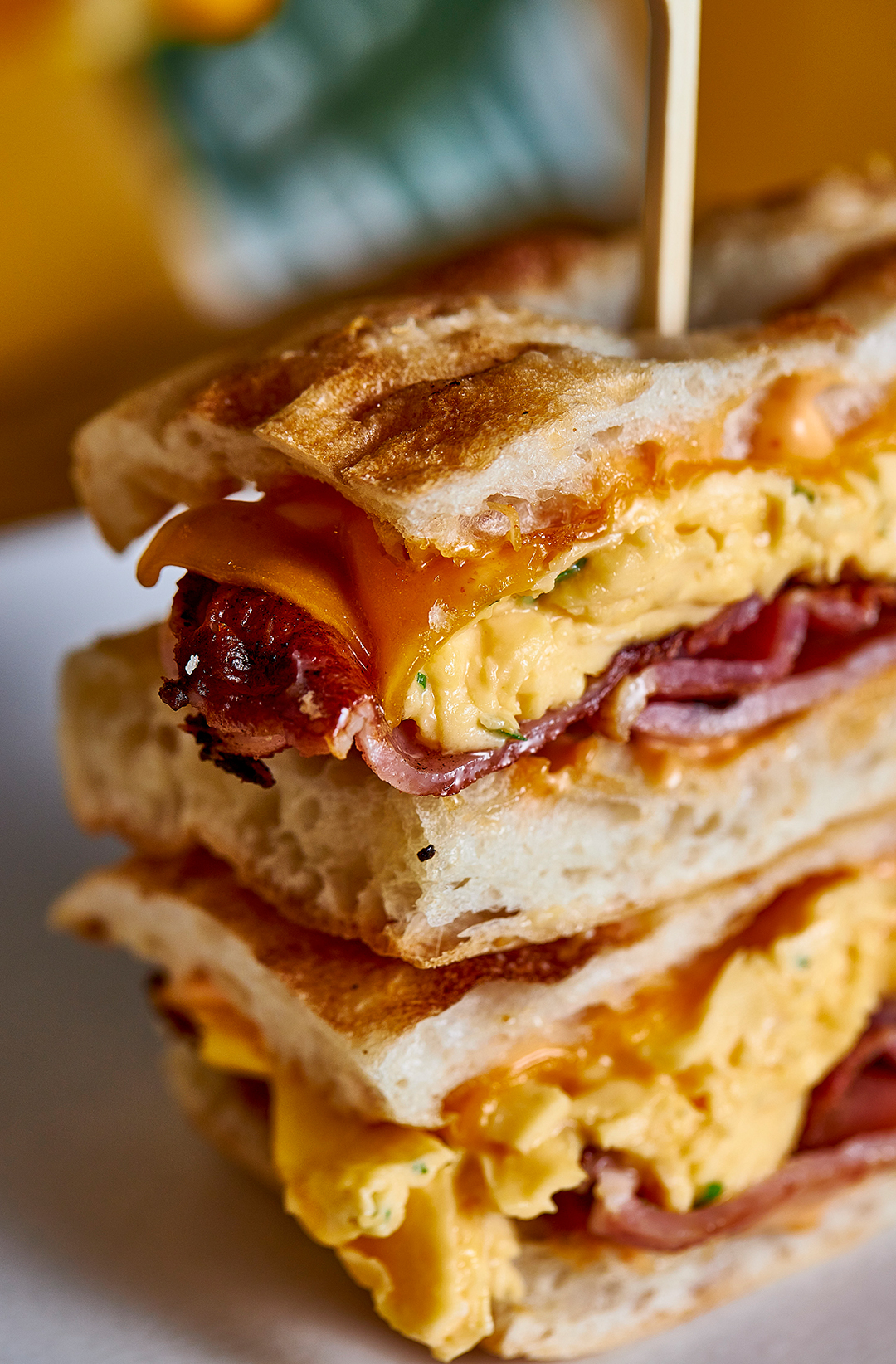 2 free-range eggs
20ml fresh cream
1 tbsp butter
Chives, freshly chopped
1 Turkish bread roll
75g smokey bacon
1 slice of cheddar cheese
30g sriracha mayonnaise
Sea salt
White pepper
Method
Step 1
Combine eggs and cream in a bowl and whisk gently.
Step 2
Cook bacon on medium heat until crispy on the edges.
Step 3
Toast Turkish bread under a grill and melt cheddar cheese on one half.
Step 4
Place toasted halves of Turkish roll on a board and smear both sides with sriracha mayonnaise.
Step 5
When bacon is cooked and the roll is toasted, start to cook the eggs by adding butter to a pan.
Step 6
Once butter is melted, add eggs mixture with some salt and pepper (to taste) and cook until softly scrambled (but don't overcook or the bacon and egg roll will be dry).
Step 7
To assemble, place bacon on the bottom half of roll and top with scrambled egg. Enjoy!

For dessert, you need should be making Bake Bar's iconic pear and almond cake.

Image credit: The North Spoon