Between the lockouts and the lockdowns and a literal rule for no dancing during our COVID era, dancing feels like a hard-won pastime in Sydney—which makes a great night on the dance floor all the sweeter. Thanks to some groovy planning around the city's nighttime economy and a lot of energy and resilience from our nighttime industries, Sydney's Footloose days are really behind us.
Forgotten how to bust a move? Don't stress—there's really no right or wrong when it comes to flying your freak flag on the DF, and honestly, a good dance is pretty much precisely what we all need from time to time, especially after a long week. So pull out those dusty dancing shoes, channel your inner Britney, and head to these Sydney spots for the time of your life.
Here are the best nightclubs and dance floors in Sydney right now.
Arq
Darlinghurst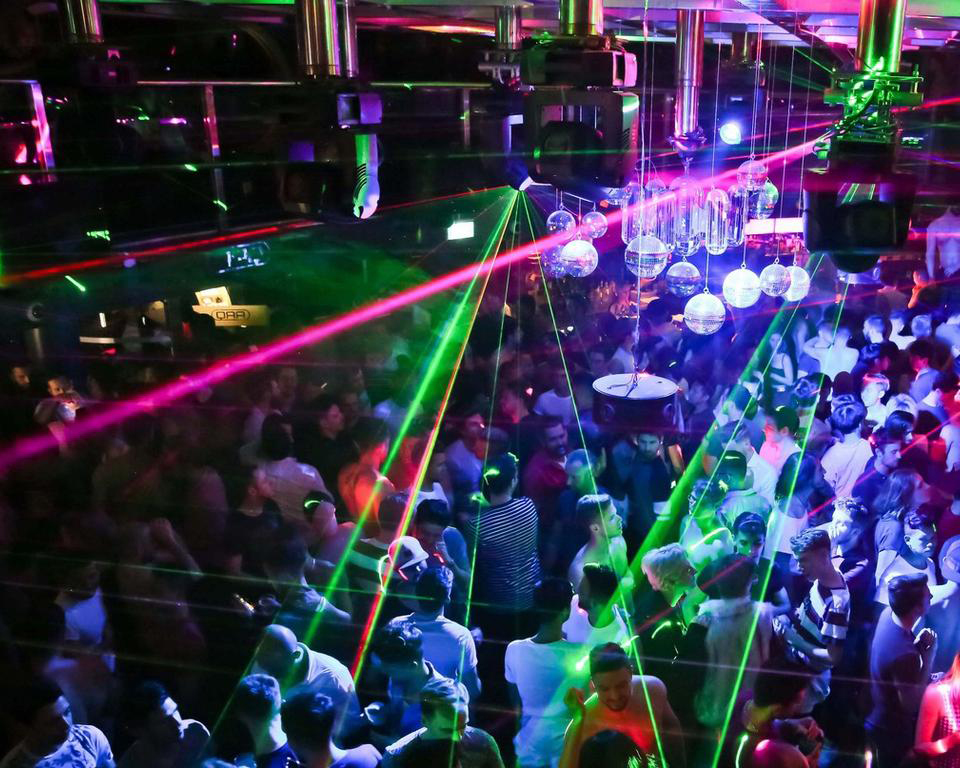 Arq is Australia's biggest, longest-running purpose-built queer venue. First opened back in 1999, the club has played host to the likes of Lady Gaga while making room for some of the country's best homegrown talent. Behind its iconic revolving doors and beneath its cluster of disco balls and laser beams, this is one of those special venues that means a lot to Sydney. Unfortunately, the iconic night spot succumbed to the pressures of lockdown, shut its doors, and went up for sale in 2020—a totally devastating blow to Sydney's nightlife.
Now though, she's back—complete with a multi-million dollar reno—and just in time for WorldPride too. "The iconic legacy of ARQ lies within our team's passion for the entertainment industry and the overwhelming support from the community, which we are endlessly thankful for," said Arq's owner, Shadd Danesi. "We believe we are finally in a position to revitalise Australian entertainment, starting with ARQ, reclaiming its position as the jewel in Oxford Street's crown."
Noir
Darlinghurst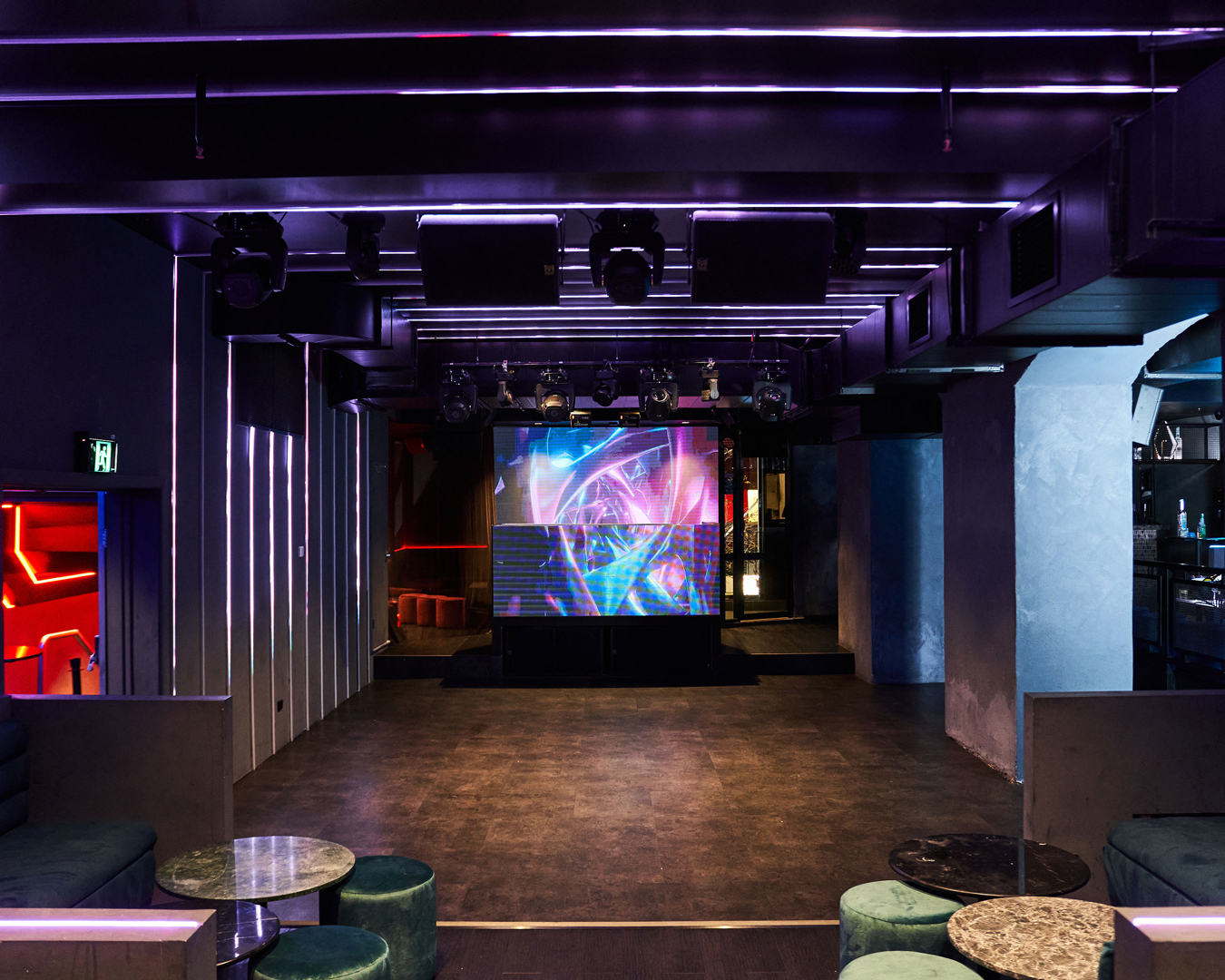 Remember when Oxford Street, like Kings Cross, used to be one of Sydney's most vibing nighttime destinations? Noir is the latest venue on a mission to reignite the age-old Oxford Street flame. With the team behind Seadeck behind it—the club has had a $1M refurb and has already played host to The Gorillaz (just casually). Fitted with three separate bars, a top-line Martin audio system, blue neon lighting, a 3D mural by visual artist Dallas Clark, plush peacock blue velvet VIP bottle service booths, and even its own custom scent—Noir has been dreamt up as a sensory experience that's part high octane nightclub, part ritzy jazz bar. To drink, choose from six signature cocktails, four signature shots, and all the classics you know and love. Throw in a 3am license all weekend long, and it might as well be Friday night back in 2007.
Kings Cross Pavilion
Potts Point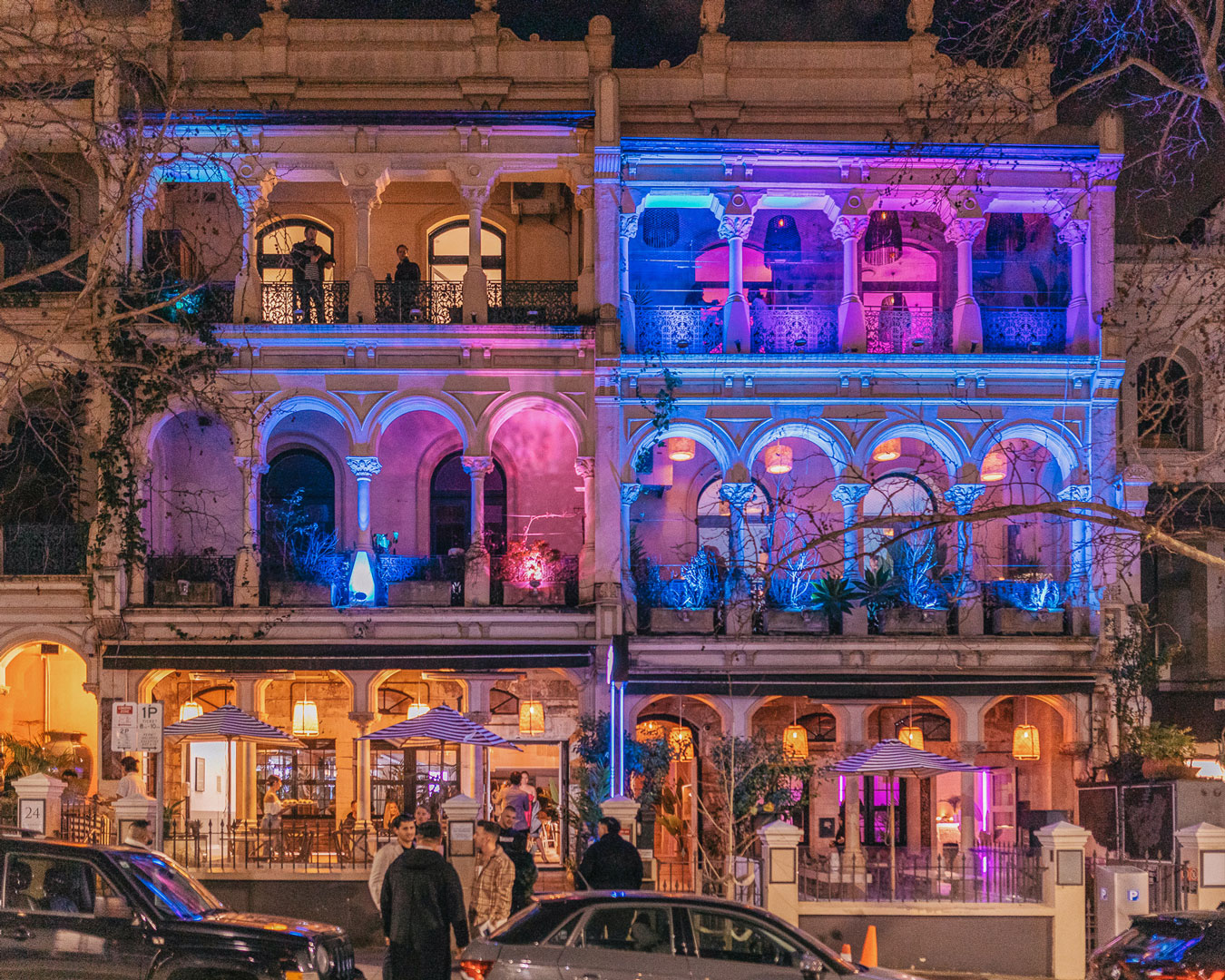 Mid-2000s club rats, dust off your Jeffrey Campbells, apply the heavy eyeliner, and don your tightest bodycon dress because World Bar is back (sort of)! From the cocktails served in teapots to the smoky Dubstep room at the back, this spot was the epitome of Kings Cross in its heyday (one of them, anyway). So, yes, we're bloody excited about its reopening, even if under a new moniker. We give you: Kings Cross Pavilion.
Although the World Bar name has been ditched (as well as the old sound system), the club's sticky-floor essence will live on in its new iteration. DJs will take over three distinct rooms, vodka Red Bulls will be flowing, and Sunday sessions will kick on till 3.30am, making fine use of the newly tuned sound system and dazzling DMX lighting program. And, most importantly, the teapots are back. Glorious.
Run by the same group behind Double Bay's Sinaloa, Meu Jardim in the CBD, and neighbouring venues Eros and Maali in Potts Point, Kings Cross Pavilion is here to revitalise nightlife on Bayswater Road. But the nightclub will only take up part of the venue. Don't worry, though, it's taking up a sufficient amount of space at the back of the building, spread across two levels. The rest of the mamoth venue, including the airy front courtyard, will be dressed up as a "modern pub", serving greasy feeds such as cheeseburgers, fried chicken, onion rings, and mozzarella sticks. The perfect fuel before a night cutting shapes on the dance floor, if you ask us.
Club 77
Darlinghurst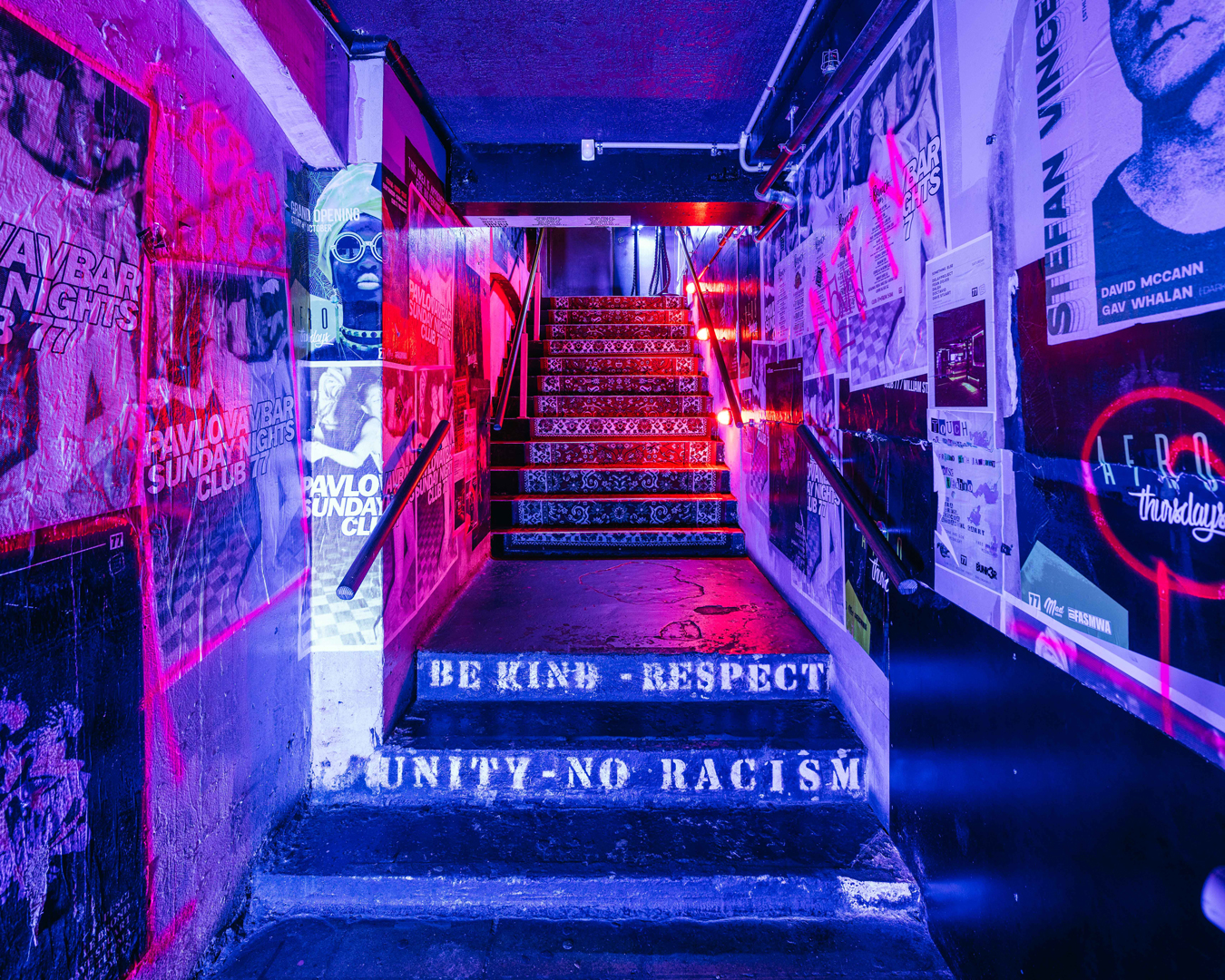 There's something about Club 77. This dark, grungy bar has evolved over the years, but its cherry red walls and sticky floor were once upon a time the beating heart of Sydney's alternative electronic and house music scene, with legends like AJAX, the Bang Gang and Starfuckers DJs ruling the decks and the dance floor. The club celebrated its 25th anniversary in 2022, relaunching with a little makeover inspired by NYC-style dive bars. The relaunch included a fresh acoustic treatment and a pumping KV2 Audio system specially tuned by Translate Sound (7RANSLA7E). It also scored a 4am license seven days a week—huge news for Sydney's often lacklustre mid-week options after 9pm. There's even a late-night happy hour, from 2.30am - 3.30am. The best part? the dance floor heaves just like the good old days.
LABEL.
Brookvale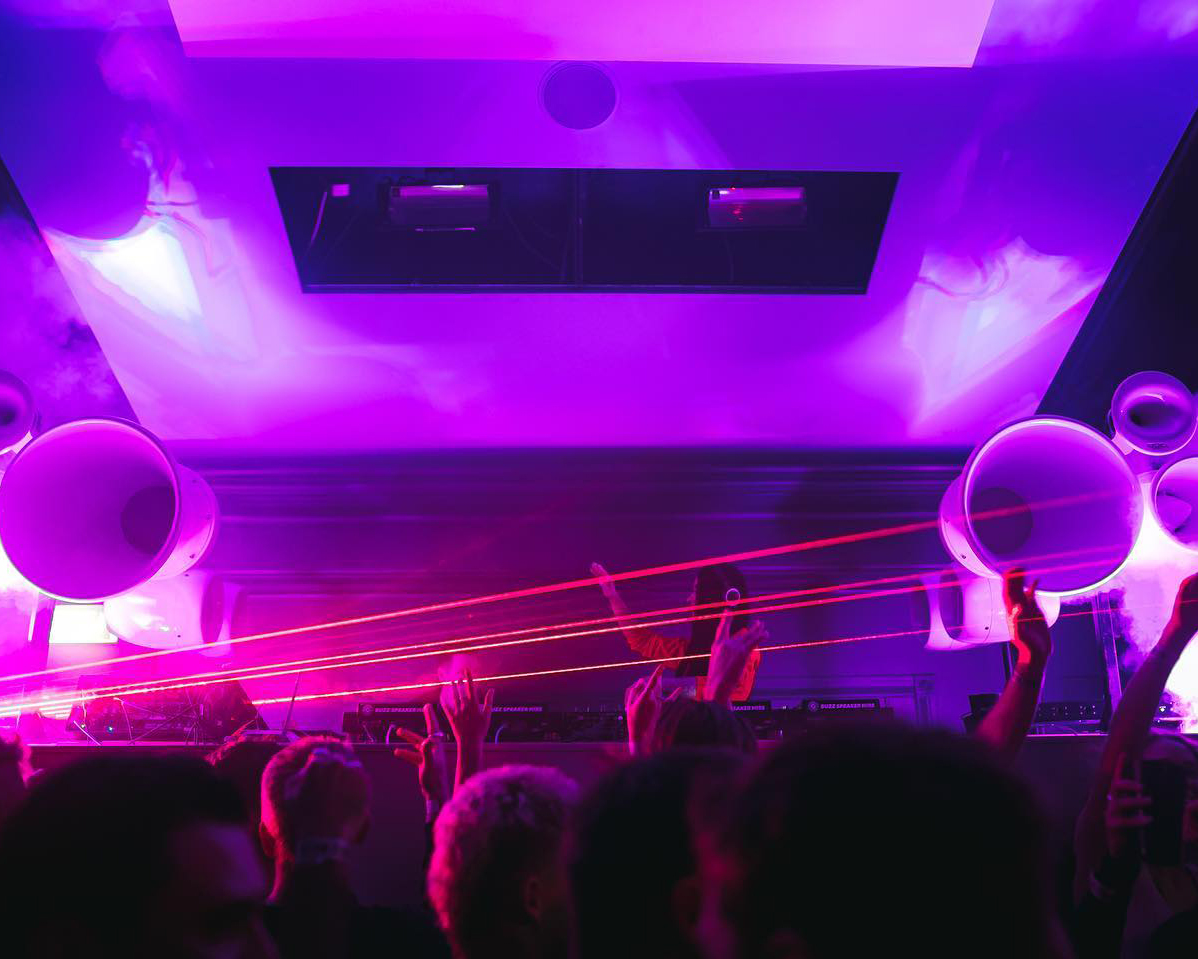 LABEL. is a multi-purpose warehouse-style spot that's part club, part bar, and part art space, with an in-house recording studio, and an outrageous festival-like sound system unseen anywhere else in Sydney. Inside, there's a sunlit Miami Vice-style cocktail bar pouring seriously good mandarin Tommy's margaritas and rhubarb gin sours alongside craft beers from the club's neighbouring Northern Beaches breweries.
Beyond the two recording studios—set up for touring artists to record and collaborate—the space gives way to a jaw-dropping marquee-like dancefloor. Drenched in lasers and bordered with moveable booths, ruling over the space is a state-of-the-art VOID Air Motion system. Pizza from downstairs is available from open til close (that's 3am), ensuring no one goes hungry on the dancefloor.
Ivy
CBD
A list of Sydney's top dance spots wouldn't be complete without the behemoth that is Ivy. The Ivy precinct brings together the best Sydney has to offer under one roof (and umbrellas, in the case of the rooftop Ivy pool club). It also happens to throw many, many good dance parties, including popular events such as POOF DOOF and Lost Sundays. It's known for a party, so what are you waiting for?
Maali
Potts Point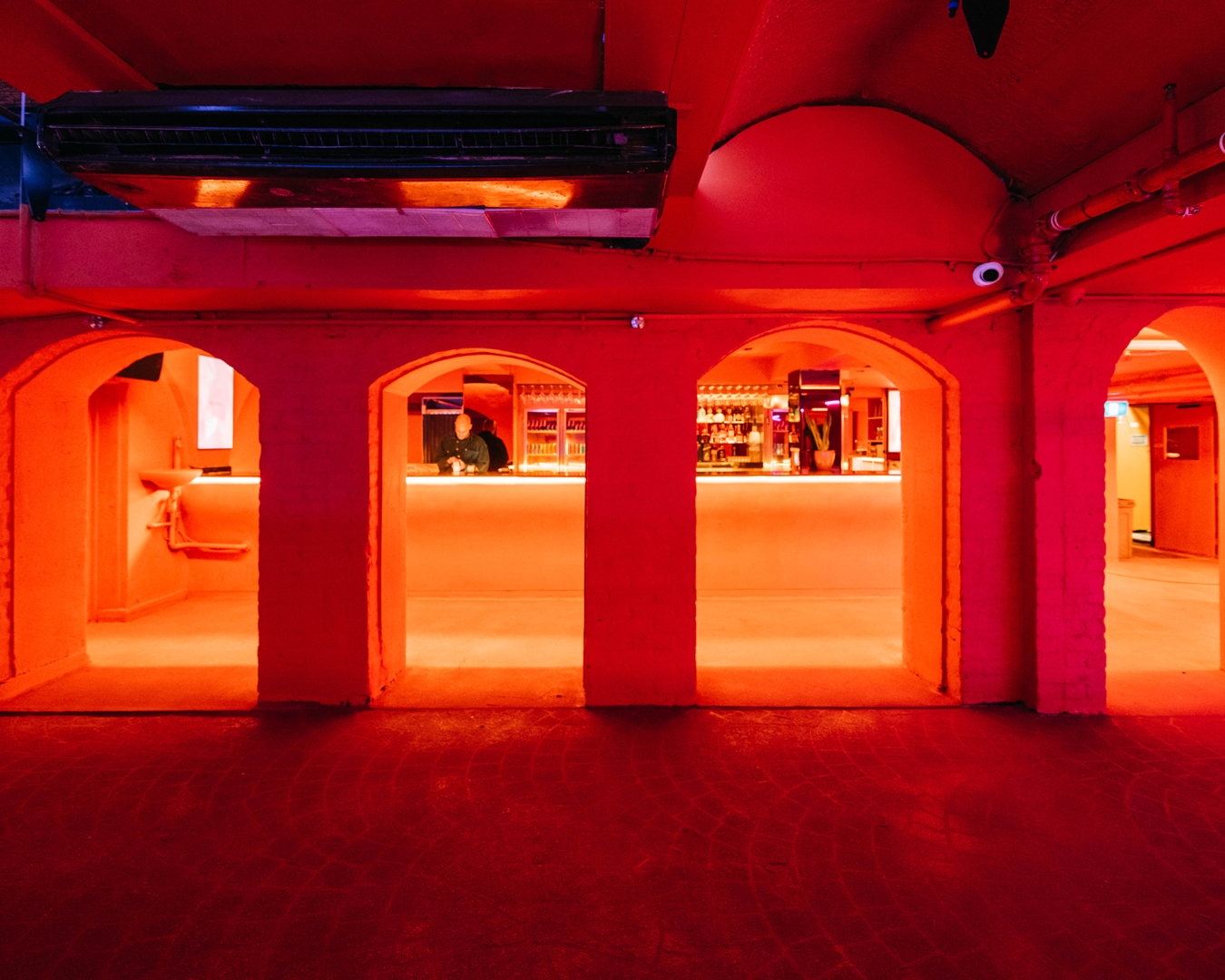 The cavernous basement on Bayswater Road that once was Candy's Apartment is now Maali—a Moroccon-inspired nightclub, led by the same crew that also opened Eros across the street. The venue's brick walls and archways have been painted soda orange, and new sunken lounges, a VIP room, and private curtained-off areas line the walls. Maali's inspiration is "Arabian Nights", and belly dancers, snake charmers, and tarot readers join resident and special guest DJs on the entertainment lineup. The dancefloor has also been jazzed up with a new state-of-the-art light and sound system.
Universal
Darlinghurst
This two-level bar is where you want to head to catch drag performances and DJ sets. Thanks to its prime position on Oxford Street, just down from Taylor Square, it's usually pumping come the weekend, with tunes ranging from disco to techno. It's also got a heap of Mardi Gras celebrations lined up, so put on your platforms and get ready to dance the night away.
Taylor's Rooftop
CBD
If it's a rooftop you're hoping to dance upon this summer—make your way up the stairs to the fourth floor of the Republic Hotel. With a vertical garden and a retractable roof, Taylor's is a little city oasis, complete with views of the sparkly city skyline. House music is the vibe here, with local and international DJs hitting the decks on weekends.
Glass Island
Sydney Harbour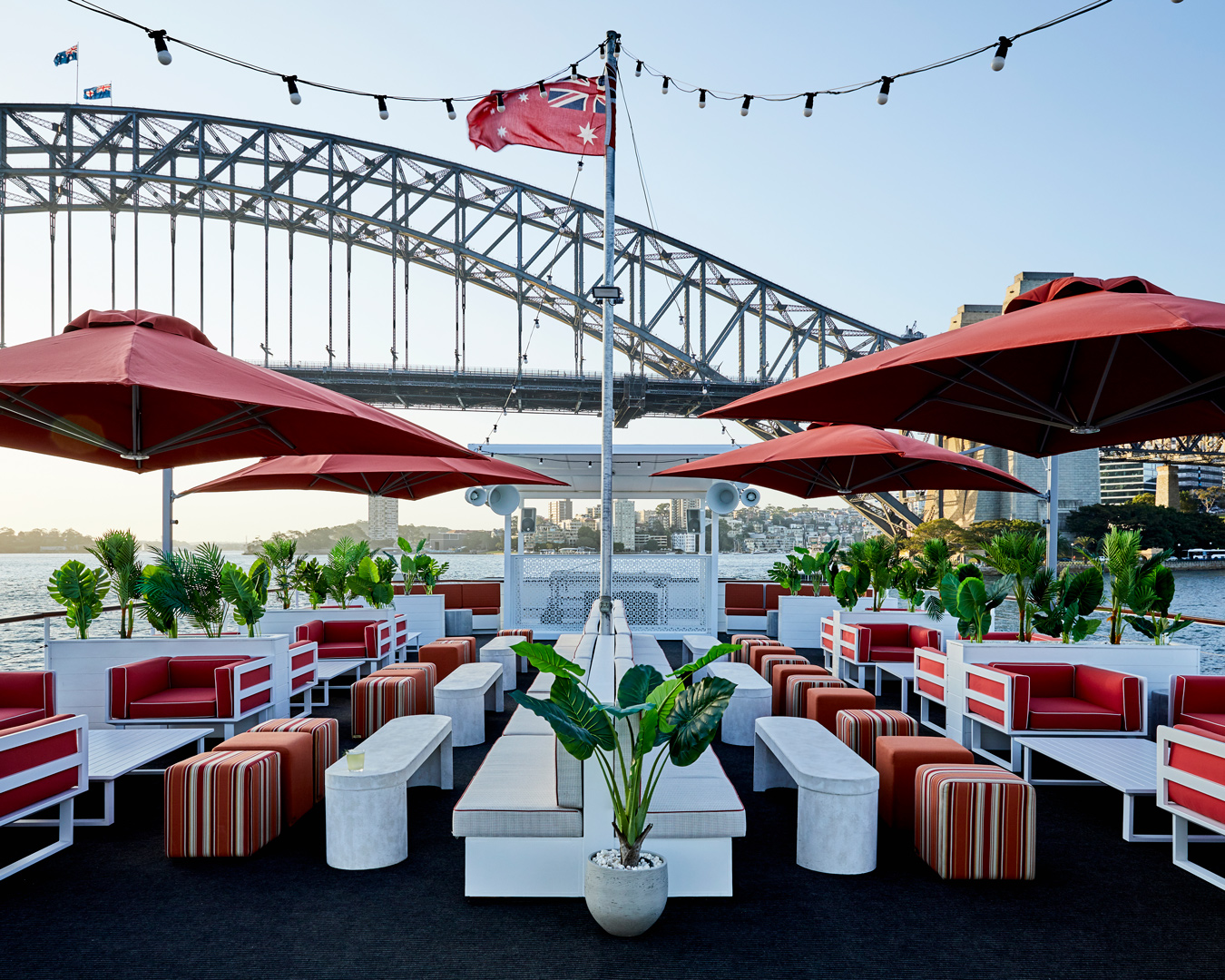 Sydney's no stranger to floating parties. Being home to one of the prettiest harbours in the world has meant party boats aplenty are regularly dotted across our sparkly waters. In fact, summer in Sydney isn't really complete without some kind of sunset at sea, featuring champagne, sweet tunes, and breathtaking views. Enter: Glass Island. Since launching, Glass Island has played host to Nicky Night Time, Sneaky Sound System's Sneaky Sundays, Poolclvb, and The One Hit Agency crew. It's a good time—so book your tickets here.
Glass Island's current Season ends on Sunday 12 June and will reopen on the first weekend in September.
The Lansdowne
Chippendale
When the Mary's boys took over The Lansdowne, they promised to keep the iconic pub's live music roots intact. Over the years, they did more than that—making upstairs at The Lansdowne one of Sydney's most vibing spots to see a gig. Sadly, though, Jake Smyth and Kenny Graham's reign over the multi-storey pub has come to an end. For a moment, it looked like the venue would be lost to developers, but Oxford Art Factory (OAF) boss Mark Gerber stepped in to save the show. Renovations (including an improved sound system) and a new food and drink concept are both underway under the OAF team, but for now, the pub remains open.
The Imperial
Erskineville
If your idea of a good night out dancing involves a basement club vibe—look no further than The Imperial in Erskineville. This LGBTQIA+ proud mega-pub is a spot to watch a dazzling drag show, do a vegan degustation, and yes, hit the damn dance floor like no one's business. The basement is basically an underground rave and the front bar is all cruisy disco beats.
Goros
Surry Hills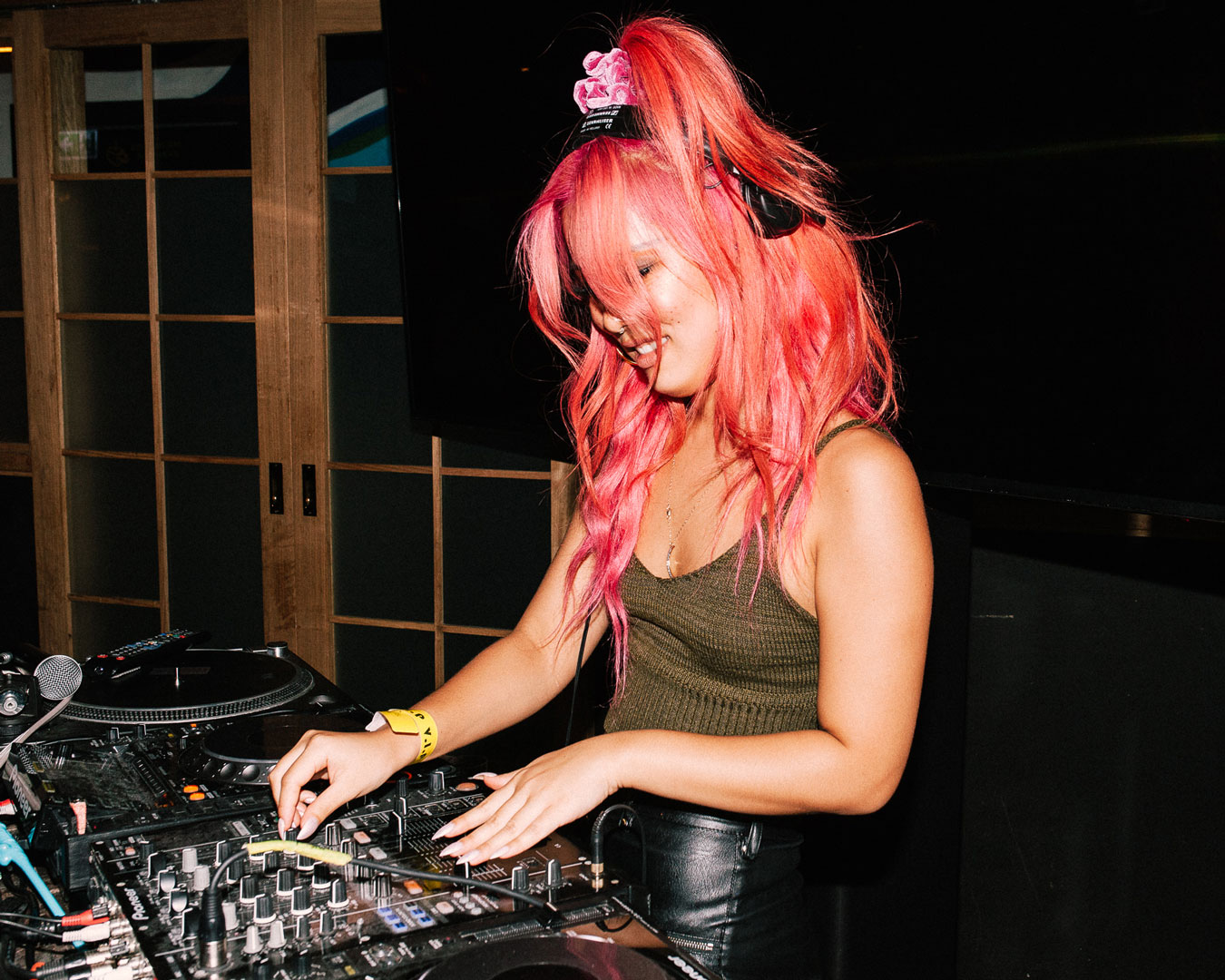 You might know Goros for its 20-person karaoke rooms, Japanese fare, and retro arcade games, but this Surry Hills spot also packs out its dance floor with hip-hop beats and max vibes on weekends. Kick your night of 90s-era dancing into gear with Goros' sake shots, and you're sure to have a good one.
Hotel Harry
Surry Hills
This corner pub in Surry Hills is open for lunch, dinner, and drinks seven days a week. Come the weekend, though, Harry's upper level turns up the volume with DJs and dancing till the wee hours of the morning. You can check out who's set to play via its website—or roll the dice and rock up for a night of cutting shapes on the DF.
Marrickville Bowling Club
Marrickville
From afternoons on the green to nights spent catching a live gig, Marrickville Bowlo is one helluva place to spend some time. You can kick back in the sun and play a spot of lawn bowls, get a good feed, and dance the night away all in one day here. For its line-up of live music, head to the website—then get ready to move to the tunes.
The Soda Factory
Surry Hills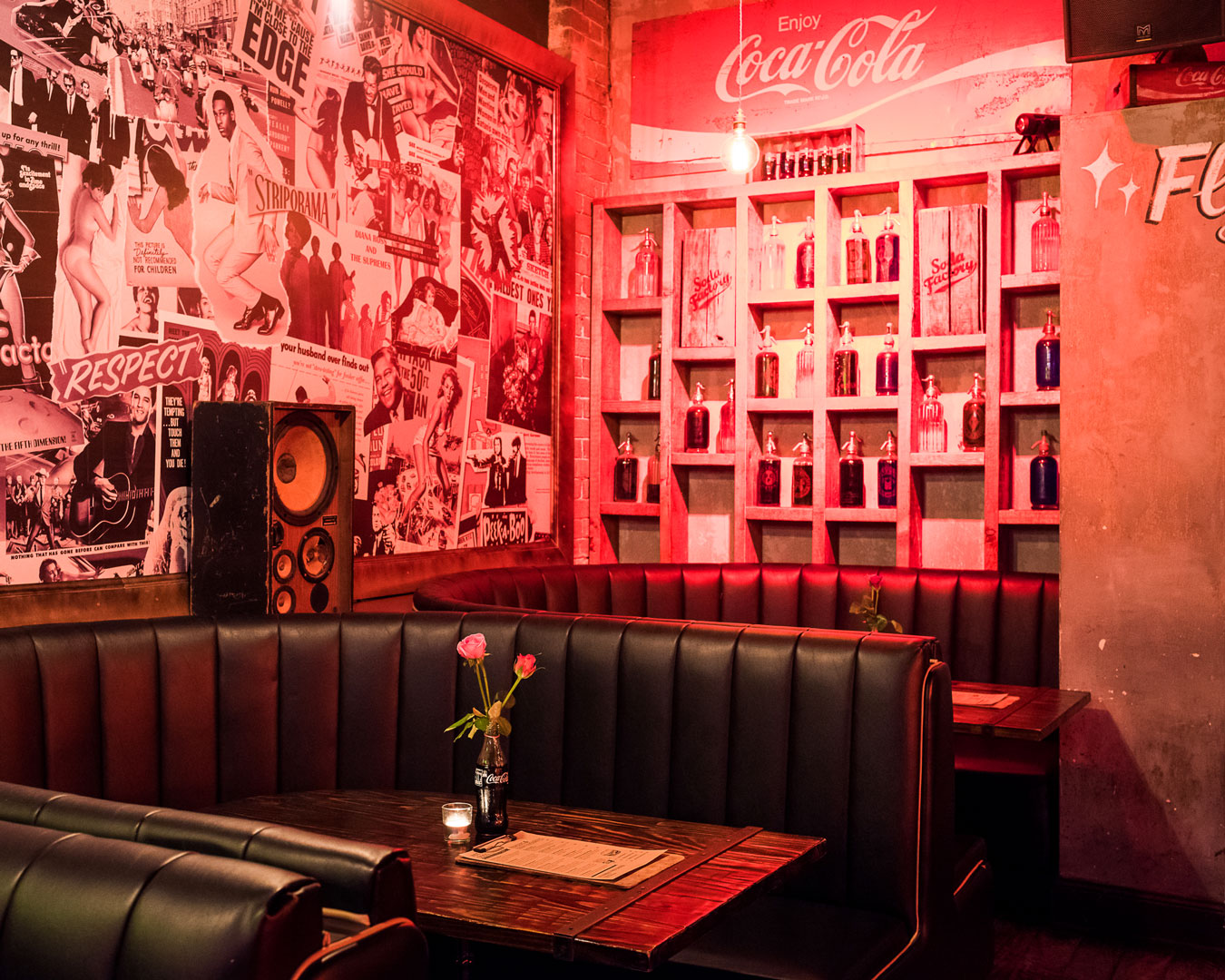 Sydney bar The Soda Factory is always a good idea. The door is a literal retro vending machine and everyone inside is in such a good mood the low-key "let's just get merry" atmosphere means your toes will be tapping to the local live acts and DJs. The queue is for a reason so get in quick or be stuck outside in the heat.
Pamela's At Prince Of York
CBD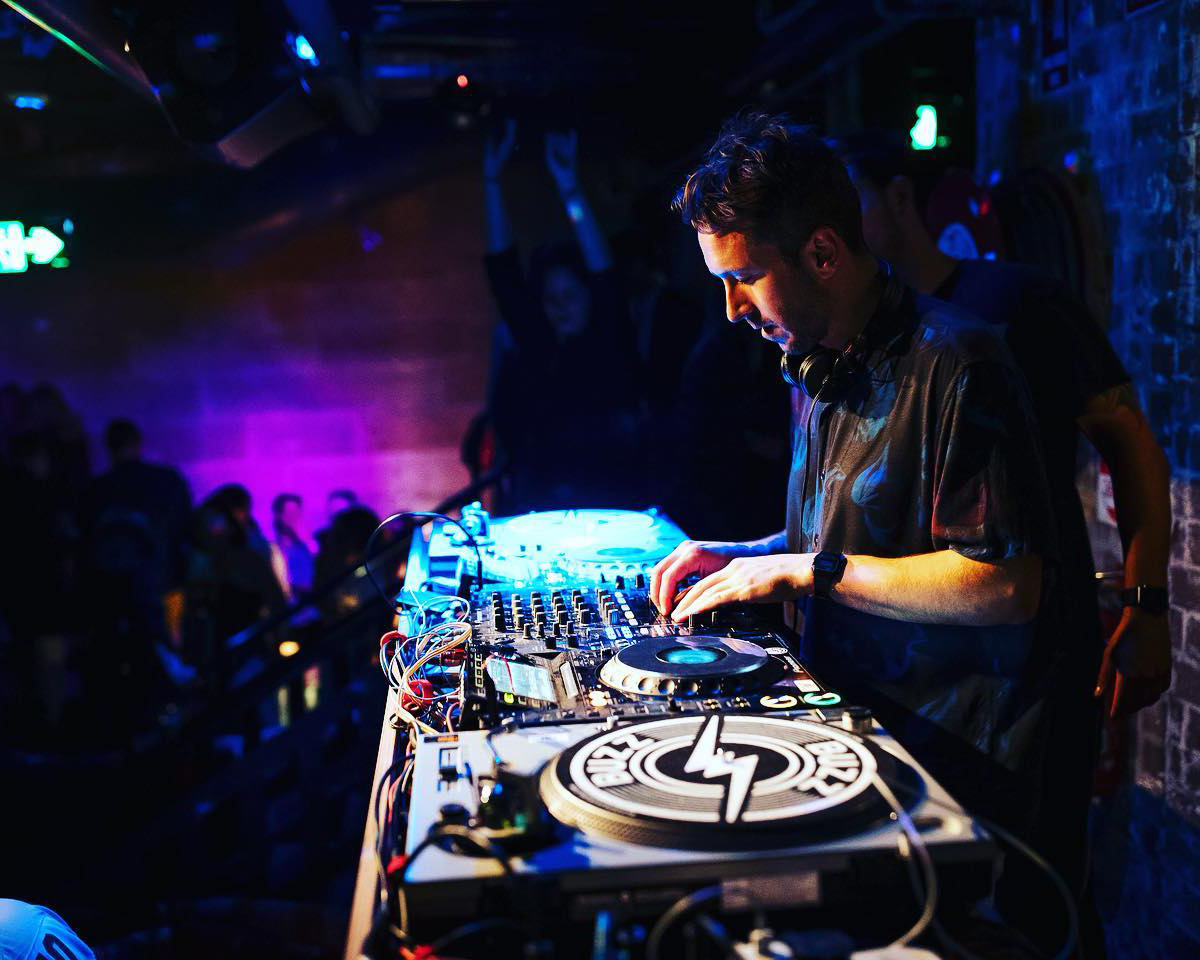 Inspired by the late-night culture of 70s and 80s era Berlin, Prince of York boasts all things electric and it's full of surprises. Slotted inside the CBD's former John Solomon Building (the buzzing heritage-listed warehouse on York Street), this bar gives a whole new meaning to "business at the front, party in the back". And if you're looking for the party, you'll want to make your way down to the underground disco den that is Pamela's. Here, you can expect champagne, a mezcal bar, and nothing less than dancing on tables to disco and ordering tequila by the bottle.
The Cliff Dive
Darlinghurst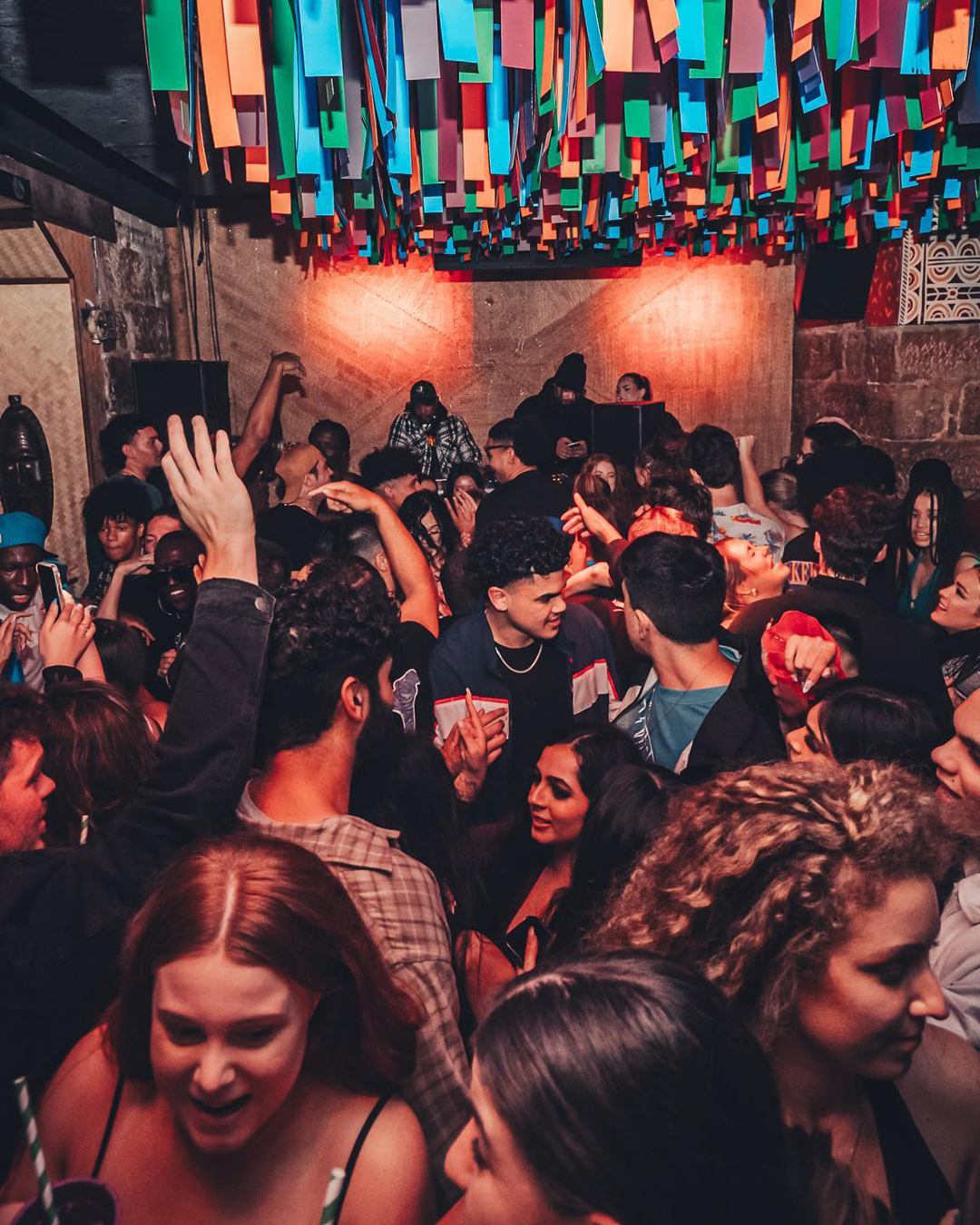 One of Sydney's best bars for dancing well into the wee hours, The Cliff Dive is a transformed former nightclub turned Papua New Guinean dance hall and tiki bar. With DJs on most nights of the week, the dance floor sure heats up, so get tropical and dive on in.
Oxford Art Factory
Darlinghurst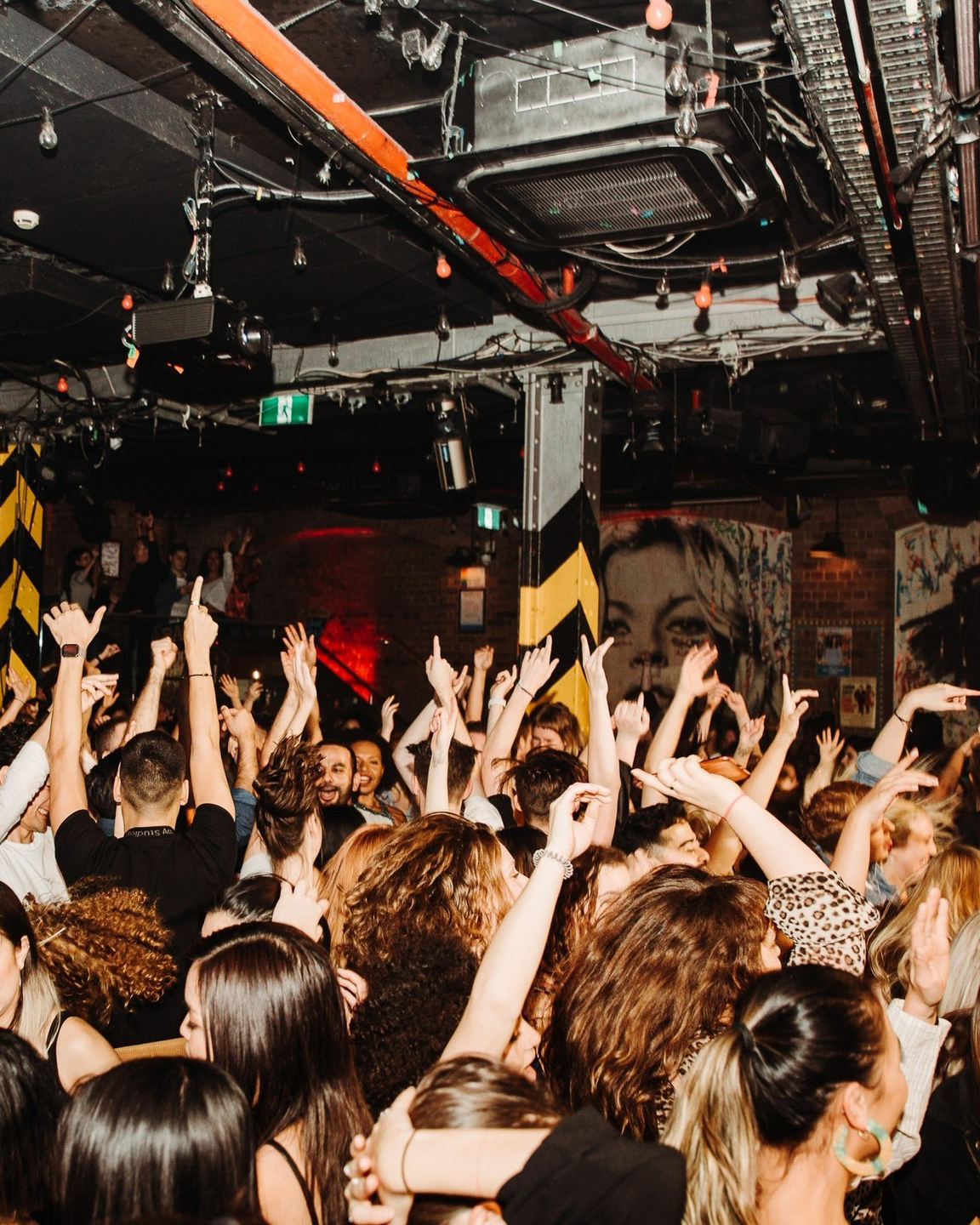 Someone fun is always playing at Oxford Art, so you can't really go wrong here. Drawing anyone and everyone from all over Sydney to see some of the best live acts means that there's always a great crowd and a bustling dance floor to match. Check out what gigs are on the horizon, nab a ticket, and get yourself down there for dance-inducing tunes.
Thirsty? Check out Sydney's best bars.
Image credit: Noir, Arq, Noir, Pat Stevenson, LABEL., Merivale, Pat Stevenson, Glass Island, Goros, The Soda Factory, Prince of York, The Cliff Dive, Oxford Art Factory