There are few things more Christmassy than tucking into a fruit mince pie (or two, or three), and for many of us, the appearance of those tell-tale six-packs on the supermarket shelves mean Christmas has officially arrived.
Originating sometime in the 12th century, the fruit mince pies of today have come a long way from the wild mutton-filled concoctions that were all the rage back then. Everyone has their own special mincemeat recipe, but as a general rule, you'll find a mixture of raisins and the like, spices, chopped apple, and a good glug of booze in there. Leaving the fruit mince to marinate for a few months isn't an absolute must, but it means maximum flavour come December and separates the average pies from the peak.
But, like all good pies, the pastry is really the star of the show. It's got to be buttery, short, not too thick, and able to hold up to that mighty fruit mince filling.
These festive tarts can be polarising—but if you're a big-time fan of this once-a-year Christmas treat, we've got a list of where to find Sydney's absolute best.
The Cook and Baker
Bondi
You probably know The Cook and Baker from their famous vanilla custard doughnuts, which have left many a punter with a sugar-covered upper lip since 2012. As well as digging up classic treats from their Kiwi homeland, co-owners Cherie and Tass prefer to kick it old school with traditional recipes and handmade methods wherever possible. True to form, their fruit mince filling is a combination of a couple of family recipes, made at least two months in advance for foolproof flavour. With a Goldilocks ratio of spice to brandy, a generous helping of dried fruit, and that melt-in-your-mouth shortcrust pastry, you can't go wrong.
Flour And Stone
Woolloomooloo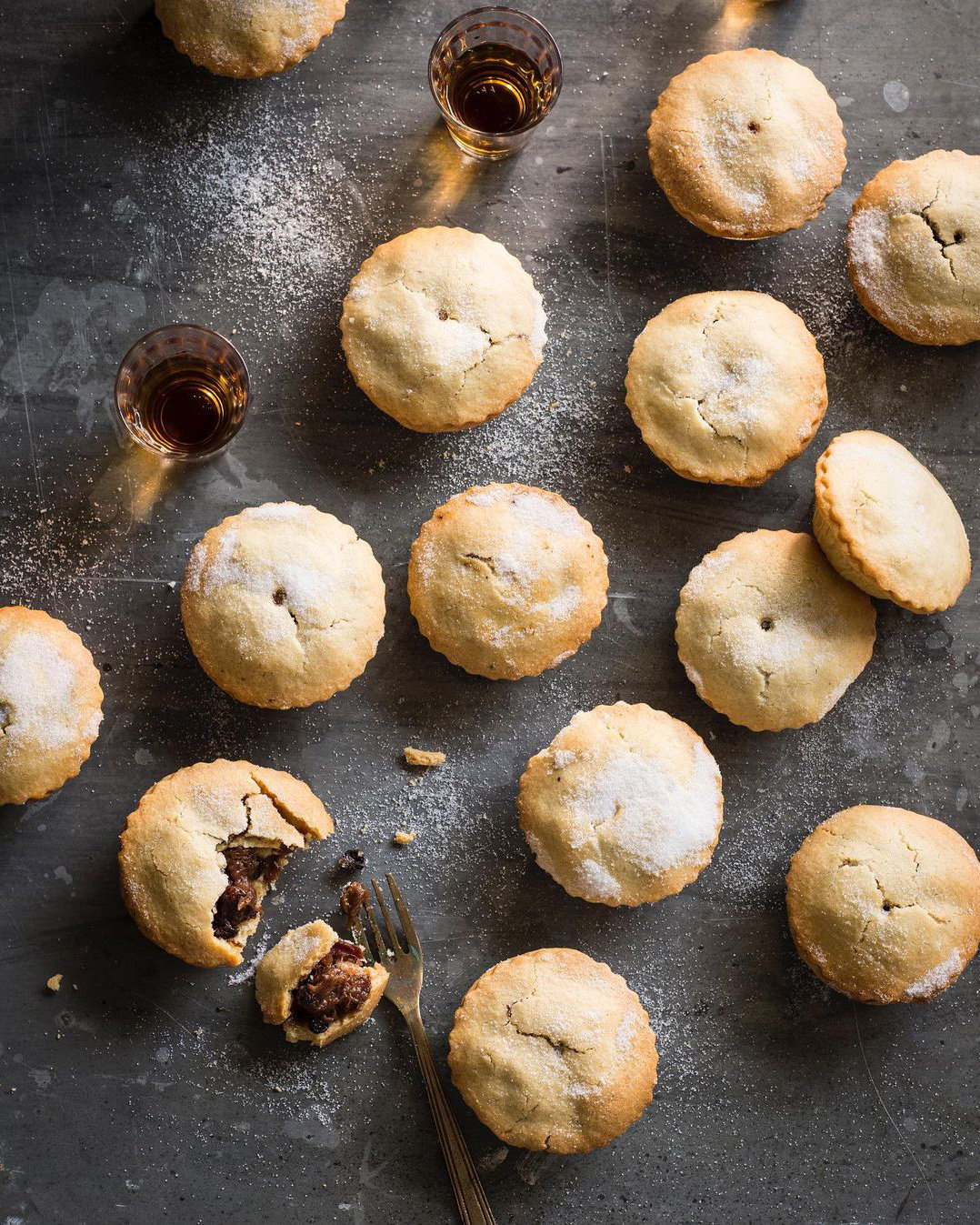 Flour and Stone has already amassed a keen following for their epic panna cotta lamingtons, dreamy cakes, and flaky croissants, and you can bet their fruit mince pies will be just as delicious. A twist on the traditional dried fruit affair you're used to, these pies showcase rhubarb and apple with the addition of cranberries and stem ginger for a festive flavour bomb that's hard to resist. Encased in that classic, flaky pastry, this is one on-point pud. For more info and to place an order, head here.
Feather And Bone
Marrickville
The legendary team at Feather and Bone is putting the meat back into mincemeat, with a combination of suet and beef mince alongside your usual suspects of dried fruit, citrus peel, and distilled spirits, making their "Real Mince Pies" closer to what you might've tasted back in the Middle Ages.
They are butchers after all, with a reputation for taking it slow and promoting a nose-to-tail style of cooking and eating meat, using only the best locally sourced ingredients from small producers. Left to do its thing as nature intended, their mincemeat filling is aged for five weeks to develop a rich, velvety, complex flavour, and the result is totally worth it. Drown them in custard if you must, but we reckon these pies will hold up just fine on their own. To get a taste of the real deal, head here.
Brasserie Bread
Banksmeadow
Award-winning artisans at Brasserie Bread have been serving up authentic sourdough for two decades, with a chewy crust and signature flavour that Sydneysiders can't get enough of. Their pastries are just as delicious, with this year's fruit mince pie offering featuring a handcrafted, all-butter shortcrust and a hefty helping of figs, cherries, apple, citrus rind, cinnamon, cardamom, and vanilla bean, with a good splash of French brandy and orange liqueur to seal the deal. Fruity and festive, these mince pies are available via their online store and Banksmeadow shopfront in six-packs and catering boxes of 16. Find out more here.
Bourke Street Bakery
Various locations
With 12 locations spanning Parramatta to Kirrawee and all of us hooked on their handmade treats, it's safe to say Bourke Street Bakery is a Sydney institution. Their savoury pie and sausage roll offerings are one of the many things they're known for with delicious twists on corner shop classics, and you can bet their fruit mince pies deliver on the sweet front, too. With next-level-buttery, short-textured pastry and a fruity filling bursting with apple, citrus, and the right amount of spice, Bourke Street's mince pies are a solid favourite. Available individually or in packs of six, head into any Bourke Street Bakery location for your festive feed or head over here for more info.
Sonoma
Various locations
A staple among the artisan sourdough scene, Sonoma definitely knows a thing or two about bread and pastry. Lovingly handmade, their fruit mince tarts feature a sweet cinnamon sable dough and classic mincemeat filling of dried fruit and spices steeped in brandy. If you're a fiend for fruit mince, be sure to try their individual fruit mince galettes, crisp, crunchy freeform tarts made with sweet pastry and vanilla crème pâtissière that are full to bursting with that decadent fruit filling. To place an order or find out more info, head to their website.
Wholegreen Bakery
Waverley AND CBD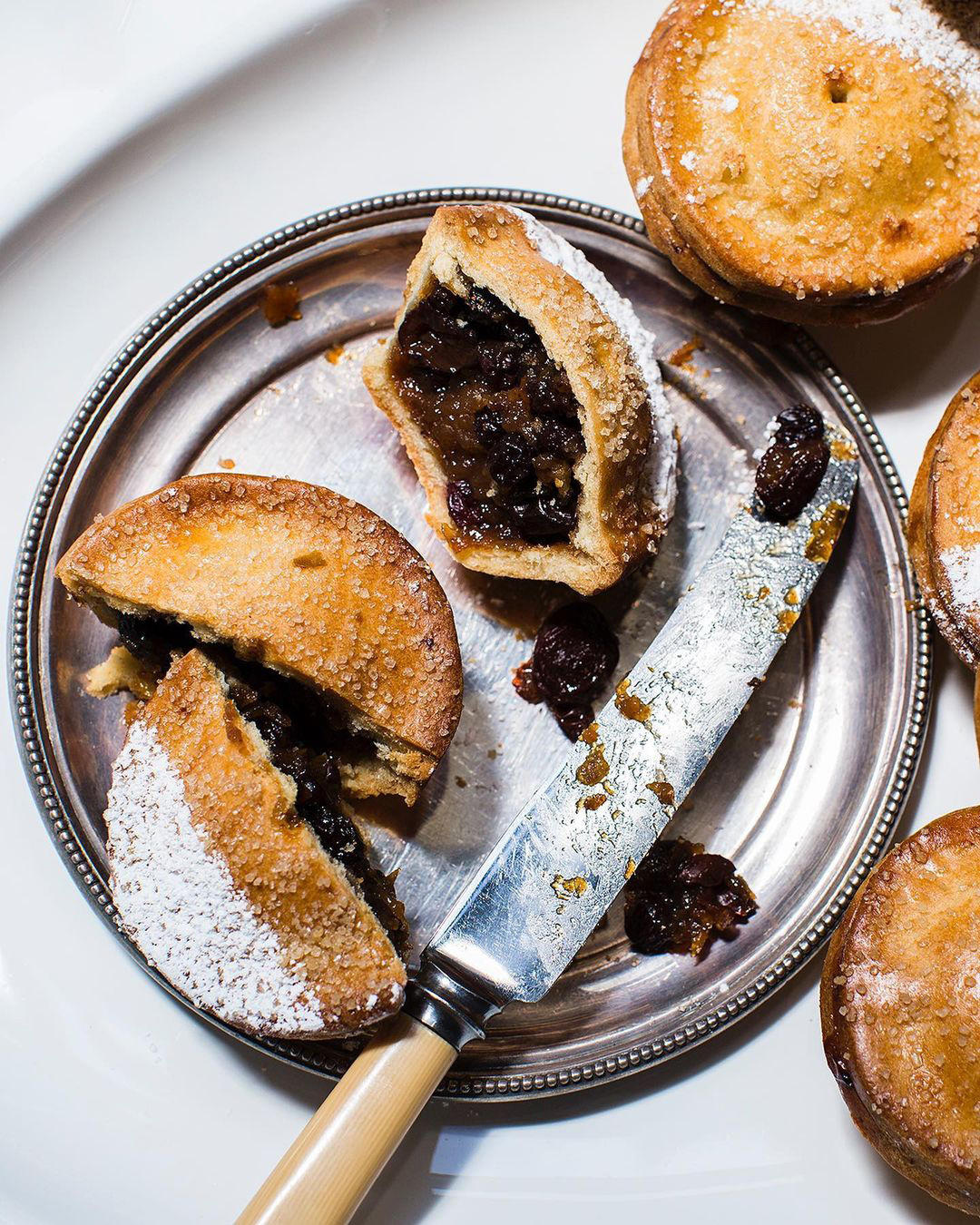 If you're one of the gluten-intolerant among us you might feel a bit left out of this pie party, but never fear. Wholegreen Bakery has you covered with a delicious fruit mince pie that's 100% gluten-free and by no means second best. A heady mix of currants, raisins, apples, orange, spices, white wine and sherry are encased in a golden, sugar-topped shortcrust pastry that's seriously hard to tell apart from the best glutinous goodies. With a gold win under their belts in the 2019 Sydney Fine Food Awards, Wholegreen has proven that gluten-free treats can be just as delicious as your standard floury fare—maybe even better! For more info, head here.
Brickfields
Chippendale and Marrickville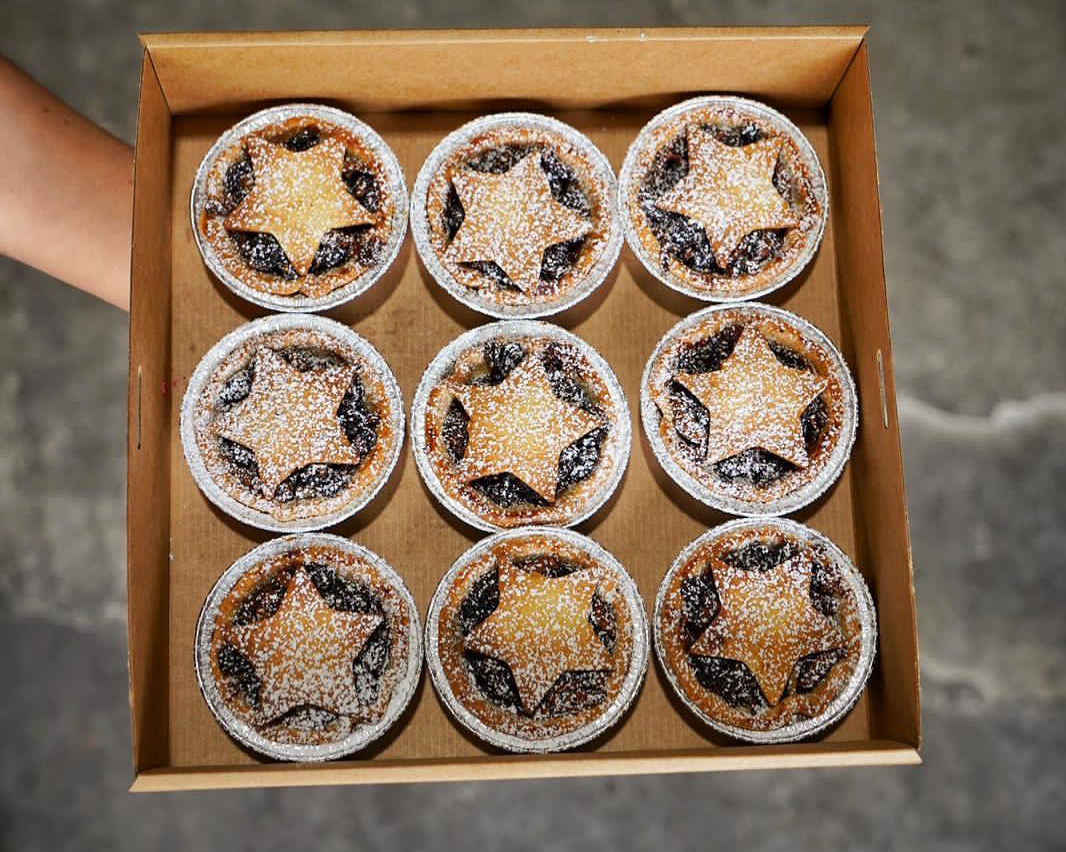 Thought brandy was the only booze of choice for a fruit mince pie? Not so for Brickfields, who have invited local legends, Marrickville's Batch Brewing Co., along to the party with the addition of their finest handcrafted Elsie Milk Stout to this epic pud. Dried figs, cranberries, stem ginger, and a healthy amount of citrus amp up the festive vibes and ensure a filling that's plump with maximum depth of flavour. If you like your fruit mince pies with attitude, Brickfields is the way to go. For more info or to place an order, head here.
Get into the festive spirit with our guide to Sydney's best Christmas lights, or stay indoors with this list of the best Chrissie movies on Netfix.
Image credit: Wholegreen Bakery, Flour & Stone, Brickfields, Wholegreen Bakery,