There's one dish in this world that is the undisputed hangover cure and ultimate winter warmer—mi goreng.
While instant noodle juggernaut, Indomie, has pretty much chartered the way for mi goreng to sit on pantry shelves all over the world, the original Indonesian noodle dish (mie goreng) is thought to be a spinoff of Chinese chow mein and historically packs in yellow noodles that get stir fried into a glorious and unholy mix of chilli, onion and prawns, chicken, or beef.
Indeed, Indomie has been a household name for budget-savvy students across the globe since the 80s and is a permanent fixture in today's popular food culture but when we look within the scope of Sydney's buzzing hospo scene, things like mi goreng twists on toasties, burgers and even cocktails, have only just started to surface. Sound delicious? That's because it is.
Check out Sydney's best mi goreng creations.
3-Cheese Mi Goreng Toastie At Cheatday
Peakhurst And Parramatta
For the mi goreng feed that will absolutely push you into that euphoric winter food coma, you can't go any past the three-cheese toastie goodness getting grilled up at Cheatday. The team here, which is headed by brother duo Angelo and George Mavridis, are famed for plating up some of Sydney's most next level feeds and food combos—basically, nothing is off the table.
While the toastie specials are always on rotation, the game-changer has been the current three-cheese mi goreng creation which rocks Bad Boy Bakehouse sourdough (like all of Cheatday's toasties do).
"It hits the grill with a generous amount of butter," says George Mavridis." The key is slow grilling. We don't whack it in a sandwich press. The flat grill is where the magic happens. It doesn't sound like a delicate process but it kind of is."

This bad boy then gets seasoned with Indomie mi goreng noodles, loaded with the gooey-ist damn egg you've ever seen, and for the final touch, a generous shower of chives for added pizzazz.
Mi Goreng Bloody Mary At Old Mate's Place
CBD
Mi goreng and Bloody Marys—who would have thought these holy hangover cures would go together in matrimony this good? Located high above Clarence Street in a cosy rooftop setting, this hidden bar has long been lacing together these two unexpected flavours to create a winter cocktail that is equal parts spicy and briny in the best way possible.
Made with tomato juice, vodka, sriracha, mi goreng spices, onion and garlic, and topped with noodles and pickles, the Old Mate's Place crew spent a while perfecting the recipe, and we reckon they've got it down.
"Everyone has probably tried and loves mi goreng, and who doesn't love a Bloody Mary—either when you are hungover or want to have a drink in the sun," says Old Mate's owner Andres "Dre" Walters. "Naturally the two play into each others' hands perfectly and once [head chef Harry "Barry" Saunders] perfected it, we knew it was going to be a hit."
Mi Goreng Specials At Suzie Dukes
Ingleburn, North Rocks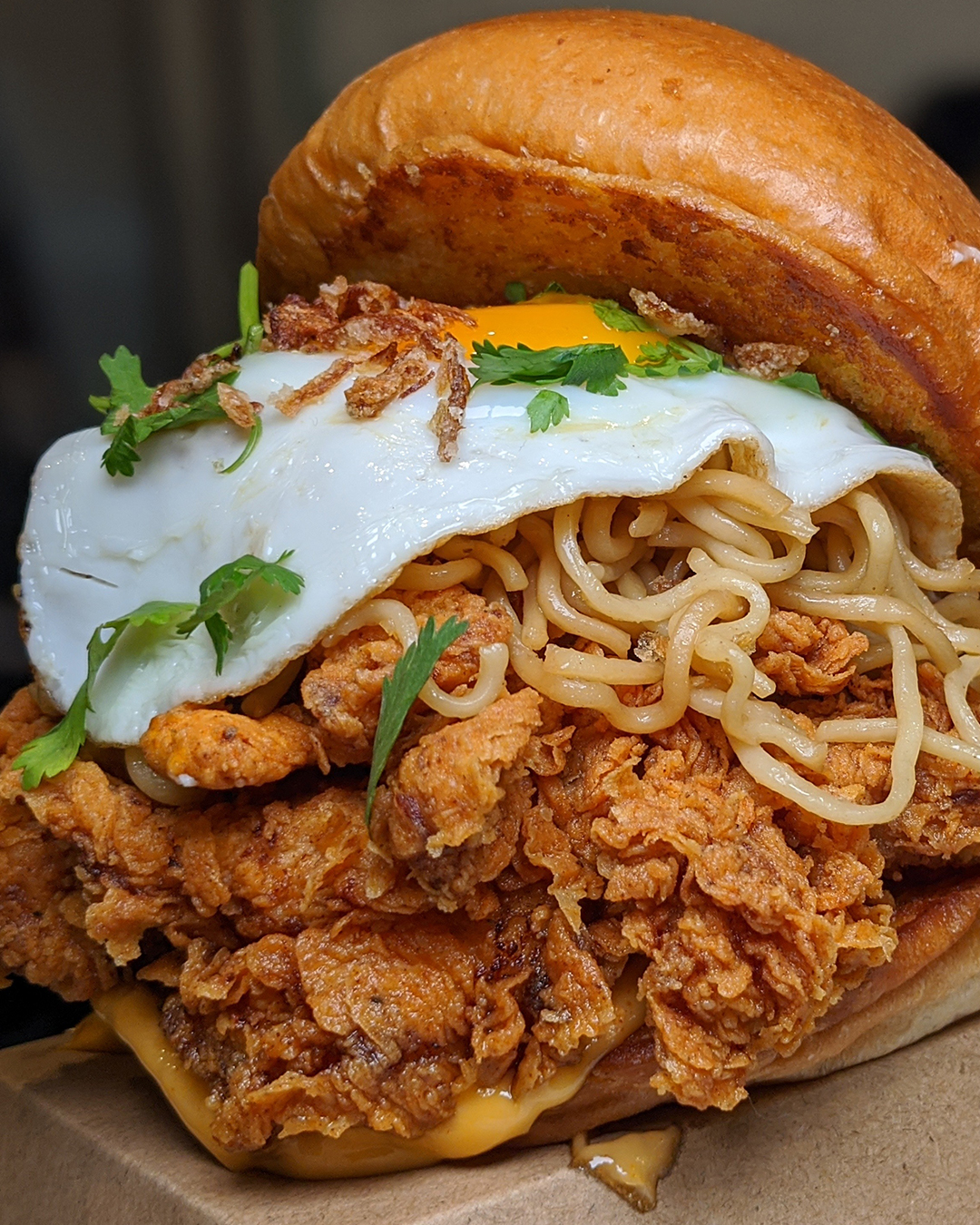 The mi goreng masterpiece at Suzie Dukes, Sydney's resident burger haven, is an ever-returning limited-edition special. It's the kind of feed you'll want to make sure you treat yourself to at least once in your life and you can keep an eye out on Suzie Duke's Instagram for when the team drops it. Here, the mi goreng burger (which takes its origin story from a Suzie Dukes staff lunch) is built from a glorious mash-up of fried chicken, noodles, fried eggs, sriracha mayo, coriander and fried shallots.
"I think what makes the burger next level is that our fried chicken is brined in buttermilk and with our secret coating makes it super flakey and crispy, " says owner Mike Ly. "So the fried chicken mixed with the egg yolk coated mi goreng noodles and a bit of spice—you can't go wrong.
Mi Goreng Toastie At Dutch Smuggler
CBD
The CBD cafe that is Dutch Smuggler is an institution at the best of times but when the mercury drops and there's an arctic cold front on the horizon, its renowned mi goreng toastie is just about the only feed that will truly warm your soul. Dubbed the "Magic Mi Goreng" and made with Indomie's famous noodz, this mi goreng stack oozes all things delicious with just a few basic bits and pieces.
"Keeping it simple is key," says owner Alfred Agus. "We try to combine our in house magic sauce, cheeses, aioli and the Indomie itself in proper ratios to give the right umami flavours. And to top it off we do a runny sunny side up over it."
The crew at Dutch Smuggler also pair in semi-white bread with layered cheeses which then gets toasted with lots of butter—top and bottom, naturally.
Mi Goreng Surf 'N' Turf At Ho Jiak
Town Hall, Haymarket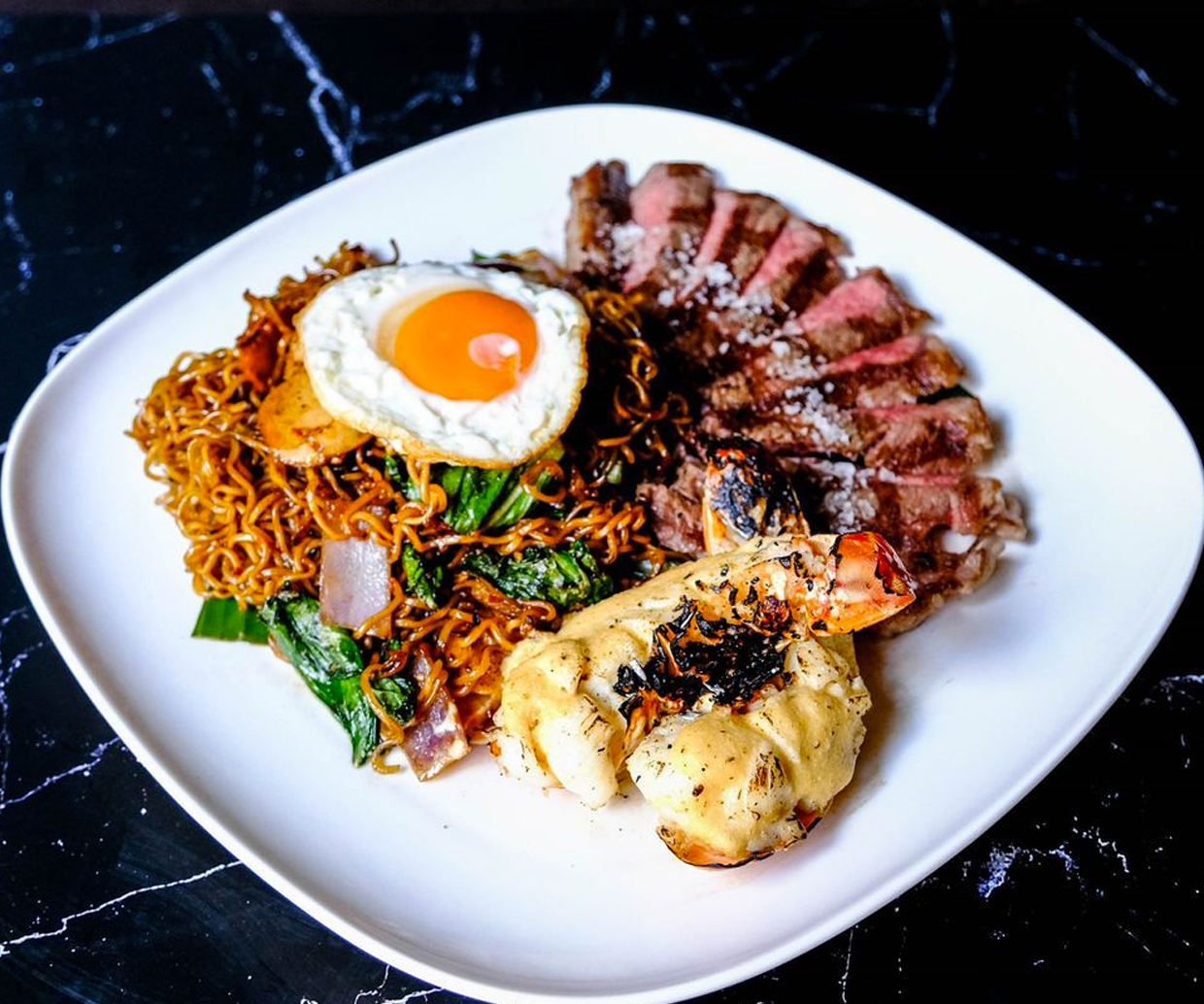 We don't need to tell you the god-tier status that Sydney's Ho Jiak holds. This Malaysian Nyonya grill house has forever been making a name for itself on the mi goreng front, plating up all kinds of Indomie bowls flushed with boujee additions like lobster tail, salted duck egg, spanner crab meat and King prawns. The team here also serves up a winter Indomie buttermilk truffle bowl and yes, it will change your life. However, the heavy hitter mi goreng dish here is a stellar creation by head chef Junda Khoo—an actual Indomie inspired surf 'n' turf feast. Made with Ho Jiak's signature Indomie mi goreng, Jack's Creek wagyu, and a whole lobster tail baked with buttermilk sauce and salted egg aioli—try and tell us you're not already salivating.
When you're done working your way through this list, check out where to find Sydney's tastiest omurice.
Image credit: Cheatday, Cheatday, Rocket K Weijers, Suzie Dukes, Dutch Smuggler, Ho Jiak