Warning: the following article is packed with some serious, juicy, fresh off the bone goodness.
We're talking custom made smokers in Sydney that smoke up the best, melt in your mouth pulled pork around, monster ribs, Yorkshire puddings, Cajun pork shoulder, all the meat platters and sides and, of course, a slew of staple beers to wash it all down. Drooling yet? So are we.
Here are the best places for American BBQ in Sydney.
Oxford Tavern
Petersham
We mean, does The Tav's "Smokehouse Sundays" even need an introduction? You'll score your choice of house-smoked beef brisket, chicken, pork belly or "beetloaf", roast potatoes, carrots, steamed broccoli, gravy and a house-baked Yorkie pudding (available until sold out). Understandably, smoked feeds aren't just reserved for the last day of the week so you can also expect to down BBQ plates of Texas hot links and chicken every other day of the week too on The Tav's resident Black Betty BBQ.
Endeavour Tap Rooms
THE ROCKS
Endeavour brings the brew to the BBQ at their taprooms. On Sundays, it kicks off an entire afternoon dedicated to a long lunch paired with all the live music to fuel your weekend. You'll get to lap up a paddle of beer (with four Endeavour beers), a pint of your favourite brew and a platter of smoked meats all for $35.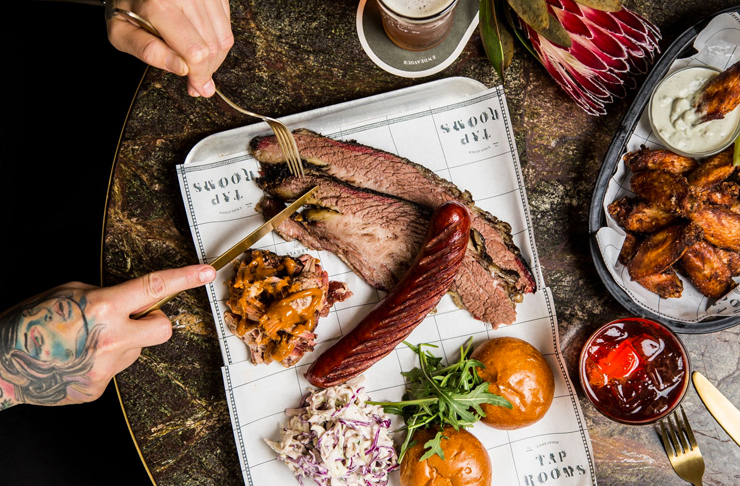 Nola Smokehouse
Barangaroo
There's no limit on the number of goods that can be barbecued American-style at NOLA. Inspired by the meaty culture of New Orleans and Louisiana, NOLA Smokehouse & Bar serves top-cut meats cooked to perfection with southern-style roasting. Think dry-aged beef brisket, smoked and pulled pork shoulder and spit-roasted lamb served with simple slaw or BBQ spiced garlic corn on the side. Our favourite though? The Cajun pork shoulder with NOLA's Memphis gold BBQ sauce.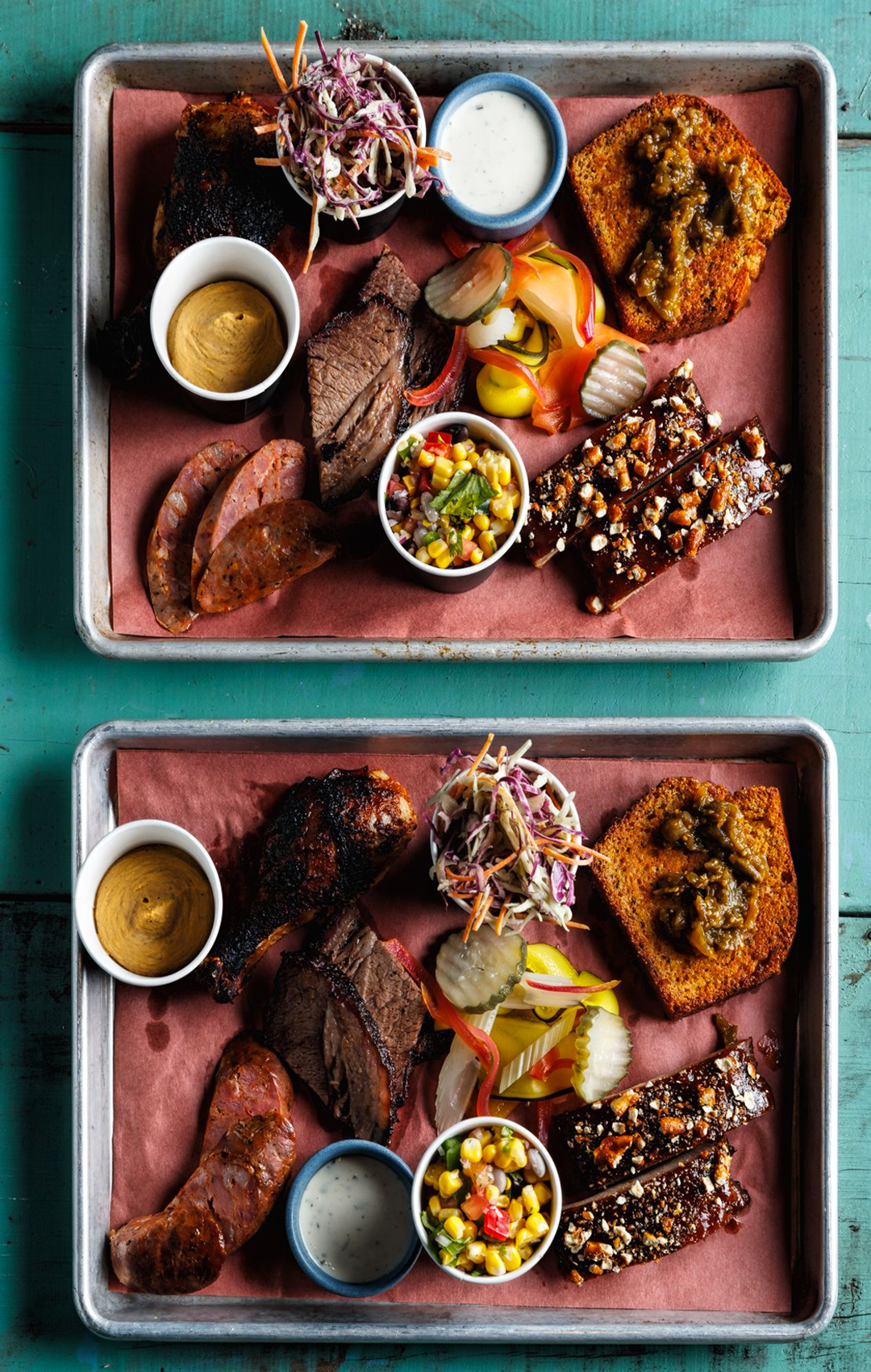 Surly's American Tavern
Darlinghurst
Serving up soulful feeds from the Ole Hickory (flown in straight from the plains of Missouri), Surly's prides itself on hearty plates of big beef, brisket, chicken thighs and pulled pork, all smoked in-house over wood and dished up alongside a slew of local boutique beers. This American-style tavern also has an upstairs section dubbed "Smokey's Cabin" with shuffleboards and free arcade games. And great news, the team here has just kicked off bottomless BBQ and beer weekends. Dream come true? We think so.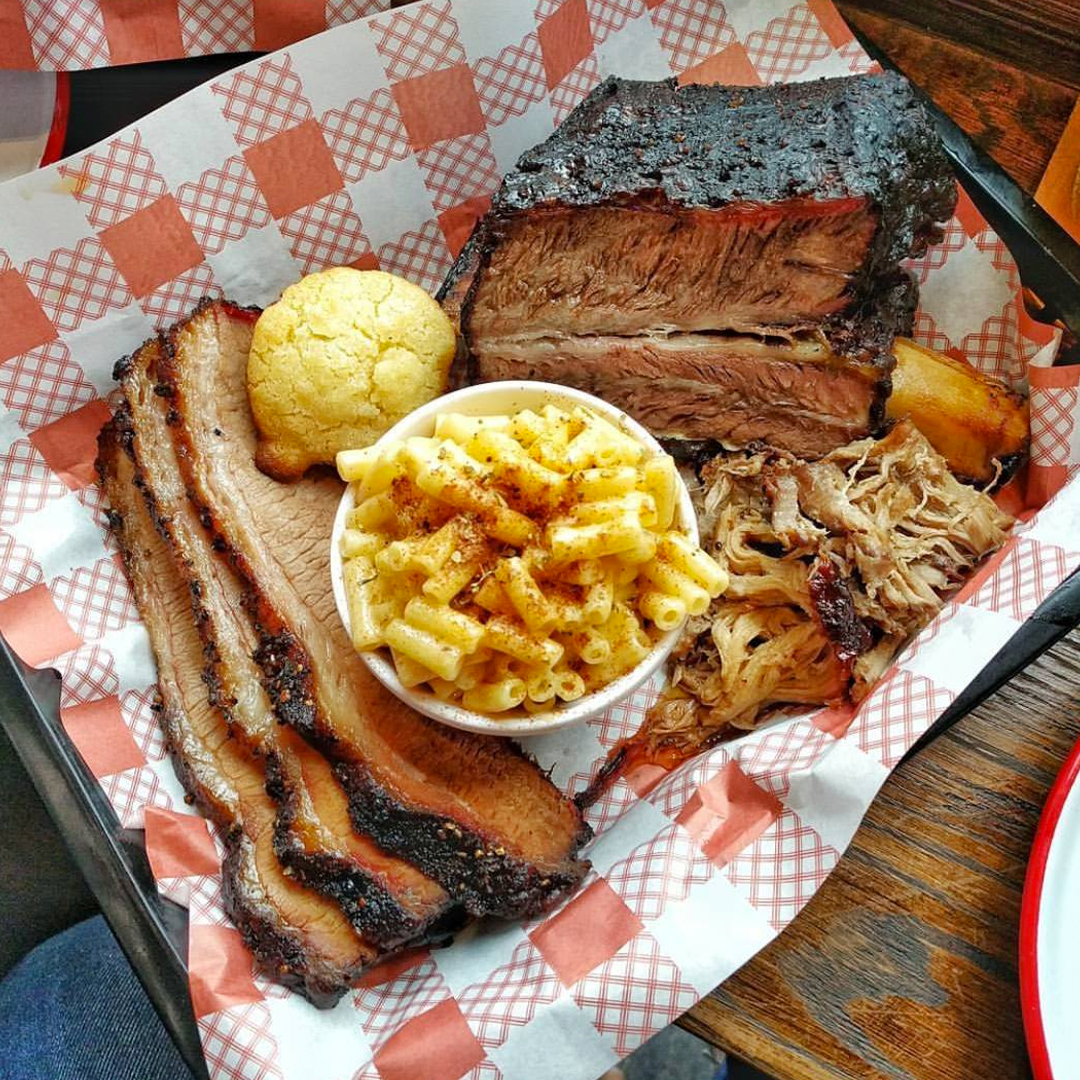 Vic's Meat Market Butcher
Pyrmont
Located inside Sydney's iconic Fish Market, Vic's Meat Market is an absolute mecca for American BBQ feeds. You can score this feasting on the weekends when Vic's Meat opens up its Smokehouse & Grill from Friday mornings until sold out. There's a custom smoker built by Yoder Smokers and it's the largest smoker in Australia, weighing almost two tonnes. The whole thing holds about 200kg of meat and the good stuff will draw influences from various regions in the US, including the Carolinas and Memphis states (think pulled pork with brown sugar paprika rub and tangy mustard slaw). There's a lot to go for here with the likes of smoked chicken wings, "burnt brisket ends" (caramelised twice), Kangaroo striploin, a wagyu cheeseburger and of course, a staple meat platter worthy of the gods.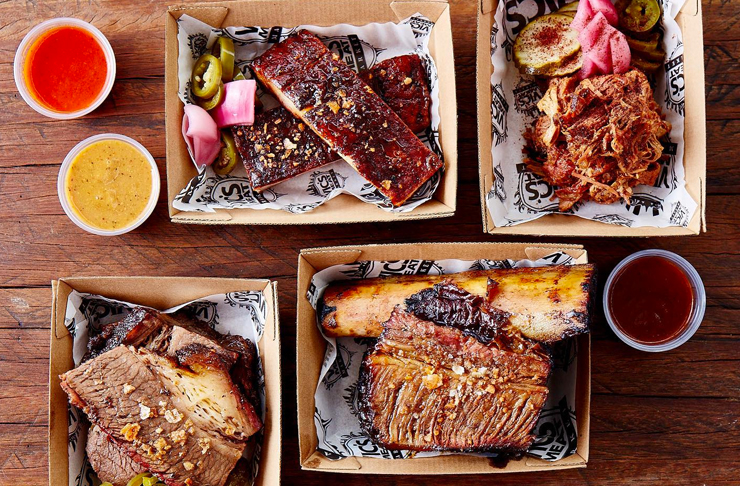 Blackbear BBQ
Blacktown
The team here is all about the American BBQ feeds for breakfast, lunch and dinner. You can cop a "Hungry Bear Brekky Box" as soon as Blackbear BBQ opens its doors in the morning—a combo of pork belly, brisket, jalapeno, cheese sausage and eggs served with brisket beans. There's also beef short ribs and a bunch of monster ribs, which have been rubbed with salt and pepper and smoked for hours. The result? It basically slides off the bone. Plus, every Friday night, this place turns into a vibing smokehouse with live music and dessert trucks so you can make an absolute night out of it.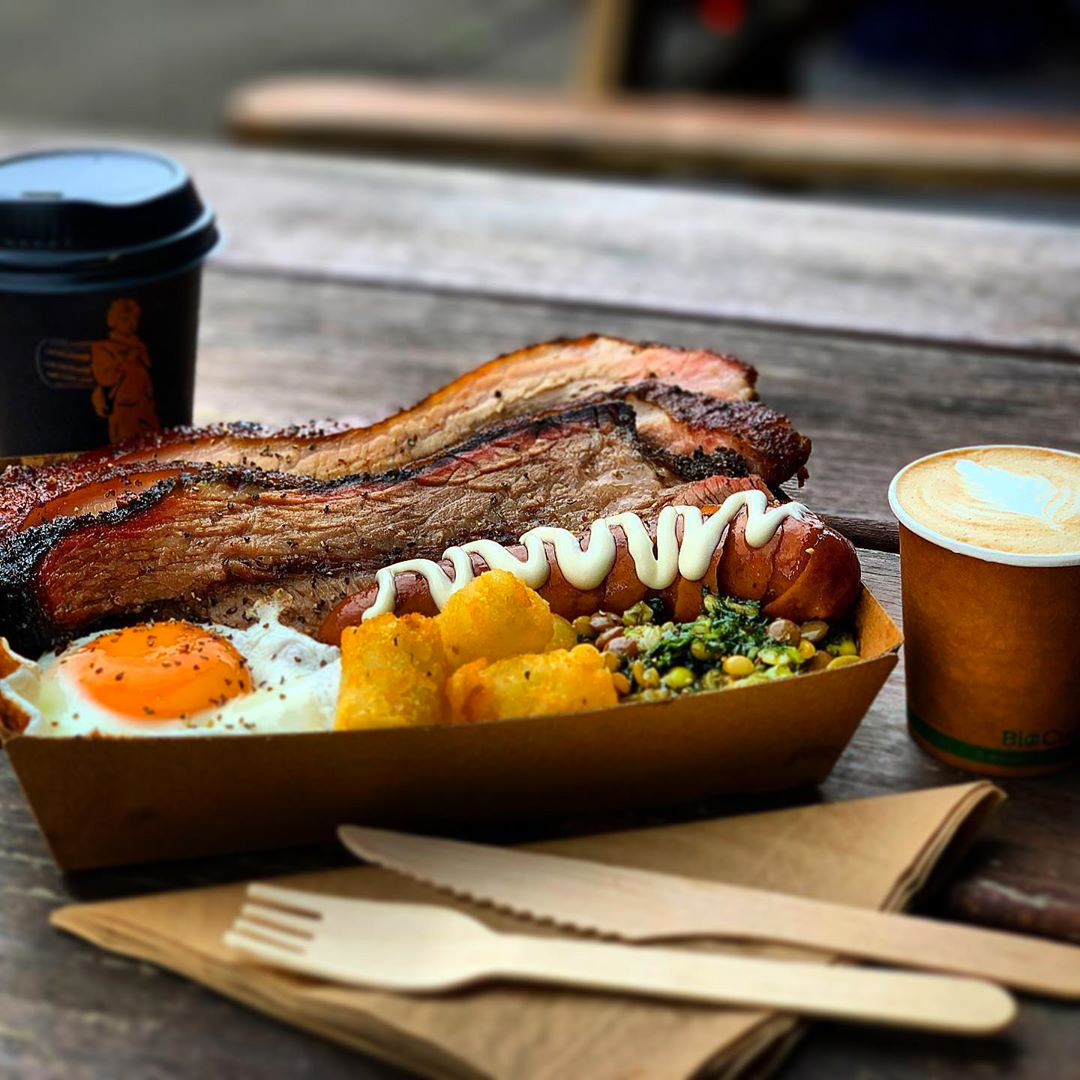 Smoky Sue's
Neutral Bay
It's meat platter heaven here so come in with an empty stomach. With an emphasis on street eats, you can completely customise your tray at Smoky Sue's with your choice of fresh meat from the in-store meat market board. Add sweet potato fries, mac 'n' cheese combs coated in crunchy crumbs or brisket beans with caramelised onions, bacon, spices and BBQ sauce. And we highly suggest you wash it all down with one of their $5 milkshakes (a steal), which come in the flavours of chocolate, salted caramel, vanilla and banana.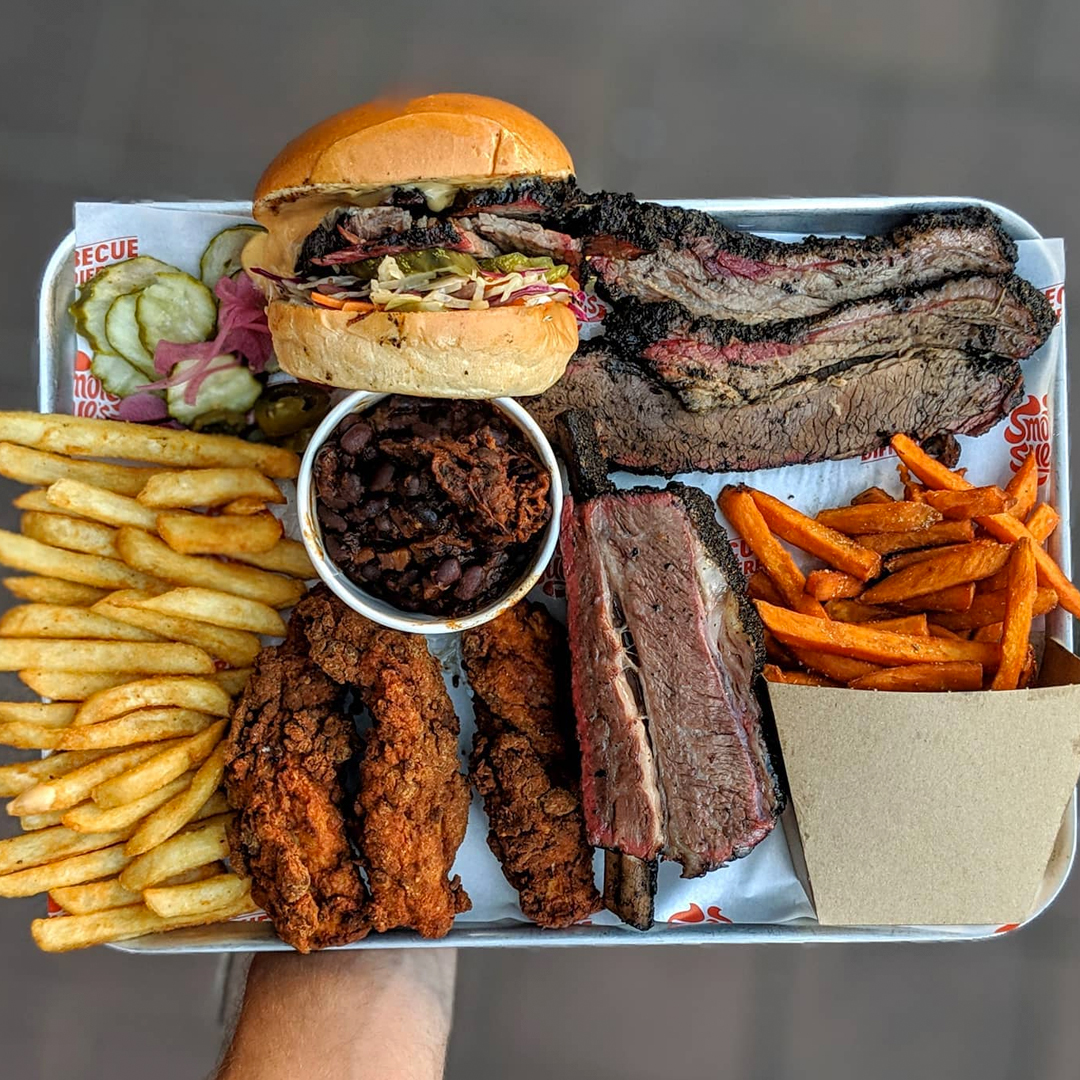 The Erko Hotel
Erskineville
There's not much the legendary Erko doesn't do. Not only does it boast one of the best beer gardens around, live music, solid pub grub and all the live sports to satisfy the biggest footy nuts, it's also doggo-friendly. Scoring the perfect brew balance between a slew of new school and old school cold ones (yep, you'll find everything from VBs to Yulli's Brews here), this pub also churns out one hell of a smoked festival every week. The crew have different specialities on rotation but the local favourite is the Canada Special, a day with jerk chicken skewers, Jamaican curry, vegan enchiladas, shredded brisket burgers and even vegan Beyond Beef corndogs.
Love a big feed? Here are Sydney's best burgers.
Image credit: Sam Woodburn, Endeavour Tap Rooms, Sam Woodburn, Surly's, Vic's Meat, Blackbear BBQ, Smoky Sue's