Sydney might not have the most obvious switch up of seasons, like snowfall for example, but there are some key indicators (read: pretty sights) throughout the year from dear old Mother Nature that time is passing.
In November, it's the purple rain of jacaranda trees, and at this time of year—autumnal hues, falling leaves, and crunchy leaf matter underfoot are a major mood. Still not winter but easing off from the sweltering temps of January and February, there's really nothing more calming than falling leaves in autumn.
Ready to soak up sweet shades of orange, brown, mustard, and more? From autumn festivals to sprawling private gardens, perfect picnic spots, and stunning national parks, here are all the best places in Sydney and surrounds to see autumn leaves.
Autumn Leaves In Sydney
Royal Botanic Garden
We're calling it. The Royal Botanic Garden is completely underrated. Whether you're halfway through a city shop, day of work, or just keen on a grassy knoll and a lie down (our favourite pastime), the Royal Botanic Gardens are here for you. Established way back in 1816, these gardens are filled with Australian natives and international staples like the English rose.
Centennial Park
Centennial Park, like the Royal Botanic Garden before it, is underrated. And not just because we spend a lot of time in traffic on its outskirts. Hit up the duck pond for a brilliant display of reds and oranges and keep an eye out for the purple bloom of a Lasiandra tree. Hire a bike, or pedal car, plan an autumn picnic with mates, and make the most of a day outdoors.
Auburn Botanic Gardens
It's a damn crime that more people don't know about the Auburn Botanic Gardens; they're 20 minutes from the CBD for crying out loud. All 9.2 hectares of the gardens are open daily with a small entry fee: adults are $4 - $5, children and Auburn residents are free. The Japanese Garden is supposed to be especially stunning, so hop to it.
Autumn Leaves Around NSW
Orange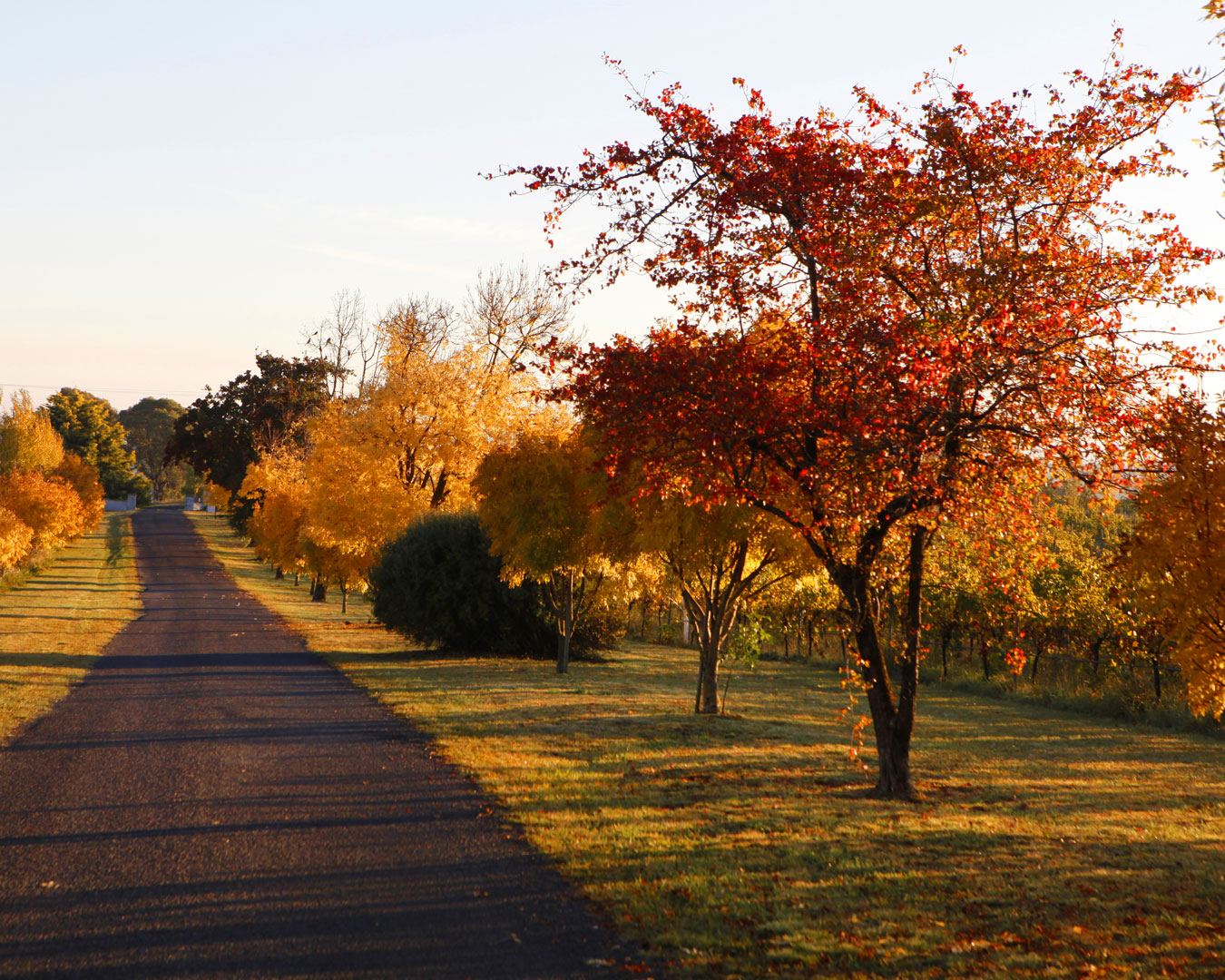 Who'd have thought Orange would be known for, well (you guessed it) orange scenery? Lauded as the 'colour city' thanks to its vivid sights and golden poplars, Orange is the place to be for streets of ash, oak, and maple. Just three hours from Sydney, those headed to Orange should visit a winery or two, sit back and watch the next best display of colour since Sydney's neon-soaked Vivid Festival.
For our full guide to Orange, jump over here.
Blue Mountains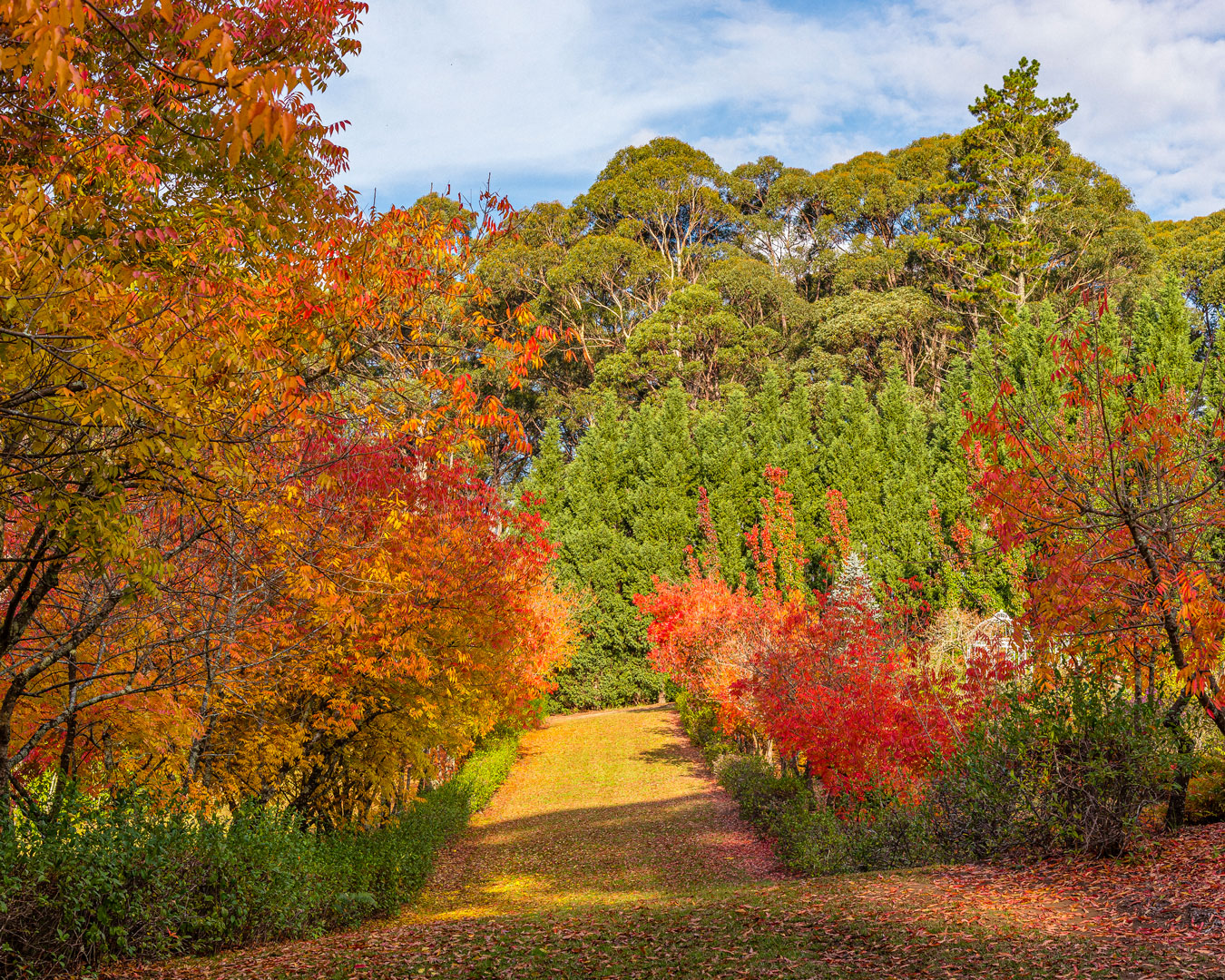 The Blue Mountains are the pride and joy of deciduous hunters everywhere. Did you know the Blue Mountains Botanic Garden in Mount Tomah is one of the best spots for autumn hues in the entire state? Well, now you do! From Leura and Blackheath to Wentworth Falls and Mt Wilson, the Blue Mountains have a spot for everyone and an autumn festival to top it all off. We also highly recommend dropping into Wild Wood Garden for your autumn Insta snaps.
Southern Highlands
The Southern Highlands are practically an autumnal mecca. Head on down to Mittagong, Burradoo, Bundanoon, Exeter, or even Sutton Forest for English-style gardens and a resplendent lookout atop Mount Gibraltar. Ninety or so minutes from Sydney, the Southern Highlands features deciduous red oaks, golden elms, plane trees, and coppery beech trees too. Hit up the Southern Highlands Botanic Gardens in Bowral for more shining orange and yellow.
For our full guide to the Southern Highlands, head here.
Mayfield Gardens, Oberon
Inspired by English country garden estates, and a breezy two-and-a-half-hour drive from Sydney, Mayfield's 160 acres are for the garden aficionado with a weekend to spare. After all, they have bridges, an obelisk garden, ponds, and an alley of London Plane trees.
The full acreage is only open twice a year for the autumn and spring festivals (the 2022 autumn festival has started and will run until Monday 25 April, more info and tickets are here). These events include live entertainment, catering, games, and a shuttle service to help you trip around the enormous property too. You'll need about four hours to discover the full private garden and two hours for the 40-acres available off-peak.
Cattai National Park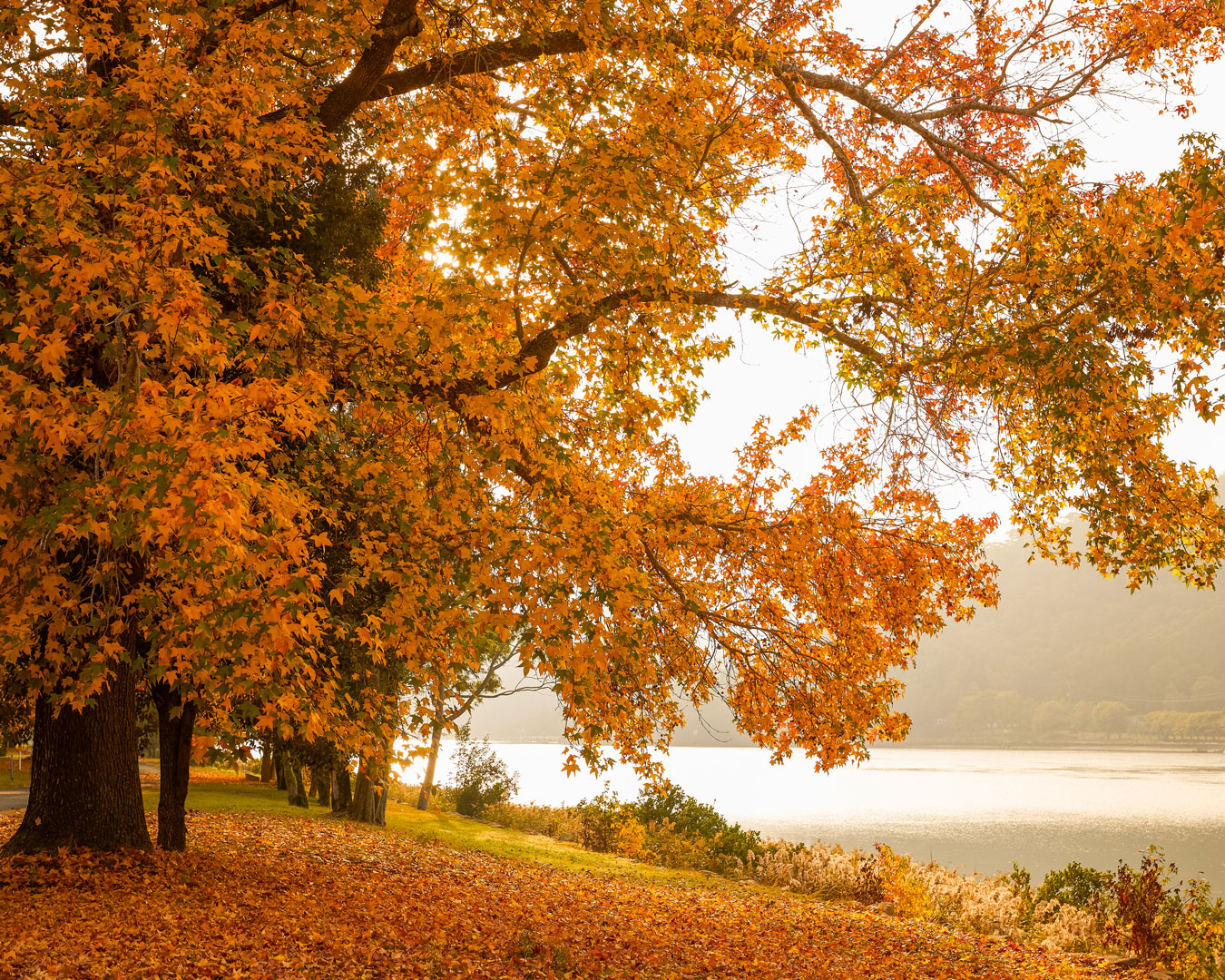 About an hour north-west of Sydney, this one's for the autumn leaf chaser with a friend who can't keep still. Cattai National Park has plenty of space for waterskiing, canoeing, and bike riding. You and a friend can see all the autumnal beauty of the Hawkesbury River, or you know, a blur from a bike. Win! We recommend a camping weekend so you can wake up to one of the prettiest sights around.
Tumut
If there's one place that knows—like really knows—autumn, it's Tumut. Since 1954, this Riverina town has held the Festival of the Falling Leaf, welcoming thousands of visitors over the event's ten days. Situated at the foothills of the Snowy Mountains, Tumut boasts row upon row of golden poplars and a pretty sweet street parade.
Bathurst
If ever there were a district with clear-cut seasons, it would be Bathurst. Autumn in Bathurst is no less distinct, with vibrant colours crowning the town streets each day. Understanding a good thing when they see it, Bathurst's Autumn Colours program runs from March to May and includes a number of events like tours, walks, and talks.
For more stunning scenery, check out the best sunrise walks in Sydney.
Image credit: Destination NSW