When you look at the gelato and ice cream landscape across Sydney, what you'll see is that you're spoilt for choice. To help you navigate Sydney's sweet world of arguably the best icy treat ever, we've compiled an epic list of the finest gelato and ice cream around town.
Whether you're craving wacky flavours, booze-infused scoops, flash-freeze cups, or a gelato burger that will send you straight into a bout of summertime bliss, we've got your back.
Here are all the best ice cream and gelato shops in Sydney.
Tasty Towns
Rhodes
Sichuan pepper and lemon meringue pie are no usual gelato flavours however they are prime real estate for your taste buds, so to speak, at Tasty Towns. As Rhodes' very first gelateria, this dessert hub has gone hard on a sweet offering focussed on, but not limited to, all things gelato. Owners Thomas and Wilke van de Ven were inspired by the likes of the cult-Melbourne gelato heaven known as Pidapipo (if you know, you know) in bringing an electric atmosphere and bold flavours to the streets of Sydney.
There are some big gelato mixes on the board here, including tubs of the aromatic and cinnamon-brushed Licor 43, a Spanish liqueur named after its 43 different ingredients. Tasty Towns rotates through its bolder creations every fortnight and you'll also be able to order up scoops of cremino, milk tea and speculoos on the regular. Next to this, flavours like hazelnut, coffee, taro, matcha, hojicha, black sesame and pistachio will feature on the menu permanently.
Bodalla Dairy Ice Cream
Woollahra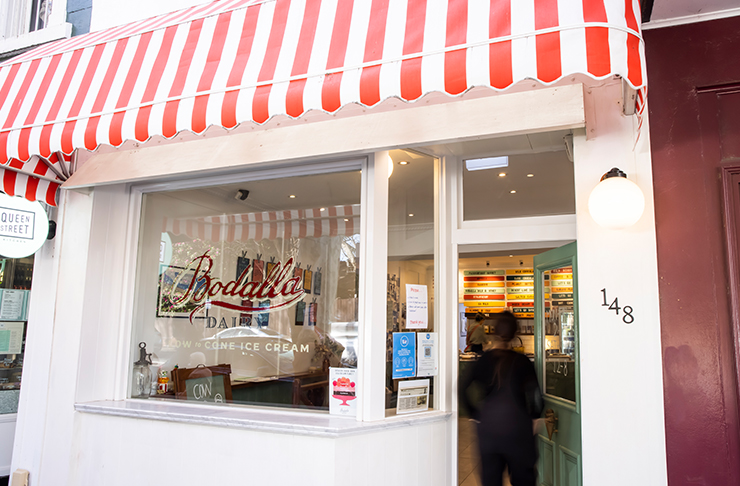 Bodalla Dairy has long been an absolutely necessary pit stop on any road tripper's journey through the South Coast. The good news is that now, after 160 years, the Bodalla Dairy farm has finally decided to set up shop in the heart of Sydney, which means you'll no longer be restricted to just tasting Bodalla's ice cream and other local produce (like cheese, yoghurt and honey) on a four-hour drive down south. Instead, you and rock up to Woollahra's new Bodalla Dairy Ice-Cream, a vintage-style ice cream parlour with creamy scoops made from Bodalla's slow and low pasteurised milk.
On the menu, there's a big dedication to "bush" flavours, created as a nostalgic nod to Australia's outback. Scoop up the likes of "Kakadu Plum and Rum", the "Go Wild" with Queensland lemon myrtle and Bodalla yoghurt, "Let's Go Camping" with gum leaf smoked ice cream with butterscotch, "Let's Go Diving" with local Narooma kelp and green tea, or even the "Hot Chocolate" made with dark chocolate and Tasmanian pepperberry. And don't worry, if you're a stickler for the classics, you'll also find Nutella, milk chocolate, peanut butter, rainbow (with housemade flower sherbert), strawberry, and Bodalla milk and honey.
Trovatino Cafe
Abbotsford
Say hello to Sydney's award-winning gelato joint. Trovatino Cafe is the place to be in summer when you're craving the good stuff and the team here is known for whipping up the best chocolate and strawberry gelato around. The gelato is created out the back and made fresh daily (yep, this stuff sells out in summer). While these guys absolutely nail the classics, the peach ice tea sorbet should also be on your foodie hit list.
Thanon Khao San
Haymarket
Thanon Khao San is a groovy Thai joint in Sydney's Haymarket serving up some of the most delicious ice cream feeds around. You'll find everything from traditional homemade ice cream with all the trimmings Thailand street vendors are famous for (think sweet coconut ice cream served up in an actual coconut or loaded in a sweet bun).
Ciccone And Sons
Redfern
If you're looking for a delicious, freshly made dessert that will guarantee instant cold satisfaction, then head on down to the sweet hidden gem that is Redfern's Ciccone and Sons. Using Jersey milk in their gelatos for a richer, creamier texture, we guarantee you'll find it hard not to pin this gelato joint as your hands-down favourite in Sydney. Expect interesting but refined combos like pear and riesling, lavender and white chocolate, cucumber and rosemary, and lemon and maple. And yes, you should absolutely try their ricotta gelato cannoli. Bonus—Ciccone and Sons is also licensed, meaning you can pair your ice cream hit with a cheeky cocktail too.
Gelato Messina
Various locations
It's the gelato that needs no introduction, but if you're new here—settle in. There's a reason the line at Gelato Messina is always (and we mean always) winding out the door and down the street. Lust over the white chocolate and hazelnut gelato topped with rich hazelnut praline, or dive into a sweet strawberry and vanilla gelato topped with fresh strawberry jam. Messina's dulce de leche gelato is a city icon. The gelato kings here also create five new specials every week, with wacky flavour combinations that have equally wacky titles. "A Salt On The Senses", "Oreogasm" and "Breakfast In Canberra" are among Messina's greatest hits. We love Messina's divine gelato cakes and, pro tip, keep your eyes peeled for special too. The cookie pie, for example, has become a lockdown hero.
RivaReno
Darlinghurst, Barangaroo, Parramatta
With outposts at Barangaroo, Parramatta, and Darlinghurst, RivaReno lets you take an Italian adventure all the way to Bologna. The gelato and sorbets here are forged in their "laboratorio" to ensure all delicious slabs of gelato are made with natural ingredients (that is, no hydrogenated fats, artificial colourings, flavourings or preservatives). As for the heavy hitters here? The "cremino rivareno" is a crowd favourite. It's based on traditional multilayered Italian chocolates that go by the same name. Then there's the "mascarpone moka", a seriously epic gelato mimicking tiramisu with a splash of Sicilian Marsala, Arabica coffee and dark chocolate slivers.
Gelato Franco
Marrickville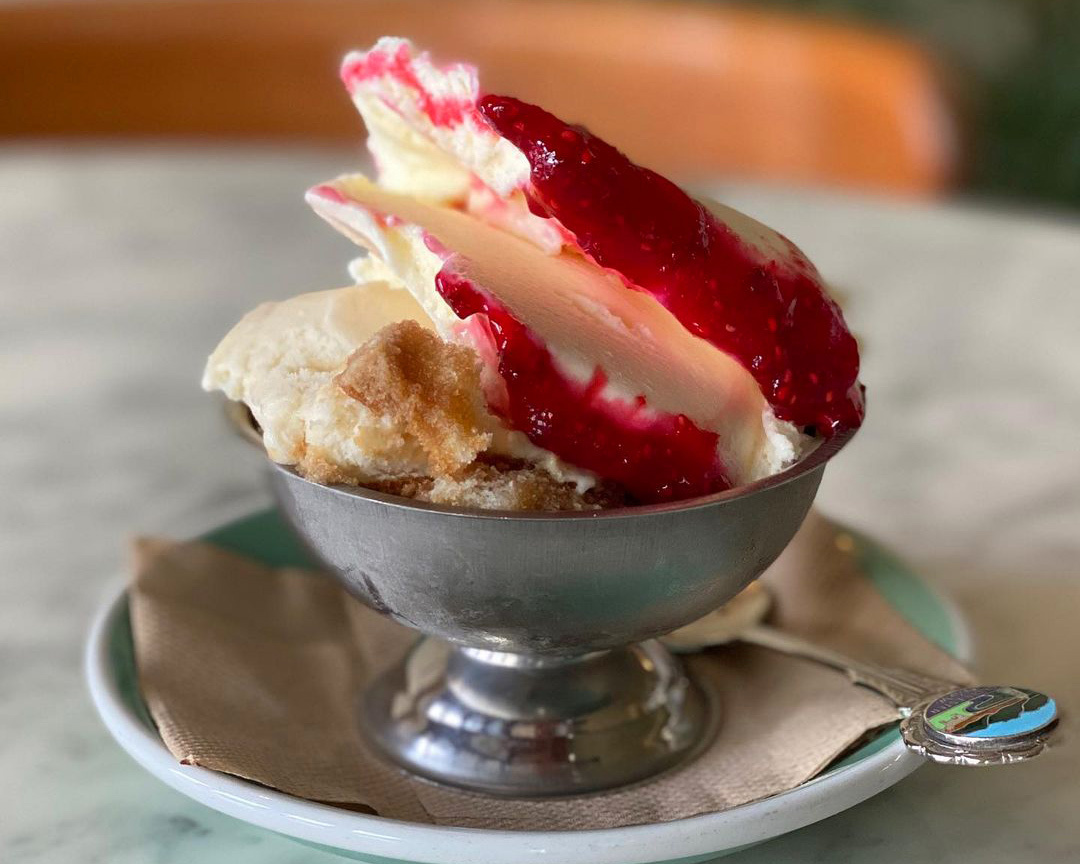 Using natural and fresh ingredients in his creamy gelato creations, Franco Riservato is the man who functions as the heart and soul of this classic Italian dessert parlour. Decked out with quaint tables dressed in fresh flowers, you are in old school gelato heaven and in other words, about to indulge in the best kind of gelato. And just so you know, the black sesame and stracciatella will knock your socks off.
Anita Gelato
Bondi Beach and Broadway
Despite what you've been led to believe, when you first saw crowds flocking down to the Bondi bubble, they weren't there for the surf. They were down for the epic gelato fix first brought to the Eastern Suburbs by Anita of La Mamma Del Gelato. Now, with another outpost in Broadway, this gem is slowly taking over Sydney with her ridiculously smooth and creamy gelato. The menu is split into sections with cream, vegan and sugar-free flavours like salted bagel (creamy), banana and date (vegan) and coffee (sugar-free) stealing the limelight most days.
Cow And Moon
Enmore
This late-night family-run gelato and coffee bar has scored international acclaim and creates mouth-watering and delectable flavours that are absolutely worth your time. Churning out vegetarian, vegan, and gluten-free variations, the team here makes gelato and sorbets every day in-house. Cow And Moon also has over one hundred flavours, but if you had to decide for your last meal, you'd want to make sure you hit their iconic strawberries balsamic vinegar and pannacotta.
C9 Chocolate & Gelato
Crows Nest
First and foremost, make sure you hit up C9 Chocolate & Gelato on an empty stomach because the creamy feeds here are mammoth. The staple gelato line-up (which is hefty) is just the beginning of the cooling feasts you can dig into here. The real hype is around the cronut, brownie and sweet brioche gelato sandwiches you can build yourself, with your choice of gelato, chocolate drizzle and fruit served alongside.
Pagoto Gelato & Waffle House
Marrickville
Developing, mastering and perfecting their flavours with passion, Pagoto Gelato's dedicated team offers over 36 different flavours, of which half are imbued with the authentic essence of the Aegean Sea. On a hot day, hit the Hubba Bubba mix with rich white chocolate and fresh blueberries. And you might want to top it with a scoop of the Ferrero Rocher with triple chocolate mud cake.
Cremeria De Luca
Five Dock
To put it bluntly, the gelato vibes at Cremeria De Luca are absolutely next-level. We mean put-you-in-a-food-coma-and-never-be-the-same-again next level. Not only does the team here whip up some of the best gelato in Sydney, but they make actual gelato burgers worthy of every damn calorie. This is the sort of burger that can barely fit into your two hugging hands. Stuffed inside two brioche buns, you can take your pick between one or two picks of gelato (pending how hard you want to go) and we highly suggest you stack yours with pistachio, chocolate and then a slab of Nutella.

Now, check out this hit list of Sydney's best fish and chips.
Image credit: C9 Chocolate & Gelato, Tasty Towns, Destination NSW, Thanon Khao San, Ciccone And Sons, Gelato Messina, RivaReno, Gelato Franco, Anita Gelato, Cow And Moon, C9 Chocolate & Gelato, Caitlin Hicks, Cremeria De Luca