As far as locations to stage your next crawl go, West End is a hot contender for a good time. Whether you're looking for craft beer, whiskey bars, tiki bars, cocktails, live music or superb bar food, bars in West End cover all your bases. The options are very nearly endless, and because it can be hard to satisfy the needs of all individuals when you're out with a group, we recommend you try all of them.
Strap on your metaphorical seatbelt (don't drink and drive, kids) as we take you through the best bars in West End.
Betty's Espresso & Bar
Serving coffee and fresh-baked pie during the day, Betty's night-time demeanour evokes the same laid back chill as sinking tinnies in your best mate's sharehouse. The mismatched furniture and brightly-coloured interior makes for an intimate atmosphere while the classic mix of brews, booze and tattoos keeps you well entertained.
The Bearded Lady
When you step into The Bearded Lady two things are certain; great drinks and booming tunes. Their drinks list is a refreshing gambol through the bounds of beer, wine and spirits, and the rowdy, ramshackle bar area is the perfect place to enjoy them. And for the live music lovers there's always a great act warming up in the performance space out the back.
Rumpus Room
Tucked behind the lizard (you know the one I'm talking about) the bar crew at Rumpus Room shake, stir, rock and roll like it's going out of style. Their cocktails are expertly crafted and designed to limber you up for making full use of their expansive dance floor.
Catchment Brewing Co.
West End has a thing for breweries that do it all, and setting the standard is bar, restaurant and beer hall, Catchment Brewing Co. They have an outstanding array of craft beers on offer (including their own) as well as an international wine list that holds its own. Naturally their food menu features mains, snacks and cheese board as well as a few creative uses of brews including IPA gravy, beer bread and beer-based teriyaki.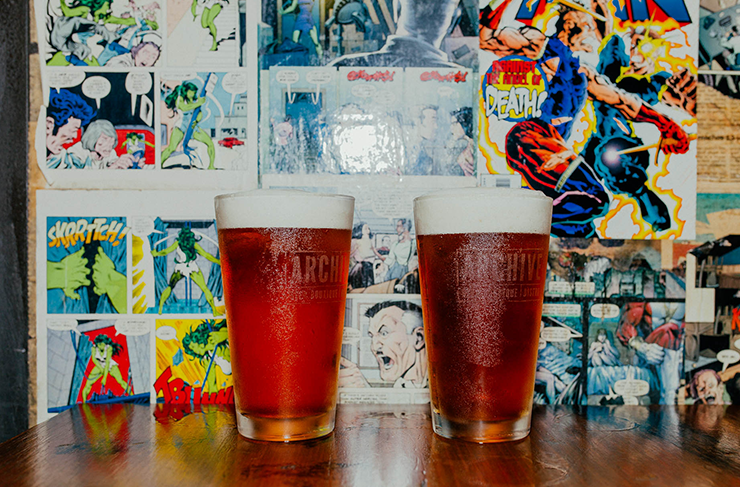 The Burrow
The Burrow in West End is probably better known for their food than drinks (and with homemade pizzas on crispy bases, featuring a unique range of toppings like the meatballs and blue cheese). However, this warm and cosy little nook also has an extensive range of craft beers, ciders and alcoholic ginger ales. Open from breakfast through to late night, this spot is perfect for an afternoon drink and feed.
Cobbler
Jack it up a notch and head to whiskey bar, Cobbler. It's decked out with vintage sports memorabilia, and one of those rad sliding ladders on a bookshelf like you would find in Bruce Wayne's library. Cobbler is BYO food, so order from a nearby restaurant or rock up with a wheel of brie and some Clix. The bartenders' knowledge of their product is astounding, so be sure to request a bespoke cocktail, but beware, they're not for the faint hearted.
Lychee Lounge
Mosey further up Boundary Street and you'll find Lychee Lounge: an unusual bar well known for its impressive cocktail offerings. They build their menu from fresh produce and exotic spirits, which combine to make some truly unique flavours, and send you off with a fun start to your night. Lychee Lounge also has a wide range of tapas plates, perfect for sharing, making it a great spot for large groups.
Archive Beer Boutique
Since their open, Archive Beer Boutique has cemented its spot as one of the best craft beer bars in Brisbane. There are eighteen beer taps, which constantly rotate throughout the month, and over 400 different bottled beers to choose from. Pity you only have two hands. They've also got some top-notch pub grub, with the likes of Wagyu beef burgers, chicken parmas, eye fillets, and pizzas to name a few. The venue itself is super rad with vintage furniture and newspapered walls, as well as some pool tables and dartboards if you're feeling sporting.
Lock'n'Load Bistro
A little further up the road is West End institution, Lock'n'Load Bistro. The crew at Lock'n'Load like describing it as a drinkery with food. Open from breakfast through to supper most days, they provide a welcoming and casual environment with live music, and a great courtyard area. It's not uncommon to tee this place absolutely packed. Drinks wise, Lock'n'Load isn't afraid to serve you beer in jugs and towers (and don't even get us started on the wine and cocktail lists). Across the board, this is a great spot for everything from kick-ons to a lowkey tipple.
Jungle
Let's get tropical! Designated tiki bar to the West, Jungle's fruity concoctions are perfect as something a bit left of centre but still compatible with the Queensland climate. Sporting some snazzy tiki-themed furniture and styling throughout, you and your pack can treat yourself to some exotic cocktails served in monkey-shaped mugs, or go all out and share a fathomless Zombie Bowl.
The End
The End at Vulture Street is a hip little space, squeezed into the space formerly occupied by Trash Video. They kept a heap of treasure from the bygone rental store and have used it to decorate the bar, along with vintage furniture. The crowd at The End is casual and eclectic, with folks stopping by for the rad tunes, long list of local and international beers, and seasonal cocktails. Pretty much required drinking for anyone in the area tbh.
Brisbane Brewing Co
Found down a cluttered alleyway off the main Boundary Street drag, Brisbane Brewing Co is very much a choose-your-own-adventure kind of joint. Their brews cover everything from pale ales and organic pilsners to the randomised offerings of their tap takeover. Throw in a few share platters and a hoagie or two and your night is pretty much sorted.
Bosc
And just next-door live the Bosc booze merchants: mavens of the gin cocktail. No one works a Hendricks like these cool cats, and I defy anyone (gin lover or not) to spend a night here without getting hooked on the juniper. They've also got eight beer taps that are changed over on a monthly basis, and a really great wine list making Bosc a chummy all-rounder.
Image credit: Hayley Williamson and Ariana Gillrie