It can be hard to find a Brisbane restaurant that's open on a Monday night because, well, it's a Monday night in Brisbane. But you want to know where to head in this big country town of ours, you need to ask a bartender. These legends give up the rest of their weeks to ensure we enjoy ours (and maybe even forget them after one too many gin and tonics), but Monday is their night to sample Brisbane's food scene—and these days, there's more and more venues open early in the week to accommodate them.
After asking a few of our favourite bartenders around town where they go to eat on a Monday or Tuesday night, we found that contrary to popular belief, there's plenty of kitchens open and willing to feed you. Here are a few of the faves, and what you should order when you're there.
Same Same
Fortitude Valley | Martin McConnell, Death & Taxes
"It's a bit of an obvious pick, but it's not often one of Brisbane's best restaurants is actually open seven days, or on a Monday for that matter. Everything about Same Same encapsulates the ideal dining experience for me—incredible and unique food, exciting drinks, relaxed yet impeccable service, and an electric atmosphere in one of Brisbane's most beautiful settings, hard to say no to. My ethos with Same Same is to go as a group and share your way through the menu. There are some mini bar snacks that you can have individually (the betel leaves and mini burgers are fab), but I like to have an excuse to share as many of the dishes (mainly the curries) as possible."
Zero Fox
Teneriffe | Martin McConnell, Death & Taxes
For me, nothing ticks both the affordability and quality box quite like Zero Fox. It's Korean and Japanese street food, just done so so well, and they also cater to a plethora of dietaries, so it's become a go to with my vegan partner. Pair all this with a super trendy rotating craft beer list, and frequently updated wine list, it's an easy pick. When it's cold, order the katsu curry, when it's hot, katsu sando. And crispy chicken wings, all year round—they are the best in Brisbane (I've done the research)."
Little Gs
Woolloongabba | Martin McConnell, Death & Taxes
"Little Gs is a humble little Wooloongabba hideout and they do two things, pizza and not pizza, but personally I'm there for the pizza. Cooked in a stone based oven, their pies are delicious, but also boast some pretty creative and left of field flavour combinations. It's also a regularly updated menu, so expect new pizza adventures every time. It's had a few iterations, but my pick is a pear, gorgonzola, honey and speck pizza—moi bien."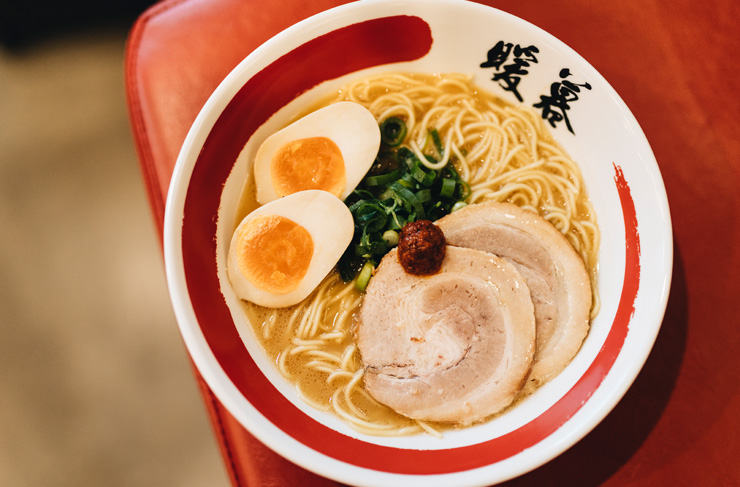 Ramen Danbo
South Brisbane | Matt Baker, Dr Gimlette
"I like to pull up a seat at the bar stools in Ramen Danbo facing the kitchen so you can see the ramen being made in a bit of a production line method. It's a nice balance to receive a similar form of hospitality on a day off when you are usually providing it 5 nights a week. I always order the classic ramen with Nitamago (or two sometimes) and I get it as rich and salty as possible. It's just such a warm, umami explosion that leaves me feeling so content and fulfilled."
Bird's Nest
Fortitude Valley | James Corcraighe, Mrs J Rabbits Speakeasy
"A great late night Japanese yakitori (skewers) spot near the bustle of Brunswick Street, Bird's Nest recently expanded and the drinks menu with it. The food is affordable, filling and fantastic. I would regularly frequent there on my nights off. Order the banquet offering here because it makes the ordering process easier as the food is made to share over many different plates, and it contains some of their best hits. To drink, it has to be the Six Sisters by Jack Sowden. It features Roku Gin, jasmine tea syrup, black peppercorn and peach. Don't forget a Japanese whisky or dry style sake to finish!"
Hai Hai Ramen
Paddington | Shawn Brown, KAZBA
"For my Monday nights off I'd have to choose Hai Hai Ramen. Located on Latrobe Street in Paddington, it's the perfect spot on those casual Monday nights when you're just looking for a good meal on your own or with your friends with the perfect combination of beer and noodles. They serve the best ramen in town and my go-to order is the tonkotsu ramen—pork bone broth, shoyu, thin noodle, chashu pork, marinated egg, nori, negi and black garlic oil (with extra noodles). Or, another ramen I love is the chicken mazemen which is grilled chicken, thin noodles, mushroom, negi, fried shallots, pickle and your choice of miso or tan tan sauce without the soup. Best paired with an ice cold beer. Their baos and izakaya are too tempting to pass on if you were just after a snack and they also have great options for vegetarian and vegan friends as well."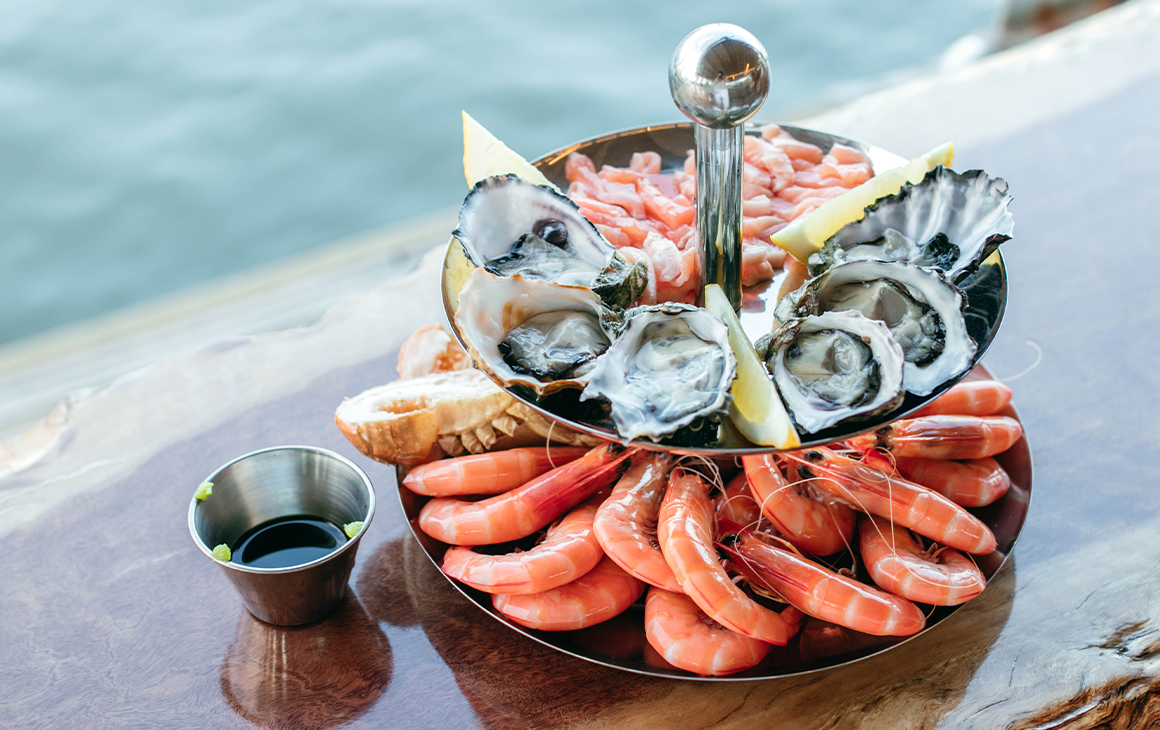 The Prawnster
Kangaroo Point | Liam Shephard, Bisou Bisou
"Honestly one of the best Monday night feeds I've had in a long while was heading down to The Prawnster in Kangaroo point and getting a platter of fresh seafood and oysters for two. It's an old prawn trawler converted into a floating restaurant—you're literally on the river. They're also BYO wine, so it's insane value and insanely delicious."
Super Bowl
Fortitude Valley | Camelo, Walter's Steakhouse
"A good night feed is quite a challenge on a Monday in Brisbane. Luckily, as I reside in Fortitude Valley, my options are a little better. My go to would be Super Bowl. It's this cute, family owned and run Chinese restaurant. They kind of know exactly what I want when I walk in: green tea while I wait, sung choi bao pork to start, and then some sizzling mongolian beef and crackling roast pork. Delish."
Moo Moo
Brisbane City | Kieran Hyde, Walrus Club
"I'm partial to the Moo Bar myself—it's the cocktail bar beside the Moo Moo Wine Bar & Grill in the city. I usually get the bang bang duck as a starter, which is roasted duck with green onions, shitake, peanuts, radish and this excellent signature dressing. And I'm a sucker for seafood, so I rarely stray from the oysters Kilpatrick, with a cocktail and a book. The cocktail of choice lately has been the Apple Vineyard Bellini. It's a combination of Hennessy VS cognac, Massenez Crème de Pomme Verte and citrus gomme, shaken together, and charged with Moet Brut, served in a champagne flute, and garnished with an apple skin twist."
Taro's Ramen
Various Locations | Millie Tangs, The Gresham
"My favourite spot for casual dining on a Monday would have to be Taro's Ramen for a big steam bowl of their signature tonkotsu ramen. I do also love Fat Dumpling for the best dumplings in Brisbane and District 1 for pho, when I'm not feeling ramen."
Roti Place
Brisbane City and West End | Dan Gregory, The Gresham
"Man it is hard to find places open on Monday sometimes, but personally I like Roti Place on Charlotte Street for their Malaysian eats (and the roti, of course). Some other favourites are Quan Thanh in West End for a cheap eat and Ramen Danbo in South Brisbane for a bowl of ramen.
Meanwhile, you'll probably find these guys usually hanging about in Brisbane's best bars.
Image credit: Sophie Spencer, Grace Elizabeth Smith, Ranyhyn Laine