The beloved Brisbane beer garden. A spacious habitat where humans come to meet, discuss the daily grind and most importantly, sink glorious, golden beers amongst the shady foliage.
But what really makes a beer garden? Although us Aussies can't claim its creation (let's give a collective thanks to Germany), we've certainly perfected, and to us, a beer garden is only deserving of its name if it's outdoors (or at least allows for a good breeze and plenty of sunlight), features more craft brews on tap than fancy cocktails on the menu, and has at least one form of plantlife in the near vicinity.
Accordingly, we've rounded up our city's best, so let's raise a schooner and make a toast to Brisbane's most impressive outdoorsy beer hangs.
The Prince Consort
Fortitude Valley
The Prince Consort has no less than nine separate spaces to drink in, but we're going to focus on one—the Garden Bar. Boasting a lengthy bar (so more space to squeeze yourself to the front of the queue), loads of greenery hanging overhead, a big screen television and a stage for live tunes, it's the kind of bar you want to hang out in all day and long into the night. And if you do get bored of it? Well there's four other bars to go find.
The Boundary Hotel
West End
Hidden behind the heritage facade of this West End icon is a groovy all-weather beer garden with a retractable roof, not to mention a rooftop bar and backyard decked out in picnic tables and striped umbrellas. Basically, you've got choices, lots of choices. There's no shortage of beers on tap and everything from burgers and pizzas to delicious pub classics on the menu.
BrewDog DogTap
Murrarie
The industrial zone of Murrarie may seem like an odd spot for a brewery, but judging from the weekend crowds in Dogtap's beer garden on a sunny day, nobody minds in the slightest. The outdoor area overlooking the river is the perfect spot to sink a few of BrewDog's signature brews, with giant yard games to play if you get bored. Bonus, it's dog-friendly, so take your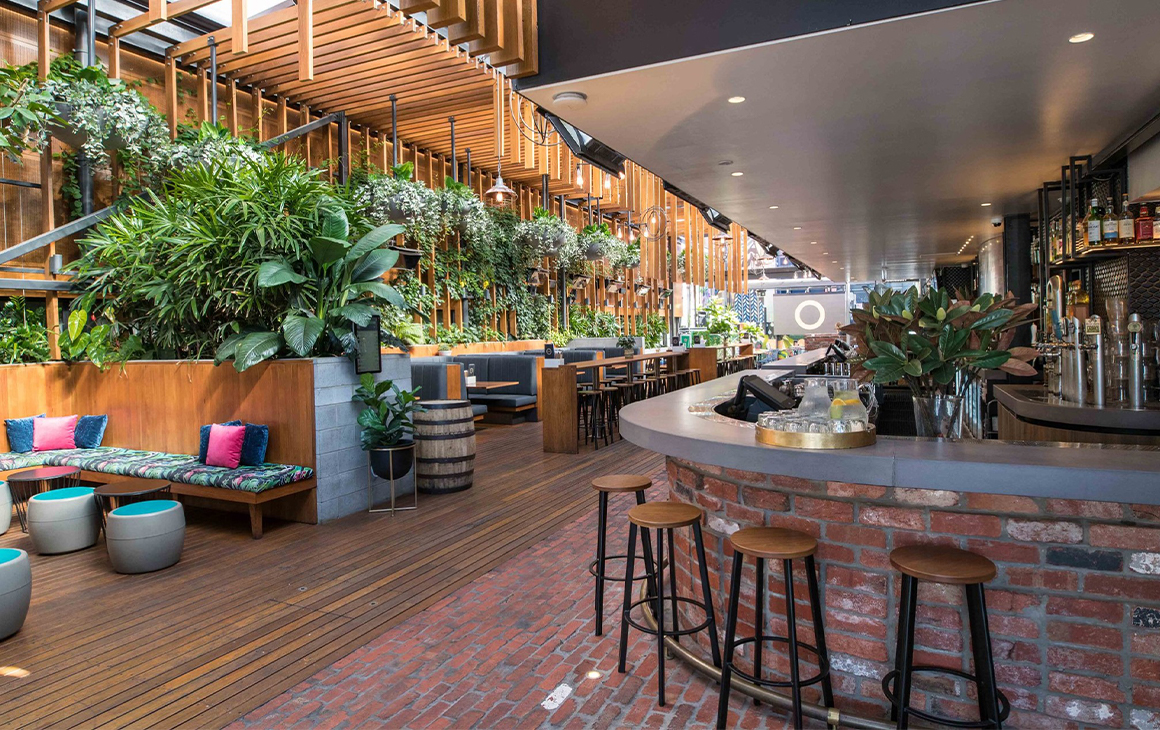 The Osbourne Hotel
Fortitude Valley
One of the first hotels in Brisbane back in the 1800s (that's proper OG Brisbane vibes right there gang) The Osbourne Hotel has a lot of history around these parts, but in it's modern rendition, it also happens to be one of the most beautiful bar and beer gardens in Brisbane. With exposed brick, a vaulted glass roof ceiling, lush plants and leafy areas, this gorgeous alfresco space screams balmy evening vibes, with capacity for up to 400 patrons—a pretty big space, then.
The Plough Inn
South Bank
One of the OGs, The Plough Inn has been around since the dawn of South Bank (at least, we don't remember it ever not being there…). Don't worry, it's had a few refurbs since then, and is looking better than ever, with some very chill garden vibes in their outdoor area. Always buzzing, the beer is ice cold, there's live tunes every weekend and the burrito spring rolls are a must order.
Catchment Brewing Co
West End
Deep in inner city brewing territory is where Catchment Brewing Co and pour their specially-crafted beers. With an art deco ambience and gourmet pub food offerings matched perfectly to their beers, the street art covered laneway out the back is where to go for beer garden vibes right next to the beer brewing tanks.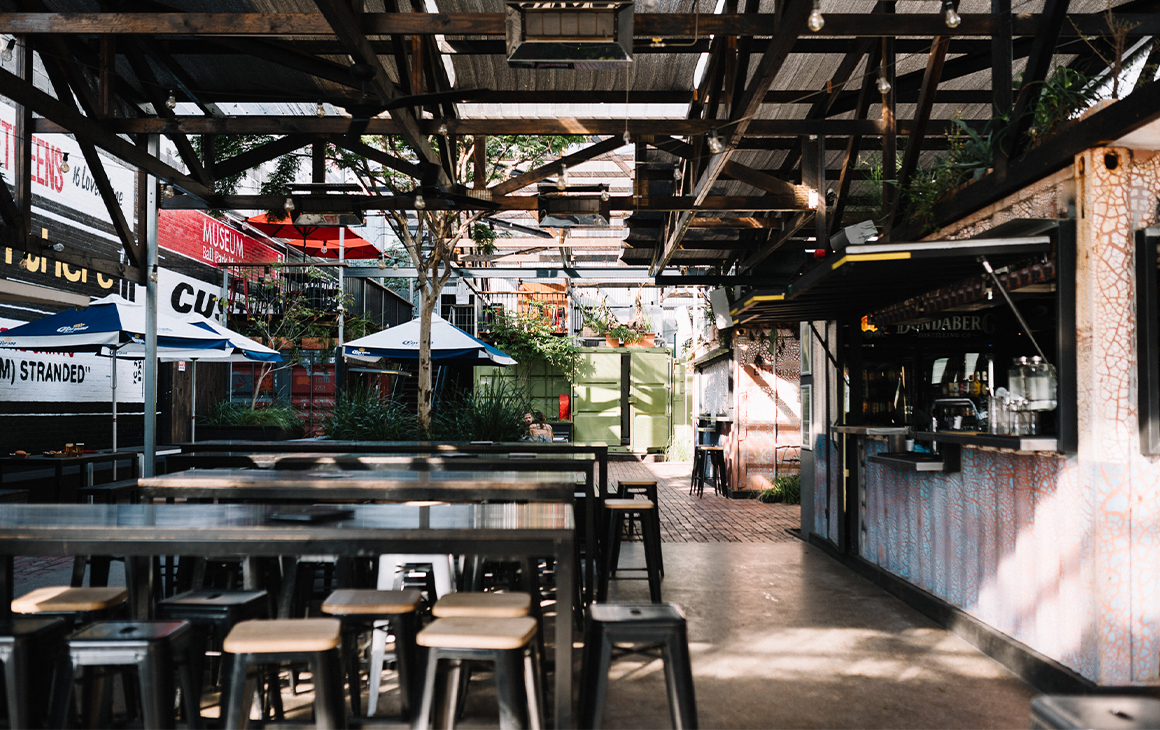 The Triffid
Newstead
The Triffid in Newstead is Brisbane's most iconic live music venue and bar tucked away in the booming 'burb of Newstead. With a hot line up of gigs from some of the country's and the world's hottest acts, and a bar and beer garden outside amongst the corrugated iron and greenery that are open for drinks and good times even if no one's on the stage, The Triffid is renowned for good music and good time for a very good reason.
The Normanby
Red Hill
After a $3 million redevelopent, this historic and iconic Brisbane hotel has re-opened its doors to reclaim its status as Brisbane's original local pub. With a new fig tree—planted to replace the iconic 100-year-old tree that went down in the 2016 storm—The Normanby's beer garden has been given a complete makeover, with a deck alongside dotted with striped umbrellas, perfect for sunny Sunday sessions complete with gourmet pub grub.
Brewhouse
Woolloongabba
A beer garden with temperature control? Yes please. While it might look like a classic old school pub from the outside, Brewhouse is all class on the inside, with a modern industrial look and plenty of gourmet eats to chow down on while you enjoy and ice cold beers. There's multiple spaces to explore too, so don't just stick to the beer garden whenever you visit.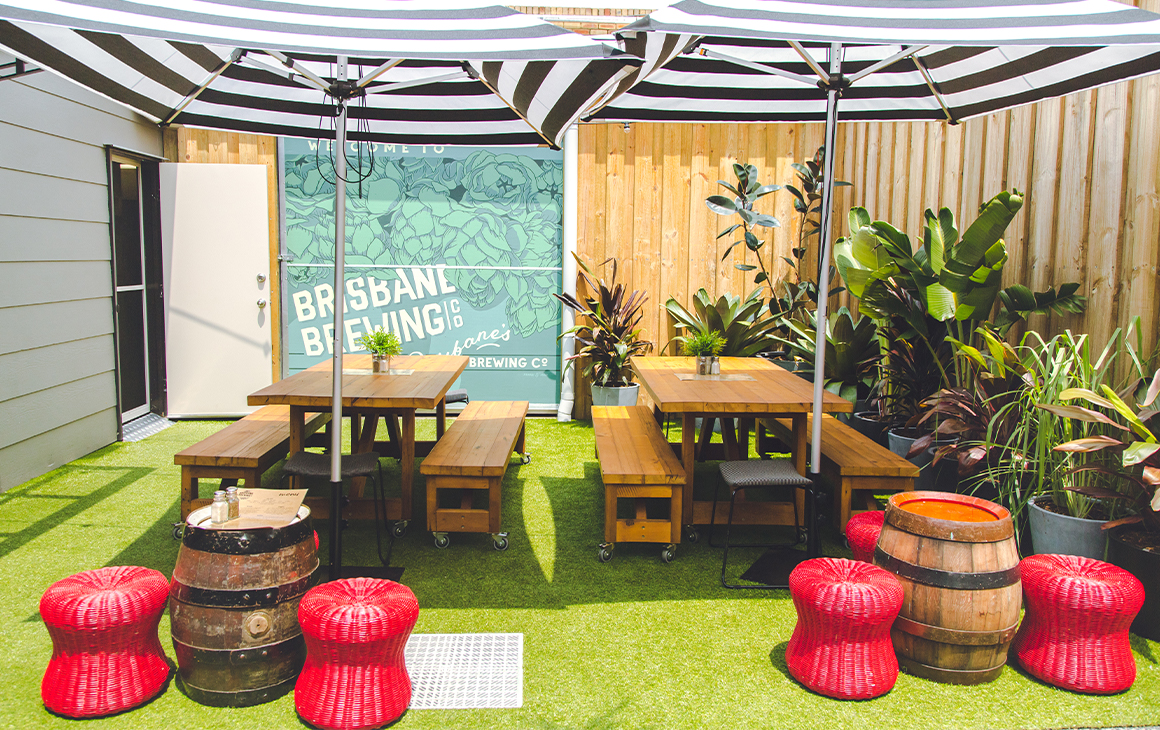 Brisbane Brewing Co
West End
Slip down a sneaky little alley off Boundary Road and you'll find yourself in a beery oasis, complete with spacious outdoor area and top things to munch on. At Brisbane Brewing Co you could sample one (or two) of their 10 freshly brewed beers, which you'll also find at their Brewhouse in Woolloongabba.
Hotel Carrington
Fortitude Valley
While the heritage building taken over by Hotel Carrington is oozing in history, the real draw card of this new Valley venue is its two (that's right, two) beer gardens, perfect for long mid-week lunches, weekend cocktails and everything in between. The indoor bar is pretty schmick too, but keep going out to the rear of the building and you'll find multiple hidden courtyards where you can sip a brew in peace.
Revel Brewing Co
Bulimba
Hanging out close to the water on Bulimba's Oxford Street is Revel Brewing Co. With picnic tables and wicker chairs outside on the astroturf under shady umbrellas, it's just the spot to sip your way through their range of bevvies from oatmeal stout to crisp cider, all brewed for and inspired by their loving locals in Bulimba. They also offer a cute bunch of snacks and pizzas to round out the experience.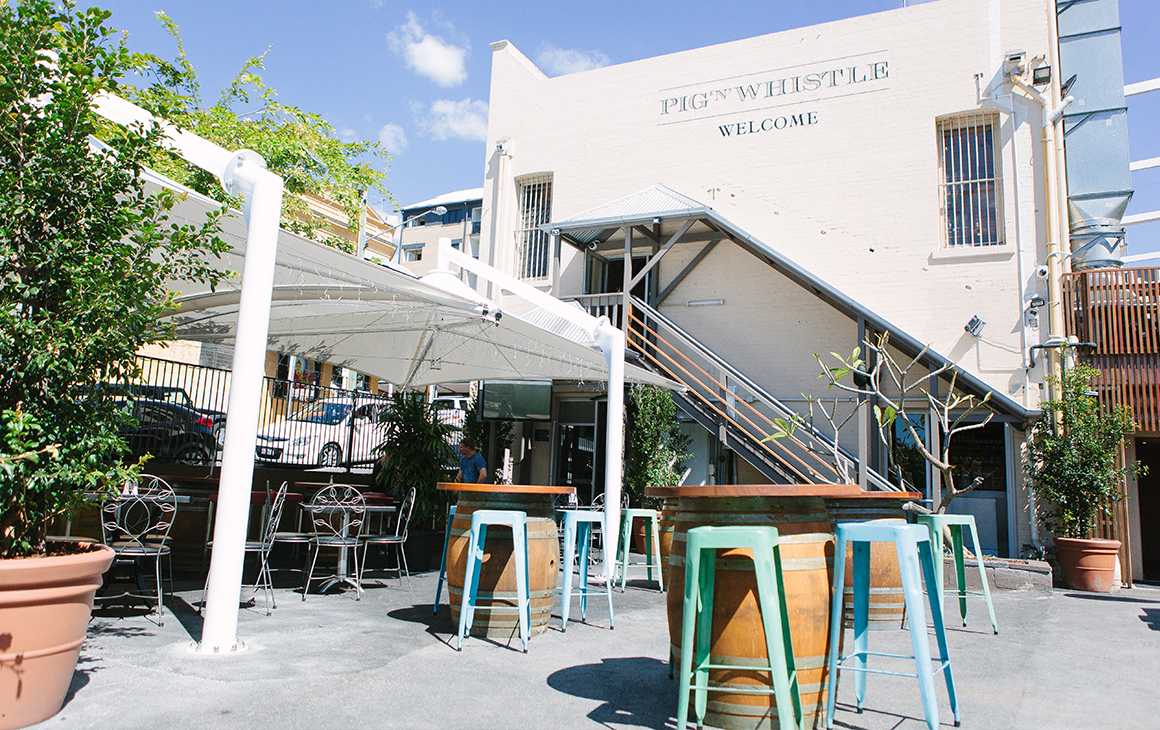 Pig 'N' Whistle
Fortitude Valley
Adorned in enough fairy lights to be seen from space, the Fortitude Valley Pig 'n' Whistle is a surprisingly classy addition to Brisbane's beer garden scene. A frothy or two in the sun in this palm-fringed outdoor drinking hole and you'll be shouting this Brisbane bar's praises as loud as the rest of us.
Felons Brewing Co
Howard Smith Wharves
Situated along the riverfront underneath the Story Bridge, Felons' outdoor areas include seating overlooking the CBD and stretching right along the boardwalk, large grassy gardens with shaded picnic benches and white-washed stone seating underneath shady pergolas out back to shelter from the sun.
Buffalo Bar
Brisbane City
Another heritage building that hides a greenery adorned open air beer garden inside, Buffalo Bar is the perfect spot for post work beers, especially if it's been a tough week. If you need something harder than beer, the whiskey selection is top notch, and might have you confusing the twinkling fairy lights with stars after you've had half a dozen. woofer.
The Wickham
Fortitude Valley
The cheeriest beer garden in town belongs to the ever-lovable Wickham, and boy, is it a doozy. We're excited about spending many a Sunday session in the space that was previously the car park, but has been converted into a cheerful Valley oasis, spotted with wooden benches and tables and an abundance of greenery. The menu—a very tasty international line up of shareable pub favourites—doesn't hurt either.
Just want a good beer, no matter the setting? Check out Brisbane's best craft breweries here.
Image credit: Esteban Riviera, Grace Elizabeth, Daniel Maddock