Let's be real, it's never not a perfect time to sink a tinny. But with all the glorious taphouses in our sun-soaked city, we're hardly going to settle for a subpar brew, hence we've rounded up the best breweries in Brisbane for the ultimate crawl.
Expect seasonal brews, solar-powered innovation, cheeseboards, and lashings of IPA as we gambol through the hops and vats behind Brisbane's finest brews. Here are the best and brightest brains in brewing, and where to find them:
Green Beacon Brewing Company
Newstead
Last year, the fellas at Green Beacon won the 'Champion Medium Brewery of the Year' at the Craft Beer Awards *round of applause please*. With a core range of eight beers, as well as a seasonal and a special release range, there's bound to be something to suit the most discerning palette. Their ales go brilliantly with a share plate or a Wagyu brisket bagel at their Teneriffe brewery.
Top Tipples: Cross Knot Kolsch, or the special release, Uppercut Imperial IPA.
Brisbane Brewing Co.
West End
Slip down a sneaky little alley off Boundary Road and you'll find yourself in a beery oasis, complete with spacious outdoor area and top things to munch on. At the Brisbane Brewing Co craft beer brewery and bar you could sample one (or two) of their 10 freshly brewed beers, which you'll also find at their Brewhouse in Woolloongabba.
Top Tipple: Brisbane Pale Ale.
XXXX Brewery and Alehouse
Milton
Goldies, Milton Mangoes – no matter what you call them, taking a sip of a XXXX Gold is basically like tasting Queensland. Take a tour to visit the home of Mr FOUREX and his fancy hat at the Milton brewery and then enjoy. There's even a nice restaurant there.
Top Tipple: XXXX Gold, duh.
Bacchus Brewing Co.
Capalaba
This Bayside microbrewery prides themselves on producing over three brand new and bespoke beers a week. During the week, you can watch the master brewer do his thing before sampling the latest drop. Friday through to Sunday they also offer pizzas at their Capalaba brewery, which as you'd know goes spectacularly well with a craft coldie. Like what you taste? You can order whole slabs of Bacchus' best brews, from stouts to pilsners, through their online shop and save yourself the drive.
Top Tipples: Bayside Pale and Blackheart Porter.
Catchment Brewing Co.
West End
Deep in inner city brewing territory is where Catchment Brewing brew and pour their specially-crafted beers. With an art deco ambience, their attached restaurant is one step up from pub food with gourmet offerings matched perfectly to their beers, or another drink of your choice. They also often brew a 'specialty beer' as something a little bit spesh to keep things fresh.
Top Tipple: Bright Ale.
Newstead Brewing Co.
Newstead
From little things, big things grow, and so goes the tale of Newstead Brewing Co which started brewing beer in a steel house on Doggett Street, Newstead in the 1940s. Flash forward to today, and the iconic brewery trades in two prime Brisbane locations, historical Newstead and Castlemaine street in Milton, where you'll find Brisbanites unwinding seven days a week with their range of brews, bites and industrial beer-hall vibes.
Top Tipples: Two to the Valley IPA and the 3 Quarter Time Session Ale.
Ballistic Beer Co.
Salisbury
The new kids on the block, you can find Ballistic Beer Co. and their hoppy tides flowing in Salisbury. The brewers describe their beers as, 'the meeting of something old and something new,' which seems a perfect fit for a suburban Brisbane renegade brewery. You can find their beers at various other bars around Brisbane, or sip onsite from Thursday to Sunday.
Top Tipples: The Grandfather, Strong Oaked Ale and the Australian Psycho, Australian IPA.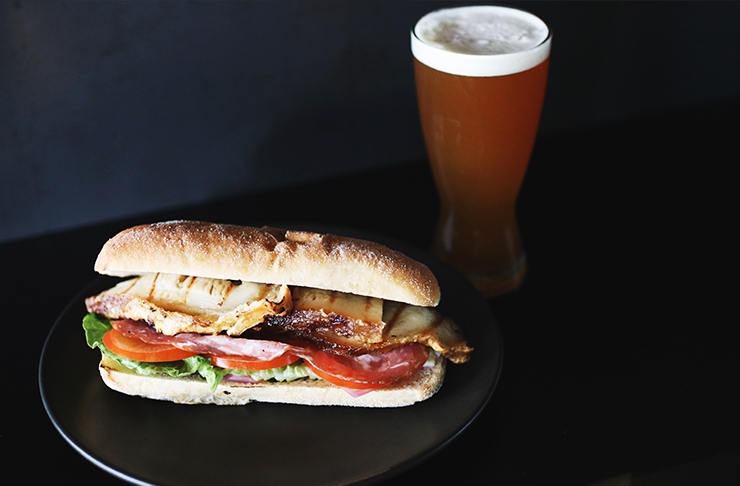 Helios Brewing
Yeerongpilly
Inspired by Greek mythology and fuelled by sunlight, Helios is Brisbane's premier solar-powered brewery. Energy efficiency = maximised. In keeping with this credo, each and every beer, including their core selection and seasonal brews, is inspired by a different character from Greek mythology. If you want something a bit dark and mysterious, try the hard-hitting Medusa Black IPA.
Top Tipples: Midas' Golden Ale, and Athena's Courage (ideal for malt lovers).
Slipstream Brewing Co.
Yeerongpilly
Slipstream Brewing is one of the growing collective of breweries in the Yeerongpilly/Salisbury realm, in chorus with Ballistic and Helios. Their core range features a rye pale ale, a German pilsner, an IPA and an XPA, and a pretty darn good stout, all available to buy by the growler (which is great if you have a hectic brew obsession). Slipstream also regularly hosts food trucks and live music at their brewery, making them a great place to check out on a Friday arvo.
Top Tipples: Yerongpils German Pilsner.
Aether Brewing
Milton
Set up just down the road from the XXXX brewing juggernaut, Aether Brewing is reppin' it for Milton's local craft flavour. Their beer selection of IPAs, ales, stouts, and pilsners keeps locals in good form, while their food includes some of the finest sandwiches in town (and perfect with a pint).
Top Tipples: Pit Stop Pale Ale, Red Giant.
All Inn Brewing
Banyo
The sheer diversity of All Inn Brewing's beers alone is enough to entice you out there. There is literally something for every palate, even the trepid beer drinker. Year round, their core range keeps us plenty entertained with brews like the Sabre session ale and the Bill F. Murray malt liquor, but we're frothing over their seasonal range which includes a summer ale and a couple of extra pale ales, perfect for the hot weather.
Top Tipples: Blind Axeman Amber Ale.
Malt Brewing Co.
Bulimba
Hanging out close to the water on Bulimba's Oxford Street is the fresh operation Malt Brewing Co. Their range of brews is constantly growing, and encompasses a range of bevvies from oatmeal stout to crisp cider, all brewed for and inspired by their loving locals in Bulimba. They also offer a cute bunch of snacks and pizzas to round out the experience.
Top Tipples: Tradies Summer Ale, Oxford New World Pale Ale.
Image credit: Esteban Rivera; Hayley Williamson; Grace Elizabeth Images for The Urban List