It's hard to beat a homemade cookie—fresh out of the oven, these warm, chocolatey treats are like a tiny taste of heaven. But even after months in lockdown, we're yet to perfect our baking skills—we just can't quite nail the chewy cookie consistency we all know and love. So for now, we've decided to throw in the towel, and leave it to the experts to satisfy our sweet tooth.
Thankfully, Brisbane is bursting with all kinds of weird and wonderful cookie concoctions. Chewy, crunchy, nutty, gooey, sprinkled with salt and covered in Caramilk—if you can dream it, you can eat it. We've rounded up the best cookies in Brisbane, so you can quench those cookie cravings no matter when they strike. Just FYI, it's BYO milk.
Mr Treat
Fortitude Valley
You'll find far more creative combos than your run of the mill choc chip cookies at Mr Treat. If caramel is your thing, the 'My Caramel Romance' will not disappoint, but here's also an uber indulgent red velvet number, a cookies and cream creation and s'mores, Caramilk and Biscoff flavours, all with a filled centre that melts to gooey perfection with a few minutes in the oven.
Gold Coast Cookies
Various Cafes
Like your cookies soft and gooey? Trust us—Gold Coast Cookies are nothing short of cult-worthy. Thankfully, you don't have to make the long drive down south for a taste of these bad boys. Brisbane's cafes have already caught onto the craze, so you can pair a coffee from venues like Yolk with a morning sweet treat. Check out their site for a full list of stockists.
Flour & Chocolate
Morningside And Northgate
The secret to the world's most delicious chocolate chip cookie? If you're a Flour & Chocolate fan (who isn't?), it's as simple as a sprinkling of nuts, a dash of salt, and a whole lotta chocolate. Think pistachio and macadamia nuts mixed in amongst chunks of melt-in-your-mouth milk chocolate. De-LISH. They tend to rotate through flavours, so swing by their store to see what's up for grabs this week.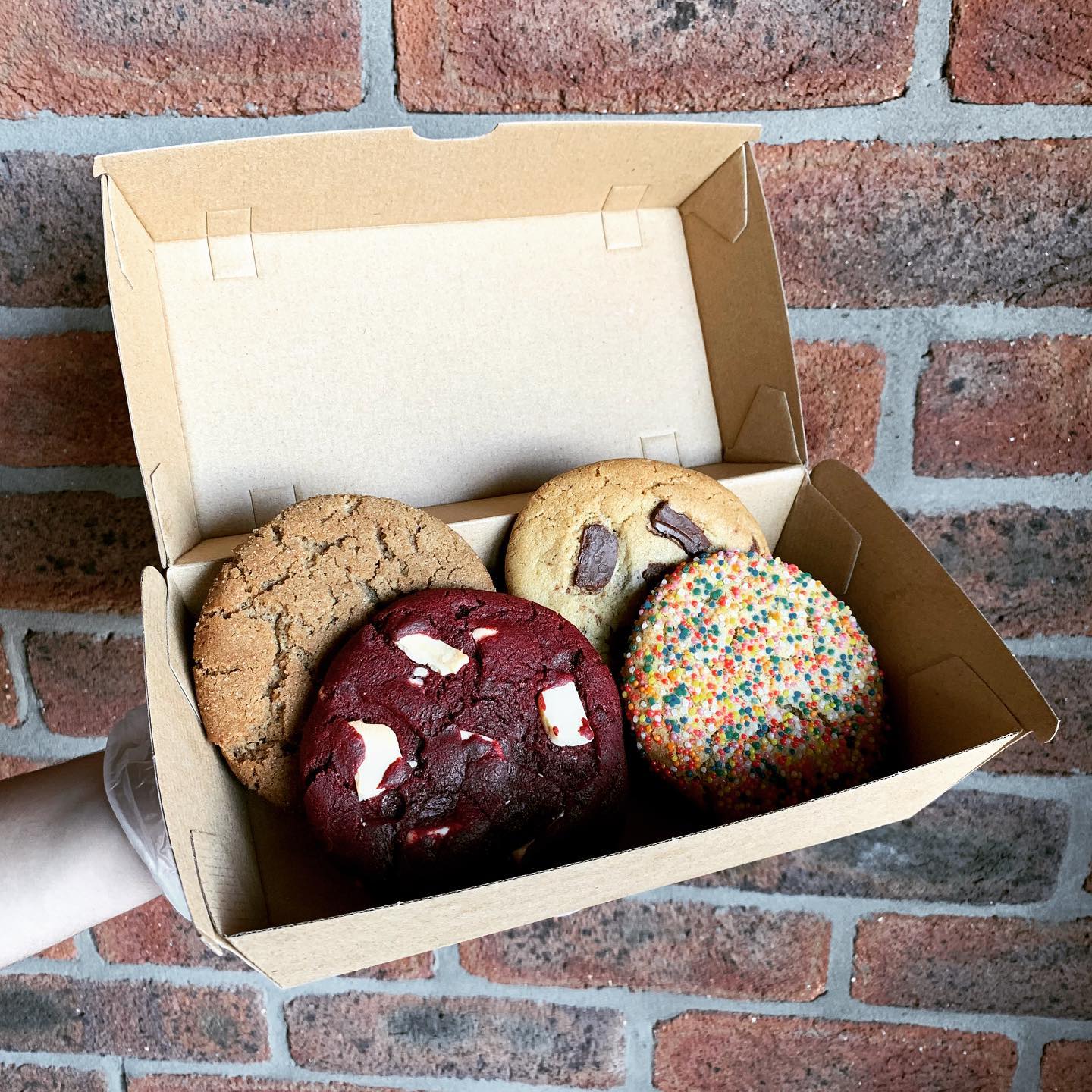 Baked By M+G
Various Markets and Online
Serving up nine different types of freshly baked bikkies, Baked By M+G are Brisbane's unofficial cookie queens. Available at markets across the city, M+G stock all our faves—we're talking white choc macadamia, red velvet and choc chunk (for when choc chip just isn't enough). They even have a vegan range, so you can satisfy your sweet tooth without compromising your cause.
Little G Pizza
Dutton Park
If you're a fan of Little G's good ol' pizza pies, you'll want to set your sights on their dessert cabinet, too. The pizzeria serves up drool-worthy cookies alongside their ever-changing seasonal menu. They change up the flavours on the weekly, but if you missed creations like their brown butter pecan cookies dusted in spiced pumpkin sugar, rest assured there's an equally delicious goodie on the way.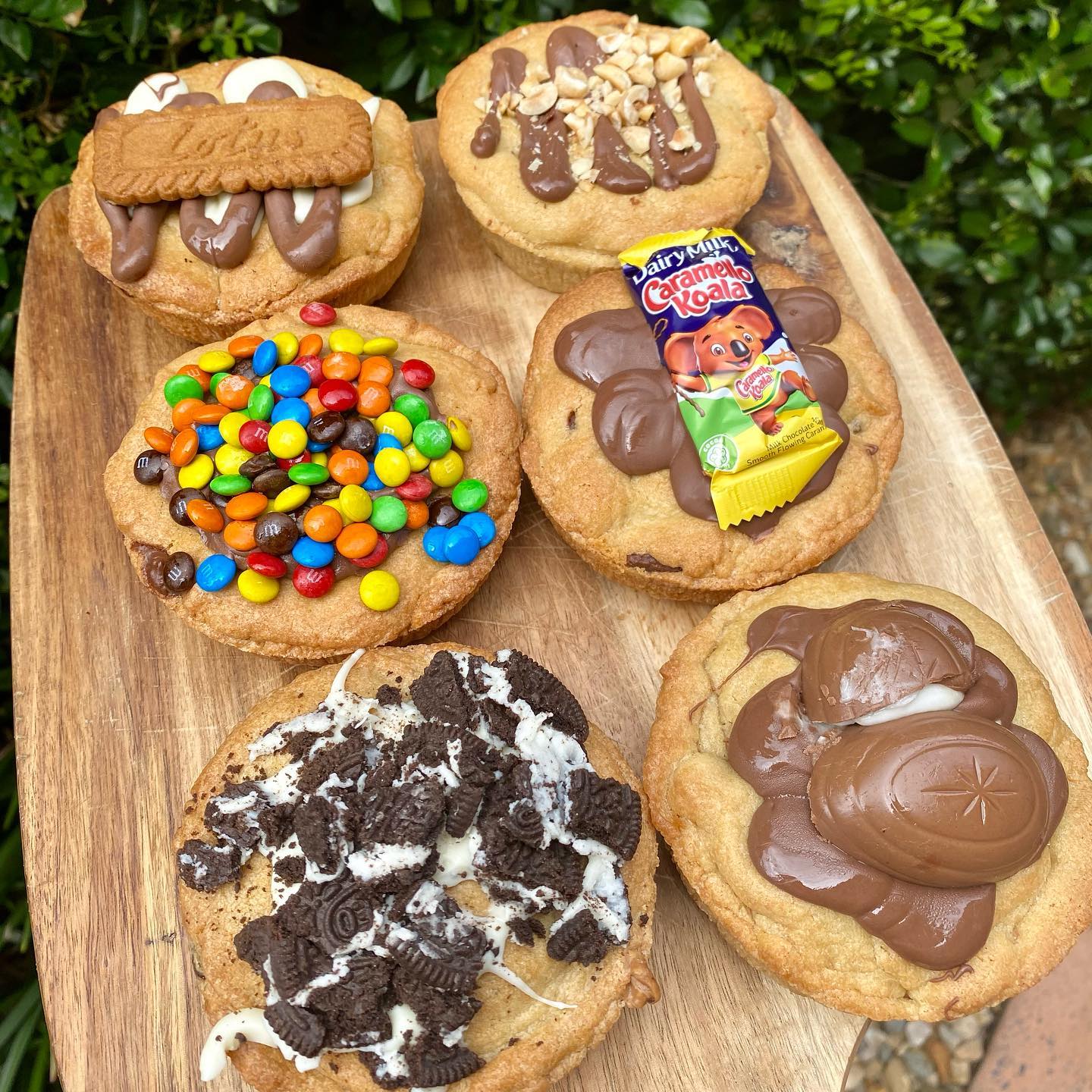 Ninebar & Kitchen
Coorparoo
Local to Coorparoo? Do yourself a favour: swing by Ninebar & Kitchen and pick up one of their cookie pies, courtesy of DoughHouse. What's DoughHouse you say? Only the creators of the most deliciously decadent cookies on the planet. But since they're based on the Gold Coast, the brains behind Ninebar decided to make life a lot easier by stocking DoughHouse cookies a little closer to home. Not all heroes wear capes...
Bella & Tortie
Grange
With a rotating selection of drool-worthy treats, Bella & Tortie is a dream come true for cookie connoisseurs. The bakery dishes up our all-time fave melting moments, but other delicacies of note include their choc hazelnut vegan cookies and dulce de leche shortbread sandwiches. Swing by this weekend to see what's on offer.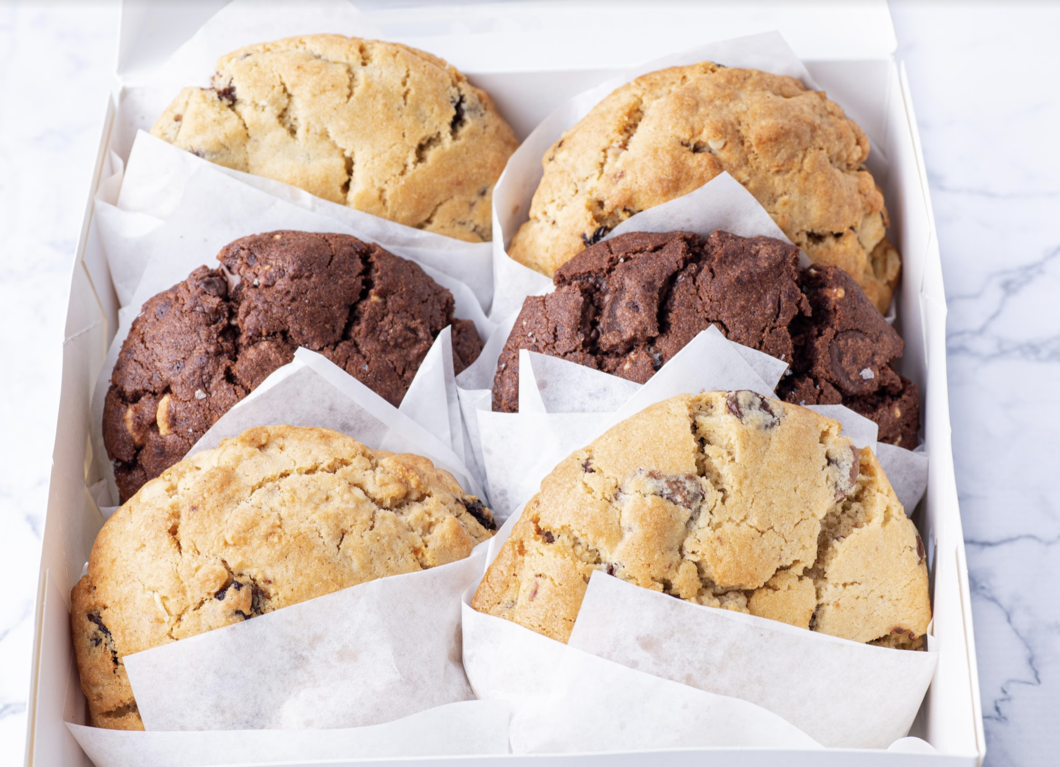 Ginger's Kitchen
Various Markets And Online
Head on down to the Brisbane market scene to sample the goods from this artisan bakehouse. Ginger's Kitchen takes your everyday baking ingredients and whips them up into a delicious blend of indulgent chocolate cookies. You can't go wrong with their OG recipe—a blend of milk and dark chocolate and Belgian chocolate, baked to perfection. Catch Ginger's Kitchen at the Jan Powers Farmers Markets, or head to their site to order online.
Cake And Bake
Newstead
As the brainchild of Brisbane foodie icon Jocelyn Hancock (i.e. the woman behind the best cakes, pastries and provisions in the city), it will come as no surprise that Cake & Bake houses a swathe of treats to satisfy your cookie cravings. Pick up a plate of their famous yo-yo biscuits and treat your tastebuds to the dessert of their dreams.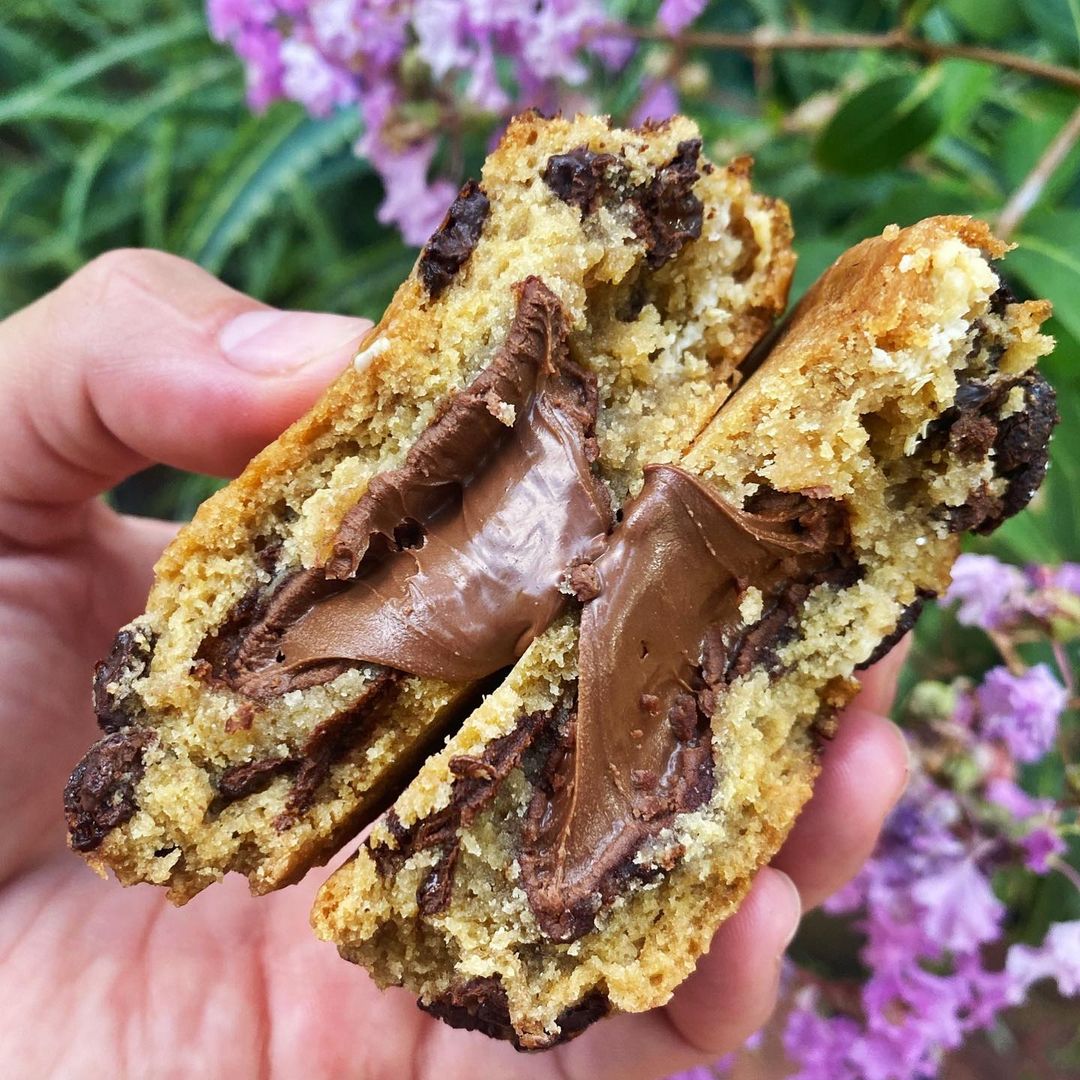 Peach Cafe
Auchenflower
We've got to admit, no matter how stuffed we are with brunch, there is ALWAYS room for a cookie if we happen to spot one at the counter when it's time to settle the bill, and there's no walking past Peach Cafe's signature choc chip Nutella lava cookies. With a gooey, Nutella centre surrounded by soft, melt-in-your-mouth cookie, we'd almost be happy to forgo breakfast for an extra cookie.
Alphabet Cafe
West End
For cookies so good they've earned a cult following, head on down to the Alphabet Cafe. Based in West End, their vegan choc chip cookies practically fly off the shelves, so get in early if you're keen to give them a try. Pair it with a warm brew of Coffee Supreme and don't forget to thank us later.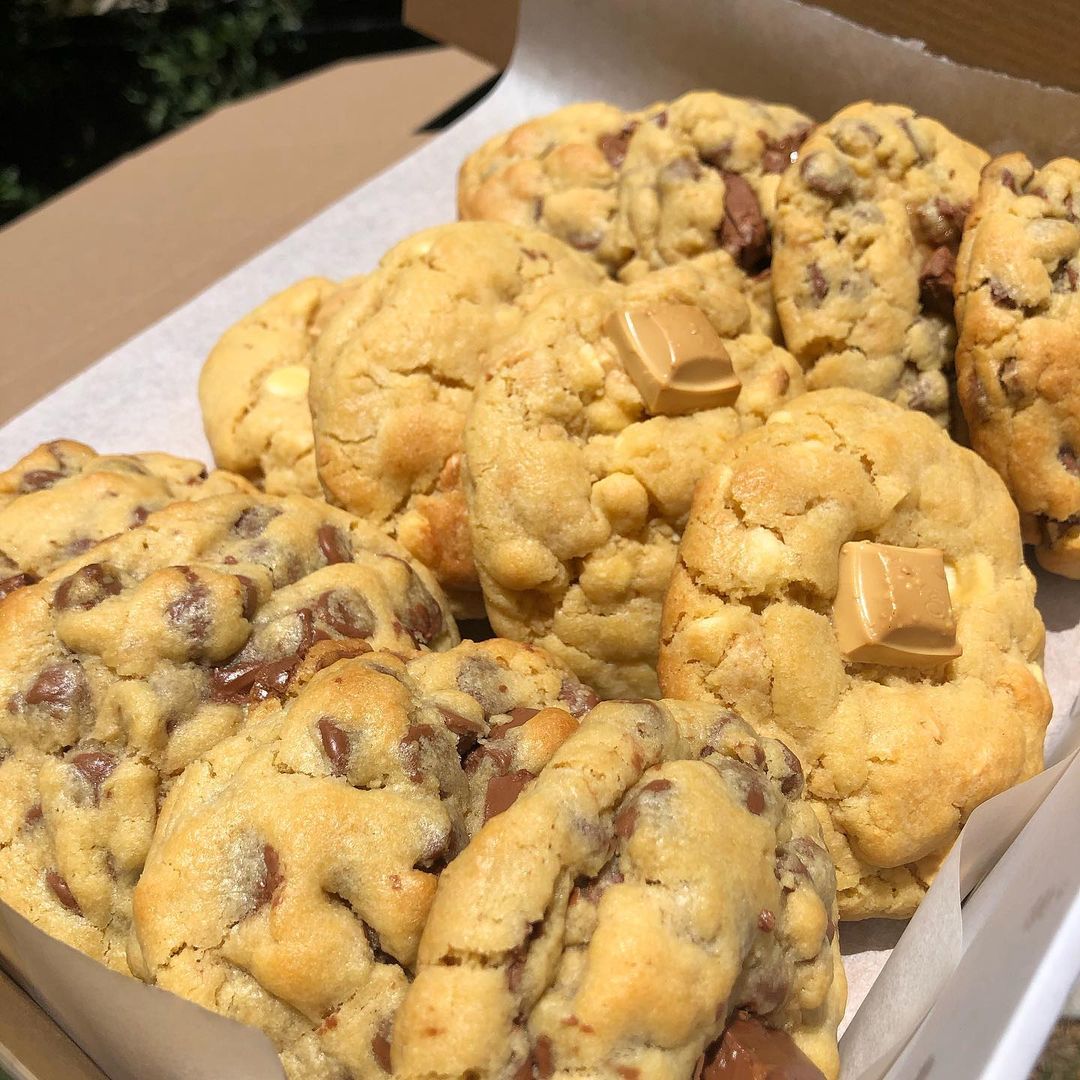 Milk Dough Co
ONLINE
When Uber Eats just doesn't pull through, jump onto north Brisbane-based Milk Dough Co's site and get thick, crunchy cookies delivered to your door. Their new and improved recipe is inspired by NYC, where tourists line down the street for a taste of Levain Bakery's famed chocolate chip cookies. Flavours include cookies and cream, peanut butter choc, funfetti and smores, and you can sample them all with a six-pack cookie box (or a 12-pack, if you're having a rough week).
Marche du Macaron
Ashgrove And Gordon Park
While not technically a cookie, there's no way Marche du Macaron's sweet French delicacies weren't making it on this list. In store, you'll find a rainbow of macarons in just about every flavour under the sun. No, seriously—cinnamon donut, chocolate lavender, musk, lime milkshake—you name it, they have it. Totally worth the trek to the north side, if you ask us.
Looking for more sweet treats? Here's where to snack on Brisbane's best croissants.
Image credit: Gold Coast Cookies, Ninebar + Kitchen, Baked By M+G, Ginger's Kitchen