Quite frankly, croissants are the best way to start the day. They're great for lunch, as a treat; really, they're perfect at any time of the day. The only thing better than a plain buttery croissant is one covered and filled with almonds.
Thankfully, Melbourne is full of authentic French patisseries and artisan bakeries that serve immaculate almond croissants. For your ease, we have curated a list of where you can devour the best almond croissants in Melbourne in 2022:
Q Le Baker
SOUTH YARRA
If you're after an almond croissant from Q L Baker, you'd better get in early. Pastry Chef Quentin Berthonneau is the master behind this popular Prahran Maker spot and has a wealth of experience. At 15 he was already working as a baker and pastry chef in France, before moving over to Australia to learn from Bread Club owner, Tim Beylie.
Candied Bakery
SPOTSWOOD
Set up in a former barbershop, Candied Bakery offers a twist on your classic Aussie bakery. The store was inspired by a trip that chef Toula Ploumidid and baker Orlando Artavilla took to America, and the result is one of the best almond croissants in the inner west. It's takeaway only, but good luck getting out of the store before finishing your pastry anyway!
Gâteaux by Marc Frissard
MENTONE
With a philosophy of "eat with your eyes first and taste and savour", it's no wonder this bayside patisserie is such a hit with the locals. There's nothing more satisfying than an almond croissant that looks as good as it tastes, and Gâteaux by Marc Frissard offers just that. The cafe was opened by French pastry chef, Marc Frissard and his wife, Luane, and is a little pocket of France by the bay.
Loafer Bread
FITZROY NORTH
Dishing up bread, cakes and heavenly almond croissants is Fitzroy North's bakery; Loafer Bread. Using fine quality ingredients, the bakery has been around for over a decade, so they've truly mastered their almond croissant recipe. For one of Melbourne's best almond croissants, Loafer is serving up a red hot favourite.
Florian Eatery
CARLTON
Florian has grown to become one of Melbourne's hottest eateries and their almond croissants are a deserving shoutout. Their produce-driven menu serves new dishes daily that all have one thing in common. They're bloody delicious. All their ingredients are from suppliers within 10km from the Carlton location—and the spot has a relaxed feel making it perfect for your daily coffee and croissants needs. So head to Florian for great vibes and one of the best almond croissants in Melbourne's northern suburbs.
Artisanal Bakehouse
BENTLEIGH
Artisanal Bakehouse is a no-brainer if you're looking for one of the best almond croissants in Melbourne's east. Owners David and Aymeric are both French-born, and before moving to Melbourne developed their craft as pastry chefs in Michelin-star restaurants. Their Centre Road bakery is now teeming with locals each morning so expect queues as well as of the crispiest almond croissants around town. The authentic French bakehouse only opened up at the beginning of the year, but they're already serving up some of the best almond croissants in Melbourne.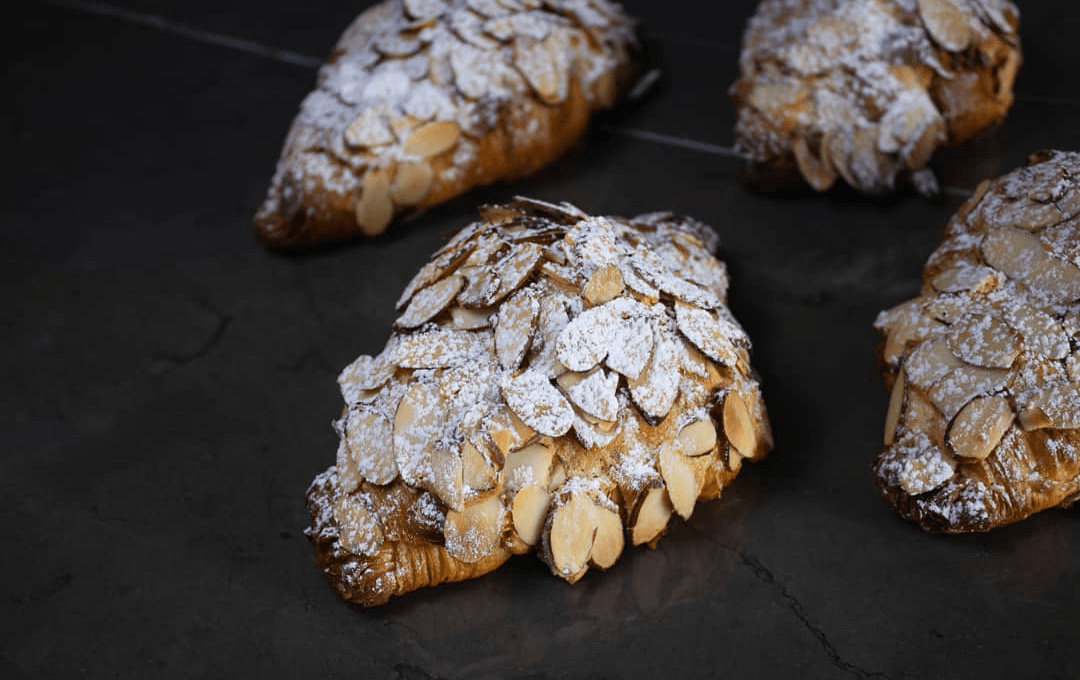 Baker Bleu
CAULFIELD NORTH AND PRAHRAN
Expect lines out the front of Baker Bleu, because their almond croissants are just as good as their bread. Instead of a traditional croissant recipe, Baker Bleu's croissants have a sourdough base. They constantly switch up their croissant flavours, so keep up to date on their Instagram for their daily special. Hold out for their delicious sour cherry, almond and chocolate croissant—because trust us, you're gonna want a bite of it.
Bakemono Bakers
CBD
A great spot for one of the best almond croissants in Melbourne's CBD is Bakemono. The spot is inspired by bakeries in Japan and Korea, so they feature French classics with a twist. For example, their almond croissant also contains a hit of Yuzu. This hybrid is one of the bakery's signature delicacies—probably because the flavour combination is seriously out of this world.
Babka
FITZROY
Babka has been home to baked goods since '93, so the team there knows a thing or two about pastries. Serving great babka (as the name suggests)— their almond croissants are pretty on par, if not better. The Brunswick Street bakery has a warm, cosy feel to it and they are dedicated to quality goods. So, for one of the best almond croissants in Melbourne's northside, rush over to Babka.
Falco Bakery
COLLINGWOOD
Falco is all about traditional techniques and locally sourced produce, which is showcased through their delicious almond croissant. You may know Falco for their delicious cookies, basque cheesecake or artisanal bread, however, their impeccably flakey almond croissant is worth paying attention to. After all, the bakery is based on authentic and quality ingredients —so it makes sense that their almond croissants melt right in your mouth.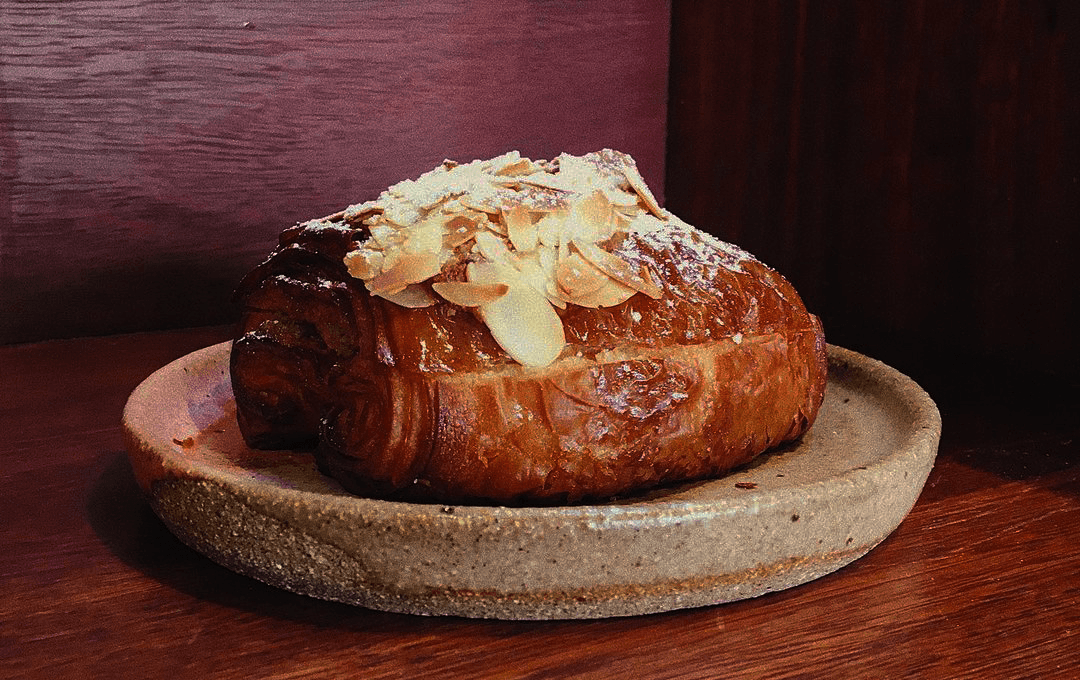 Agathe Patisserie
SOUTH MELBOURNE AND CBD
Agathe Patisserie serves up some seriously top-tier French desserts. Their freshly baked almond croissants truly are one of the best in Melbourne. Being an authentic French Patisserie, they have perfected the almond-to-croissant ratio, and to be honest, all their croissants are pretty phenomenal so you'll probably end up grabbing a few.
Lune Croissanterie
FITZROY AND MELBOURNE CBD
An obvious crowd favourite for the best croissants in Melbourne is Lune Croissanterie. If you haven't been yet, what have you been doing? Their almond croissants are twice-baked, so they have a gorgeous golden crisp and scrumptious almond filling. Also, Lune has been hailed as home to some of the finest croissants in Melbourne (actually, the finest in the world according to The New York Times). So head over, grab yourself an almond croissant and try one of their monthly specials too while you're there.
Juliette
VARIOUS LOCATIONS
Juliette is spreading like wildfire with new stores all over Melbourne. We're gonna attribute this to the fact that they have created one of the best almond croissants in Melbourne. Covered in crispy almonds and filled with a decadent almond frangipane, they are worth a try. Juliette also serves up Inglewood coffee, so pair a coffee with your croissant for the full experience.
Bread Club
ALBERT PARK AND NORTH MELBOURNE
Bread Club's bakeries feature marble benchtops and striking teal walls, their almond croissants are just as beautiful as the interior. However, the croissants don't just look pretty, their rich almond filling and the crispy outer layer that will make you want to come back in a hurry. They're hefty in size and weight, and they also have a choc-almond creation which is just outstanding.
Didn't get your favourite? Let us know where to find it.
On a sugar hunt? Chase down Melbourne's best cheesecake here.
Image credit: Bakemono