You know those scenes in the movies when someone gets a huge bouquet delivered to their office? And all the co-workers gather and gush about what a sweetie the sender must be? Well, you can be that sender in 2023.
You can be the hero. In fact, Melbourne has a bunch of flower delivery options ranging in price from "Thrifty" to "Please please please forgive me". Choosing a flower delivery Melbourne service is no easy task, though, so here are the best flower delivery businesses in Melbourne.
LVLY
It's 2023, and LVLY are acutely aware of the discerning standards of gift receivers these days, that's why their deliveries are flowers and so much more if you want them to be.
Select from one of their boxes which include the likes of wine and choccie, or build your own and add in socks, beer, more wine, and even cookies. Same-day delivery is also available.
Daily Blooms
Daily Blooms takes the choice out of buying flowers, which is a good thing if you don't know your geraniums from your agapanthus (it's cool, neither do we). Every day, owner Courtney Russell gets up early and hits the flower markets, picking whatever looks fresh and awesome. She crafts them into dozens of bouquets, and you can get these delivered all over Melbourne.
No muss, no fuss, and their fresh flowers start at just $59. You can check out today's arrangements on Daily Blooms' Instagram too. Hands down some of the best flower delivery Melbourne has to offer.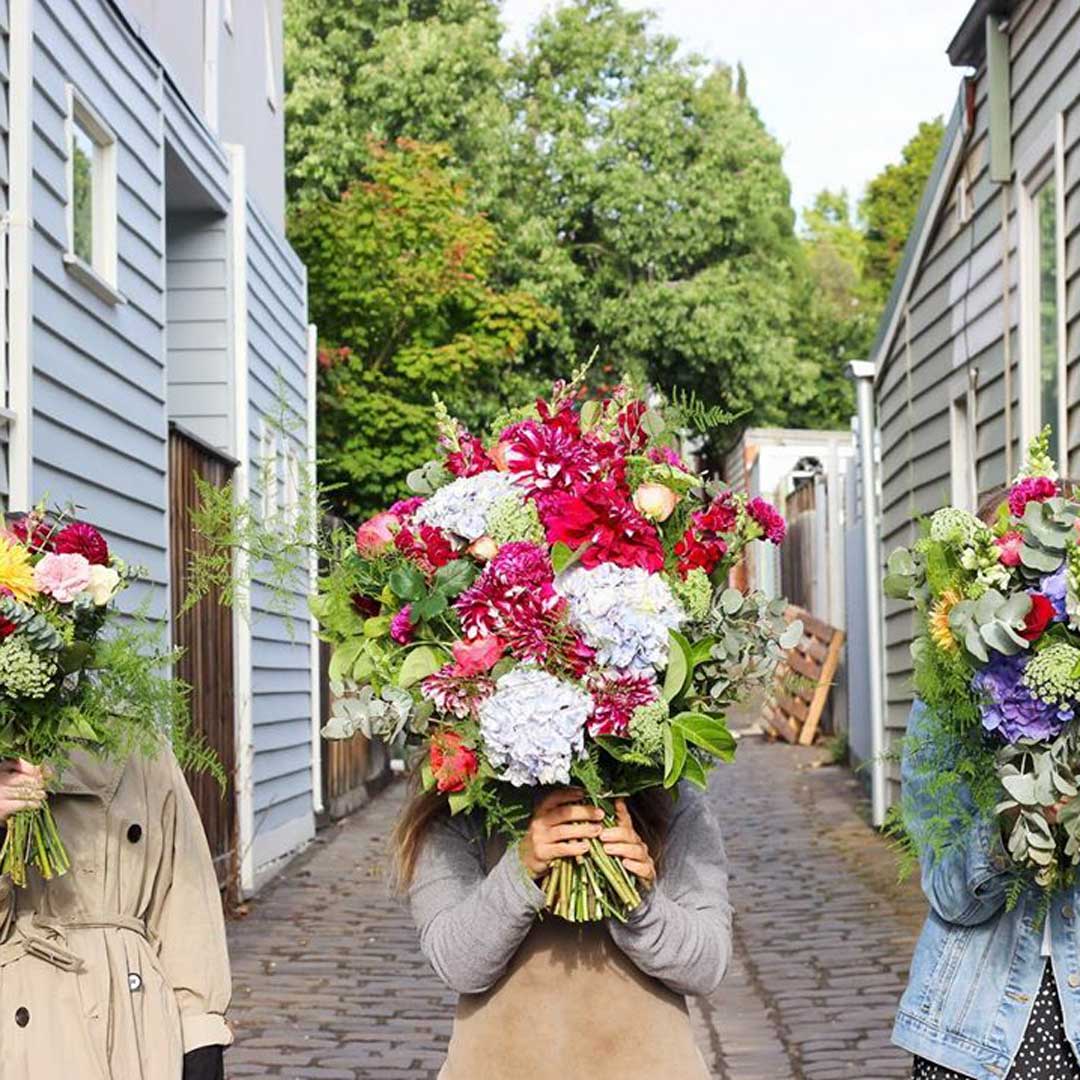 Floraly
Need to get flowers delivered? This Aussie direct-to-consumer flower delivery and gifting service is one of our faves—and one of the more sustainable options out there. Floraly sources flowers only after you place an order, reducing flower wastage by up to 90% while providing customers with the freshest blooms possible.
They've also partnered with OzHarvest so that every bunch of flowers sold buys a meal for somebody who needs it. On top of all that—their flowers are stunning too.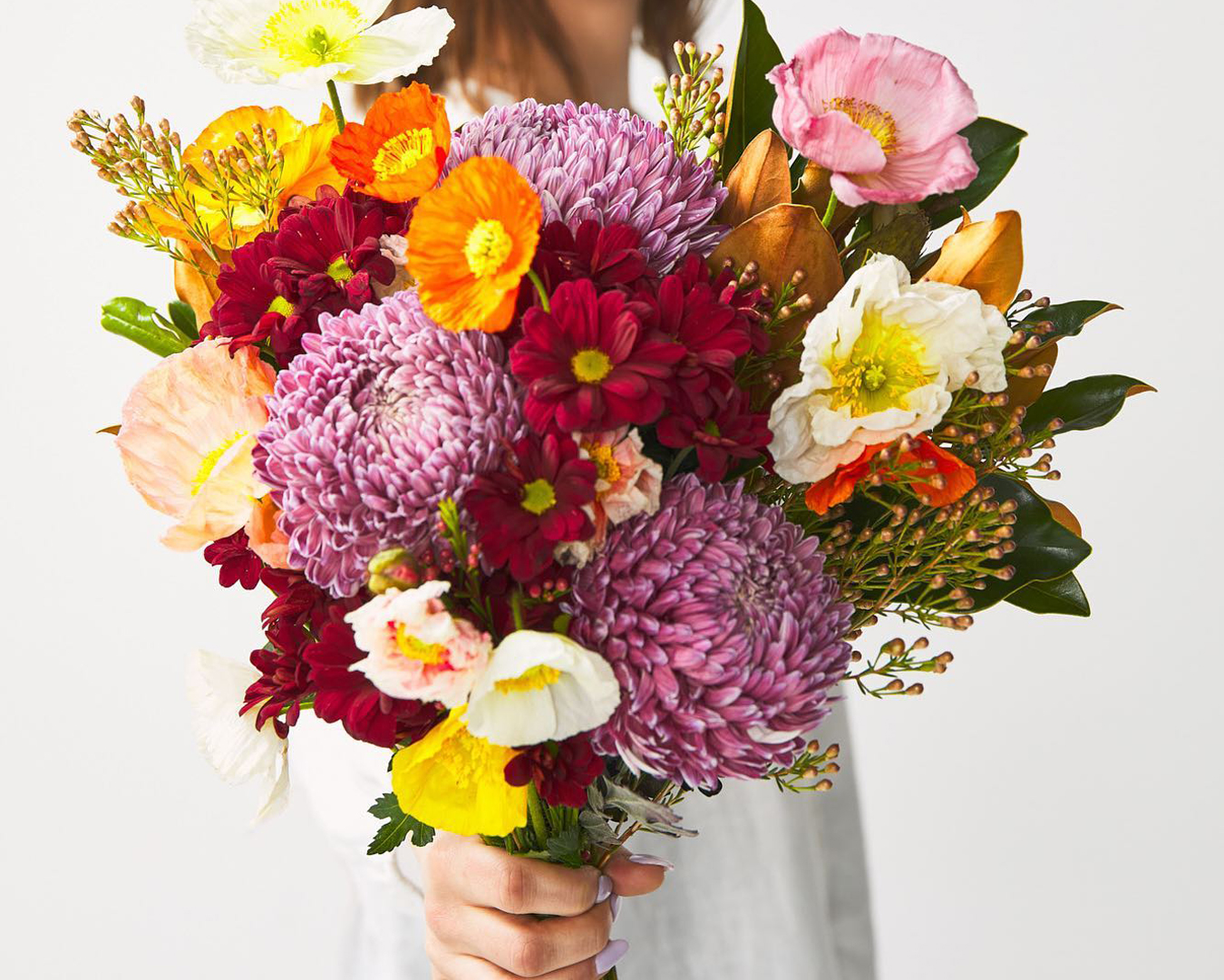 Bespoke Botanics
We're a big fan of these guys because they're 'set and forget'. You can sign up your lover to a flower subscription and they'll get fresh blooms delivered on the regular for six months. We know 'set and forget' kind of goes against the whole spontaneous, gift-giving thing, but we're here for it.
Looking to order flowers? Just choose your bouquet size (large), delivery frequency (often) and the length of the subscription (until the end of time). That's what makes them Bespoke Botanicals. Clue's in the name.
The Indoor Plant Co
Flowers are always a strong option in the gifting space, but sometimes going for something with a little more longevity can really make an impact, cue Indoor Plant Co. The online-delivery service has a range of lush colourful plant life, perfect for all occasions from a birthday, to a run-of-the-mill Wednesday, and the best part, you'll have to forever (presuming your watering routine is on point).
Looking for stunning floral arrangements? The range is extensive and perfect for all homes from the beautifully fragile fiddle leaf, to a more accessible monstera or peace lily, and the best part is they offer same-day delivery service so if that special day has rolled around and you're in a pinch they've got you sorted.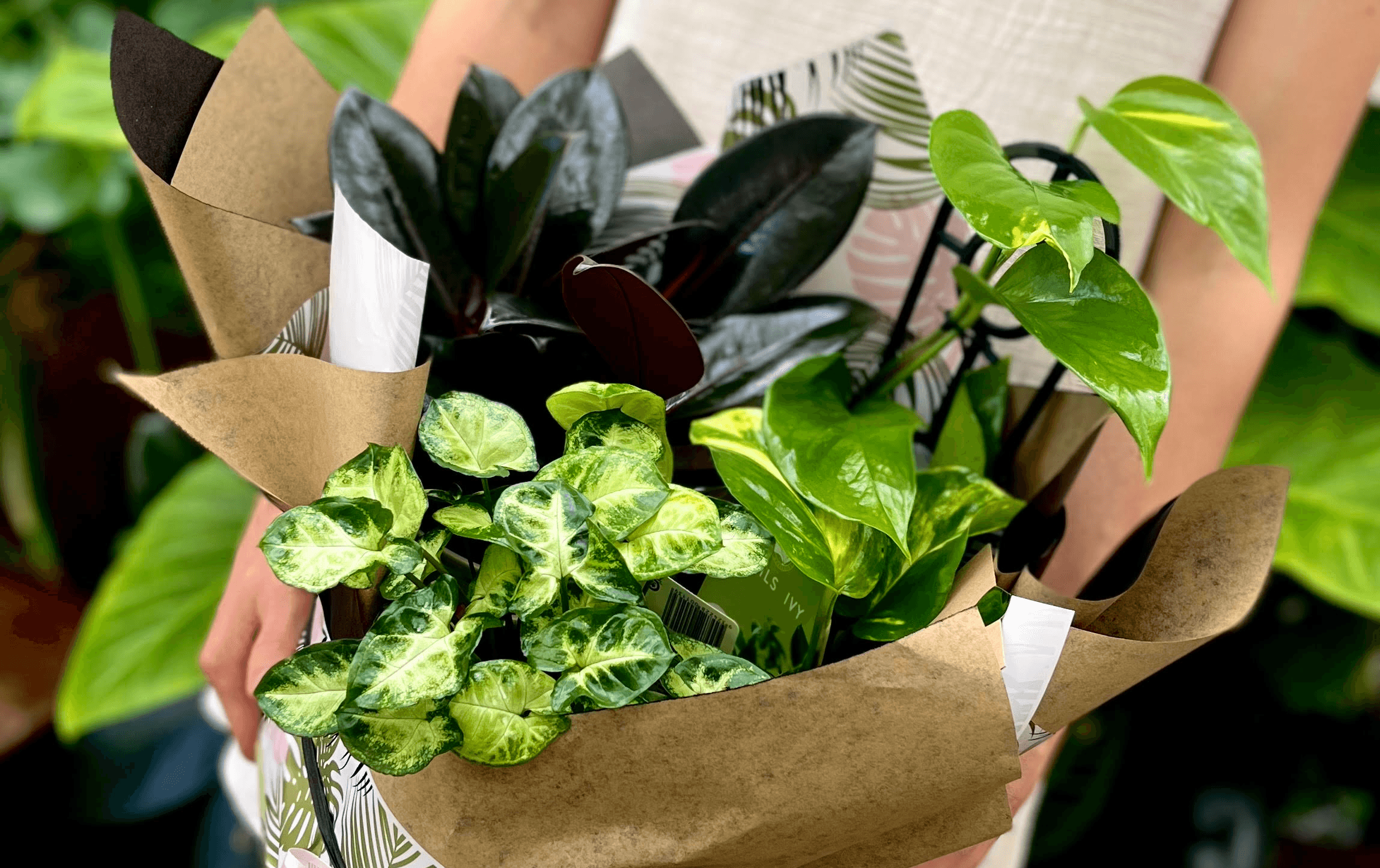 Fig & Bloom
When you search 'flower delivery Melbourne', the results can be overwhelming to say the least. Luckily, Fig & Bloom are flower delivery specialists. That's kind of their thing. Now servicing more than 150 suburbs from their little store in Kew, they do same-day delivery for no extra cost (if you get your order in before 12pm).
Expert florist Kellie does a mean bouquet, and they have subscription packages if you want a regular dose of pollen in your life. The arrangements are pretty speccy too—definitely a step up from your regular baby's breath and roses. Each one's named (and themed) after a famous city. Some of the most beautiful arrangements, and certainly a top contender for the best flower delivery in Melbourne for 2023.
Little Market Bunch
Little Market Bunch have a slight vintage, twee, hessian-wrap vibe going on. They're a bit like Daily Blooms—every day they'll source the best flowers from around Melbourne and arrange them into beautiful little bouquets. They're considered some of the best flower delivery Melbourne has, and you can see why.
The cool thing about these guys is you can also add on a bunch of other stuff: T2 tea, Black Pantry Marshmallows, passes to the Peninsula Hot Springs, Laneway Candles, whatever you want. Prices start from $34.95, and you can even deliver indoor plants.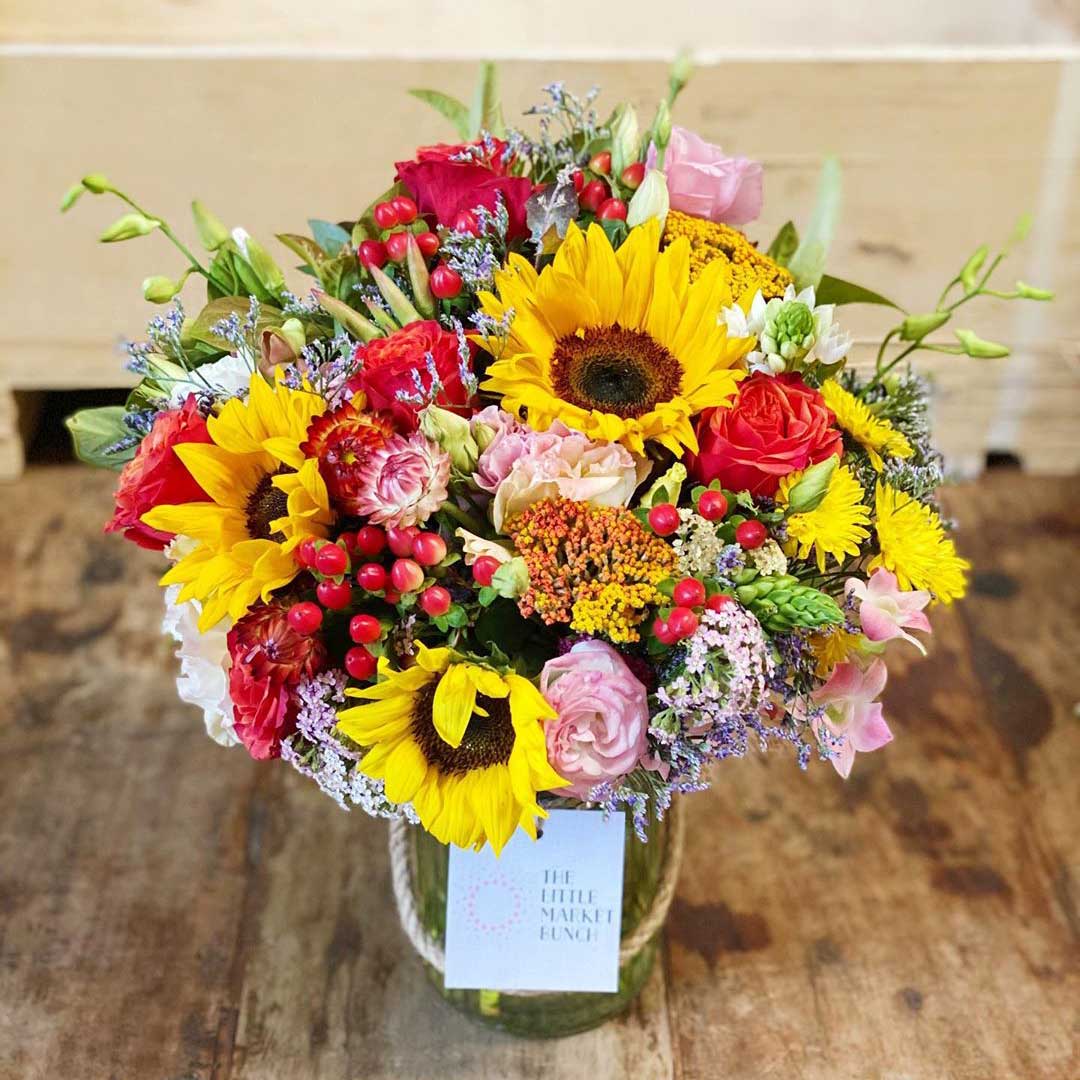 Hello Botanical
Speaking of indoor plants, that's Hello Botanical's game. They're considered some of the best flower delivery Melbourne offers because they do same day flower delivery, and it's just not your typical flower stuff. Think giant pots of Zamiculcas Zamiifolia or hessian-wrapped Philodendron Imperial.
You don't see indoor plant deliveries turning up in a lot of romcoms, but there are practical benefits: they last a lot longer, they oxygenate your room, and they look cooler (these days anyone without a small rainforest in their apartment is waaaaaay behind the times).
Manflower Co.
Man doesn't like flowers? Fair enough. They do die and cost money and stuff. Luck we have Manflower Co to swoop in and save the day. These guys do deliver bouquets, but they're bouquets of beer (the company's tagline is "beer delivered to babe").
You just hop online and order a box, stocked with a rotating supply of Aussie craft beer (Balter usually features pretty heavily, which we're totally fine with). Manflower Co delivers the beer to your babe, who then drinks the beer and buys you a pony (probs). Nice branding and packaging on this one too. Class all the way.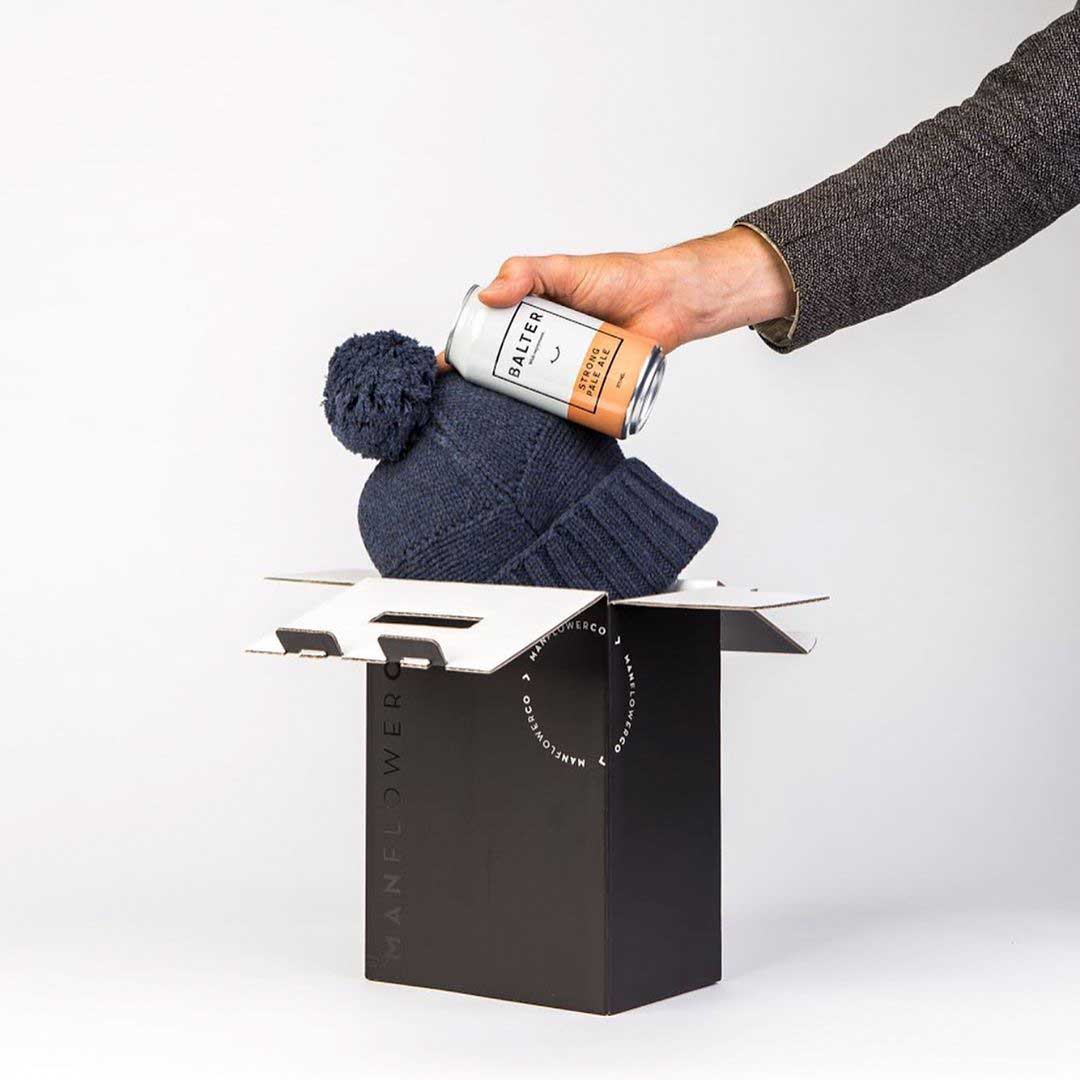 Hello Blooms
Special occasion? Hello Blooms boast a flower delivery range of over 300 suburbs across Melbourne, so if you need a flower delivery service that's reliable, you can bet your bottom dollar that Hello Blooms will have your back.
Speaking of your bottom dollar, the team at Hello Blooms also have a huge range starting at the sub $50 price mark, making it one of the cheapest flower Melbourne offerings.
Got time to browse? Here's our list of the best florists in Melbourne.
Image credit: Bruno Nascimento
Editor's note: Urban List editors independently select and write about stuff we love and think you'll like too. Urban List has affiliate partnerships, so we get revenue from your purchase.