Doesn't matter how you spell it, doughnuts (or donuts) in Melbourne are kinda a big deal. They're the ideal baked good, they're sweet enough to be a treat, yet usually hefty enough to be a meal if you're so inclined. And fortunately for us, we've got some seriously good spherical sugar-coated dough rings available in and around town.

So, here it is, the best donuts Melbourne has to offer in 2023:
Hector's Deli
FITZROY, RICHMOND, SOUTH MELBOURNE
In addition to supplying hungry punters with a steady supply of expertly crafted and passionately assembled deli sandwiches, Hector's also serves up one of the best donuts Melbourne has to offer.
An artful process of simple perfection, this single-option maple-glazed donut is a revelation, a pillowy soft interior is met with a salty and sweet icing which when consumed results in a truly transcendent couple of seconds.
Dr Dough Donuts
ONLINE
It's 2023, and that means you don't necessarily need a shopfront to build a solid rep as purveyors of the best donuts Melbourne has to offer. What started as an Instagram page, Dr Dough Donuts has now turned into a fully-fledged donut delivery Melbourne operation, serving up several sweet hits of nostalgia with the likes of a Nerds-covered number, a take on the Golden Gaytime (but in a donut of course) along with a hefty grip of classics.
Dr Dough has also recently released an entirely vegan donut range, which includes a caramel and apple, a lemon curd cake, and a Biscoff banger that'll knock your socks off.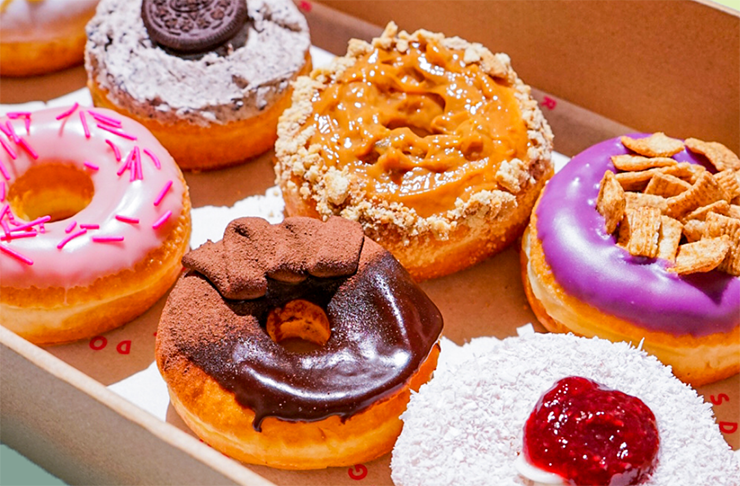 Shortstop Coffee & Donuts
CBD
A slick little donut Melbourne shop, hidden in the backstreets behind Lonsdale and Elizabeth. Short Stop is the brainchild of Anthony Ivey and Sinye Ooi, who worked on their doughnut recipe for 12 months, travelling all over the US, sampling different techniques.
The result is perfectly fluffy dough, and toppings to make your head spin. The vanilla bean glazed numbers are excellent, but keep an eye out for rotating specials like triple matcha or earl grey and rose or maple bacon.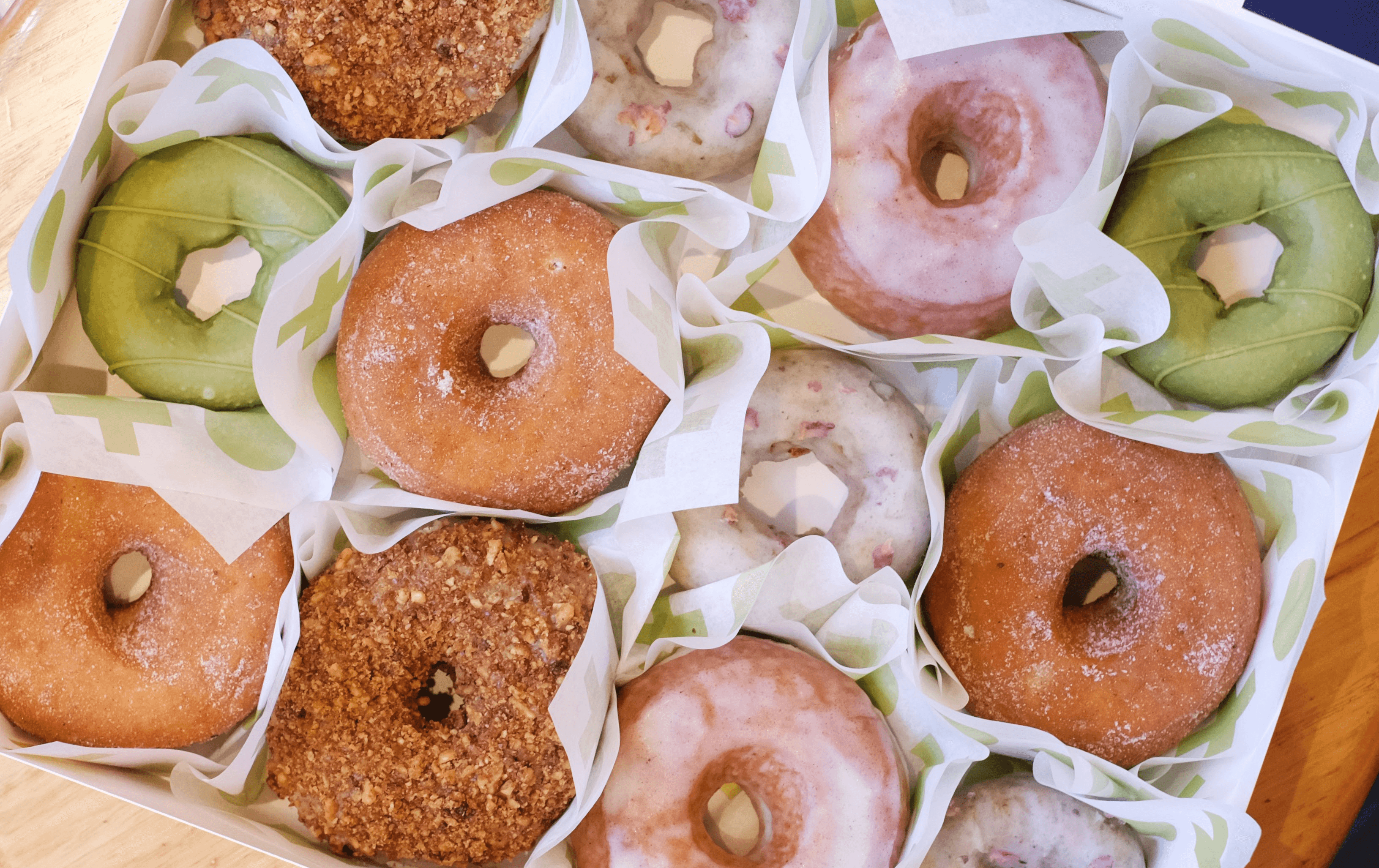 Penny for Pound
RICHMOND, MOORABBIN, RICHMOND
Penny For Pound, already a staple for some of the freshest pastries in town. Just follow the sweet scent down a side street off Bridge Road to find their selection of dreamy doughnuts. Made with their signature brioche dough, Penny For Pound's raspberry jam doughnut is filled with jam and coated in cinnamon sugar, while the lime and white chocolate doughnut is stuffed with silky smooth white chocolate lime custard.
They've quickly become a local fave in Richmond since opening in 2018, and their team of passionate pastry chefs want to make sure you allocate your carbs wisely with their foodie-approved doughnuts.
Cobb Lane
YARRAVILLE, RICHMOND, SOUTH MELBOURNE
Yarraville's Cobb Lane is the ultimate artisan destination, so you can be sure they know how to bake. Not only do they craft moments to savour, but they also create doughnuts you'll want to return for again and again. Picture light, fluffy pillows with assorted fillings. Their stuffed salted caramel, jam and Cobb Lane surprise flavours make the perfect treat to yourself or gift to a dessert-worthy friend.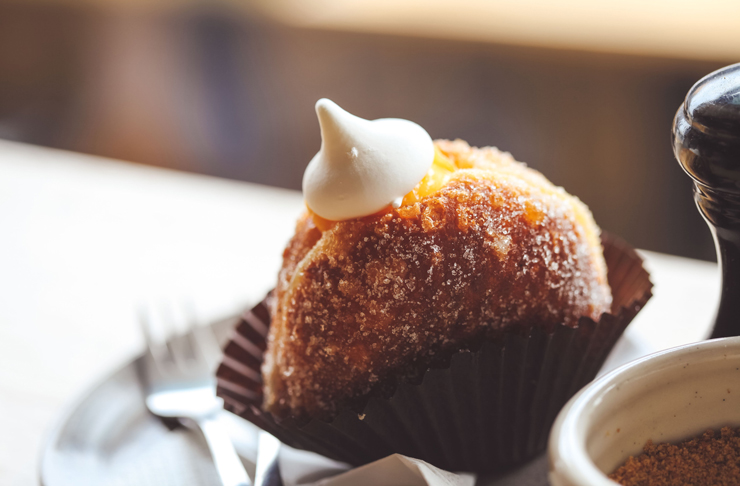 Bistro Morgan
WINDSOR
Doughnut emperor Morgan Hipworth started Bistro Morgan in his early teens (in case you weren't feeling bad enough about your life direction today). Bistro Morgan has gone gangbusters since then and is now considered to make some of the best doughnuts in Melbourne.
His pinnacle has got to be the Creme Brulee—a brioche doughnut filled with handmade vanilla bean custard and then top with burnt crunchy toffee on top. Basically the classical French dessert in doughnut form.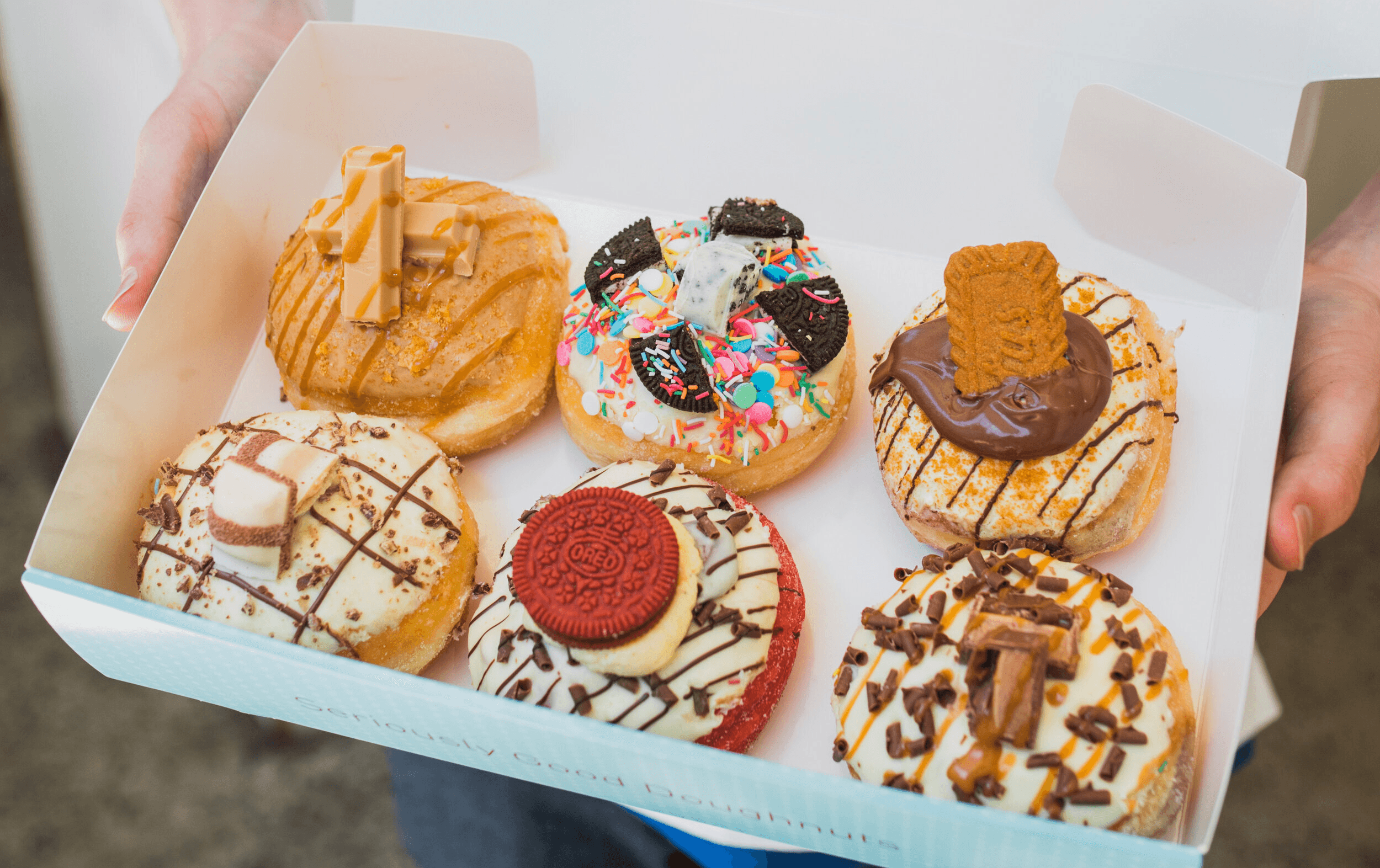 Candied Bakery
SPOTSWOOD
"An Aussie bakery with an American twist" is how Candied in Spotswood spruiks itself. Organic bread, homemade lamingtons, savoury pies and vanilla bean soft serve—you can get it all here. But they also do cracking doughnuts. If you only try one, make it the vanilla slice doughnuts. Piped custard and a biscuit disc, dusted with icing sugar. Dangerously delicious. Goes pretty well with an apple pie milkshake too.
The Oakleigh Doughnut Co
OAKLEIGH & SOUTH YARRA
You should all be familiar with the acronym TODCO by now, the Oakleigh and South Yarra-based doughnut stores. A relative newcomer to the scene TODCO has established itself with some of the best doughnuts in Melbourne.
Their range of doughnuts includes the classics as well as more inventive and timely numbers—the TODCO take on the traditional Greek dessert Galaktoboureko is out of this world. The 'Galakdough' is a vanilla custard-filled doughnut with a baked filo triangle and cinnamon-spiced sugar syrup on top.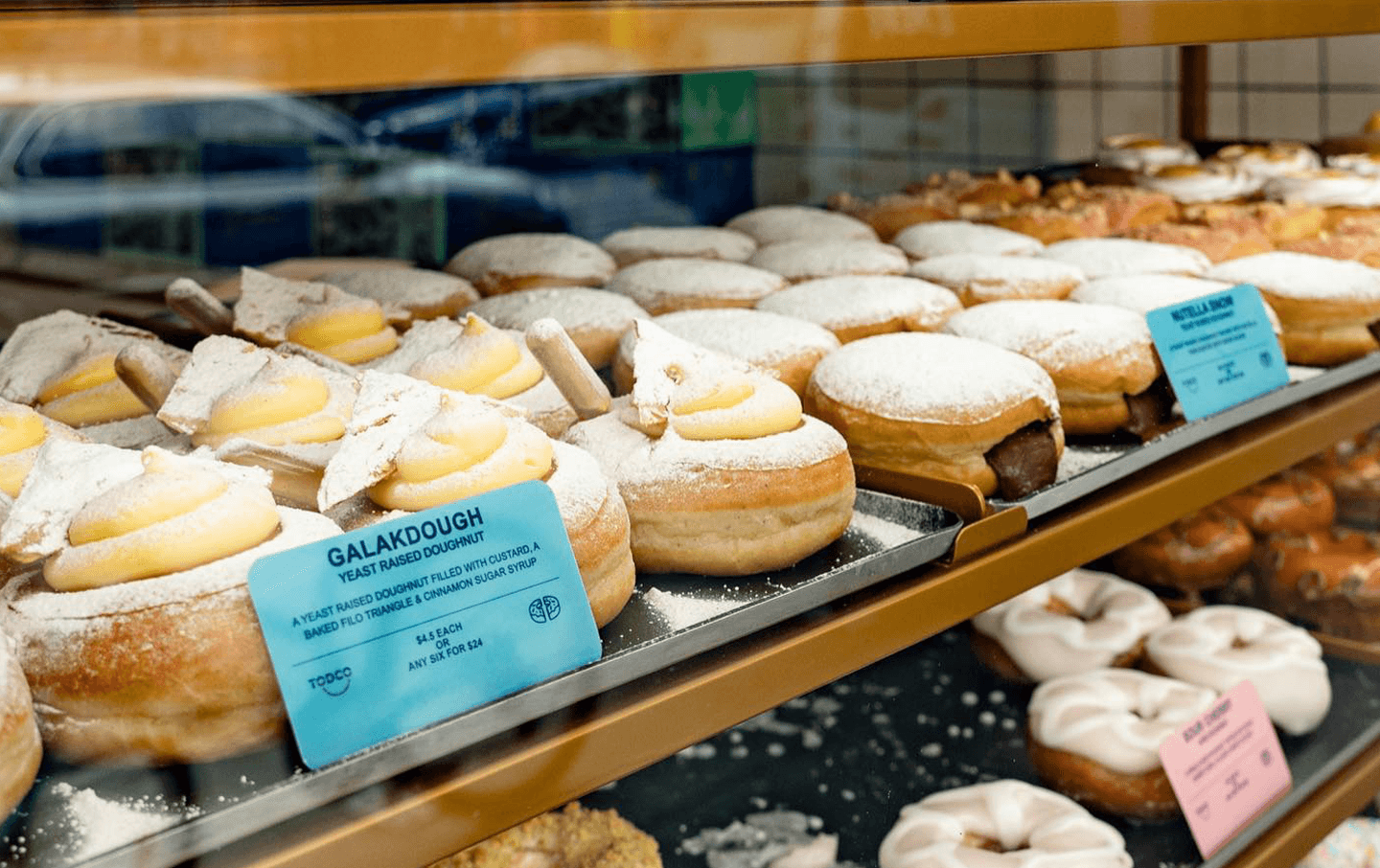 American Doughnut Kitchen
QUEEN VICTORIA MARKET
Just join the queue, mate. The American Doughnut Kitchen has been pumping out piping hot Bombolini-style jam doughnuts since US pilots came to Melbourne during WWII.
People travel from miles around to try these things. And the wait isn't bad either—if you look through the window you'll see the doughnut crew hard at work, kneading the dough and firing off little balls with the speed of a semi-automatic. Careful of the jam spray when you take that first bite: it comes out hot, delicious and very unpredictable. A red hot contender for the best doughnuts in Melbourne.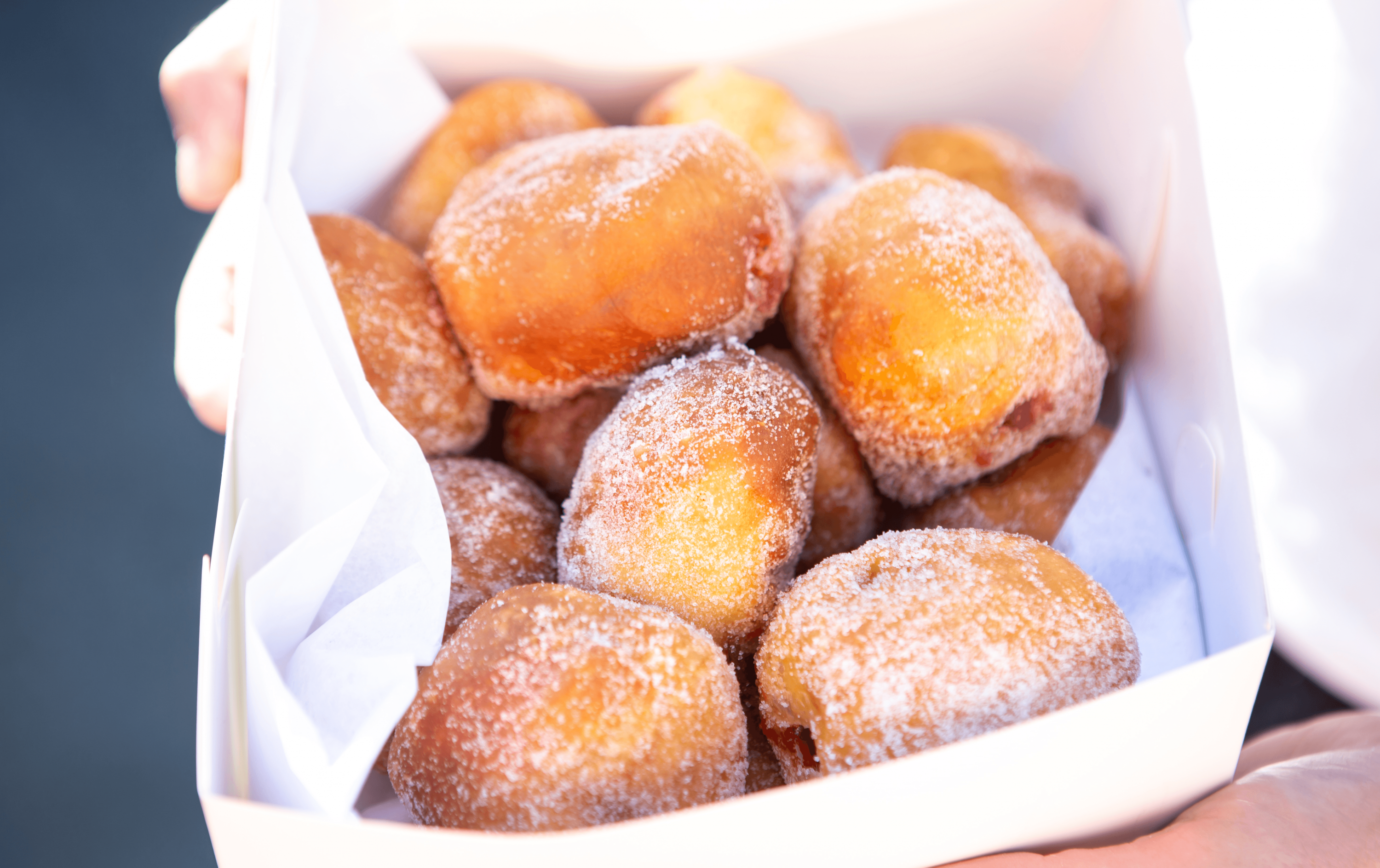 Tivoli Road Bakery
SOUTH YARRA
Formerly known as MoVida Bakery, Tivoli Road is an institution in its own right (you can tell by the Saturday morning queues cramming the busy counter). The artisan bread and pastries are tempting, but nothing beats a Small Batch latte and a lemon-curd, sugar-dusted doughnut to go. Head down to nearby Rockley Gardens and eat both while sitting in the sun. Your perfect Melbourne morning right there.
Daniel's Donuts
VARIOUS LOCATIONS
When Daniel's Donuts Melbourne exploded on the scene opened, the crowds were so big they had to stay open 24-hours, just to get everybody through. That's nuts, even for a food-obsessed city like Melbourne.
This is the second venture for the family-run bakery (they also own Daniel's Bakery in Wyndham, which broke records a few years back for selling over 10,000 Nutella doughnuts in a single day). Does it live up to the hype? You betcha. Try the cookies and cream for a sugar hit to the brain: piped with fresh cream and topped with crushed Oreos. It's crazy good.
Doughboys Doughnuts
CBD
One of the gourmet doughnut houses responsible for Melbourne's doughnut obsession, Doughboys Doughnuts is an institution, located in both the CBD and on Sydney Road in Brunswick. The doughnuts here are hand-dipped in small batches, to ensure maximum quality. The flavours are off the charts too—from Boston cream number with a chocolate icing or a take on the Brûlée with a thick zesty lemon curd.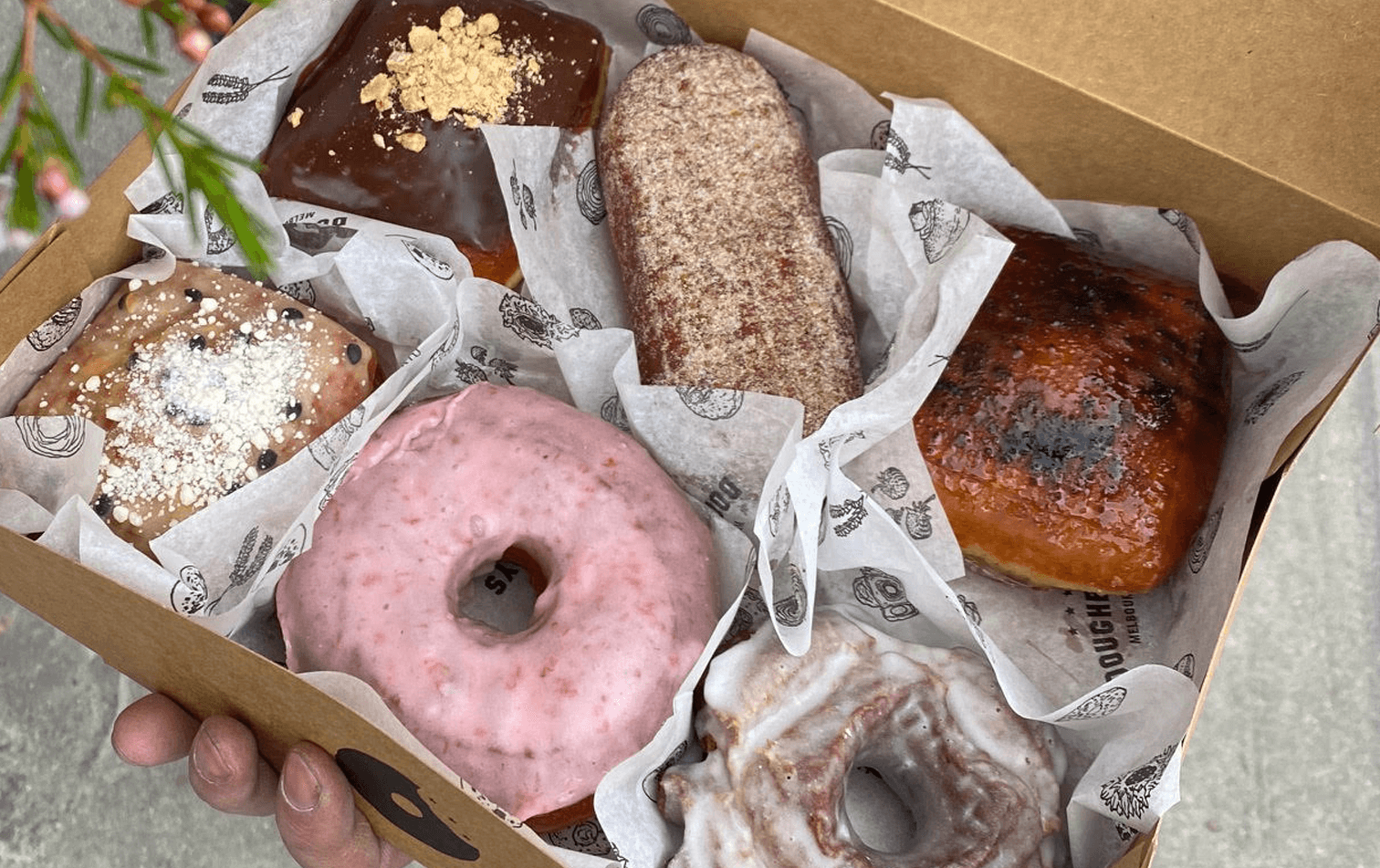 Check out more of Melbourne's best:
Best vanilla slices
Best croissants
Best cinnamon scrolls
Best tiramisu
Best ice cream and gelato
Image credit: Doughboys Donuts