A bakery champion, a quintessential purchase alongside a meat pie, two paper bags swinging in harmony, the vanilla slice is an Australian icon. Affectionately referred to as a 'snot block' in some circles, the vanilla slice originates from the French dessert the Mille-Feuille, a layered pastry and custard creation. The Australian variation usually cuts out the middle pastry layers in favour of extra thick set custard and often features sugar icing on top or a 'fondant' if you feel like being fancy.
To track down the very best vanilla slice Melbourne and Victoria had to offer, we put many a custard slab to the sword. We visited bakehouses, cafes, and pastry shops, suffered horrendous heartburn and congestion and added a couple of notches to the belt, and we also took a few pointers from you (who are clearly just as passionate about the snot block as us) to track them down.
Without further adieu, here is where to find the best vanilla slices in Melbourne and beyond for 2022:
The French Lettuce
CARLTON
A clear fan favourite, when we asked our Instagram where to find the best vanilla slice in Melbourne we got this spot back in droves. Situated in Carlton, The French Lettuce patisserie and bakery has developed quite the vanilla slice. Its brilliance is its simplicity, with a crumbly and bitey pastry that gives the slice a good structure, and the powdered sugar top in lieu of a traditional icing allows the quality custard to shine. If you're new to the game this is a great spot to start your vanilla slice career.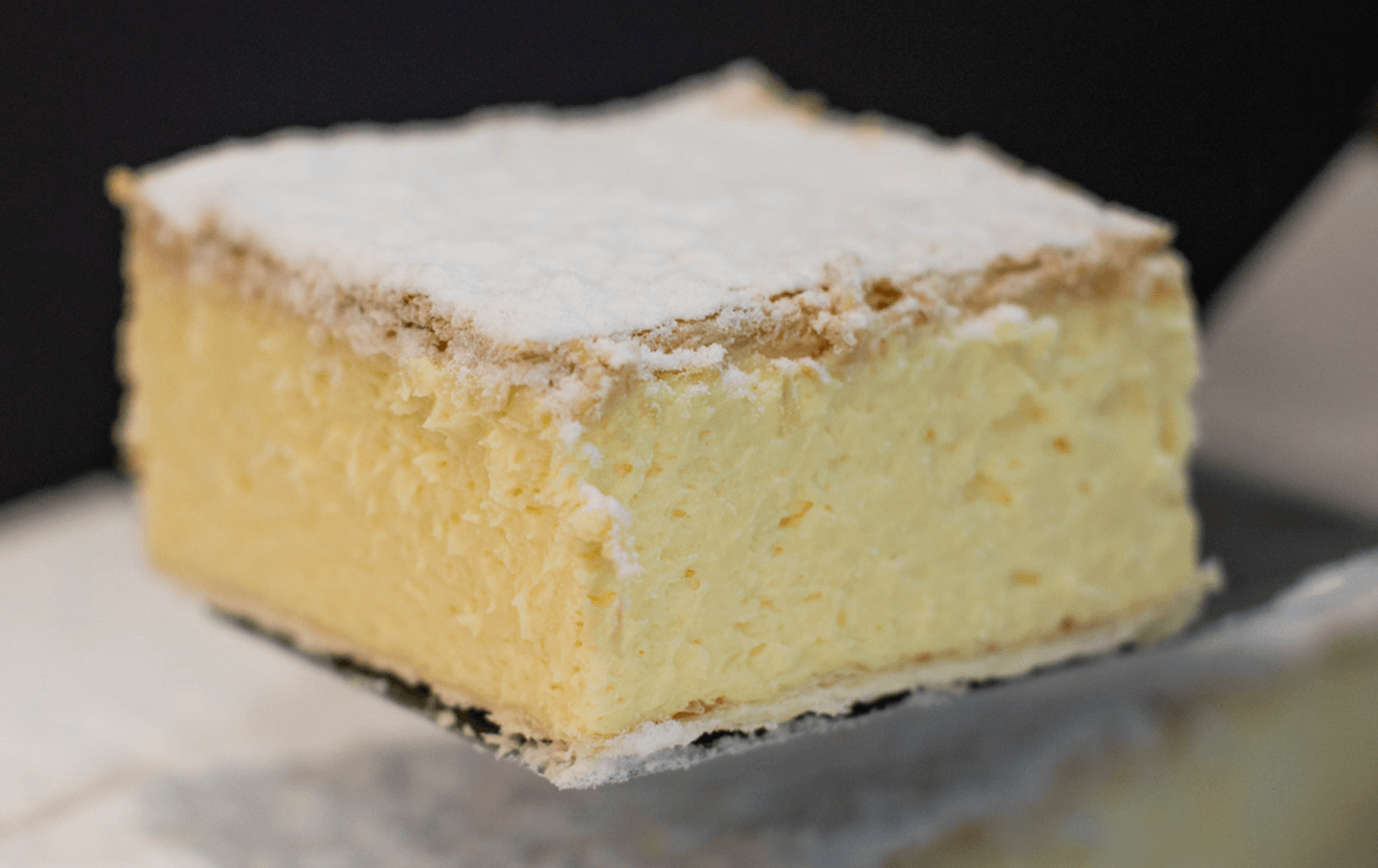 Yugen Tea Bar
SOUTH YARRA
Okay, so it may not be the most conventional but this vanilla slice-inspired Tartelette from Yugen Tea Bar features all the trimmings of a quality snot block. Straight from the mind of dessert savant and in-house pastry chef, ​​John Demetrios, the Yugen Vanilla Slice Tart features a rich vanilla cream base resting atop a decadent salted caramel with a perfectly flaking puff pastry on top with an extra little dusting of powdered sugar for good measure. Although rich, the flavours are balanced and each fork results in a harmonious dance of buttery decadence, pair that with a pot of oolong, or white peony and you've got yourself quite the time.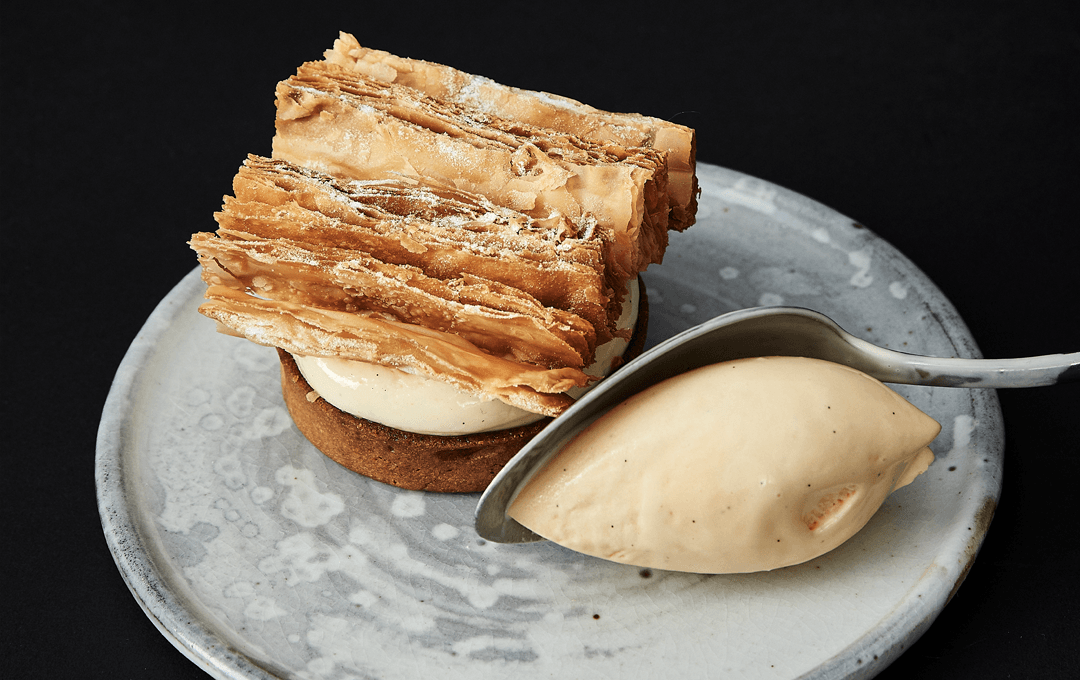 Le Croissant
CAMBERWELL
A long-running hidden gem, Le Croissant on Toorak Road in Camberwell has been producing top-notch French pastries and bread for over two decades. Their vanilla slice embodies the traditional Mille-Feuille style—an extremely thin but perfectly crisp pastry holds the custard in place, with a middle layer adding much-needed bite stability. The standout is the icing, adorned with chocolate swirls it's a sugar dense flavour that permeates throughout the entire slice, making it one of the best vanilla slices in Melbourne's southside suburbs.
Harrietville Bakery
HARRIETVILLE
The vanilla slices at Harrietville Bakery fly out the door like hotcakes. Some locals claim to order days in advance just to secure the creamy custardy goodness, fearing tourists will leave their favourite pastry fridge bare. Victorians think the slice is worth the wait, with glistening icing crowning the two-tiered custard tower. The additional crispy wafer hidden in the centre cements this vanilla slice as one of the best.
Beatrix Bakes
North Melbourne
Small batch bakehouse, Beatrix Bakes, is a true crowd favourite. There's a real hype for their vanilla slice which is only bolstered by the fact they're not always on the menu; there's also often a variation on the theme with the filling sometimes being vanilla and other times tonka bean, the glaze sometimes passionfruit and others blood orange, and on a good day you might even get candied citrus on top. One thing remains the same though, and that's the delicate housemade puff-pastry on either side of these always-glorious snotblocks.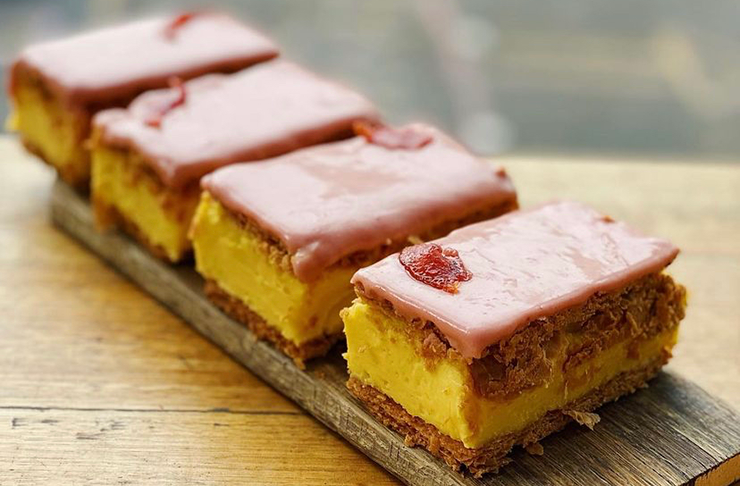 Beechworth Bakery
Various Locations
Country bakery heavyweights Beechworth Bakery score a mention for their tried-and-tested vanilla slice recipe which can be experienced across the state. From high country to Healesville, this snot block is adored by locals, road-trippers and city-slickers alike—try their pink vanilla slice for something that hits different.
Danish Nosh
Caulfield
Artisan Euro Bakers, Danish Nosh, are coming in damn hot with their iteration of the classic vanilla slice. It's quickly become a staple for those on the southside of town; goes perfectly with a coffee in the AM, but is just as palatable as a suppertime snack. The boiled bagels also score a mention here for being so damn incredible—best stock up when you next pay them a visit.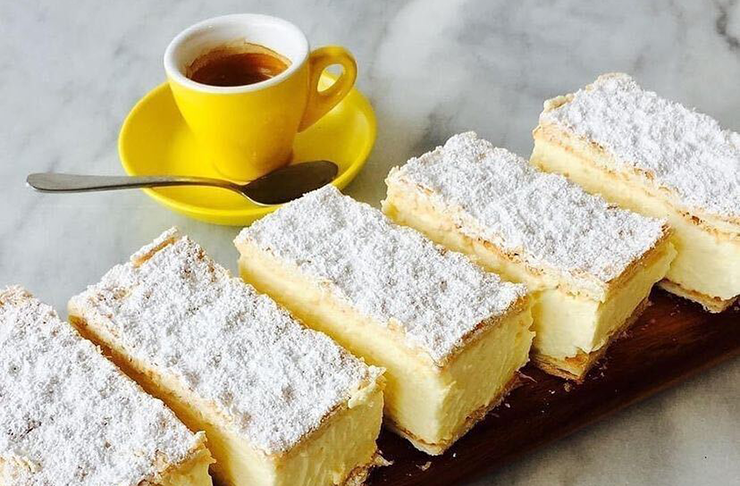 Aviv Cakes
ELSTERNWICK
Another heavy hitter of our Instagram vanilla slice poll, the Aviv Cakes recommendation did not disappoint. Sitting right in the business end of Glen Huntly Road in Elsternwick, Aviv Cake's vanilla slice is the perfect combination of quality ingredients. The slice has an incredibly rich and structured custard that rests inside a textured and fragrant pastry. Whilst thicker than most other slices it distinguishes Aviv's creation from others and gives it a unique feel and taste to the entire journey.
Sharps Bakery
Birchip
The Sharp family have been operating Sharps Bakery since 1977, so it's safe to say they know their way around a vanilla slice. Like with many great vanilla slices in the state, this one's far afield from Melbourne, but those willing to make the mission will be rewarded.
Crème
Altona and Port Melbourne
The visual is really does all the convincing that Crème produce one of Victoria's best vanilla slice. The perfectly rich custardy filling sandwiched between delicatly flakey pastry matches some of the best around town, and fortunately for you, they have two locales where you can put this snot block to the test.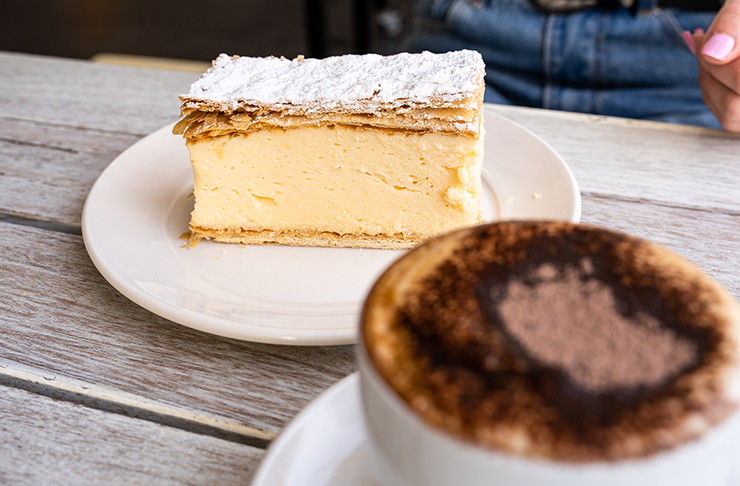 Bridgewater Bakehouse
Bridgewater on LODDON
Whilst this one may be a touch further out of the way, the award-winning slice is well and truly worth the pilgrimage. Bridgewater Bakehouse which is located in Bridgewater On Loddon, a two-hour drive from Melbourne, took out the Great Australian Vanilla Slice Award in 2018. This acclaimed VS has a super flakey and light pastry, with an extremely creamy vanilla flavoured custard, it is then topped with a mouth-tingling glossed fondant icing. Not technically in Melbourne but one of the best vanilla slices available, with the trophy to prove it.
Buck's Country Bakehouse
Yarck
A little over 150km north-east of Melbourne lies the humble little town of Yarck, and in that town is Buck's Country Bakehouse who do a killer vanilla slice. This one's an essential pit-stop for anyone heading out from Melbourne towards Mt Buller, Boonie Doon or even Bright. The die-hard snot block fanatics would also find merit in a roadtrip dedicated solely to a slice of the good stuff.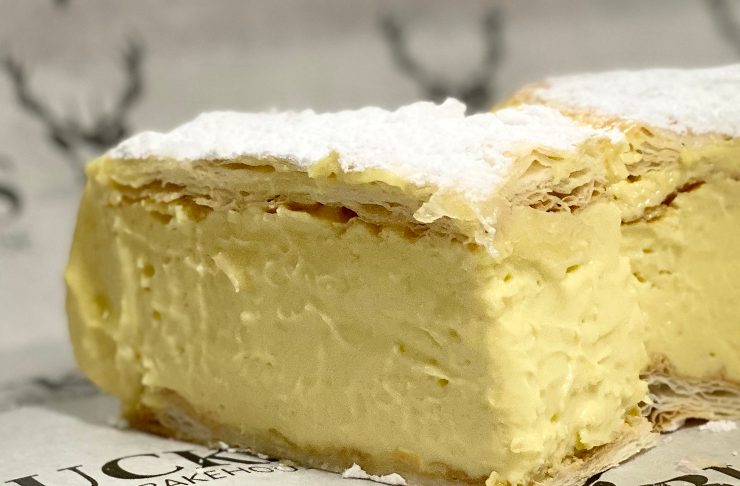 Brunetti
CARLTON
The bustling Italian cafe has plenty of clout in the baked goods and pastry region, their homage to the Mille Foglie is as you expect brimming with class and precision. Whilst it sits within the more traditional origins, it's still one of the best vanilla slices in Melbourne. The three-tier pastry slab has a beautiful thick crust to it, and the custard is always perfectly constricted within, mitigating awkward drops and stains. Brunetti's has masterfully opted for the icing sugar on top—letting the star of the show, the custard shine.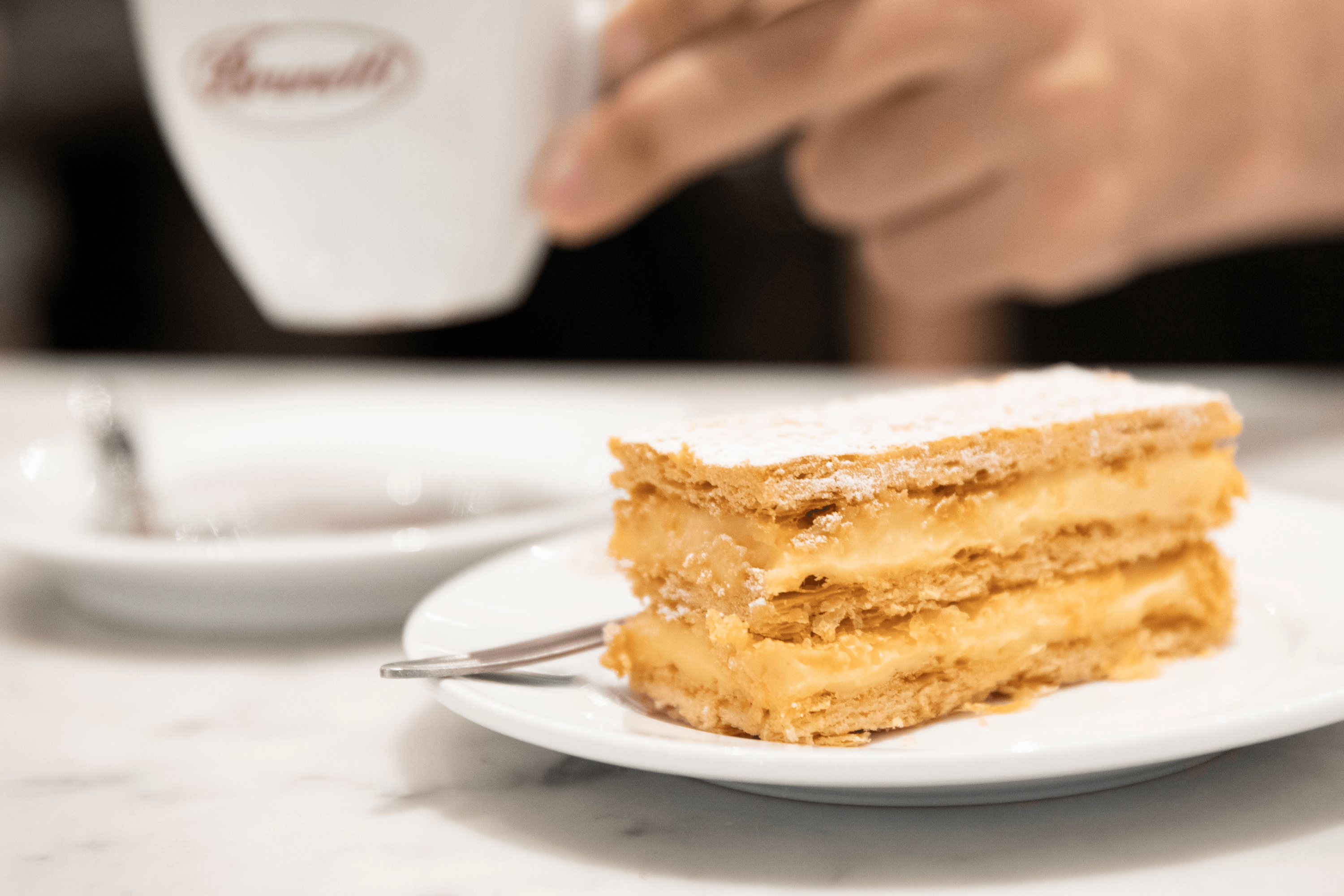 Richmond Pie Shop
RICHMOND
The perfectly unassuming Richmond Pie Shop on Swan Street is secretly wielding one of the biggest hidden gems in the vanilla slice community. Prized mostly to locals and those in the known the pie shop's custard slab is a serious undertaking, its impressive stature and thing flakey pastry play host to a textured and flavoured custard. Whilst most spots will add a little dusting to the top of their vanilla slice this one comes absolutely drenched in icing sugar, with great potential to get absolutely everywhere.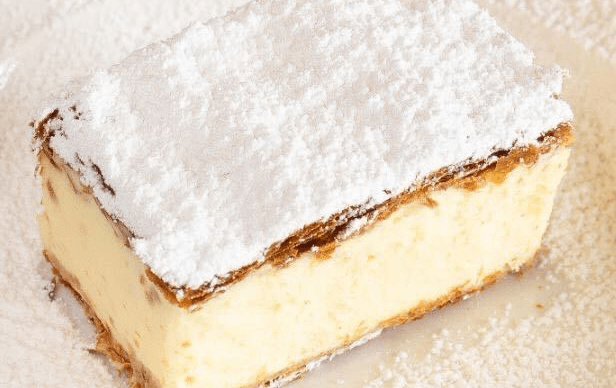 The Vanilla Slice Cafe
SORRENTO
It's almost impossible to do a best vanilla slice write up without including this Sorrento local that is literally named after the prized dessert. The Vanilla Slice Cafe down in the seaside village has been dishing out their prized creations since 1983, over the years they've gotten their slice down to a fine science. Expect to get your hands on a mega-sized slab of rich custard with an incredible flaked pastry and icing sugar dusting, it may be simple but it's bloody delicious.
Briar Hill Traditional Bakehouse
Briar Hill
When half of Melbourne are contacting Urban List and singing the praise of Briar Hill's snot block, there wasn't a chance that it'd miss out on a spot in this list. Flaky and custard-y in all the right ways, Briar Hill Traditional Bakehouse's vanilla slice has cemented itself as a part of many local's mid-morning ritual.
La Manna Supermarket
ESSENDON FIELDS
The boutique supermarket in Essendon is a favourite for vanilla slice enthusiasts, along with your shopping you can happily sit down to their well-balanced slice. Taking a very refined approach you'll get your fork into a custard heavy slab with thin lightly crisped pastry and topped with icing sugar. What makes La Manna's one of the best vanilla slices in Melbourne is that you can typically pick up a four-pack to stash at home for later, well played La Manna.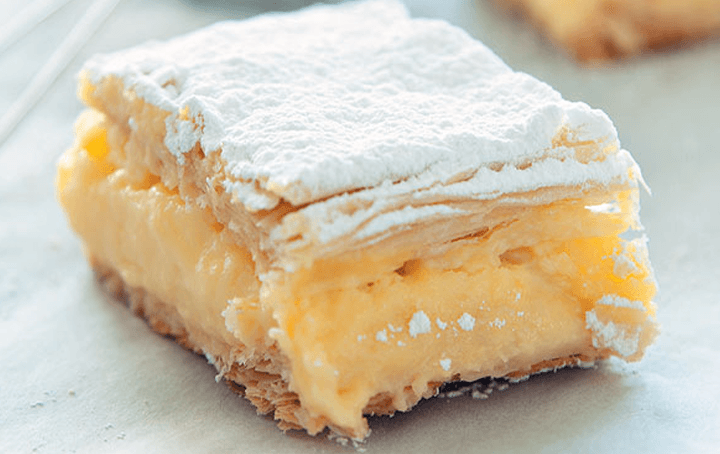 Brady Road Bakery
DANDENONG NORTH
This family-run operation in Dandenong North whips up some seriously drool-worthy baked goods. Brady Road is familiar with the limelight, having previously had celebrity chef/food writer Matt Preston give them a shout out as one of the best bakeries in Victoria. Deservingly so, their vanilla slice is right up there with the best, a sweet iced glaze with a creamy and bouncy custard rest inside the perfectly light and airy pastry.
Country Cob
Various Locations
They've made it into our best pies list, so it's no surprise Country Cob has ended up taking out a spot here, too. You can find their vanilla slice—which features a near-perfect custard to pastry ratio—at their locations in Springvale, Boronia and Kyneton.
Need something to go alongside all that custard? Check out Melbourne's best coffee here.
Image credit: La Manna